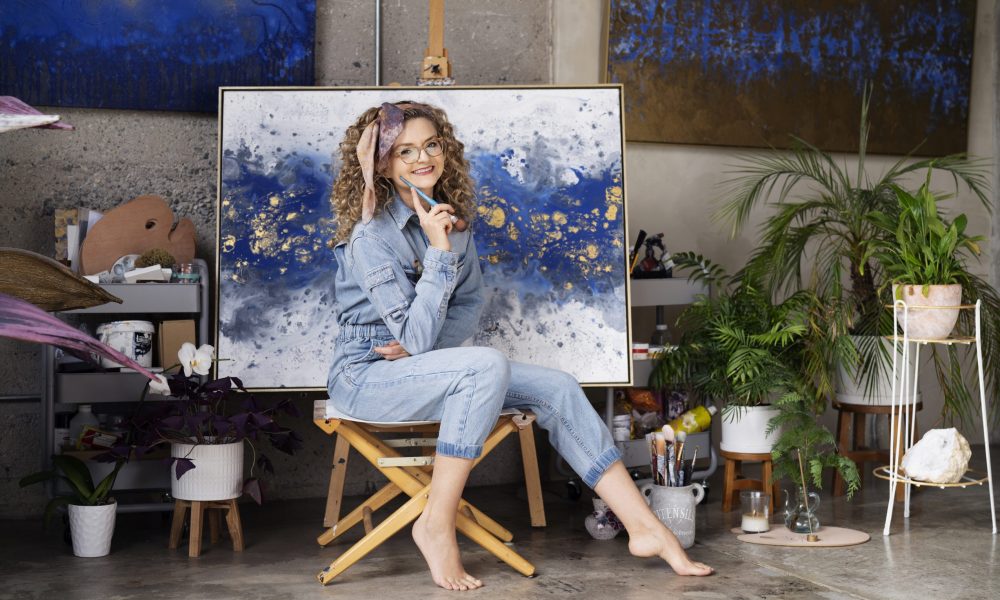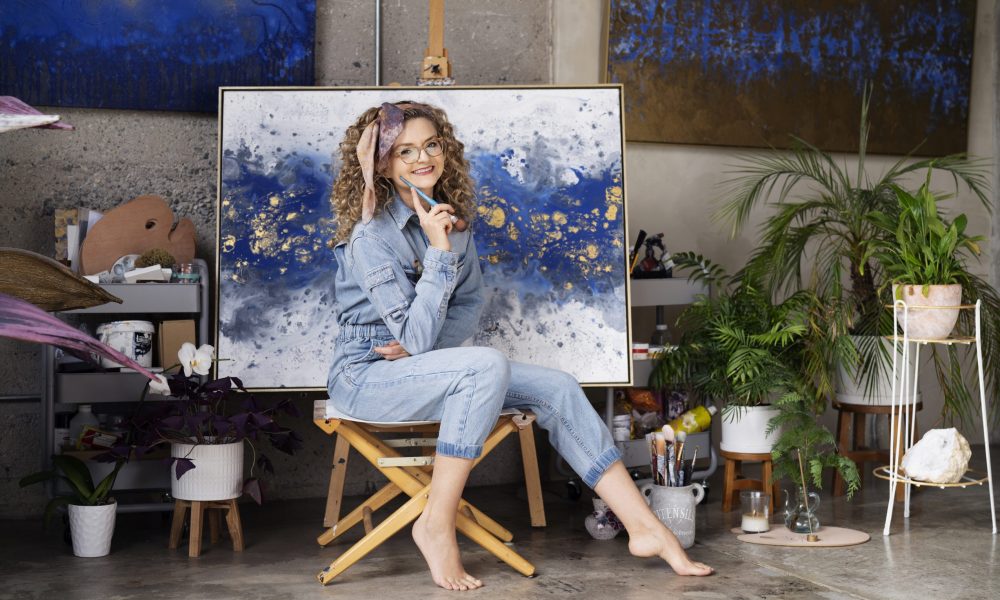 Today we'd like to introduce you to Elmira Lilic.
Every artist has a unique story. Can you briefly walk us through yours?
I am an artist and art dealer who shares the power of art with people across the globe. I believe art allows us to connect and communicate on an immeasurable level. 
I was born in Sarajevo, Bosnia and Herzegovina. My family escaped Sarajevo during the Bosnian Genocide in 1992. Our family found refuge in Slovenia and we immigrated to Germany and Minnesota. In my early 20's I traveled for work and that exposed me to more of the major metropolitan cities in America, which made me realize I belonged somewhere new and different. Once I completed my double bachelor's in Minnesota, I moved to California the same week of my final class. I knew that my journey was far from over, and when I first arrived to Los Angeles, it felt like my home. LA has everything that I hold valuable, great weather and natural environments, inspiring entrepreneurs and artists, diverse people, versatile cultures, religions and beliefs and I am also very drawn to the rough reality of so many that you cannot avoid. For anyone that drives around LA, you will see the state of this country and its people right in front of your eyes on a daily basis. It inspires me to take action and do what I can to contribute to people healing and feel better about the life that we all share. 
Art is and always has been a way for me to communicate, even during the times that I couldn't speak due to the language barriers. After living in Los Angeles for a year, I found myself out of alignment, not happy, not satisfied with my career or the life I was living. Through mentoring children, I found the one thing I could and really wanted to teach them was to create art and express themselves through a visual form. This brought me to many hours of inner work and self-exploration, which resulted in my art career and the realization of my purpose. 
I am in direct commune with the unknown as I am able to see the unseen. Through astral projection and connecting into the subconscious during creation, I bring the unseen into the physical world to be seen in all its beauty. Each of my paintings begins with a meditation on a particular subject or affirmation. Main influences come from nature, my surroundings, life situations and the global environment. While the meditative process guides me through the journey of creation, the paintings reach completion with a final Reiki charge that becomes a portal and energy source to connect to the owner.
I am passionate about guiding others in their journey to build their own art collection to enrich their homes and lives. I continue to explore the vast mediums of art through my own work and the work of other artists. When I am not creating and expressing myself through my own art, I am consulting for other artists and galleries. I consider myself a guardian of art; I have guided numerous clients in finding the perfect artwork for their home or work environment. I have an extensive list of artists and galleries that are on the same mission to protect and nurture the creative force.
Please tell us about your art.
My paintings are gestural abstract paintings. They are created with acrylic paint, crystals, crystal pigments and powders, sand, shells and other found environmental objects. The inspirations in my paintings arrive from dreams, spiritual practices or everyday life occurrences. I especially get inspired when I travel and experience new cultures, environments and communities.
Each painting starts from a vision, a dream or at times, I specifically set an intention for what I want to manifest and bring into the material world. I practice meditation daily, every morning I will do some yoga, kundalini or start a dance party as I make my coffee. This sets me in the mood to create and open up to receive visions and ideas for what to create. During the process of painting, I listen to positive, high-vibe music, as I know the messages will submerge themselves into the canvas as the paint dries. Once I go through the emotional rollercoaster of whether a painting is complete or not, stillness and peace come through and assure me that the painting is complete. There comes a moment of surrendering and letting the paint dry and do what it wants. The next day I wake up to examining what has been created.
I paint because it feels good, it is something that I can share with people that will connect the spirit to the lives of so many. Often times my clients explain to me why they purchased their painting and just about every time it is so in alignment to the reason I painted it in the first place. I wish for people to create art, appreciate art, and see that without it life would be so mundane. Every person has their own art practice, whether it is the way you cook, design websites, build houses, fix cars, educate others, etc. You are creating art and beauty in your own form and no one has the same imprint as you, every person is so unique, beautiful and creative. You are the greatest piece of art.
We often hear from artists that being an artist can be lonely. Any advice for those looking to connect with other artists?
I am starting a studio visit/creative session with artists all across the globe. This will be an opportunity to share your knowledge, creations and teach others how to get in touch with their creativity and show them some new skills.
I also highly suggest start or join a group of people to just gather and do something fun. I have a network of women that I meet with couple of times per month for a women's circle, we enjoy sound healing, practice reiki, provide intuitive healing, study astrology and hold tea ceremonies. It's one of the best things I do and always look forward to it. If you'd like to join please contact me. We are also welcoming men into our circles once per month, it is time men join us in the healing process. 
Other than that, I say open your studio doors and invite us in. We all would love to see what you have created.
How or where can people see your work? How can people support your work?
You can see my work on my website www.elmiralilic.com or schedule a studio visit, I am located in Rampart Village.
Follow my journey on Instagram at @ElmiraL https://www.instagram.com/elmiral/.
Contact me directly at elmiralilic@gmail.com or (424) 653-6303.
If you would like to acquire my art or are looking to grow your fine-art collection, I would love to work with you.
I am also in the process of creating a children's creative book/network. Looking for the right team to complete that.
I rent out my studio to creatives, so if you ever need a place to create. Contact me!
Contact Info:
Image Credit:
Mark C. Hanson, Insta @Markimage
Suggest a story: VoyageLA is built on recommendations from the community; it's how we uncover hidden gems, so if you or someone you know deserves recognition please let us know here.