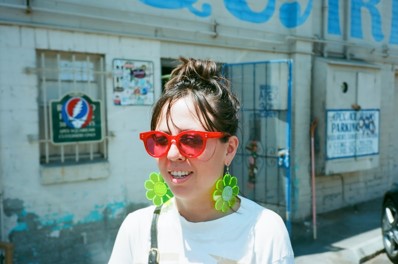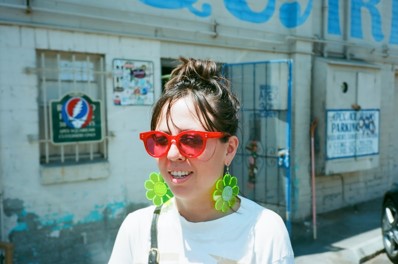 Today we'd like to introduce you to Eliana Mullins.
Thanks for sharing your story with us Eliana. So, let's start at the beginning and we can move on from there.
I've always been artistic and pulled in many directions. I was raised by a painter and a bluegrass musician in the colorful, bon vivant last breath of Santa Barbara's folk/hippie scene and an artistic life was basically our guiding principle. I now work mainly as a costume designer, freelancing in film, but for a long time my main focus was theatre. I was a part of the first theatre company at my elementary school, "Upstarts Youth Theatre", started with a grant from the National Endowment for the Arts by Emma Jane Huerta, which laid a foundation for the type of artistic citizen I am today and the stylistic sensibilities I find attractive.
At "Upstarts" we did a little bit of everything – somewhat in charge of putting together our own costume with notes from Emma Jane and working on props and the set together on build days before the show went up. We weren't working with a large amount of money and certainly didn't have a huge team – Emma Jane wrote, directed, and designed the sprawling shows herself – but we always made it happen. I continued performing in shows through junior high and high school and made a couple of short films with my close friends along the way. I eventually ended up at the Playwright's Horizons Theatre School at New York University's Tisch School of the Arts to pursue a BFA in Acting. Our program was specifically set up to support students whose sensibilities drew them both to performance and to the production side of putting on a show. In addition to our in-class training each semester, I participated in a wide variety of productions in and out of school, focusing mainly on directing, performance, and costume design.
During this time, I became keenly interested in contemporary performance, art and film and the downtown New York avant-garde scene. I idolized Richard Foreman, the oft-referred to 'godfather of avant garde theatre' who had written, directed and designed strange, auterial, otherworldly, total-theatre works at his 'Ontological-Hysterical Theatre' since 1968. In 2013 I had the immense pleasure of working for him as a production assistant on his show "Old Fashioned Prostitutes" produced by The Public Theatre. After graduating in 2014 I continued to throw myself into independent theatre, helping to make fiercely cutting edge works come to life in the intellectually and artistically stimulating downtown and underground theatre worlds of New York/Brooklyn. But with great creative fervor and intensely charged locale came great burn out. I found myself unable to balance a creatively fulfilling life with one that also paid the rent. I decided to move back home to possibly live with my parents again in Santa Barbara.
Luckily, I visited a friend in Koreatown, Los Angeles right around that time which led to a serendipitous chain of events which included meeting my current boyfriend, moving to the Brewery Artist Lofts in Lincoln Heights, landing my first film gig as the costume designer on Denny Wong's feature film "Hold Fast Good Luck" and meeting a whole slew of awesome people who I'm lucky to call friends and collaborators in the film world. Since then I've been working around town as a freelance costume designer and occasional production designer, amongst other positions on set. I'm always exploring my own work as well. Last year I wrote, directed and designed my first short film since high school- "Bottom of the Barrel" an old timey style black and white film about a down-and-out logo-icon who searches for meaning in unusual places on the East Side of Los Angeles.
Overall, has it been relatively smooth? If not, what were some of the struggles along the way?
My basic struggle is that there are 24 hours in a day and I have so many desires, so many things I want to do and see in my life that I often find myself overwhelmed by possibility. That and the rent is so damn high! I have always struggled with the balance of work and life. I have niche interests that aren't always lucrative but I feel they are important to my life- they are important to be explored. There's this Martha Graham quote: "There is a vitality, a life force, an energy, a quickening that is translated through you into action, and because there is only one of you in all of time, this expression is unique. And if you block it, it will never exist through any other medium and will be lost. The world will not have it".
The truth of this haunts me – will I be able to fully express everything I have in me by the end of my life or will I get caught up in the hamster wheel of society endlessly making money that immediately gets zapped up by the rent and utilities always going up (not to mention everything else)! I lived with a woman once in Brooklyn, an older artist who had been a part of the 60s scene in SoHo with Basquiat and Warhol. I was broke at the time and her room was the cheapest offered. She was an incredible artist and had lived a pretty amazing life, but due to a lack of funds she was now dying and basically didn't have the money to stay alive. That was a wake up call. I was broke at the time but I still had my physical health. It was one of these moments where I realized that even if I didn't want to be a Wall Street finance guy and thought that people and the greater good ought to weigh in more on decisions than money, that I wouldn't be able to have any efficacy in things I cared about if I was too broke to stay alive or couldn't think straight because I didn't have enough money to feed myself right.
Please tell us about Eggm Design.
I specialize in exploring people, personalities, and worldview through costume design. My favorite jobs are those that allow me to get creative and bring a point of view to the work. I love breaking down a script and beginning to put together the logic puzzle of how my costume choices can reveal things about character that aren't in the dialogue or action, how I can subvert or aid whatever archetype is forming for a character, move the story forward, and aid in the overall feeling of a film. I'm uninterested in making people look 'conventionally cool'. I'm much more interested in playing archeologist to a story and then taking risks in how we present what we have found within to create complexity, interest, and a balance of comedy and drama. I love to subvert through styling and think that above all else that is what I'm known for. I'm interested in truthfully supporting a story and it's characters but I'm also interested in pushing boundaries and giving an audience something to chew on.
Coming from theatre (which still holds a place near and dear to my heart) I'm super proud to have made the leap into the film world and to have expanded my knowledge of the medium. In between costume design gigs I've worked as an art director on small sets, as well as camera department and G&E. I just really love to be a part of the whole thing. Working on a film set is always some combination of the circus, a pirate ship, and the best summer camp ever. Luckily, wherever we end up on the spectrum it's generally pretty dreamy.
If you had to go back in time and start over, would you have done anything differently?
I'm a huge believer in the philosophy of 'things work out the way they should' – it's impossible for me to actually imagine doing things any differently. The one thing I sometimes think about is what it would have been like if I had taken time off after high school to exist in a space without schooling and get a grasp of who I was and what I wanted my life to be like. I felt very funneled into 'higher' education by my peers and what feels like a very integrated marketing campaign between high school culture and these secondary institutions.
Contact Info:

Image Credit:
All photos shot by Keitaro Cloward, except for the black and white stills which were shot by Eliana for "Bottom of the Barrel"
Personal photo – Kristian Sorensen
Getting in touch: VoyageLA is built on recommendations from the community; it's how we uncover hidden gems, so if you know someone who deserves recognition please let us know here.