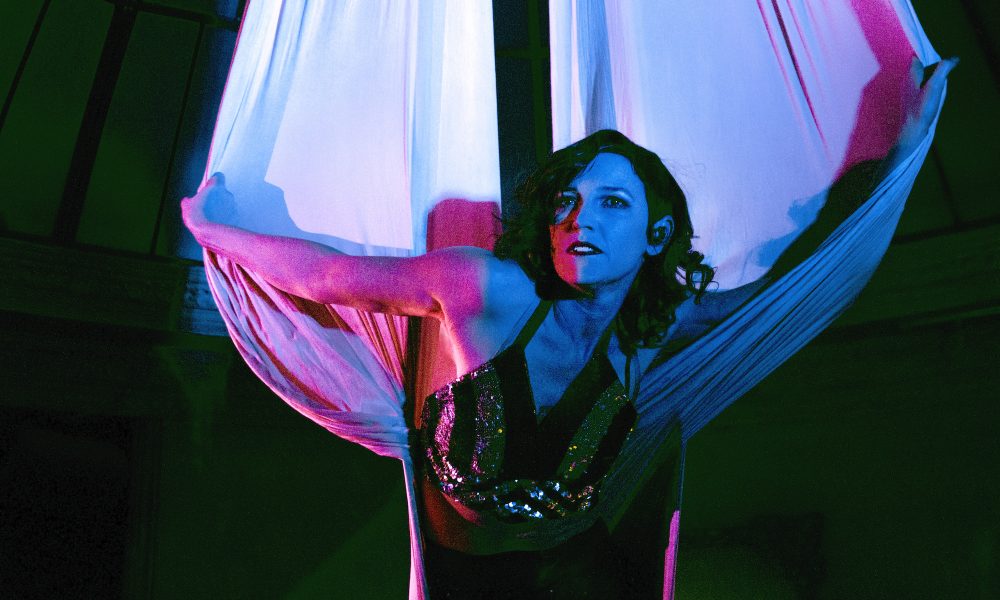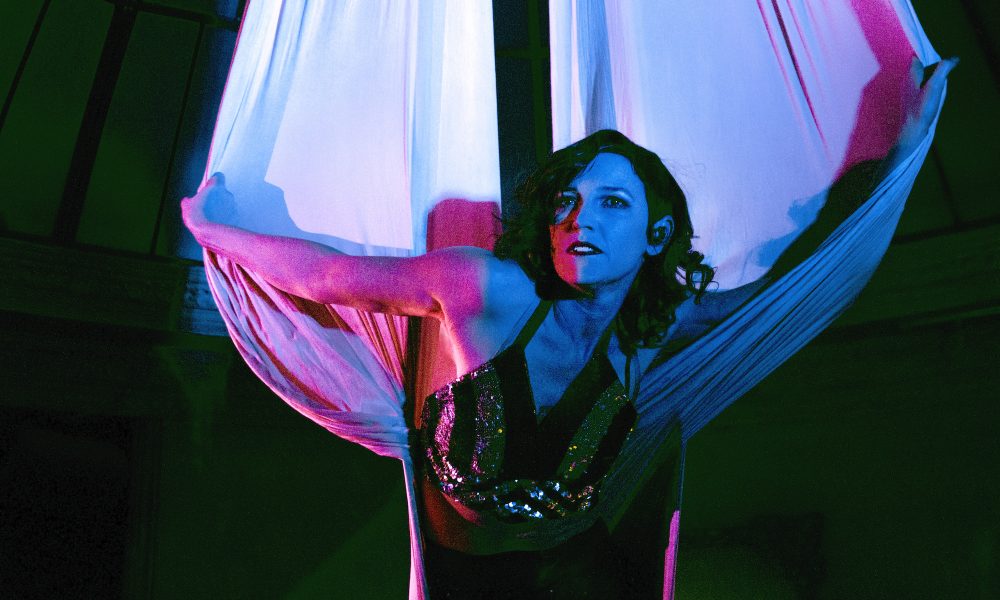 Today we'd like to introduce you to Elena Brocade.
Elena, please share your story with us. How did you get to where you are today?
I grew up in Los Angeles but I moved to Chicago in my mid-20s. It was in Chicago that I met a circus performer and started training in a mostly vacant old theater. At the time, I was working in construction, rehabbing historic homes… I saw Raven Aurora perform trapeze in a small gallery opening in Pilsen. I was enthralled. Two months later, while dancing at a nightclub I saw Raven on the other side of the dance floor… I went straight up to her and begged her to teach me. She became my best friend and first-ever aerial coach.
There were very few schools in the US teaching circus arts at the time so I started to travel to San Fransisco to train. A few years later, I met Shayna Swanson who had just started a performing company (Aloft Circus Arts) and the associated training facility in Chicago. We became fast friends and I helped expand the studio and collaborated on full length shows under Shayna's direction. We traveled a lot… nationally and internationally… and we worked hard but we had fun too.
Additionally in 2005 my partner, Karim Shuquem, and I opened Reversible Eye Gallery… staging art exhibits and performances for seven years, getting notoriety with shows like the Puppet and Doll show, Brut Pop, Existential Style and Public Image Enemy. Most shows were a collaborative installation with the artists, wherein we would create environments with murals and staging to house the work being shown. My favorite of these is the Public Image Enemy show which brought 19 artists together for over two months of events celebrating the 30 year anniversary of the punk rock and hip hop underground. In 2012 we returned to Los Angeles to be with our aging parents but also to expand our individual careers as artists.
In Los Angeles, I have parlayed my career in circus and varieté theater as a performing artist, rigger, coach/choreographer and costume designer. Before the pandemic, I coached as an independent contractor for schools like Cirque School LA and Kinetic Theory Circus Theater and I continued performing internationally. In 2013 I trained under Jonathan Pendragon as a magician's assistant, working in the fire basket, bed and broom levitation and Jonathan's world-famous Metamorphosis illusion, which opened my eyes to the beautiful world of magical arts and allowed me to perform on the historic Magic Castle stage.
When I wasn't traveling, I was maintaining my yoga practice, sewing costumes on commission, training my aerial quick change invention, performing at the quaint Pour Vous cabaret and caring for my growing nephew.
Has it been a smooth road?
Struggles are always part of the path, I think. Being an artist in America is a struggle in general. It is a constant battle between trying to survive and trying to create fulfilling work. I feel like it's a balancing act to keep my head above water, it's a game of where's the time and where's the money.
As an independent contractor… I am every part of my business and my business is me. I'm the creator, the marketing manager, promoter, accountant, designer, web developer. At the same time, I try to be objective with my own branding, but I'm wearing all the hats.
The other struggle is my personal tendency to get in my own way. This is the struggle of the mind and the emotions. Both take turns derailing my self-confidence and undermining my faith. I do think it has gotten better over the years though. At least now I can recognize it, so the return is not as daunting.
The last major struggle is distraction… or having my hands in too many pots. I'm often doing multiple projects at once. Some of that being a result of the money and time struggle I mentioned, but more so it's a problem of being excited over too many ideas or projects and overextending myself. I love all art forms and for a while it was a problem of being a jack of all trades, master of none. Learning to focus my energy and consolidating my passions has eventually helped me create better work that truly reflects who I am.
We'd love to hear more about your work and what you are currently focused on. What else should we know?
My business is art. Mostly performing arts but fundamentally it's all art. I named myself Elena Brocade because I see all avenues of my life as the individual threads which together make up the relief of the brocade fabric. Having performed for over 15 years in tents, arenas, festivals and theaters has granted me a wide array of opportunities.
Circus and variety arts is the closest categorization for me as an artist because it serves as an umbrella to so many modalities. I started as an aerialist but I have trained and worked in Cossack horse trick-riding, baton twirling, stilts and unicycle, partner acrobatics, magic, quick change, dance and theater. I am constantly learning new things. Magician Jonathan Pendragon wrote of me in Genii Magazine "Enter Elena Brocade… Elena is an aerialist who devours any new skill; she is already a performer."
I am most proud of my development of the first-ever Aerial Quick Change act on Spanish web. Quick change is a classic art form where the performer's clothes are changed in a blink of the eye. I took the traditional quick change technique to change from a men's suit to a red dress while spinning from my neck, in an act that explores the balance of the masculine and feminine. And the act has taken on an even newer development with my current partner, Darielle Williams, where we have explored acrobatics never before used with the Spanish web apparatus.
While developing this, I created and debuted 20th Century Fashion, a fast-paced quick change act that spans the vogue of the 1900s, decade by decade. This act explores the women's movement through fashion, music and dance, while addressing the psychological development from our right to vote to the #MeToo movement.
I'm also incredibly proud of my students. Some come to me for personal training as a creative way to stay fit and healthy, while others are working to be the next generation of circus artists. All of them are equally wonderful people and I'm grateful for this aspect of my work.
Let's touch on your thoughts about our city – what do you like the most and least?
Nothing gives me more solace than the smell and sounds of the ocean. But in terms of our Los Angeles arts community, I feel like there is no other place seething with as much creative energy. When I lived in Chicago, I used to joke that there weren't enough weird people. The eccentricity of Angelenos is a constant inspiration. The unique characters that fill this city are forever special.
The worst thing about this city is the lack of public transportation. Having to rely on a car is both expensive and bad for the environment. Our train system is expanding and I hope there is even more city development into becoming a green city with safe bike routes and parkways. I would love to use a bike more if it wasn't so dangerous in this city. Oh and since we are talking about city planning… we need to lower rents, house the homeless, #defundthepolice, put arts funding back in education and invest in our amazing communities of color.
Contact Info:
Image Credit:
Renee Travis, Laura Manzani, Tim Cofield
Suggest a story: VoyageLA is built on recommendations from the community; it's how we uncover hidden gems, so if you or someone you know deserves recognition please let us know here.