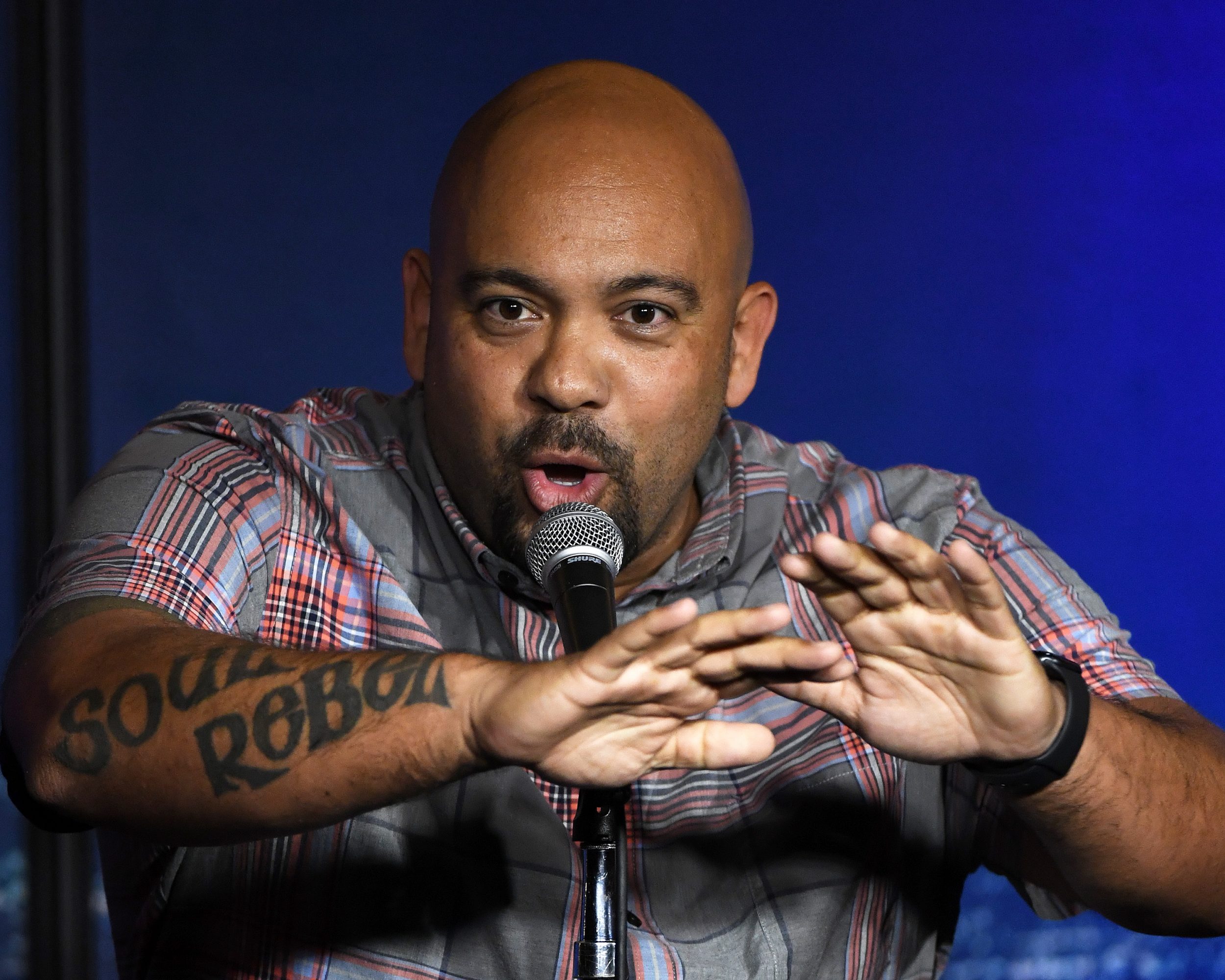 Today we'd like to introduce you to Eddie Gorton.
Eddie, please share your story with us. How did you get to where you are today?
I was kicked out of class on the very first day of kindergarten on the very first day of school for trying to be funny in class; leaning back in my chair putting my feet on the desk, I fell straight back. The class erupted in laughter and Mrs. Schooler sent me straight to the office, mission accomplished, I was five.
I'm from the Bay Area, straight up, we don't play fight. If you can't fight, you'd better be funny, and I couldn't fight. I grew up in San Mateo, a mostly white suburb of San Fransisco in the 1980s. Raised in a house with my Irish mother, my Irish father, and my Irish sister, it was basically me and the black dog trying to figure out our blackness on our own. There is more to that backstory but it is better, live on stage. There is a lot of room for comedy when you get to play Steve Erkle, Eddie Haskel, Kramer, and Bud all rolled up into one outcast, the court jester in your own home. After being voted best dancer in 6th grade at Abbot Middle School (one of 4 black kids, they had to pick one of us but I really can't dance.) I was unanimously voted "Class Clown" in 7th grade. Elected "Ralley Commissioner" in high school, I was the jack ass at all the school rallies on the microphone asking "are the Sophomores in the house!?" I loved the crowd and the microphone. The spotlight, the people, public speaking, I had been practicing my act my whole life at my own dinner table, still a two-drink minimum. As a student, I literally got through every group project from 8th grade through college by doing minimum work and just promising to be the "presenter". Did I take advantage of people's fear of public speaking? Yes. Did I want to do all that reading and writing? No. We all have our strengths.
I left the Bay Area for Los Angeles and Occidental College in 1997. I helped bring back Kappa Alpha Psi Fraternity Incorporated, the Lambda Rho chapter had been off the yard for 15 years, I worked to reinvent KOXY, the campus radio station, I may or may not have participated in a few protests to bring equity and diversity back to a campus who had forgotten its multicultural mission. When it was all done, I had a degree in psychology and started teaching at the age of 22. Thirty-seven students in a 4th/5th split class with three sets of siblings. The previous teacher had essentially left the profession and I had four months until summer break. The principal handed me the class key on my first day and said, "If you can get them to walk in a straight line to the cafeteria for lunch, you will have won the day." I don't know if I taught them much, but we sang, we laughed, we got to know each other and we made it to summer break. It takes 10,000 hours to be great at something, roughly about nine and a half years of teaching, the first four months were out of the way.
I always wanted to be a stand up comic, but I was too chicken shit to go for it in my twenties; something about no health care, zero pension, and a mountain of student debt was a bit off-putting. After graduating from Occidental College, I earned a Master's of Art in Curriculum Development from University of Phoenix, and a second Master's in Educational Leadership from Cal State LA; I taught for thirteen years, became a school administrator and for nineteen years my students, my colleagues, my faculty and friends have had to suffer through dad jokes and half thought out bits as I passive-aggressively got closer and closer to the stage and that microphone. Every opening of a lesson, parent presentation, facilitating professional development all became a chance to say something funny in front of people and hear that sound – laughter. There are so many parallels to teaching and stand up comedy, and in a humbling way, six hours "on stage" teaching will almost prepare you for six minutes of stand up comedy, almost. I wasn't on stage, the last twenty years, but I did have a platform and I was making people laugh.
I am the Principal of Comedy, first of all, that is a straight-up amazing nickname given to me by a Valley legend, Ryan Talmo aka Valley Jesus and like most legit nicknames you have to earn it. On February 16th, 2019 at the Liquid Zoo, a Van Nuys dive-bar walking distance from my house, the longest-running open mic in LA, I got my first chance to tell jokes on stage at the peak of my mid-life crisis; pursuing a childhood dream I had tried to suppress like bad memories from middle school. I was supposed to do 8 minutes, which I think is insane for a rookie, but I had been warming up for almost two decades and I gave them a solid 7, then begged my best friend to give me "the light" from his phone, I couldn't get off stage fast enough. But the damage was done, I was hooked, I spent the next twelve months at every open mic I could get to, provided I wasn't working on work, kids were tucked in bed, and my wife was engulfed in her favorite Korean Soap Opera (she watches Korean Dramas with Spanish sub-titles, she's not playing around). I have a crazy schedule filled with family, work, projects, volunteer hours, and whatever is left goes straight to my passion. Comedy.
Stand up comedy is an amazing culture to be a part of, it's surprisingly sober and familial at times. There's a right of passage, there are rules, and in a scene filled with insecurity and self-deprecation there are zero pity laughs – in the end, you better be funny and don't run the light. There are no short cuts to making it, and that is to say, it reminded me a lot like teaching 7th graders. You can not bullshit this craft, be patient, and work your material until it is solid gold, just like teaching.
As an artist, I come from a background in spoken word poetry, "Ed-Word the Hip Hop Nerd" I was a solid poet in the early 2000s, shout out to Da Poetry Lounge on Fairfax, and in that culture, you had better come with your best piece every week and keep it fresh and brand new, there was zero space for practice, how dare you spit the same piece twice – the stage was for final drafts and camera ready artists. It is exactly the opposite, in my experience, in the world of comedy and open mics, "how dare you think you have polished that bit enough to move on to the next joke." You work, and work at it, over and over again – use it and re-use it and make it better again and again. Just like your lesson plan for those 7th graders. Period one is going to get a fresh lesson, but sixth period is going to get your best material. You have to work. And like every comic, we have been working at it since we made our first joke in kindergarten.
In my career as an educator, I have worn many hats: Classroom teacher, Instructional Coach, Track and Field Coach, Restorative Justice Advisor, I run a college prep cohort with high school students of color in Pasadena, I am an adjunct professor teaching a course on coaching with the University of San Diego, and also a school Administrator. In all of those roles, I have taken the initiative to create and sustain positive inclusive communities. Advocating for marginalized students and illuminating the impact that positive relationships have on any given campus, teacher to teacher/teacher to student/student to student. Community before Curriculum.
The most recent version of this work is manifested in the positive behavior group I have created on my campus, Skate Straight aka SK8 STR8. This positive behavior club holds students accountable for their actions asking them to have perfect attendance, complete all homework assignments, and demonstrate positive behavior in class. These three areas of focus allow students to earn, piece by piece, the materials needed to build their own skateboard. In addition, it builds resilience, confidence, and lays a foundation for a new relationship between the student and the classroom teacher. It is a unique space I have carved out in my weekly routine as a school administrator, to be able to still impact my students' experience on my campus and be just one more cheerleader, one more advocate, one more champion for a student, is priceless and kinda the best part of my job for the last six years. Believe it or not, all of that work shapes who you are on stage and how you approach the work of being a stand up comic. It is nice to look back and realize that all the work you do is connected to a bigger goal or purpose.
When the school bell rings and I get to take off my lime green safety vest and recharge the bull horn, I head home to my family: My Wife, Karina who is an amazing teacher and super dope mother to our two sons, Xavier (7) and Lorenzo (6) (check them out @gortonboys on IG and Twitter). Our house is filled with a lot of laughs and even more love, and being with my wife and sons is the best part of any day. I want to be a role model to my sons, ok, honestly I want to be the coolest dad in the world so they brag to their friends about how cool their dad is. It is why I pack up and head out 2 to 3 times a week, hit any stage I can find, and work on getting better. I'm still working on getting better (in everything that I do). You have to work on your dream, that is what I want to show my sons. It is not too late, it is never too late to work on a dream and maybe waiting twenty years to start IS perfect timing.
A lot of my material comes from three main wheelhouses: my education profession – an elementary school can be a hilarious adventure day to day; my life as a black man raised in an all-white house– trying to figure out my blackness by googling how to make gumbo, and my recent admittance that I am a lot fatter and a lot older than I was in college. It's been an amazing first year in the game, I have been on stage at the Comedy Store, Feinstein's at Vitello's, and the Ice House in Pasadena. I've met some real stars and icons in the game who shook my hand and welcomed me, a comic is comic through and through and there is respect from the largest name to the guy working on his set over and over again at Corbin Bowl – the best open mic in the Valley. It's a beautiful thing doing what you love.
It is really all about what Kobe shared with the world when he had his jerseys retired at Staples Center. "Those times when you get up early and you work hard. Those times you stay up late and you work hard. Those times when you don't feel like working. You're too tired. You don't want to push yourself, but you do it anyway. That is actually the dream."
Great, so let's dig a little deeper into the story – has it been an easy path overall and if not, what were the challenges you've had to overcome?
My biggest struggle is time and that really manifests its self in two ways. I don't have enough time in my day to be a great husband, dad, comedian, and educator. One of those will suffer while I focus on the others, so prioritizing each day is crucial. Also, I'm barely chipping away at my 10,000 hours on stage. Set by set, week by week, if you truly want to be a comedian, you have to put the hours in, show up to the clubs, earn trust, have a "clean set", and "tight five", and if you're not on stage someone else is and they are getting better – you gotta work out, just like going to the gym (I've heard).
Having to explain to my kids that daddy is leaving tonight to go tell jokes, my kids will always ask if they can come too, or they will give me a couple of knock-knock jokes to try out on stage. It's hard to leave them on a random Monday night. I go because I want to show them what chasing your dream looks like. Author Joyce Maynard once wrote, "It's not only children who grow. Parents do too. As much as we watch to see what our children do with their lives, they are watching us, to see what we do with ours. I can't tell my [boys] to reach for the sun. All I can do is [show them, and] reach for it, myself. " My wife, Mrs. "why don't you put that in your little comedy act", is another story, there is no cool Facebook quote to summarize her loving eye roll when I tell her "I'm a professional comic and I have to hit these open mics!" She is my biggest fan, she thinks I'm kinda funny, but not like funny, funny. 100% she is down for me and always supports my comedy, but she still has earned the right to humble me and wish me good luck under her breath.
My biggest challenge is time. Although I have had a quick year with unexpected spots at some really amazing venues and opportunities to shop talk with legit stars of comedy, you still have to put the work in. More time in the day and an exponentially more amount of experience would make this journey less bumpy, but even with that, there are no short cuts in comedy.
We'd love to hear more about your work and what you are currently focused on. What else should we know?
Currently, the Principal of Comedy is trying to get up on stage and book as many shows as I can. SO, hit me up for stand up or public speaking. Need a keynote address, graduation speech, or corporate ice breaker, I'm your guy. But to keep it 100, I get paid a lot more money than stand up- to focus on my school, my students and my faculty. I think what sets me apart from other comics is that I already make a living in a field that I love, off stage. I have a job, so I'm a struggling artist in a different kind of way, struggling to get better not struggling to eat. I'm starting my comedy career as a second act, and without the pressure of eating and paying my bills through my art. So the challenge is, am I hungry enough to grind it out? Yes, yes I am.
I would love to tell you about my script, that I have been writing for the last 7 years, or the book I'm 80% finished with, and the one of a kind podcast I have created but have yet to shoot. Being the Principal of Comedy is a place I only dreamed about during faculty meetings for years, and it is beyond cool that I have carved out a little time and space to make it a reality, but right now there is a lot more principal than comedy, by default, and Monday morning I'm not showing up at a job that pays the bills while I work on jokes, I get to go to work for these kids and that's magical too.
People always ask me, "so where is all this going, what's the goal, are you trying to leave teaching?" Slow down, no one is leaving education, not yet; and it really is the same goal I've had since I leaned back in my chair on the first day of Kindergarten, I'm just trying to make the people laugh, while I have a good time. Comedy shows, festivals, and multi-state tours, sure absolutely, during summer vacation. Right now Mr. Gorton is focused on this dream of being the next cool comic in Los Angeles, but I also need to focus on getting my sons to ride a bike without training wheels, they are too old for that, they are going to get clowned at the park just because daddy wanted to be famous. Not on my watch!
What moment in your career do you look back most fondly on?
The proudest moment of my career so far may also be the illest moment as well. I had linked up with Michael Yo at the Comedy Store for a fundraiser and was invited to be a part of his show at the Ice House on December 27th. I was legit losing my mind that this was actually happening, but also trying to keep my cool, because this is totally normal, right. I rearranged my holiday plans and was driving back from the Bay Area on Thursday the day after Christmas thinking I would have plenty of time to get to L.A. and rest for a day and be ready for this amazing opportunity.
Then the snow fell from the heavens and the Grapevine was closed down, I essentially spent the next 30 hours in the car with my wife and kids and no screen time for the boys. We made it to L.A. at 6:45 pm on the night of the show. I had to be there at 8 o'clock and was at the Ice House by way of a cool ass Uber driver by 7:45.
No time to rehearse and calm my nerves, I went on stage and was given 7 minutes. Being this was my first real show, I invited everybody. I must have had 30 people there to see this show and my dad who I just saw at Christmas flew down to surprise me for the show, it was sold out! So, you can imagine how exhausted I was, how excited I was, and frankly, a bit overwhelmed by the totality of events leading up to me being on stage. I still couldn't feel my leg from driving a stick shift for thirty hours toggling between first and second gear in traffic. When the light went up for me to end my set, something snapped. I just drove a day and a half to be there, I had a whole gang of people in the crowd, some there to support, some there because they couldn't even believe that I was trying to pull off being a stand up comic and kinda wanted to see if I bombed. I proceeded to go full rogue and deliver my five-minute closer joke. The crowd loved it, I had a blast, the stage manager is losing his mind and I don't think Mr. Yo is ever going to call me again. But you know what, the joke killed, it was an amazing moment I will never forget, we all went for drinks afterward and I still had a school to run on Monday. If you're going to jump offsides, do it 100 mph! A friend of mine who is a comedian saw the show that night and said, you probably learn not to run the light by the time you get to the Ice House, and he is right I should have known better. I guess I am proud I made it to the Ice House way before I thought I would, it was a dream come true. Act like you've been there before, well, I had never been there before, and it was DOPE AF!
My name is Eddie Gorton. I am a husband. I am a father. I am a comedian. I am a principal at your local elementary school. I am working hard on those dreams every day.
Contact Info:
Email: ed.word1911@gmail.com
Instagram: @principalofcomedy
Twitter: @ed_word1978

Image Credit:
Michael Schwartz and Pamela Sisson
Suggest a story: VoyageLA is built on recommendations from the community; it's how we uncover hidden gems, so if you or someone you know deserves recognition please let us know here.