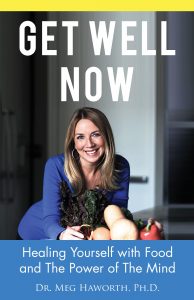 Today we'd like to introduce you to Dr. Meg Haworth.
Hi Dr. Haworth, so excited to have you with us today. What can you tell us about your story?
I was "I can't get out of bed" sick in my twenties. I kept receiving new diagnoses, taking the drugs prescribed, and laying in bed for weeks at a time. It was a horrible way to live at such a young age. As a native of Washington, DC, one day I found myself reading an article in the Washingtonian Magazine on alternative medicine that would change the course of my life. With scoliosis in my upper back, I would suffer from horrifying muscle spasms that wouldn't allow me to hold the magazine without severe pain. As I read about chiropractic care, it clicked with me that I needed to do something different if I was ever hoping to get well. So, I called my friend who had been raving about her chiropractor and I made a different choice.
My chiropractor was amazing! She opened me up to a whole world of complementary medicine that I knew was there but I had been told it was all quackery – my mom was a scientist so western medicine was the only option. I was terrified to go alternative but it was the best thing I ever did. I was led to nutrition, yoga, meditation, acupuncture, herbal medicine, and eventually to transpersonal psychology in which I earned my doctorate. I got well through considering every part of my holistic system – mental, emotional, physical, and energetic/spiritual.
In these last twenty-five years, I have been unbelievably fortunate to have worked as a holistic healer in private practice, owned a retreat center with a full-service restaurant and organic garden, I've written six books and co-authored four more, hosted three podcast series, written numerous published articles, spoken on stages both physical and virtual all over the world, and I have helped hundreds of people wake up to their own ability to heal themselves in my private practice. I created a technique that heals the emotional root cause of illness that I now train coaches, therapists, healers, and entrepreneurs to use on themselves and for their clients in my course and certification program – Evolving Intuition, Building Self Trust For Life.
The thing that carried me through everything was one thing. It was following my intuition, even when it didn't make logical sense. The training I received 25 years ago in developing this ability into a skill helped me in every area of my life to grow and help others do the same. My online course is the pinnacle (of) f my work in training others about the way our bodies hold the memories of past experiences, how beliefs and feelings become lodged in it, and how to release that blocking energy to help a person get well. After that is released, then we can really deal with finding a diet to support the body to maintain a healthy weight and state of wellness and well-being.
Would you say it's been a smooth road, and if not what are some of the biggest challenges you've faced along the way?
The road has not been a smooth ride for me as an entrepreneur. Creating my own business through my personal experience of healing over a dozen illnesses was very difficult yet also extremely powerful. Being an entrepreneur is a personal development journey. It pushes you to be better, to go deeper, gain discipline, focus, stamina, and most of all, an unshakeable belief in yourself to succeed. You have to learn to shut out the naysayers and follow your own path – which has zero guarantees of the kind of success we all associate with being an entrepreneur.
The hardest things I endured along the way were losing my retreat center and my marriage at the same time in 2004, losing my private practice as a result of the 2008 market crash that left me homeless for two and a half years, then after a successful run as a private chef to celebrities, I was struck by lightning on Venice Beach in 2014. My injuries would leave me unable to continue cooking full time. I was able to keep two private chef clients – Michael Weatherly and his family and Harley Neuman (Hollywood's top business manager) and his husband, Daniel Lam (realtor to the stars). I barely got by but it challenged me to go to the next level. That is when I created the Get Well Now holistic healing program that would become my best-selling book and podcast series.
For me, loss always creates opportunity and my attitude is that I will always end up better than where I was before if I follow that inner voice to create the life that is waiting for me.
As you know, we're big fans of Get Well Now. For our readers who might not be as familiar what can you tell them about the brand?
I help coaches, therapists, healers, and entrepreneurs to gain unshakable self-trust, heal empathic overload with my Empath Recovery System, and remove the emotional blocks from past experiences that keep them from moving forward in my online course and group coaching certification program. In my private practice, I focus on healing the emotional root cause of illness and pain in the body for women abuse survivors with chronic illness while helping my clients to support their bodies to heal themselves with healthy eating.
What sets me apart from others is the emotional release technique that I created – Whole Person Integration Technique – that zeros in on the long-standing emotions and negative core beliefs from past experiences that keep a client sick and in pain. I have seen long-standing conditions like sciatica and anal fissures heal overnight because this technique gets to the core issue in the unconscious mind that is keeping them stuck. I have also had personal experience as an abuse survivor, having had over a dozen illnesses including fibromyalgia, trauma from drowning and being struck by lightning.
I am most proud of the work that I have done to help others heal in my private practice. I have helped people all over the world to heal and live better lives through food and the power of the mind and heart to heal the body. I am also proud of all that I have accomplished in spite of having so many unbelievable setbacks, traumas, and illnesses. My ability to keep going is astounding now that I think of it!
I offer private sessions to people around the globe, I have multiple books, podcasts, YouTube videos, articles, and my transformative online course Evolving Intuition; Building Self Trust for Life has been the great joy and culmination of my work to help healers heal, got to another level, gain an incredible tool for healing, and uplevel their businesses and their lives. I am SO far beyond grateful that I get to do this work. I wish this kind of joy for everyone! Additionally, I offer my online food program, 21 Days to Healthy Eating & Private food coaching program, What Celebrities Eat to help people health chronic conditions with food.
Where do you see things going in the next 5-10 years?
I see holistic healing and wellness going through the roof over the next decade! I especially see my work in the emotional root cause of illness and how past experiences affect the physical body as being paramount to the future of medicine. This is the leading edge of wellness. After this horrifying experience of living through a pandemic, people will be searching for healing in ways they never have before. They will be called to learn about the human energy system, how past experiences affect the physical body, and how to heal every system of the body with new ways of thinking, holistic exploration, and the ways our beliefs affect our biological systems. BIG changes are on the way in medicine and I am on the leading edge of them. People aren't going to go with the status quo. They will learn to listen to their own internal guidance systems and I will be there to train them to do just that. We are in a very exciting time of growth and development!
Contact Info:

Image Credits:
Starla Fortunato
Suggest a Story:
 VoyageLA is built on recommendations from the community; it's how we uncover hidden gems, so if you or someone you know deserves recognition please let us know 
here.