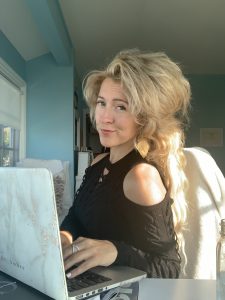 Today we'd like to introduce you to Dr. Amber Krogsrud.
Thanks for sharing your story with us Dr. Krogsrud. So, let's start at the beginning and we can move on from there.
I grew up in a small town in rural Minnesota where conventional medicine was and is the norm. My parents took me to the gym at a young age – I remember wanting to do the adult intensity workout, lift weights and stretch with my parents and not wanting to go play in the kids play gym. I loved being active, playing tennis, going for bike rides and playing volleyball.
My parents also gardened every year. Despite having these healthy exposures as a child, I lived by my taste buds with sugar and processed cereals. I consumed an overall Standard American Diet (SAD) that set me up for health issues early on. I had eczema as a kid. Every dermatologist I went to suggested topical or internal medications to 'silence' the skin issues and unfortunately that would only drive them deeper. For years, the only relief I got was from the overuse of hydrocortisone cream. I had no idea what immune dysregulation or gut issues were underlying the eczema that showed up on the surface on my skin. It was all a mystery to me and no one could give me answers as to WHY this was happening.
Fast forward to age 16-18, when I started podcasting and reading books about nutrition and self-improvement. This felt like a whole new world for me. I felt like I was uncovering mysteries of my health issues that were left for me to find. To me, this was the heart of medicine. I was encountering this whole new world of understanding about the fueling of my body, the food I ate and how it made me feel. I experienced amazing energy, brain function and awesome workouts with these new dietary changes, supplements and tweaks in my fitness routine. I was addicted to feeling this good forever. At this point, I knew I wanted to work in a professional setting where I got to help people to experience the same incredible feeling I created and experienced for myself!
I was excelling in biology and chemistry coming out of high school and decided to go pre-med. My parents encouraged me to "shoot for the stars" and pursue the highest level of training possible when my mind was young and sharp. I was merely 18 and jumping into sophomore and senior level college courses. I shadowed a few doctors during my sophomore year in undergrad to see what the life of a doctor was like. I was disappointed with what I experienced; It appeared the doctors were nearly as sick and exhausted as their patients. They were able to prescribe meds but weren't able to really facilitate transformation. Even though I believe their heart to pursue medicine as a career path was ultimately good, the system with which they were stuck operating in was pinning them to the ground in the fight for their patient's health.
Many patients came in on a handful of medications and left with another medication prescription after the exchange of maybe a few minutes with the doctor. I witnessed people moving through the system of medicine that's goal was the suppression of symptoms. I had to take a look in the mirror and consider doing this for the rest of my life. This didn't appear to change people for the better; it was crippling them to be on meds for the rest of their life with no reversal of their condition. The desire to help people "regenerate their health" and the word "regenerative" became really loud in my mind during that time. I knew I wanted to do something transformational to my patients health.
A quarter later, I found out about Naturopathic medicine through a podcast called "Underground Wellness" lead by a health pioneer in San Diego, Sean Croxton. He talked about how the Naturopathic medical training was reputable, rigorous and focused on the whole person. But these were different kinds of doctors — doctors who were truly able to help their patients reverse and regenerate from health conditions and took the time to spend with their patients, avoiding the use of medications when possible. This was the kind of medicine I had craved to be a part of. I wanted to help patients regenerate their health. I pursued this medical program knowing this was exactly what I was looking to do for my life's work.
I graduated from naturopathic medical school in San Diego, CA which was one of the most incredible, rewarding days of my life yet to date. Not everyone makes it through that rigorous training – I had many friends who started the schooling with me but quit along the way. To be honest, many times I contemplated quitting and the training brought me to my knees in tears so many times. But looking back, there's no better decision that I made than sticking to my guns, trusting the process and staying the course to become a licensed naturopathic doctor. It's made my life flourish more than I could have ever imagined. I love working with women and solving hormone problems for my patients, which ultimately dramatically change their lives.
Great, so let's dig a little deeper into the story – has it been an easy path overall and if not, what were the challenges you've had to overcome?
I had my own "healers journey" in healing my own gut issues, adrenal issues and some food sensitivities from bouts of chronic stress during schooling. I used therapies like botanical medicine, adrenal support, IV therapy, NAD+ and peptide therapy to completely restore my health. I know what it's like to work long hours and be sitting all day; it's helped me to better understand the "Wall Street" work schedule and how to support patients who have little time to support their highest health. It made me creative in my treatment plans to get my patients results, but also to teach them to have a more balanced life and help them cope with stress.
My first year out of medical school was a challenging one, starting a clinic and having to re-learn the world of business, in addition to being a doctor. It definitely was one of the most challenging seasons of my life. It refined me so much, and now I feel like I have so much wisdom for younger doctors and for new entrepreneurs starting out in business because of this season of life.
Please tell us about PeptideRx.
PeptideRx is a community of individuals who are utilizing peptide therapy either to resolve chronic health conditions or for biohacking purposes. We have a facebook group where many individuals ask questions and share stories about their experiences of using therapeutic peptides. In LA, I have worked with entrepreneurs and athletes looking for performance optimization and have used peptide therapy in chronic infections like EBV and Candida gut infections. In my work, I have also seen peptide protocols successful for weight loss and body composition, cognitive performance, ADHD/ADD, autoimmune disorders and more. In addition, I am a physician, a member of the International Peptide Society and has a peptide certification through the American Academy of Anti-aging (A4M). This robust training has made me a specialty practice and known for taking a novel approach.
Any other information we need to know about you?
I am a Licensed Naturopathic Doctor in Los Angeles, CA trained in regenerative medicine, detoxification protocols, hormone testing and treatment, bioidentical hormone therapy, anti-aging protocols, peptide therapy and IV nutrient therapy. I have a private practice in Redondo Beach, CA where she specializes in peptide therapy and women's hormone health, including the use of bio-identical hormone therapy.
The school I graduated from as a Naturopathic Doctor is called Bastyr University, located in sunny San Diego, California. I am very passionate about blending natural medicine and modern technology to provide therapies that truly help my patients get answers and outcomes for their health concerns and diagnosis. I am also passionate about educating on peptide therapy and works with patients both in-office in Redondo Beach and also virtually by telemedicine appointments.
Pricing:
$100 peptide consultation
$400 Initial Hormone or Gut Health Consultation
$400 In-home IV Therapy Immune Boost
Contact Info:
Suggest a story: VoyageLA is built on recommendations from the community; it's how we uncover hidden gems, so if you or someone you know deserves recognition please let us know here.