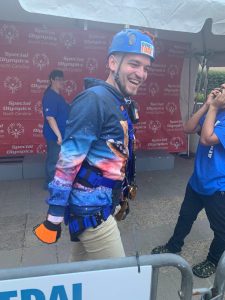 Today we'd like to introduce you to Doug Watkins.
Doug, can you briefly walk us through your story – how you started and how you got to where you are today.
I've always played video games since I can remember. From a young age, probably without realizing it, I used games to learn and socialize. Baldur's Gate I & II, one of my all-time favorites, is basically just a whole lot of text and interesting choices. Playing strategy games like Starcraft taught me about economies, money management, and got me interested enough in tactics to pick up the Art of War.
One of my proudest moments, when I finally got good enough at Halo to beat both my brothers and all their friends at a LAN party, was only possible because of the time I put into learning the game and mastering the controls. (I have a theory about this; I read once that younger children have an easier time changing their handedness and that as you age, you become much more right or left-handed. Halo was the first first-person shooter to incorporate the use of two joysticks, one for movement and one for looking, before that it was 007 or Perfect Dark, which put it all on one joystick. So my theory is that my brothers and their friends, being older, weren't able to master the dual joysticks as quickly and easily as I was.)
In college, I discovered Minecraft in the early days and just fell in love with it. The way you have to build with the blocks seems so simple at first, and then you start learning about commands and before long you're making machines and essentially writing something very similar to code. When I graduated college and moved to Los Angeles, I found myself with a lot of time and dove into the coding aspects of Minecraft head first. It was really the first time in my life that I started to feel smart and capable like I could actually do things that I once thought were out of my depth.
I've always been a good teacher – I usually can't really learn something myself until I have to explain it to another person. I remember having conversations in college with my teachers and them asking me to seriously consider going into Theatre Education rather than continue pursuing my Theatre major. I didn't listen, the acting bug had bit me way too hard, but I did take a series of summer jobs with theatre summer camps around the area. That satisfied a real desire for me to be able to be part of the acting world, but also played to my natural teaching strengths.
In LA a few years later, finding myself with a bunch of time, seriously jaded about the prospects of my acting career, and feeling empowered from playing Minecraft and learning about my potential, I started looking for a way to use Minecraft with kids. At first, it was tutoring and man, can I just say that I bombed those first couple of clients. After awhile, I went back to the drawing board and realized that I was leaning too heavily into the educational aspects of my lesson plans and not enough into the fun parts. The way I think of it now is this: why bring a game into a classroom or into a tutoring session in the first place? Because of the engagement that it provides that really gets the player involved in the lesson. If you lead too much with the purely educational, the kid doesn't have fun because they feel too restricted, and suddenly you have a very boring, not very educational lesson.
Once I had that revelation, my clients became much happier and I started getting a lot of word of mouth interest. Those clients in LA kept me alive for most of the 4 1/2 years I lived in the city. Eventually, though, my mind started turning back to summer camps. I worked for one for about two years in LA and really liked it, so I started my own with a friend called Learn By Gaming. That was a completely different experience. I had never taken a business class in my life, but somehow we managed to get it together and deliver a really fun gaming-themed summer camp for two years. We had Minecraft classes, made up our own outside games, and I had parents telling me that they were canceling other camps because their kid loved ours so much. It was scary, exhilarating, and fun all at the same time.
Eventually though, not understanding business like I should have come back to bite me. We didn't really have a plan for the company to do anything when it wasn't summer camp and we saw very limited success with winter or spring camps. We wanted to do the job full time and leave the survival restaurant jobs we had. but we just couldn't find a way (at the time, I would get out of camp at 5:00 PM in West LA, have to drive my business partner back to our apartment in Mid-City, and then turn around and go to work starting at 7:00 PM in Venice, usually getting off work around 1:00 AM).
The summer camp idea kaput, I went back to work for others doing Minecraft and gaming themed stuff. I taught at a different summer camp the following summer and worked for an afterschool program in West LA. I even did a really fun Minecraft club in Inglewood for awhile. I retained clients and found new ones, but eventually I felt it was time to leave LA. I was away from family, didn't have great job prospects at the time, and wanted to try something else. I moved to Raleigh, NC, to be closer to my brother and family. There I started working and decided to try something new for my side hustle.
I began doing remote tutoring through the computer and working with kids 1:1 to help them get more out of Minecraft time. After doing this successfully for several years with clients around the country, in 2019, I decided to start the business again, this time in North Carolina, this time with the name "Learn Through Gaming" and this time as a sole proprietorship. My mission was to help make gaming time more constructive. I was doing well all through 2019, seeing business consultants and trying to make sure I had the right infrastructure in place when the Coronavirus hit. I saw how it was affecting families and parents who were struggling to work from home and balance child care. I also felt that I had a unique position as someone who was accustomed to working remotely with kids and families and had the technical skills to do it.
I talked to my customers, my family, my friends, and then worked like a madman through March to rebuild my website and online store, and now it's all launched. Essentially, we've put together a kind of online summer camp experience, with classes in Art, Cooking, Dance, Gardening, Minecraft, Movement and Storytelling. It's a sort of a la carte approach where families can sign up for as many or as few classes as they need. The overall goal is to give kids a fun and engaging summer camp from home and do our best to employ people who have been laid off or are out of work due to COVID-19. We're calling it "Learn Through Summer Camp 2020."
All of this covers a period of about Summer 2012 to present day.
Has it been a smooth road?
Definitely not a smooth road. I think the biggest obstacle was maturing as an adult and as a leader, personally. When I started the first summer camp in LA, I knew very little and had a tendency to try to outsource every problem instead of dealing with it myself. It wasn't that I didn't want to learn how to do things like build a website or run SEO, it was that I wasn't confident in my ability to do so. I remember feeling such deep seated anxiety those first two years, to the point where I had to make time every day for meditation.
Now, after having spent some time in the corporate world after moving to Raleigh, I have a much better handle on how to problem-solve. Maybe I just needed the time, or maybe I just needed to stop having business partners so I had to take full responsibility, but whatever has happened over these last eight years or so has resulted in me being much more of a one-man band when I have to be.
I guess my thinking now is that any time you come up to a bump in the road, you really have to ask yourself – is solving this problem worth the time I will need to put into learning new skills, or should this be outsourced? Most recently, I had to make a decision on social media marketing and definitely went through this thought process. Ultimately, I know I made the right choice.
Please tell us about Learn Through Gaming.
I refer to myself as a Digital Game-based Learning (DGBL) specialist. You can also call me a Minecraft expert and private tutor. I'm really proud of my product, I have lesson plans built for multiple games and have worked with kids consistently and remotely for the past eight years.
Regarding Learn Through Summer Camp 2020 – what sets us apart is our variety. Most other online camps or classes are pretty technical and don't really stray outside of strictly computer activities. We have broader class choices, which allows families and kids to have more agency in what they are learning.
If you'll remember my own journey to feeling empowered by learning, it only really started when I was given the ability to make my own choices and explore my curiosity.
Is our city a good place to do what you do?
LA has the resources in place to be a wonderful city for starting a business. If someone was just starting out, I'd encourage them to be proactive about finding those resources before they get carried away with an idea. No one is going to come to you and say, "I want to give you free advice about your business," but it's out there if you know where to look. I, personally, loved taking part in SCORE LA, who provided me with excellent advice.
Pricing:
$200/1 hr class in Art, Cooking, Dance, Gardening, Minecraft (1.5 hr), Movement & Storytelling
Contact Info:
Suggest a story: VoyageLA is built on recommendations from the community; it's how we uncover hidden gems, so if you or someone you know deserves recognition please let us know here.