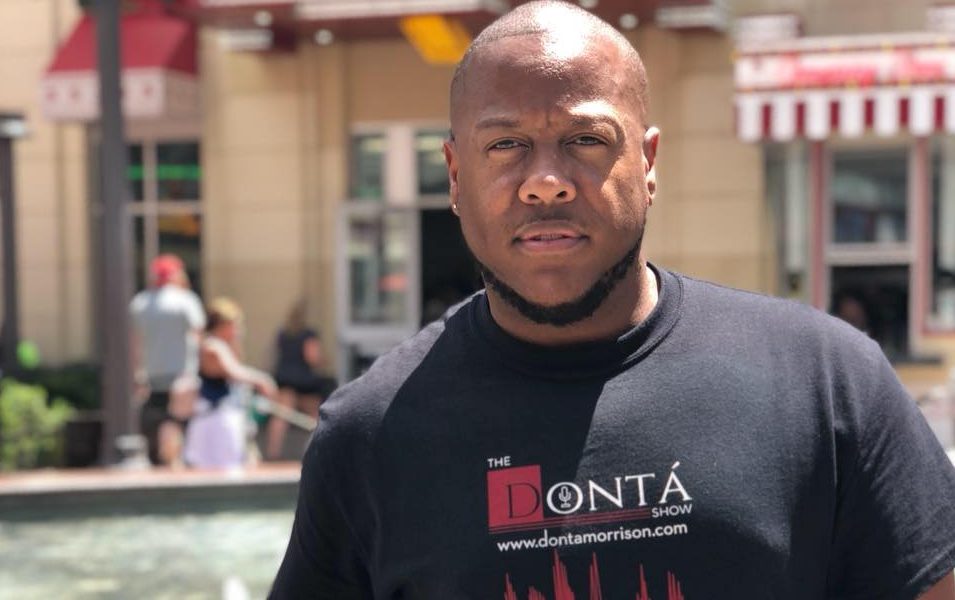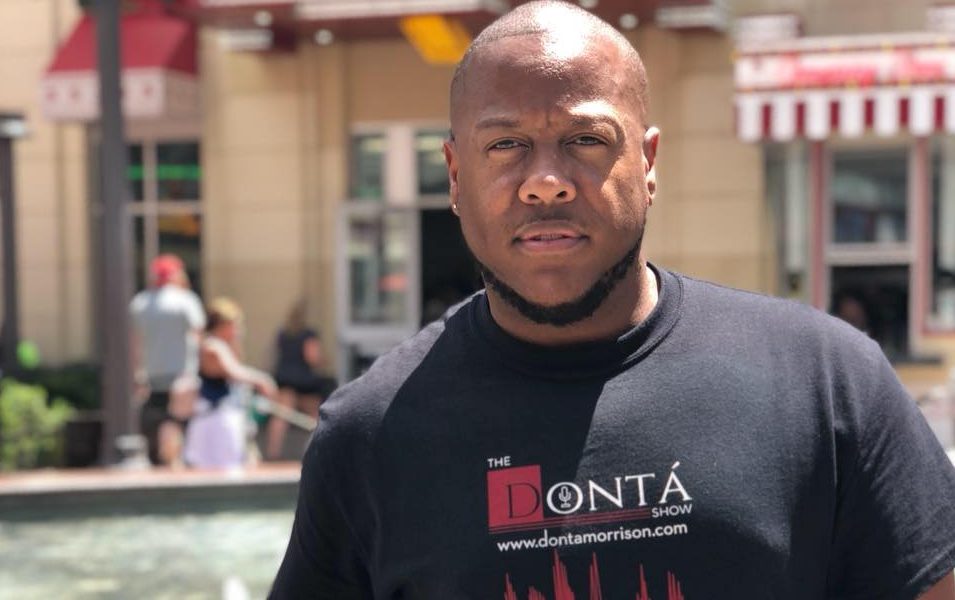 Today we'd like to introduce you to Dontá Morrison.
Dontá, please share your story with us. How did you get to where you are today?
To some, my story is an unbelievable tale filled with dramatic twists and comedic turns. There are so many facets of who I am that it is sometimes difficult to highlight just one.
Basically, I am an openly gay man living with HIV who also happens to be an author, host of a podcast, mentor, HIV advocate, member of Kappa Lambda Chi Military Fraternity, Inc., and minister. That last one usually catches people off guard; but, it is definitely a pivotal part of my journey. Shortly after my diagnosis in 1999, I decided to publicly speak out and share my story.
Knowing that sex, sexuality, and sexual behavior are taboo topics -especially within communities of color- I wanted to do my part to normalize the discussions. Over the years I have been blessed to educate and empower a host of audiences across the nation.
Most importantly, I am a conduit between the faith-based community and those who work in the field of sexual health; which is of major importance because the Black church is a strong influence within the community.
In 2011 I released my first novel "The End of the Rainbow". It was one of the proudest accomplishments ever. I never imagined that I would not only write a book but pen a story that people loved. The positive feedback was amazing and it truly affirmed on so many levels.
In 2012 I released the follow-up novel "Yesterday Clarified". It received the same, if not better, praise as the first. I was on a definite high. I had dealt with so many pitfalls that this accomplishment was a much-needed reminder of what I could do if I put my mind to it.
In 2014 I launched The Dontá Show in an effort to further my reach. I also created the show to give a platform to community leaders, entrepreneurs, social justice activists, etc., with powerful messages that often go unheard. My goal is to strengthen the village and show that everything we need to repair ourselves is within reach.
I was recently named in HIV Plus magazine as one of the top 20 most amazing HIV+ people of 2018, I am the recipient of numerous awards honoring my work and has been published in various magazines and newspapers sharing my views on the HIV epidemic and its impact within marginalized communities.
My desire is to help those who feel helpless and comfort those who feel alone. There is nothing worse than existing but not living. We each have a responsibility to care for one another but somehow the spirit of compassion has been lost. The Dontá Show is not only a podcast, it is a movement.
Overall, has it been relatively smooth? If not, what were some of the struggles along the way?
I am a triple minority (Black|Gay|HIV Positive) so I expect nothing less than a few hurdles along the way.
Let's start with the two novels I've written. Being self-published is difficult. Without a huge marketing machine behind you, your work can get lost in the shuffle. It can become discouraging but I had to remind myself that I wrote for therapeutic purposes and not to make money. I wanted to get my story out of my head and onto paper. I needed to release the pain and trauma. The ability to do that was worth more than silver and gold.
The launch of The Dontá Show was exciting. From day one until now I have loved the opportunity to dialogue with a bevy of phenomenal thinkers. However, being a one-man team has some exhausting moments. Trying to juggle everything on my own is difficult and still has moments of intense frustration. That being said, there was a personal obstacle I had to overcome. I started the show with the expectation that all of my friends and family would rally behind me in support. When that did not happen I was shocked. Unfortunately, it took me a while to stop focusing on who was not listening and being grateful for who actually was.
Needless to say, the biggest challenge for me was overcoming the sadness I felt after realizing that those who I thought would be my biggest allies ended up being the least dependable. It was definitely a tough pill to swallow; but, it taught me how to focus on quality and not quantity. Having a lot of people cheering means nothing if they are not loyal. Now, I have a band of allies -many of whom I have never met- who tune in no matter what and we have a hilariously good time each week.
Alright – so let's talk business. Tell us about The Dontá Show – what should we know?
On October 13, 2014, I launched The Dontá Show in an effort to raise awareness about many of the issues I feel are being overlooked within my community. What began as a simple radio show that discussed sexual health has evolved into a community awareness endeavor inclusive of workshops, lectures, and social gatherings. The wide array of topics (HIV, sex, racism, religion, pop culture, etc.) have drawn a diverse set of supporters all interested in dispelling the stereotypical rhetoric that marginalizes minority communities.
I am most proud of the fact that my listening audience is diverse. I never wanted to be the 'black gay guy with HIV'. I am far more than that and refuse to be boxed in and labeled as such. Each week I get support from men and women; black, white, Latino, gay, straight, lesbian, transgender, Christian, Atheist, and so on. I abide in a world of color and fluidity and The Dontá Show is reflective of that. Each week I provide a bounty of teachable moments that challenge that status quo and provoke change. By fueling out-the-box conversations, out-the-box ideas are ignited. That fire can engulf those systems designed to stagnate growth and create more inclusive spaces of existence.
Every Monday night at 9 pm (PST) on Blogtalk Radio The Dontá Show community comes together to learn, grow, vent and laugh. We are doing our part to reshape society for the betterment of future generations.
Any shoutouts? Who else deserves credit in this story – who has played a meaningful role?
My list of mentors and persons who have poured into me is great. I would hate to omit anyone but for the sake of giving credit where credit is due, I will attempt to share as many as my brain will allow.
God. I am nothing without Him.
My immediate family (Anthony, Stephanie and Teri Williams) are my rock. They continually push me to be great. I would be a totally different person had it not been for them constantly staying in my ear and telling me that I am here for a reason and purpose. Having the support of your parents and sibling(s) is nothing short of amazing. I know so many who live and love like me that have been ostracized and alienated simply because of what they do (or don't do) in the bedroom. It's so archaic and I pray those judgmental behaviors are nearing an end.
My partner Eddie. He always tells me to go for it. Even when I think I sound stupid or the idea is dumb. I often hear people say "I don't need anyone" and that saddens me. We all need somebody. At least one good person on our team.
My spiritual father, Bishop W. Todd Ervin, Sr. As a person of faith I need someone that understands that side of me. My pastor helps me to stay focused on the bigger picture. He helps me stay grounded. He also challenges me to be greater for the purposes of kingdom building.
The staff I manage and the Healthy Him Ambassadors that I mentor. They are a daily reminder of why I do what I do. They are the reason I share my story and living authentically.
My LoCs of Kappa Lambda Chi Military Fraternity, Inc. They are 100% through and through. I know that no matter what I have brothers until the day I die. I.M.P.A.C.T for life.
Karamo Brown. A true friend that trusted me with his vision. Together we started 6in10.org and it was the rejuvenation I needed. He pushes me to keep going and I thank him for that.
I have a wonderful circle of friends that keep me grounded. They allow me to be human; which is so important. If I am having a bad day they don't hold it against me, but willingly lend an ear and allow me to vent. I love my village and they know who they are.
All the above have helped me become who I am today. They have inspired, motivated, encouraged and affirmed me in ways unimaginable. The roles they played is immeasurable.
Contact Info:
Getting in touch: VoyageLA is built on recommendations from the community; it's how we uncover hidden gems, so if you know someone who deserves recognition please let us know here.