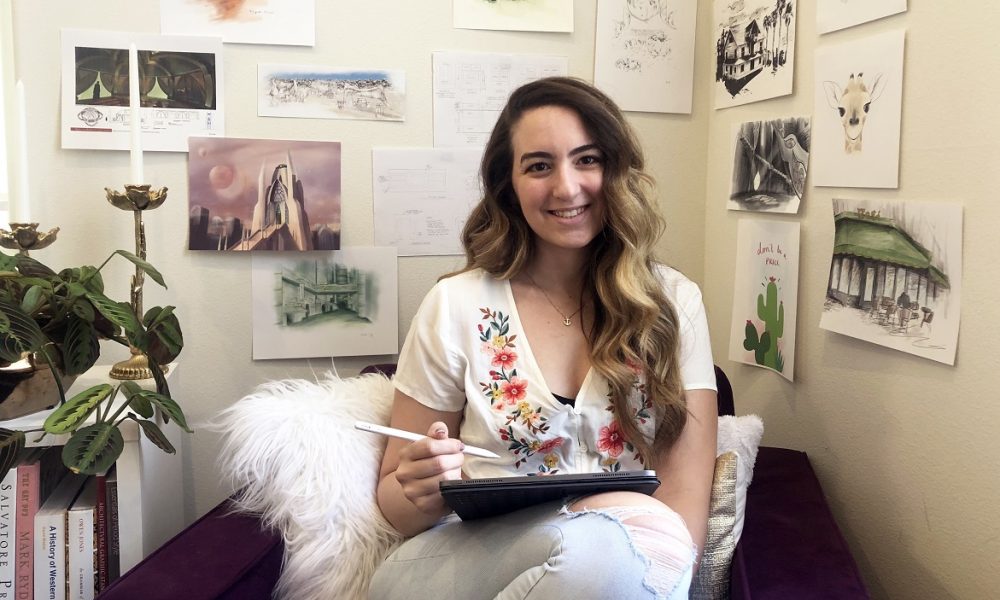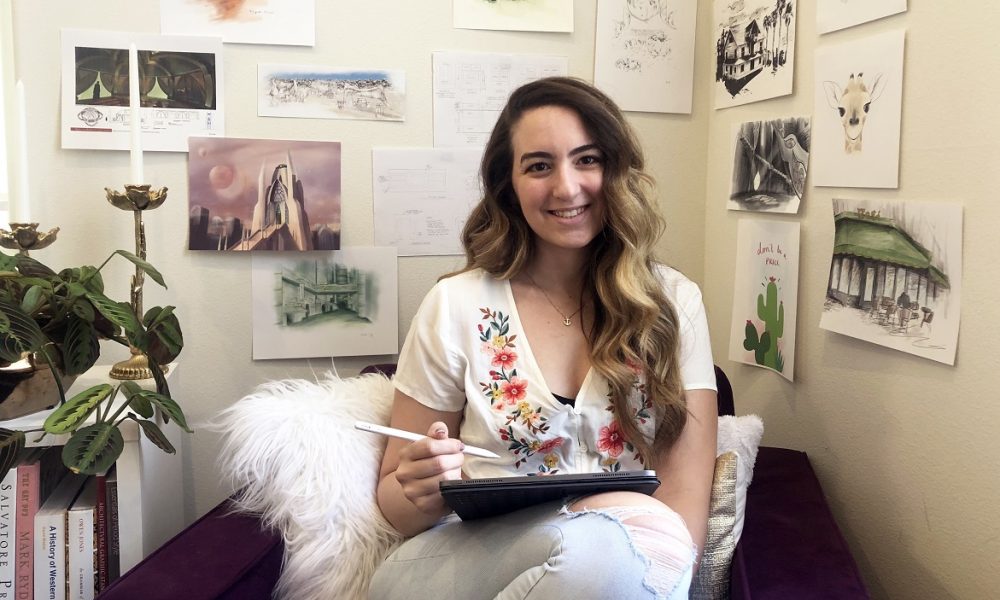 Today we'd like to introduce you to Dina Mustakim.
Dina, please share your story with us. How did you get to where you are today?
I don't think I could have gotten where I am today without a whole lot of courage, and being lucky to have been constantly surrounded by wonderful and supportive people. Like a lot of people who are creative, I think it begins at a young age. From the time I was little, I always enjoyed being "crafty." That fell into my love of art through drawing and painting. I loved to make anything by hand and found myself in the art classes and clubs throughout childhood.
My family moved around a lot and I lived many places as a kid. During High School we lived in Las Vegas where I attended Las Vegas Academy of the Arts. I credit their visual arts program and the wonderful teachers with the foundation that started me. The curriculum was classical in the sense that we first worked with pencils and drawing from life and then progressed to color and other more modern mediums. Since I had a love for any kind of project, I appreciated the opportunity to learn it all. I've had my hand in almost every artistic medium and will always take with me that ability to utilize whatever tools and styles I need. I never feel boxed into one solution.
Being a person who loves to create in so many ways, it really was a challenge for me to narrow down what to do with all these things that I loved. In my undergrad, I was a Studio Art Major with an emphasis in painting. I knew I was interested in portraits, and through the help of my professor, she helped me figure out how to start. I realized I still had to experiment and utilize materials in different ways. Eventually, this came to me doing some installation art with my paintings, which is when I started to think about film.
Through the art, I was making my goal was to create an environment or a painting that the viewer could reflect in and feel some kind of emotional response. I wanted a story to be told through my art that would allow someone to reflect on their personal experiences and think of their own story and how that story makes them feel. Upon graduating, you're supposed to have some idea of what you want to do. I decided I wanted to create the set designs for film and television.
Like all dreams, sometimes you have to wait. It took me two years before I was able to move to California and apply to Chapman University for their Production Design MFA. I don't think you have to go to school to break into the film industry, but for me it provided direction for pursuing my career.
I've graduated in the middle of a pandemic, and currently things are at a standstill. I have been able to pick up a small project or two, but am waiting for things to start running again. I do appreciate this extended time of freedom to create my own projects. I've been able to paint and draw even more now and have opened up an online shop to sell prints. Currently, I am working on a series of illustrations that showcase the production design of popular films. I want to call out the moments in a film where a design element draws you in and gives you that feeling of magic.
Great, so let's dig a little deeper into the story – has it been an easy path overall and if not, what were the challenges you've had to overcome?
It's difficult calling any specific events in my life challenges. I've had my share, but don't like to give negative connotations to things that I will always carry with me. Most of the things I struggle with come from myself.
While I have gained a lot of courage over the years, I constantly question if I "have it". The "it" is that thing that makes people want to see your work. I have always agreed with the philosophy that talent is a combination of hard work and the natural ability you are born with. I personally feel I fall into the work category. I won't deny I have natural ability, but there is a certain amount someone possesses and the rest is work. Every artist works hard to get to perfect their craft, but some possess more natural flare than others.
When you face rejection and you work so hard at something, it really can hit deep. Particularly when you know you gave your absolute best, it was the best of your resources and skill, and you still don't quite make it. I think about when I applied to Chapman. I was waitlisted. As someone who defines myself as being more work than natural talent, I thought I wasn't 'talented' enough. Maybe hard work doesn't matter because you just don't have enough of that natural ability. That really is an awful way to think, and just makes you feel even worse.
It never lasts long, but rejection sure can hurt your ego. I try to gain energy from rejection and turn it into something constructive. It lets you see where you stand and allows you to reevaluate where you are and the things you need to work on. In a creative industry, it's incredibly important to have tough skin and not be your own worst enemy.
Please tell us more about your art.
I work in the art department of film/television. What I love is the opportunity to communicate a feeling or setting through environment and place characters in spaces that enhance their stories. Stepping into this field has allowed me to exercise all of my "crafty" sensibilities as well as employ the technical aspects of being an artist and designer.
Given the current COVID environment however, the entertainment industry is pretty much at a halt. In a way, the free time has been nice, and I've been taking this time to work on my personal projects. I opened a small Etsy shop called Dina by Design where I sell prints of the various artwork I have done. Recently I started a new series inspired by the set design of popular films. I wanted to intersect my favorite visual mediums and also pay tribute and call out how important production design is to film. People will often say a film was so pretty, or that they really loved one thing or another about it. By doing this series, I want to showcase how the production design of a film can make you have all those feelings and just how integral it is to a film.
With all the art I do, whether it simple, trendy, or more labored, I hope I can provide someone with an original piece that they can feel proud to hang in their home.
Do you look back particularly fondly on any memories from childhood?
One of the luckiest things I ever got in my childhood was living in so many areas and coming from a family of different cultures and walks of life. When I was young, my family moved around a lot to various states and most notably to Egypt for a time, which was where my dad is from. My parents thought it was important that we not be too settled and that we have different experiences while we were young. I love that I was born in one place, but grew up in another, met my best friend in one, and can ultimately say where I like to be. All that moving made me know I always wanted to be in California, even before I ended up in film. Looking back, I have an appreciation now for how normal it is to be from somewhere else and to come from a different walk of life. I can take my experiences and feel comfortable almost anywhere.
Contact Info:
Suggest a story: VoyageLA is built on recommendations from the community; it's how we uncover hidden gems, so if you or someone you know deserves recognition please let us know here.