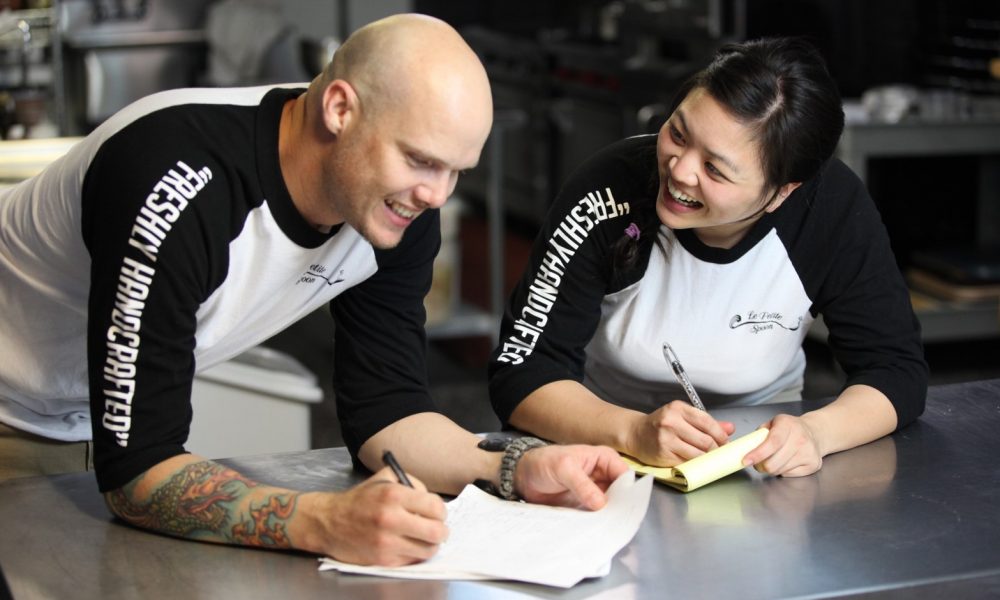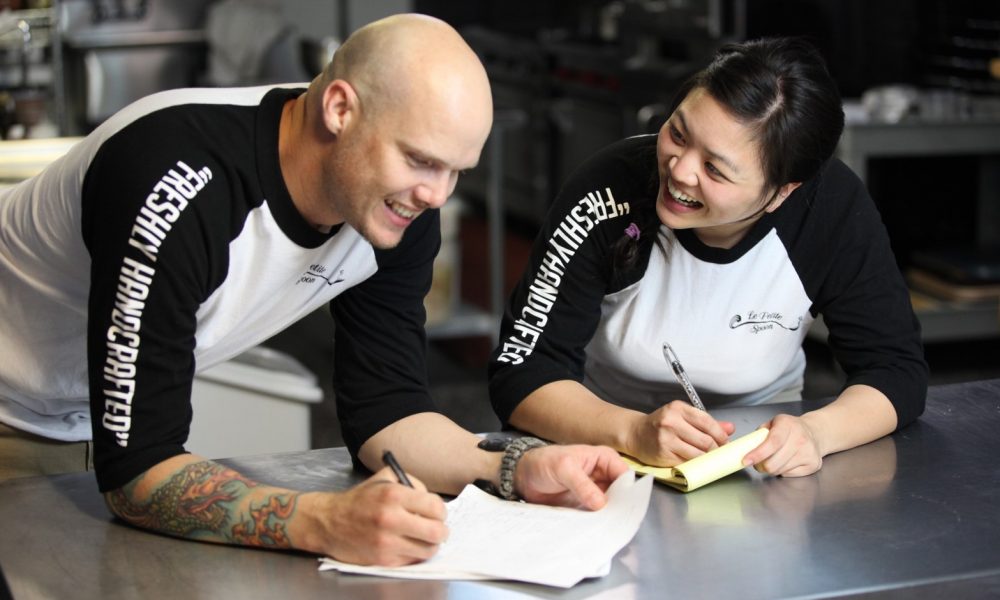 Today we'd like to introduce you to Diana McDonough.
Thanks for sharing your story with us Mike. So, let's start at the beginning and we can move on from there.
Le Petite Spoon is a boutique catering company my husband and I started together. We came from different parts of the world but were trained in the same "old school" techniques. Our connection to each other was instantaneous, and we knew from the beginning we were going to create amazing food together. Le Petite Spoon has a unique viewpoint on food. We shop at all the local South Bay farmer's markets and try to promote Non-GMO, organic foods. "Freshly Handcrafted" is how we like to describe our approach.
Being Chef Owned & Operated means our first and foremost priority is the quality of food we execute for our clients. We create special relationships with our clients as the person you contact and communicate with about your vision for your catered event is the same person shopping at markets AND prepping the food for your party! You don't have to worry about what to expect the day of your event!
We are the true blue story of a mom and pop business. Coming from nothing, with our own hands and hard work, we built ourselves a Certified Catering Kitchen we now operate in Harbor City which gives us the opportunity to cater to all of Los Angeles & Orange County.
Even as a small company of two employees and literally two years old, we still manage to do some charity work. Being affiliated with American Liver Foundation and Mind Research Institute has been a dream of ours. Food brings people together. Let's get together and do some good too!
We're always bombarded by how great it is to pursue your passion, etc – but we've spoken with enough people to know that it's not always easy. Overall, would you say things have been easy for you?
We didn't have a black book of existing clients, or something called funding when we started Le Petite Spoon. There are no silent investors or a huge corporation backing us. It's just the McDonough's and our level of food, execution, and service that has gotten us to this point.
Most people start a food business out of their house and if it all works out. start renting kitchen space as their business gets bigger. Scott and I are both quite confident in our culinary skills and decided let's take the huge leap of faith and get ourselves a proper kitchen space. We literally took an old taco restaurant and with our own hands… built our catering kitchen. "Build it and they will come."
Our main struggle at this point is how to "Get out there" and be heard! We don't have a marketing team or sales representatives. What we do have is an Instagram/ Facebook/and Twitter accounts that I personally manage and an awesome small collection of clients that have been loyally supporting our vision.
We'd love to hear more about your business.
Let us take a minute to brief you on Le Petite Spoon. Not only are we Chef Owned & Operated, but we are also a husband-wife duo. We like to consider our food "Freshly Handcrafted" highlighting seasonal, fresh, local, and organic ingredients whenever possible. Our first priority being chef owned and operated is serving our clients with the best possible food packed full of flavor. Between our culinary careers, we have almost 30 years experience in the hospitality industry, whether it be an intimate dinner for two or a corporate event, let LPS execute your catering needs. With our vast experience in service and ethnic flavors, we are quite confident we can meet any of your food needs. Thank you for considering Le Petite Spoon and know that the person you are speaking to about all your event planning is actually the same person who will be shopping, prepping and delivering your food! It's a unique personable touch only Le Petite Spoon can offer you!
Food quality and guest satisfaction are our main priority. Not only do we focus on making sure you are enjoying yourself at the party, but we make a conscience effort to buy most of our produce at local pesticide free farmer's markets. NON-GMO is the way to go. Enjoying seasonal locally grown food is such a luxury so many people dismiss. We like to add small details to dishes that maybe you haven't had before, or is highly nutritional and teach people how to integrate more healthy foods into their daily lives without much effort.
What were you like growing up?
Scott came from a small town outside of Toronto, Canada called Arthur. They had 2 stop lights in the town. He had that country living kind of childhood kicking rocks in the river out back and spending summers at the family cottage by the lake. He started his culinary career as a dishwasher at the local inn. Realized how being in the kitchen resonated in his soul, he hasn't looked back since. It was clear Scott had great potential as a chef as he was sent to go train in France the Spring of 2002. It was when he found himself working at the Vancouver Olympics in 2010 that he and I worked in the kitchen together.
As for me, I grew up in Little Saigon, Westminster. I was predestined by my parents to be a lawyer or pharmacist who played piano/violin/and cello. Sorry, Mom & Dad. =)
I went to culinary school after dropping out of my Statistics Major at Cal State Long Beach. I was hired by Wolfgang Puck Catering 3 days into starting culinary school. I stayed with them for almost 8 years. I owe a lot of my culinary knowledge and viewpoint of food to my chefs at Wolfgang Puck. It was because of them, I was sent with a team to go cook at the Vancouver Olympics.
Our connection was instant and full of passion. We dated long distance for six months. Scott drove his '86 Honda Shadow aka "Big Red" across the US to come move into my 800 sq feet studio in Korea town with my trusty sidekick Cocoa Puff (my dog since sophomore year in high school).
We were engaged three months later and then married three months after that!
Le Petite Spoon is very much so our little baby. We raised her and taught her our values and learned a lot along the way. She's just two years old, but she's already starting to catch attention and spread the word of clean, locally grown food. Putting that "freshly handcrafted" touch to food not only feeds your belly but your soul.
Contact Info: