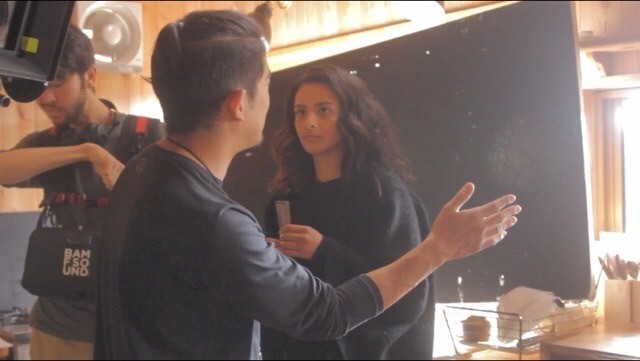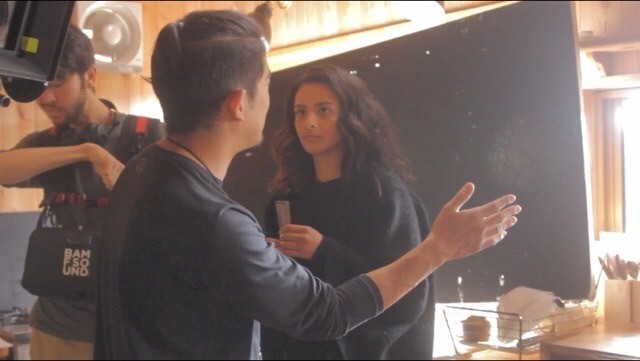 Alright, so thank you so much for sharing your story and insight with our readers. To kick things off, can you tell us a bit about how you got started?
Since childhood, I often craved the spotlight. I would dance and perform funny bits at parties and always took part in school choir and plays. Whether it was screaming into my 90s barbie karaoke player to tracks of Brittney Spears or playing a role in a school Dr. Suess play, there was something about performing on stage that made my heart flutter. I grew up in a family of four in central east Hollywood where gang violence was highly prevalent and few opportunities were readily available to the working-class community. You'd think because it's Hollywood, my story would sound more glamorous, but despite being raised in one of the most historic locations in Los Angeles my upbringing was limited and I always yearned to be something bigger than myself.
Little did I know that I was in the right place, right time and the feeling stuck all the way throughout grade school and into college until I decided to do something about it. I first lingered on becoming a musician, rocking to tracks on my cherry guitar to Green Day, Nirvana, Blink 182, and Black Sabbath just to name some. That dream never made it to fruition as I became a very shy, introverted, anxious teen facing countless bullying from classmates, school workers, friends and even family members. No pity party here, just facts. I was pressured to get a higher education and pursue a practical career route. Upon graduating back in 2016, it took me a year to figure myself out and what I wanted to do in life. The sciences were attractive but in my heart, I knew I was an artist.
Can you talk to us a bit about the challenges and lessons you've learned along the way. Looking back would you say it's been easy or smooth in retrospect?
The start of it was very typical, after college I took a few jobs working in retail, volunteer work, and constantly trying to make something of myself with little experience. Until one day, I realized life didn't have to be this way. The thought of a typical 9-5, 7 days a week working under a corrupted management just to make a living was miserable. Despite the pressure I faced from family, I chose to finally listen to my deepest desires and take a leap of faith after meeting an Italian actress who showed me that if I put in the work and found the right resources, anything was possible. Acting had never really crossed my mind as a career choice despite having taken theater all throughout grade school and often imagining myself in my favorite films playing my favorite characters.
Originally, I wanted to pursue a degree in film but the pursuit was risky with the financial support given to me, family pressure and not having the confidence or knowledge. The year passed, I took a chance and attended my first acting course with Coach Mike Pointer. A new reality began to unfold and all of a sudden, I became a working actress. To be a first-generation Latina becoming an actress and making a name for herself in gentrified Hollywood is a story I hope will inspire many in the community and the world. The circumstances in which you were born don't dictate what your life is destined to be, you do. To this day, I have worked with actors such as Glen Plummer, Mario Van Peebles, top acting coach Anthony Gilardi, Director of Cinematography Nicholas Matthews and Directors, Shiri Appleby and Nick Leisure. I have even gone international and played a vital role in a Japanese short film currently making rounds into festivals with its powerful message and imagery. In addition to acting, I have taken up modeling on the side and have worked alongside brands such as Target and recently Univision's Television Host Fernanda Kelly's clothing line empowering Hispanic women, 'NYTAQ'. My journey has been truly nourishing to my spirit and I am astoundingly grateful. I am my craft and my craft makes me, I don't think I'd be able to identify without it.
Being an actor comes with a lot of rejection, ruthless competition and manipulation all aimed at kicking you down and keeping you off the pedestal. The Film industry is a brutal industry as is any and finding my voice and having unshakable faith is still something I work towards. The modeling side is even tougher considering sizing standards and the battle of body positivity. I'm a pretty fit Latina but our body types aren't as appreciated in the industry and my aim is to develop a positive, non-destructive mindset for society that encompasses women of all body-types. Knowing how far I've gotten in just a matter of three years is what keeps me going and having friends, mentors and industry people who love and support me in my endeavor keeps me humble and true to myself. You never ever want to lose sight of yourself in this industry. Keeping healthy, getting enough sleep and juggling economy gigs to keep my bills paid and my mouth fed is a struggle within itself as well. In the end, though, I got to remind myself that this investment I'm choosing to make for myself has paid off in the long run and will continue to do so.
Thanks for sharing that. So, maybe next you can tell us a bit more about your work?
I'm a model and a working actress who aims to inspire and leave a mark with my work. I have been in and am known for three films: 'A Clear Shot' a feature film directed by Nick Leisure now streaming on most platforms. 'Makhaliss' a Japanese short film directed by Koji Yamamoto which has made it into Oscar qualifying festivals such as Cannes and Asian Pacific Film Festival 2020. The film was also recognized and given the Gold Remi Award at WorldFest Houston Film Festival. 'The Haunting of La Llorona' a cult horror film by Cinema Epoch Productions. This project came with its challenges but was nonetheless fun to be a part of and now streams for free on Amazon.
At the beginning of my career, I was featured in a Funny or Die skit on Youtube with Tyler Posey from Teen Wolf. That was a fun little set and the first project where I ever got to work with a celebrity. Tyler is definitely very funny. Be sure to check out 'The New Kid'! What I am most proud of is having been able to book these three projects in the span of a year. Who books a Latina actress as a lead in a Japanese film? What a wild experience that was but definitely a very rewarding one. I guess what sets me apart from other talents is my blunt nature and my broad range in castability despite being Mexican-American. That's something you don't hear happening in Hollywood often, but I am ready to tackle the wall of type-casting, taking inspiration from other Latina actresses such as Diane Guerrero.
Before we let you go, we've got to ask if you have any advice for those who are just starting out?
If you feel you don't know where to start, it really doesn't matter where, as long as it branches into what you want to do. Everything will come into place the further you go into it but definitely set goals for yourself and manifest, manifest, manifest. Do your research, seek advice from others in your field. Don't be afraid to ask for help. You won't know what you're capable of until you take the leap.
Contact Info:

Image Credits
Fernanda Kelly, Daniel Sliwa, Fredrick Vang, Ty Wynn.
Suggest a Story:
 VoyageLA is built on recommendations from the community; it's how we uncover hidden gems, so if you or someone you know deserves recognition please let us know 
here.