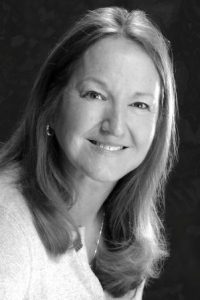 Today we'd like to introduce you to Denise Steele-Lydston.
Thanks for sharing your story with us Denise. So, let's start at the beginning and we can move on from there.
My entire career has been in marketing — marketing of video games, hotels, hospitals…even microfilm. I worked with Jonathan Winters in training the sales department of a microfilm company. I created story-lines for video games developed by Activision and worked with people like then, Bruce Jenner who was helping us to promote our video game "Decathalon." I drove Lou Rawls to and from our hotel in the Bay Area when he played local entertainment venues. I developed a marketing and advertising program for Queen of the Valley Hospital in Napa, CA, for their Emergency Obstetrics/Pediatrics departments and planned and promoted an annual concert at Silverado Resort and worked with Smoky Robinson on his concert.
Through my career in marketing, I learned to enjoy advertising…I knew what worked and what didn't simply from buying so much of it for several industries. I decided I would have a little more freedom if I worked with local "designer" publications such at The Monthly Grapevine (out of Solano county) and Express Publications (Sonoma, Marin, Napa-Solano Express) out of Marin, CA.
I began traveling to conferences and numerous training courses for sales, marketing and advertising and developed a taste for flying, hotels and dining out. Early in my career, I had traveled to the U.K. to tour our Colchester division just north of London.
In 2005, I moved from the San Francisco Bay Area to Auburn, CA, to take care of my father, who was suffering from brain cancer. My dad passed away in February of 2005. I fell in love with "The Gold Country" and decided to stay in our family home, I needed to create a niche for myself. Because I sold advertising for The Monthly Grapevine in the Bay Area and knew it worked for my clients…I started publishing a local magazine called "The Gold Country Grapevine." It was very popular for about two years.. and then the market fall of 2008 happened. My clients were not able to pay me and I was forced to close down publishing my little magazine, which was distributed to over 45,000 homes.
The primary theme of my magazine was events, sports, dining and entertainment in the Gold Country of California…which stretches from northwest of Lake Tahoe…south beyond Yosemite National Park. I encouraged people to get out and visit areas throughout the Gold Country.
When I had to shut down publication, I had to reinvent myself…once again.
Acquiring a taste for travel had become very easy for me and when my magazine closed down, I attended a nationwide travel institute to become a Certified Travel Advisor. Not just a "travel agent" who generally just book flights, hotels, resorts and cruises. My training and experience taught me to "advise" clients on how to get to where they want to go, finding the best rates, and also suggesting alternative vacations such as all-inclusive resorts and cruises who may charge a few dollars more, but include "extras" one might normally have to pay more for.
So, when people say, "I didn't know travel agents existed anymore!" Or, "it will cost me more through a travel agent because of fees," I let them know I absolutely exist and actually will cost them less than if they book on their own.
Hotels, resorts, cruises all build in 10% to the rate EVERYONE pays either directly through the hotel or online. A cruise you might pay $2,000 has a $200 agent/advisor commission built into the rate. If you don't use an advisor, you still pay the 10%. People who book through ME get a share of that commission back from me in the way of discount, onboard spending credit, or cash rebate…etc. Also, I DON'T CHARGE ANY FEES (unless you just book air, I will charge a small fee as airlines don't pay agency commissions.)
People who have the "travel bug" are not traveling right now…but, they will be anxious to get out and CAUTIOUSLY explore. I will have suggestions and options for them to explore safely, and will generally guarantee the best deal.
So, when you are ready to get out and discover a new resort, river or ocean cruise, tours of Ireland, Canada, New Zealand, the Savannahs of Africa…or any new destination, please contact me. I will treat you like family and friends…with the utmost care and concern…and ultimate enjoyment!
Discover Life…Discover the World!
Has it been a smooth road?
I was pretty lucky in that I had a "smooth road" until I move from the Bay Area to care for my dad. After he passed away, the family home was in such terrible disrepair, I spent any inheritance I received on repairing and remodeling the home and get it ready to sell. The problem was, by the time I was ready to sell it, I had fallen in love the town and the people.
I made the decision to stay and "reinvent" myself with a new business. Somehow, money is always the cause for smooth roads or struggles. When the 2008 financial downturn happened, the family home was repossessed because I didn't realize my dad had refinanced the house for cash-out and was talked into an adjustable rate loan. After three years, my payments went from $1200 to $3500 and I wasn't able to make it.
The biggest surprise of my life came when my best friend from 1976 to 1980, came back into my life. I had dated his best friend…he was a roommate…he knew my mother, father, brothers…I went to his wedding in 1980. Then he and his wife moved to Texas and disappeared from my life. When I moved in 2006, I was going through a box of photos and ran across one of Lee and me in 1978 at my aunt's home. What I now had in 2006, that I did not have in 1981…was a computer…the internet.
Within four months of finding him (in March 2007) and June, we were married. Lee sold his home in Broomfield, CO and moved back to California, where we found the perfect home in the Sierra Foothills.
Is our city a good place to do what you do?
About 50% of my clients are in the Los Angeles area because of referrals, friends and family in the area. Other clients are all over the United States as well as a couple in Australia and Europe.
Southern California people tend to be the most adventuresome I've met. They will ask me to give them some ideas, or pick something…they trust me that I will find what they need!
Pricing:
$100 credit or rebate for any new client booking all-inclusive resorts or cruises who mentions this discovering me in this story.
Contact Info:

Image Credit:
Photos provided by AmaWaterways.
Suggest a story: VoyageLA is built on recommendations from the community; it's how we uncover hidden gems, so if you or someone you know deserves recognition please let us know here.