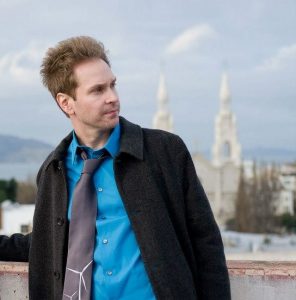 Today we'd like to introduce you to David Polcyn.
Alright, so thank you so much for sharing your story and insight with our readers. To kick things off, can you tell us a bit about how you got started?
When I was three, my brother passed away and imagination became so much more. Play and storytelling were my coping mechanism for something I was too young to understand. I'd go to my bedroom and act out quite elaborate plots in my four-year-old brain – All of my stuffed animals and action figures performed (begrudgingly, I'm sure) in a sort of miniature repertory theatre.
My family then moved around, and every new place we went, I was the outsider. I had the wrong accent, was from the wrong place, or whatever reason kids can come up with to let you know you're not part of the group. But the positive was that I was able to observe different places, cultures, ways of life and these experiences really instilled a deep sense of curiosity and compassion for people.
But it wasn't until High School that I found my community. A friend tried to persuade me to get involved in theatre; I was reluctant, so we placed a bet. I lost and had to audition for a play. Best bet I ever lost! For the first time, I felt welcomed and supported. People were open and empathetic; they encouraged curiosity, discussion and debate. I finally found a focus and an outlet. This eventually led to my attending and graduating from the University of Southern California with a degree in Dramatic Arts.
After college, I was lucky enough to perform in a theatrical production that was written and produced by Ray Bradbury. I was going through a pretty rough breakup and I could either live the stereotype of a tortured artist, (which of course comes with a heavy dose of drinking while listening to Tom Waits), or I could try and be productive. So I went back to my way of dealing with things – storytelling. I decided to adapt one of Ray's short stories into a screenplay.
During a break in rehearsal, a fellow cast member inquired into what I was working on and asked to read it. I obliged and unbeknownst to me, she took it to Ray. The next day Ray Bradbury called, told me that he liked the screenplay and wanted to work on it with me!
Somehow through the shock and impulse to hyperventilate, I think I muttered the word "yes" or at least grunted in a fashion that resembled the word "yes" or maybe I said nothing and he just assumed I said, "yes." In any case, he finished with, "Come by my house tomorrow." I promptly called out sick to work and headed to my first day of what would turn out to be a writing class from a master.
One opportunity led to another, and shortly after, I began collaborating with my now long-time writing partner, Erik Rodgers. We began working on what would become our first produced screenplay, Disappearing in America, with our producer extraordinaire, Devin DiGonno. We've been working together ever since. So years later, when Erik suggested we do a writing program in Prague, I said yes. This trip would once again lead to opportunities and change many aspects of my life.
We all face challenges, but looking back would you describe it as a relatively smooth road?
The bumps are too numerous to count and the near misses can be heartbreaking. I always enjoyed the writing process but getting your work out there seems more like a slog! Sometimes motivating myself in the morning is easy and other days… not so much. It really helps to have supportive collaborators, friends and family that believe in you and help you persevere. Filmmaking and theatre are collaborative arts, so it is really about the team you have around you because it doesn't get any easier once you go into production…
In late 2019, Erik (Rodgers) and I began writing a short film called Šárka that we were also co-directing. The project came together surprisingly quickly and when our producer Devin DiGonno got the amazing Stef Dawson for the lead, we set a start date for March of 2020 in the Czech Republic. During pre-production, rumblings about something called COVID 19 were growing louder. You can imagine where this is going.
By the time we wrapped on March 15, 2020, the streets of Prague were empty and we were two hours away from the first lockdown. With the pandemic escalating, insurance was telling us they wouldn't cover a shutdown. We had to race to finish, all while trying to ensure the safety of our cast and crew. We lost a critical location with less than 24 hours' notice, we lost crew and we had to compress our shooting schedule as we faced mounting uncertainty about what was and wasn't allowed during this evolving crisis.
Luckily, we had a phenomenal team and somehow, with the help of our incredible cast and crew, we were able to steer the ship through the storm. At times it felt like we were trying to stop the Titanic from sinking by holding onto the rail and dog paddling. When we called wrap, it was two hours before a nationwide quarantine. We sat for a moment, shivering on a bridge – safe, lucky and grateful to those who persevered with us. We were completely unaware what was going to transpire over the rest of 2020 and the impact it would have on the world.
During the next week, the severity of the situation was becoming apparent. Borders were closed and flights were canceled as we tried to get our cast and crew home safely from the Czech Republic— to the US, Australia, Cyprus and many more. People from all over the world had lent us their talents and we were committed to seeing them home safely. But that's a story for another time…
Thanks – so what else should our readers know about your work and what you're currently focused on?
I have been primarily focusing on the writing and directing. In terms of content, my main collaborator, Erik Rodgers, and I gravitate toward historical fiction. We enjoy doing the research, so for us, the opportunity to study different eras and cultures is exhilarating. Then attempting to put ourselves in the shoes of another person in a different time and view the world through their lens is endlessly fascinating. It's not always easy but it's a wonderful opportunity to learn from the past, particularly from the mistakes, so they can be avoided in the future.
Right now, I am the most proud of Šárka. It's a special project, truly blessed with a phenomenal cast and crew that somehow was able to overcome extreme circumstances. It's just the beginning for this project, really. We are committed to putting it into a longer format, as a four-part limited series. Usually, I'd say the next project is always my favorite because it helps me keep thinking forward without dwelling on the past. Šárka is the exception that allows me to do both!
What matters most to you? Why?
Community and compassion is what the arts offered me as a young man and it made a huge difference in my life. Continuing that culture and furthering the values that underpin the arts is a way to make sure the same things are there for future generations of kids struggling to find their way in the world.
That community has given me my friends, family and collaborators – you are only as good as the people who surround you and I am lucky enough to have some of the best! I really don't know where I would be without them. They're the ones who pick you up when you're down, keep your feet on the ground and challenge you to grow and excel. Not to mention… they are endless sources of inspiration!
Contact Info:

Image Credits:
1. David Polcyn on a location scout for Šárka 2. David Polcyn 3. Stef Dawson & Stanislav Callas in a stills from Šárka 4. Stef Dawson in the Poster for Šárka 5. Stef Dawson & Stanislav Callas in a stills from Šárka 6. David Polcyn & Erik Rodgers at the Karlovy Vary International Film Festival
Suggest a Story:
 VoyageLA is built on recommendations from the community; it's how we uncover hidden gems, so if you or someone you know deserves recognition please let us know 
here.