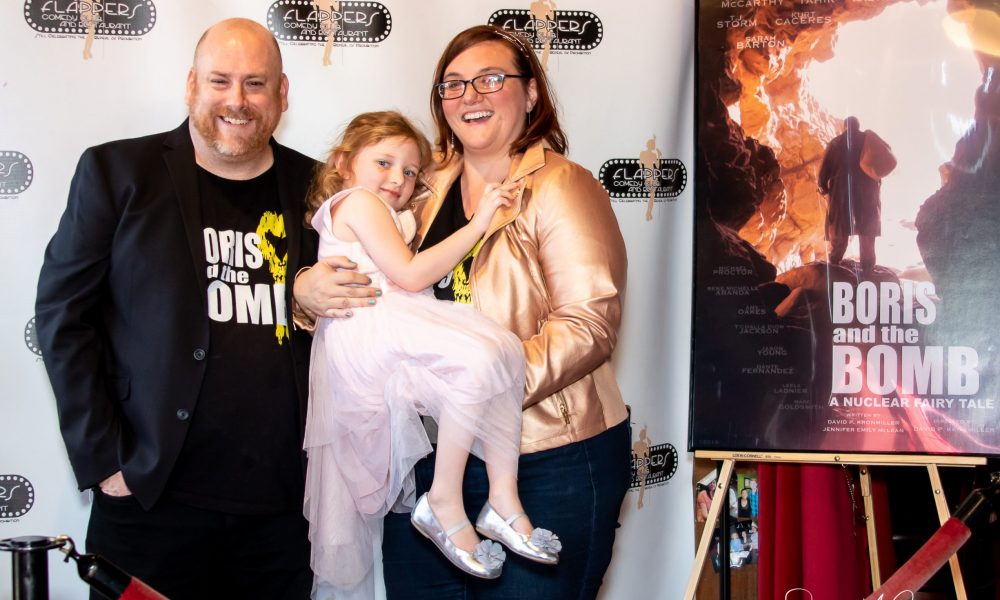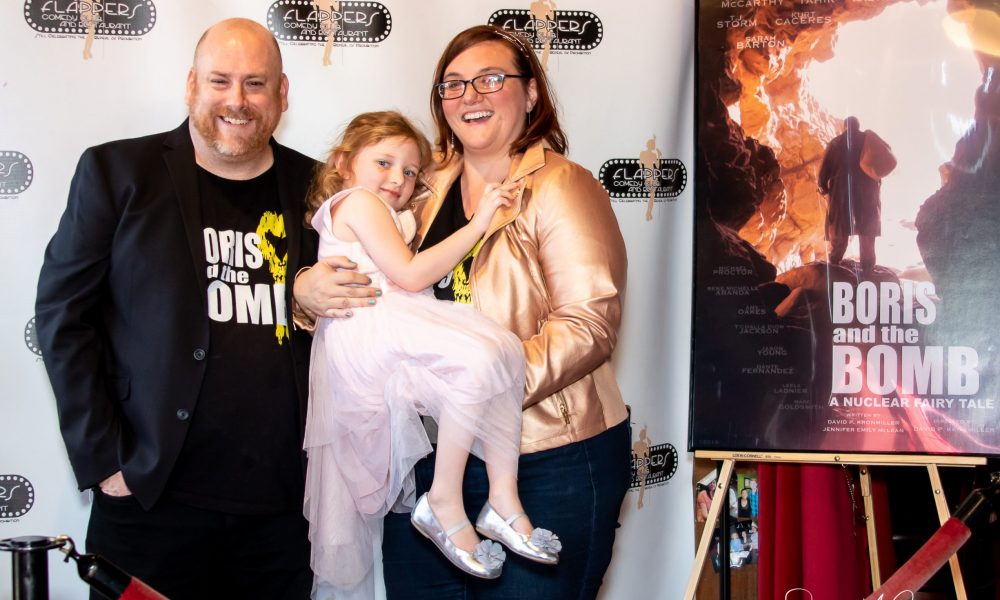 Today we'd like to introduce you to David P. Kronmiller and Jennifer Emily McLean.
Please share your story with us. How did you get to where you are today?
David: I had an eclectic childhood growing up in the Amazon jungle in Brazil as the son of missionaries and later learning my father somehow worked for the State Department. So, it was part Indian Jones and part Tom Clancy growing up and since I decided against therapy, it seemed natural to get into film making and entertainment. My first taste of the industry was as an actor on Saved By The Bell: The New Class, my summer job for three seasons while I attended USC Film School. I'm now a filmmaker and stand-up comedian and I produce and write with my wife. In 2009 during the last big crisis we produced an action/adventure/comedy web series called "and Boris" which we did for three seasons. And just this year our feature film, "Boris and the Bomb" inspired by the web series, was picked up by Indie Rights Movies and is now on Tubi TV, Amazon, Google Play and YouTube Movies. I also teach at Flappers University a Production course for comics. We've also had to adapt due to the pandemic and we started producing a Live sitcom over Facebook and Zoom called Wicked Widgets. It's about a magical IT company that runs the internet who have horrible web calls – they then accidentally delete the internet and hilarity ensues as they have to keep their meeting/stream alive in order to ever hope restore the internet back to its full glory – all during the Covid-19 crisis of course. We make fun of everything in the show and it's been an amazing cathartic experience for us to vent about the pandemic and get to play with some wonderful and funny actors – many of which appeared in our feature or who I've performed with as a stand up at Flappers Comedy Club.
Jennifer: I was raised in San Diego, daughter of a nurse and teacher. I studied Theatre at San Diego State then moved to LA in 2002 to find my way in to show business. I've spent the last 18 years balancing day jobs working with kids with special needs and creative projects as an Actor, writer, and producer. Met, married and started producing with David in 2007 and since then we have produced five plays, three web series, and a feature film (Boris and the Bomb).
Overall, has it been relatively smooth? If not, what were some of the struggles along the way?
Jennifer: Has it been an easy road? HA. HA. HA. HA. No, it has not been anything close to a smooth road, most times it just feels like we are jumping pot hole to pot hole. The key is to keep going. One foot in front of the other. Never giving up. always finding another way. I'm great at the creative problem solving and finding new solutions and paths but I get discouraged, David is the one who pushes through and just keeps going. Whether it's the next shot, the next edit, the next marketing opportunity he never stops, but there is definitely a toll taken.
David: It most definitely has not been a smooth road. We've had more than a few bumps along the way, both in producing a feature like "Boris and the Bomb" but also in our personal lives. The one thing about being an indie filmmaker is that a few people do the jobs of many. That's how you get it done but that does take a toll and then of course life things happen – like a global pandemic striking the same spring we officially launch our production company FishEyedLensy Productions – oh and we moved my mom from Michigan to Burbank just as the shut down started. No biggie! But we learned something while doing that web series years ago – something our dear friend and collaborator J. Anthony McCarthy, who also is brilliant as Boris, said often – that anytime we had a setback it made the project better, made the story stronger and made us all improve our game as filmmakers. So, I say to the Pandemic – bring it on – let's play.
FishEyedLensy Productions -what should we know? What do you guys do best? What sets you apart from the competition?
Jennifer: The name of our company is FishEyedLensy and the idea is that we present things with a different lens, a different angle, skewing toward comedy. I'm most proud that our projects are truly unique. No one else makes what we make. From action comedy features to absurdist sitcoms, we take the familiar tropes and turn them on their head.
David: We just had our feature "Boris and the Bomb" released – getting picked up by Linda Nelson at Indie Rights was a huge blessing. That journey was started by The Valley Film Festival and Tracey Adlai believing in us and mentioning Indie Rights as a potential home for the movie. Since our release we've gotten amazing reviews from critics and audiences and it's made the very long journey worth it. Boris was a character J. Anthony McCarthy and I started working on together nearly 20 years ago on another project. Over time it's evolved and grown and in 2016 we were thinking of doing some new episodes but an actor couldn't commit to the summer shoot so we pivoted and chose to make a feature film instead – like you do. Jen, J. Anthony McCarthy, Kavi Ladnier, myself and along with Bob MacColl, Michael Proctor and Travis Robertson started producing the feature – we raised 10k on kickstarter and within two months we were shooting our action filled film with the likes of Faran Tahir (Iron Man, Star Trek), TJ Storm (Godzilla, Deadpool), Kurt Caceres (Prison Break) and Andy Forrest (Parks and Recreation). Personally, that I get to produce and write with my wife is just amazing. The film started because she wrote an episode for the web series that we all loved. We took her story and expanded it until it turned into the feature Boris and the Bomb – which I suppose I should mention is about a washed up KGB agent who gets into the back seat of an Uber (Yuber in our film) with a Nuclear Bomb he has just 48 hours to disarm.
If you had to go back in time and start over, would you have done anything differently?
David: Would I change anything? No. Nothing. Every moment has led to this one. The greatest project Jen and I have produced together is our daughter Zooey. If any one thing had ever changed before her birth she may have never existed. I may have never even met the love of my life Jen. So, I tend to be okay with obstacles. I mean would there be some things I would have preferred? Sure. I'd love to have had a bigger crew for Boris and a larger budget but I also would like to have my own personal flying Dragon so…
Jennifer: Would I change anything? Everything and nothing. There have been plenty of mistakes and missteps. What we have found, is that each time something has gone "awry" it always ended up make the project better. Do I sometimes wish we had a simpler life? Sometimes. Then I take a nap and start itching for a new project and realize I'm just not built for that.
Contact Info:
Image Credit:
David P. Kronmiller, Jennifer Emily McLean, J. Anthony McCarthy, Faran Tahir, Kavi Ladnier, Andy Forrest, Jen Hansen, Paul Baio, Amanda Cohen, Amy Oakes, Travis Robertson, Sarah Barton, Michael Proctor, Jason Young, Bob MacColl, Charlotte Merrit, Brian Crow, Ren Aranda, T'Challa Dion Jackson, Jim McCaffree, Jim Keller, Wes Robertson, Jennifer McClure
Suggest a story: VoyageLA is built on recommendations from the community; it's how we uncover hidden gems, so if you or someone you know deserves recognition please let us know here.