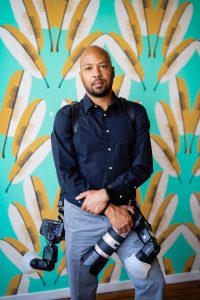 Today we'd like to introduce you to David England.
David, please share your story with us. How did you get to where you are today?
Growing up, my family didn't have a lot of money for non-essentials. We lived in a modest neighborhood, but couldn't afford the things our neighbors did, or have what the neighbors had. When I was 15, my grandfather unexpectedly passed away. I hadn't realized until then that our family didn't have a lot of pictures. Other than the free sheet of grade school wallets we received from Life Touch every year, there weren't many photos cataloging our family's history. Although we had lots of amazing memories, we didn't possess many tangible images.
So I went out and purchased an inexpensive 35mm camera (yes, I'm dating myself) and began taking photos at family gatherings. After high school, I worked at a camera store that also developed film. With each roll I processed, I brought stories and memories into the world via a print. I took pride in making sure the color and exposure was just right for each image as I knew how important a single photo could be.
At the age of 22, I received my very first wedding invitation. I was excited to see if real weddings were like the weddings I had seen on TV. During the ceremony, I had one eye on the bride and groom, and the other on the photographer. I was intrigued by what he was doing. After the ceremony, I shadowed him just to see what he did. I remember him being very agitated when people weren't paying attention to him, and when he looked down at his camera and the image wasn't to his likin.
When the professional was finished, I asked my friends if I took a few photos of them. They agreed and gave me five minutes. Of course, I was nervous as I had never posed a couple, and I wasn't sure what I could get in the five minutes they gave me. When I got home, I was excited to see the images I had taken. I purchased a software editing program and went to work on their images. A week after I delivered the finished product, I received a thank you note from the couple. They were extremely happy with my images. They told me that my photos turned out way better than their professional photographer's photos. I was in shock as I couldn't believe they liked my photos better than the professionals.  I was in even more shock when the shared how much money they paid their photographer!
Fast forward a bit, a good friend reached out to me and said she loved how I took photographs of our friends, and at parties we both attended. Lola from Lola Kent Weddings and Events (http://www.lolakent.com) said she could get me a part-time work taking photos on the weekends. Of course, I took her up on the offer as I was finishing my undergrad work at Cal State Long Beach. I told her that I would love to take photos of parties and events.  As I arrive to my first assignment, I realized it was a wedding!! Having only ever been to one, I had no idea what to expect as a paid photographer.  On the inside, I was unsure and second-guessed myself with every decision. On the outside, I was cool as a cucumber. I really didn't know how to pose a bride or a groom, and I really didn't know the must have photos other than "the kiss." I approached the wedding with the notion that my only task was to make the images look good, without making people look stuffy or posed. When I broke my job down to its simplest component, my mind and body went into autopilot.
The wedding went by so fast.  At the end of my shift, I felt like the bride and groom were my friends and not my clients. 20+ years later, I'm still telling love stories, and cataloging important moments via digital and print images.
Has it been a smooth road?
Although the journey has taken lots of turns and twists, I wouldn't have it any other way. I began my career pre You-Tube University. I didn't have the luxury of watching and learning from tutorials, You-Tube videos, or Social Media.  And I didn't have the benefit of filters for my images. Having that said, I found my own style of photography.  Free from fleeting trends, and free from emulating styles from other photographers.
Not having a formal education in photography has also given me an edge over my competition. I'm not bound by conventional teachings. If I were to describe my style of photography, I would say its noninvasive, full of emotion, color, and energy. After 20 years of self-education, I know my equipment, and I trust my experience. I don't have to think about camera settings, the rules of photography, or the shooting limitations based on location or light. These skillsets can only be learned through years of experience.
So, as you know, we're impressed with David England Photography – tell our readers more, for example what you're most proud of and what sets you apart from others.
Nestled in Long Beach, David England Photography is the premier wedding and event photographer for the Los Angeles and Orange County area. We also specialize in Engagements, Corporate Events, Headshots, Family Photography, Real Estate Photography, and Pet Photography.
As humans, we are visual creatures. We are drawn to youth and beauty. It's quite common for photographers to use models in their portfolio of work, or stylized shoots for weddings and events. And although that's fine for most, potential clients should be wary when they see images of couples who are too young to be "married" or if photos look staged in a photographers portfolio. Of course, it's easy to photography young and beautiful people. It's even easier if you have all the time in the world to get your shots. The true talent is when a photographer has to shoot in a room the size of a closet and can make the room look like it's at the Ritz Carlton. True talent is getting the shots when you are against the clock. A true photographer can see and enhance beauty no matter what age, shape, or size a person, and they can do it in any location.
There are five things I'm most proud of in my business.
I'm proud of only showcasing real people and real weddings on my website.
I'm also proud of showing all types and combinations of love. My gallery of work showcases all ethnicity types. It showcases interracial couples, same sex couples, young and old couples. I want potential clients to see themselves in my work.
I'm very proud to showcase interracial couples. I'm a product of mixed-race family.  My father is white, and my mother is black. We have all shades of beautiful in our family. For those of you who are not from a mixed-race family, it's quite common for the darkest person in an image to be darker than they truly are, or the lightest person in the image is too light in a photo. It's a common problem for clients and photographers alike.  Knowing how to control both natural light and artificial light (a camera flash) skilled photographers can prevent these problems.
I'm most proud of my style of photography.  Life is full of beautiful colors, and as a True Tone photographer, I want to celebrate colors as they are. As fads come and go, (black and white photos with a pop of color, yellow or brown tented photos, etc.) I stay true to the colors that are actually presented to me. The colors in printed photos will shift over time, leaving them yellow or brown. Photographers have a well-kept secret that clients aren't aware of. We can hide imperfections and exposure problems using filters or making photos black and white. Should clients want to put filters on my work afterwards, that's fine. But if a client only receives filtered or tented images from their photographer, they can never get the natural colors that was present at the time the photo was taken. For my wedding clients, most have spent months finding the perfect colors for their wedding. Why would they want their photographer to tent or change the color of the entire image including a person's skin tone is a mystery to me. Clients who are drawn to me value my original bright and bold colors, my true skin tones, the life that I breath into each image.
The last thing I'm proud of is the value of my work. In my mid 30's, my mother passed unexpectedly. The photos I had of her was the only thing that got me through the dark times. It's true what they say about photos.  If your house was on fire, what are the first things you'd grab.  Photos are always at the top. To date, my most valuable possession is a portrait I took of my mother the Christmas before she passed. In this photo, I swear I can see into her soul. With a single image, I'm transported back to that exact moment in time. I can see, smell and remember everything about that day. 
Photography has the power to do that. And with each image I take, my goal is to capture that moment, so others can be teleported back to those feelings and emotions.  Photography is a gift to myself,  a gift to others and a gift to the world. I don't take my duties as a photography lightly. I know the value of my work, and I know how important photography is.
Let's touch on your thoughts about our city – what do you like the most and least?
What I love most about Long Beach is the diversity my city has to offer. Long Beacher's are a live and let live group of people. We don't care who you know, what you drive, or what you have. Our city has an openly gay mayor who embraces inclusion and diversity.
What I like least about our city is the bad rap it continues to have from back in the day.  When I moved to Long Beach in the mid 90's, it wasn't an ideal place to live.  And it wasn't that safe, especially in the Downtown area. Much has changed in my city over the years. We are in the top 10 for walkable cities in the US (Link Below). We are also in the top 10 bike friendly cities in the US. (Link Below) I love inviting friends to experience Long Beach through my eyes. Everyone leaves with a new perspective of the hidden gem we call The LBC. Long Beach is the closest you'll get to a metropolitan city vibe without having to live in one.
https://www.smartertravel.com/10-most-walkable-cities-in-america/
https://www.cnbc.com/2019/12/12/the-10-most-bike-friendly-cities-in-the-us.html
Pricing:
Elopements begin at $850
Weddings begin at $2300
Engagement and Family Photography Begins at $400
Headshots Begin at $300
Contact Info:
Address:

720 W 4

th

St


Long Beach, CA 90802
Website: www.davidenglandphotography.com
Phone: 562-335-8373
Email: denglandphotography@gmail.com
Instagram: davidenglandphotography
Image Credit:
David England Photography
Suggest a story: VoyageLA is built on recommendations from the community; it's how we uncover hidden gems, so if you or someone you know deserves recognition please let us know here.