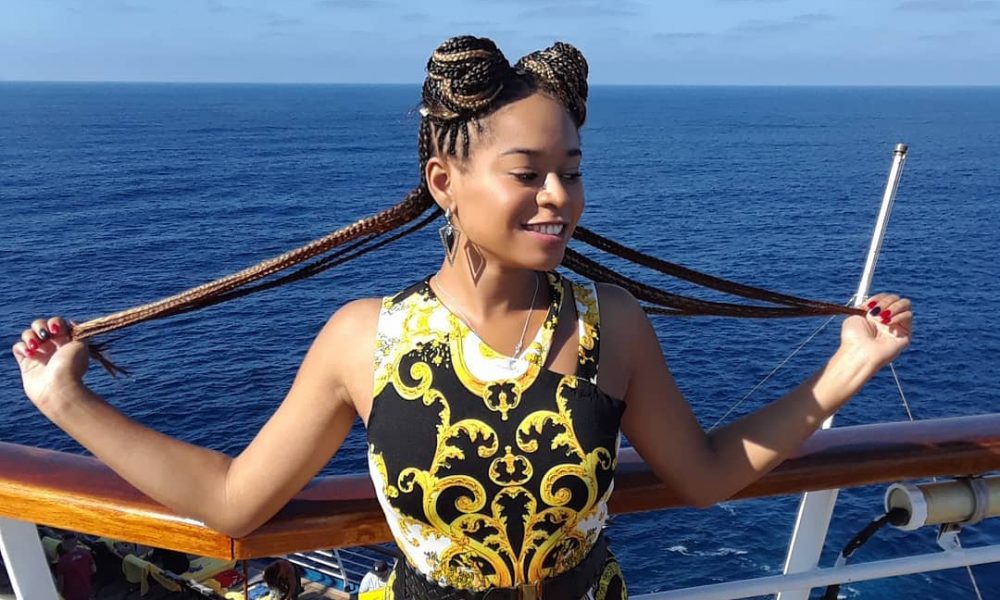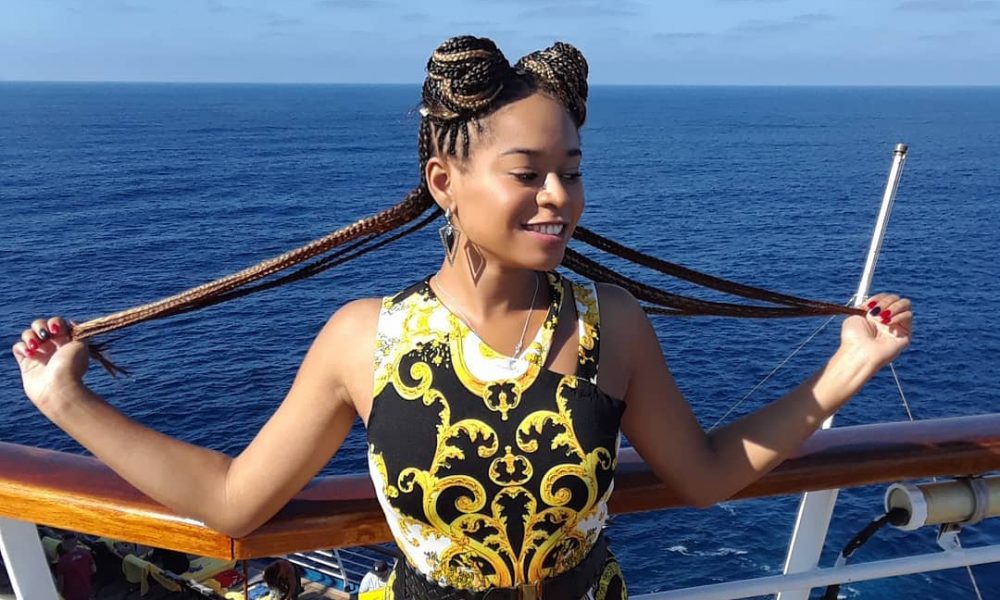 Today we'd like to introduce you to Daria Mason.
Thanks for sharing your story with us Daria. So, let's start at the beginning and we can move on from there.
I'm a fashion designer, college student, and an after school fashion teacher. I'm 22 years old and I've been designing clothing for over eight years. It all started when I was in eighth grade and I was trying to figure out what I want to do with my life. I've always been very goal-oriented and either all in or all out. I wanted to find my passion and career goal because it seemed like everyone around me knew what they wanted to do (not true). One day, when I came home from school, I talked to my parents about it and they told me that I have always been interested in fashion and that maybe I should do some research on fashion design. Then, it occurred to me that they were right. I had always been into clothes. When my parents would take me to Michaels as a child, I would always go running to the sewing isle and begging them for a sewing machine. Their response was always "no, you're too young". I had never heard of a job in fashion.
So I did some deep research on the fashion industry and at 12 years old, I decided that this is what I want to do with my life. My parents supported me on this and although I don't think that they thought I would go very far with it, they got me my first sketchbook. I remember drawing very basic clothes in the sketchbook with pre-drawn croquis (fashion figures) between class periods. I still didn't know how to sew, but I was waiting for the opportunity to learn. Then, in my freshman year of high school, I took my first sewing class. I struggled a lot initially. I picked projects that were too difficult for me and wouldn't come out with the results I wanted. My teacher was not happy with my work and it was discouraging. At the end of the class, there was a fashion show where every fashion student would showcase the pieces they made in class. However, when the fashion show came around, I had nothing to show. My teacher said my work was not good enough and made me a model instead. Despite being hugely discouraged by that class and questioning whether fashion was for me, I decided to take a few sewing class at JoAnn Arts and Crafts store. The classes were a few months long. After taking these classes, my sewing skills got stronger and I became more confident in experimenting with projects at home.
Throughout my entire high school career, by trial and error, I would make outfits out of eye-catching colors and prints and I would wear them around school. People really liked my outfits and I became known as the girl who makes clothing. I continued to sew and sketch at home and in my senior year of high school, I took an after school sewing class that improved my technical skills. Months before finishing my senior year, I saw a casting call for a new show called Project Runway Junior! The show had the concept of the fashion competition show Project Runway, but with teen fashion designers. I eagerly applied and they got back to me with each step. Before I knew it, I was a part of the last selection process before being a part of the show. I met a lot of designers around my age and we clicked. I got all positive critiques from the judges and I was interviewed extensively. Unfortunately, I was not selected to be cast. My high school graduation approached and I was excited to finally be studying my passion in college. When I got to college, to my surprise, my first fashion teacher was also teaching community college courses! I became her overachiever student and she would later take me to fashion events with her. I became immersed in the fashion department at school and took part in every event, club, and fashion show they had. My work was respected and I felt in my element. In mid-2017, I finished all my transfer units and got accepted into Cal State Long Beach in pursuit of my Bachelor's degree in fashion design.
Throughout the process of preparing for my transfer, I took part in a lot of fashion events outside of school. In 2018, I attended a lot of networking events where I got introduced to people in art and entertainment fields. I got inspired to do YouTube videos and began to attend YouTube workshops by a friend of mine who is a fashion youtuber. From going to her workshops, I met a singer who liked my work and wanted to collaborate. I had her model a piece for me. Little did I know that my life would change soon. The singer posted a video on Instagram wearing the piece and tagged me in it. One of her friends saw it and reached out to me about going to a networking event to promote my work. She told me to bring some of my outfits. I attended the event where we officially met for the first time. It turned out to be a photography and model event. I fit the models into my clothing including the woman I had just met and she promoted it to everyone. Photographers gathered around and began to shoot my work! It was the best thing ever. I went to several more of these events and collabed more with the woman I met. We became friends. She introduced me to another singer by the name of Zana Messia and we all collaborated on a music video shoot for the singer. She told me her vision for wardrobe and I brought it to life. I later designed for two more of her videos and the two of us became best friends.
By the end of 2018, my circle of friends transitioned to the artists I collaborated with and their friends. My friendships improved and more networking opportunities came out of constantly being around other artists. In 2019, I started University and slowed down on networking as school was eating up my time. When June came around, I received multiple emails regarding showcasing a collection at different fashion shows; some of them in Los Angeles and others in Paris and London! I was in shock. This would be my second time doing a show outside of school. I hustled to make a collection and I did three fashion shows; one at the LA Convention Center, one on Melrose, and another one at a friend's church all within a month of each other. By the end of the summer, I was fatigued and went back into school mode. The occasional client order was the only thing I would commit myself to outside of class. Then, I found out from my best friend that there would be a magazine agency at the next networking event and strongly encouraged me to bring my clothes. I attended the event and the photographer of the magazine offered to shoot my work and feature it in their magazine, the Bossmann Magazine! I agreed to do it, gathered some models and booked a studio. My clothing will be featured in their January issue. Again I began to wind down from fashion networking when I received a call a few days ago from a designer agent at the Fashion & Music Conference. They invited me to be a guest designer for them at LA Fashion Week March 2020! Of course, I accepted!
We're always bombarded by how great it is to pursue your passion, etc – but we've spoken with enough people to know that it's not always easy. Overall, would you say things have been easy for you?
I would say that I am still on this road to being successful and no it's not a smooth road. My biggest struggle has simple been getting around LA to do all of these events, shows, photoshoots, etc. that I do. I do get some help from my family and I still live at home, but I am still a college student with college student problems. I have no car to get around with all of my garments and money is usually tight. I spend roughly $500 to create each collection I've made recently with no manufacturers. I create every piece in my room. Sadly, a lot of people do not give artists the respect that day deserve for their work. I have had clients contact me about outrageous orders and expect me to do it for free. I think that people just don't understand the time, labor, and expenses that go into making clothing. They try to compare my work to brands that mass produce their items under overseas sweatshops. I make one of a kind high-end streetwear pieces. People need to understand that the mall stores are not my competition and I need to find a balance with the client where I am getting paid for my time.
We'd love to hear more about your business.
The name of my company is called DM Collections. We specialize in high-end streetwear that is custom fit to the individual. I consult with the client about what design they want and then I sketch it out, source the fabrics, and come up with a price. Then, I meet with the client again to measure them and I begin the process of purchasing fabrics and constructing the look. I am known for my classy/ sexy/ empowering design aesthetic and the uniqueness of my pieces. I have been told by many people on many occasions that they have never seen designs similar to mine. People describe my style as "avant garde" and giving " a new perspective on fashion." I am most proud of my designs for this reason and I'm proud to be able to inspire and empower so many people through my passion.
What were you like growing up?
I'd say growing up, I was a pretty outgoing, sweet, yet misunderstood kid. I was way too nice and the bullies would take advantage of me. I was bullied all the time; physically and verbally. I would be called names, teased, and slammed against walls. I was never one to try to fit in and I think that's why I was harassed so much. I was also very focused even in elementary school. I was a good student and I worked hard. I was full of energy and I loved to dance. I did like clothing back then as well, but I remember I wanted to be a dancer when I was younger. I would beg my parents to put me in dance classes, but instead they put me in an accordion music class. This was what I loved to do before fashion. I loved playing the accordion and I overachieved in my class. I would say I was just a younger, less wise version of who I am now with the same ambition.
Contact Info:
Image Credit:
Michael Harris (pic 2)
Suggest a story: VoyageLA is built on recommendations from the community; it's how we uncover hidden gems, so if you or someone you know deserves recognition please let us know here.