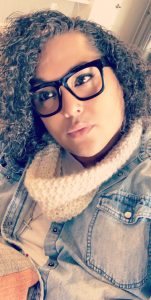 Today we'd like to introduce you to Danyol Jaye.
So, before we jump into specific questions, why don't you give us some details about you and your story.
Entertainment has always been a part of my life. From a very young age, I was always singing or acting out some story in a theatrical way. I surely thought that my road would lead me to become a famous singer or actor – and it very well still could! However, I think people know me more today from being an online personality and blogger.
That journey really happened by accident. I literally sat down one day and thought, "I have an opinion about this, maybe someone wants to hear it!" So I sat at my computer and wrote my first blog, hit the share button and people actually started reading and sharing it. I enjoyed the ability to share my thoughts, invoke conversations and perceptions that were my own, and talk about things that most people were not talking about. Definitely not talking about it in the way that I was at the time. I struggled with finding my voice as a blogger because I wanted to be credible and sound in my opinions but I also wanted to be entertaining and engaging. It was in discovering my voice that I coined the phrase "An Oprah Wit With A Wendy Flare". I could talk about world news and give an in-depth educated response to what was going on in the world and I could talk gossip and throw shade with the best of them out there.
Going from written words on a screen to actual video recordings of me talking to an audience online happened in a very similar way. I was watching the one and only full episode of Catfish on MTV that I've ever watched and I remember thinking, "What in the hell am I watching?" I pulled out my phone and started recording my thoughts and again pressed "post" and the rest is history. My following grew and eventually, I became known as an online personality. Again, all on a whim and really by accident. People enjoyed the way I delivered information and were drawn in by honesty. Once I had an audience, I started looking at other people online that were doing what I was at the time. I noticed that being a personality took wit, skill, some humor, confidence, and the ability to make things relatable. If you want people to engage your content, it should be funny, to the point, and as real as possible. Well, I was (and am) NOT a comedian but I knew that with the right delivery of a line I could make people laugh. Something I have to contribute to my high school drama teacher, Mr. William Goldyn. The first person to ever put me in a comedic role and trust that I could deliver. I was terrified and hated the idea; I was a dramatic actor, after all, lol, but he stretched me and I discovered that I actually DO have a knack for comedy.
It's been that knack and just the consistency of posting and sharing that has grown my following over social media to well over 20k. That's a lot of followers for some and very minuscule for others, but I'm proud to know that my entire following is an organic following of people who have seen my growth over the years. It's easy to keep going when you have the following, it's quite another when you start off with 5 people. Albeit, I stayed consistent and more and more people started noticing the work and hopefully more will continue to do the same.
Being an online personality and influencer has really been the key to a lot of opportunities I've had along the way. From guest spots on radio shows like The Dontá Show to guest spots on review platforms like AfterBuzz TV to pilot shows produced by people like Basketball Wives star and producer, Tami Roman and celebrity publicist and producer, Ern Dukes. I've had the opportunity to work with writer/director Don B. Welch and I've even captured the attention of people who have wanted to work with me musically, such as Grammy award-winning producer Mark Batson. In addition to all of that, I have a following that's super supportive of my endeavors, who encourage me continuously.
Currently, I'm working on a new musical project. My first single Dreamers is already out on all major streaming platforms and I'm currently working on the next one. I'm super excited about this project because it's been a LONG time coming and people are excited to hear it, which really warms my heart. I am still working on my autobiography, which is an incredible journey in and of itself to write. It's a book about self-discovery and truth and walks the reader through parts of my life that many may or may not know about. Obviously anytime you write a story about your life, it's a process of what to put in and what not to, but I'm feeling confident about the direction of where this book is going. I don't have a date set, but when it's finished and finished the right way, my supporters will definitely be reading about a whole other side of who I am. Other than that, people can still catch me on IGTV doing my social media reviews on the hottest reality TV shows around and they can look forward to the relaunch of my website www.OnTheJayeSpot.com coming March 1st!
We're always bombarded by how great it is to pursue your passion, etc – but we've spoken with enough people to know that it's not always easy. Overall, would you say things have been easy for you?
Nothing worth fighting for is a smooth road! Even the people we see today that we think are overnight successes, they took 10+ years to get to where they've gotten to. My road is my road, it's had ups and downs, times where I wanted to give up and just call it quits and times where I just wanted that moment to last forever. I think the biggest struggle I've had growing my brand and just making the name of Danyol Jaye something that people can trust in has been knowing when to ask for help and who to ask for help.
Timing, most times, is everything and in this business, no one does it alone. Knowing when to ask for help is crucial and that's not something I was always good at. It took me being in very tough spots to be able to humble myself and put my ego and pride aside and ask for the help I needed. Not to mention, when people see that you're consistent and dedicated to helping yourself, they are WAY more willing to lend you a helping hand.
The "who" part is hard though because not everyone really wants to see you succeed. Some people only want to help you to say that they've helped you, especially if you end up reaching the destination of success. So I had to really pay attention to those around me and pray for wisdom in knowing who to really keep in my circle and who I can go to for the help that I needed.
So, as you know, we're impressed with On The Jaye Spot – tell our readers more, for example what you're most proud of and what sets you apart from others.
On The Jaye Spot is a blog and brand that I started because I wanted to share my thoughts on things happening in the world, specifically in entertainment and within social structures that didn't have voices belonging to people of color. I say that I specialize in people. I try to engage people in a way that is exciting, realistic and honest. I"m known for quite a few things: singing, acting, and being an online personality. When I talk about what I do, even though I do have a blog called On The Jaye Spot, the brand of who I am isn't On The Jaye Spot, it's really me: Danyol Jaye. So, I'm most proud of branding my name as well as I have thus far. I may not be where I want to be within entertainment (yet), but the people that I've met, the projects I've worked on and the business that I've done speak for itself and my name carries with it integrity wherever it is mentioned.
The thing that I feel sets me apart from others is simply that I'm ME! There is no other Danyol Jaye, no one else that's going to see things the way I do, speak on things the way that I can, have the experiences that I do, there's not one single solitary person who can replicate the authenticity of who Danyol Jaye is as a brand, a person, or a talent. And I feel like everyone should approach their business and brand the same way. There is only ONE you, that's it!
So, what's next? Any big plans?
My plans expand across the universe, they really do! LOL, I definitely have more music coming down the pipeline. I'm also looking forward to getting back into acting and dusting off those chops a bit. I'd love to do more TV and film but I will always be a theatre boy at heart. As I said earlier, I'm still working on my book and really just trying to make sure that the story isn't one dimensional. I talk about love, heartbreak, sexual abuse, there's a LOT happening in this book and it's my life, so I want to present it the right way. Until then, you can always catch me on my IGTV doing my #Raaaviews and of course, I'll be relaunching my website with a whole new look and more content. So definitely stay tuned and keep watch!
Pricing:
Dreamers – On iTunes for $0.99
Get Out – On iTunes for $0.99
Contact Info:
Website: www.OnTheJayeSpot.com
Phone: 818-
Email: info@OnTheJayeSpot.com
Instagram: @DanyolJaye
Facebook: @DanyolJaye
Twitter: @DanyolJaye
Suggest a story: VoyageLA is built on recommendations from the community; it's how we uncover hidden gems, so if you or someone you know deserves recognition please let us know here.