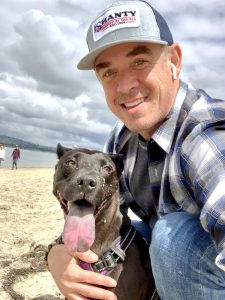 Today we'd like to introduce you to Danny McFarland.
Thanks for sharing your story with us Danny. So, let's start at the beginning and we can move on from there.
I was born to a Mexican mother and an Irish father in Sacramento, however I moved all over California growing up. I grew up mostly with my mother, Gloria, who raised my younger sister Michelle and myself on her own. Things weren't the easiest for us growing up, however my mother was great at staying positive, no matter the circumstances. I can recall one time when we were still fairly young and living in our car for a bit, she would act excited and pretend like we were on a fun camping adventure in our car, but the car was always parked on the street. She was so afraid of losing us, not to mention the bank was looking to repo our car. God bless her efforts, however I could always feel the pain she was really going through. I grew up afraid to ever tell anyone about our challenges, in fear of it hurting my mom in some way or breaking us apart, and then later in life, because I feared being judged as less than. Actually, I have never told anyone that story before, not even my closest of friends. I loved my mother more than anything. One of my favorite things about her was her ability to notice the beauty in the smallest details of life. Some of my greatest memories with her are from doing things that were completely free, but she made extremely fun. I swear she missed her calling by not selling real estate. I never heard her blame anyone else or make excuses for any of our hardships, even though things were clearly challenging. Especially at that time, as a single hispanic woman raising children on her own while working in the corporate world and going to college full-time. My mother was the first in her family to go to college and she didn't start until later in life. After high school she had sacrificed that dream to start a family. She attended Indian Valley College in Novato, CA, with a 4.1 GPA, and received a full-ride scholarship to UC Irvine in Computer Science and Electrical Engineering.
Growing up, unlike my mother, I was a horrible student and had very little interest in school, other than sports and math. I'm sure it didn't help that I was struggling with dyslexia and ADD, undiagnosed at the time. Not to mention we moved to a new city and school almost every year. I attended 12 different schools by the middle of 9th grade.
I gained some geographic stability in my life when I came back to live with my father (Bob), stepmother (Andrea) and two younger brothers (Jimmy & Donald) in Sacramento for the last 3 1/2 years of high school. My mother was in a difficult position and could no longer care for us, which was heartbreaking for me. Not to mention losing my little sister, who I had basically raised, she had gone to live with her father as well. Fortunately, my dad sent me to a great high school, Christian Brothers, that stayed on top of me and my grades. I ran track and played football there, which force me to find a way to maintain a 2.o GPA to stay eligible. Not sure how I pulled that off, I was always carrying mostly D's and F's at progress report time. After high school, I attended American River College and played football. Living on my own, working multiple jobs and going to school full-time while playing football was way more than I could handle and I was quickly ineligible to play beyond two years. I continued to, very slowly, complete my college education while working various jobs from retail to manual labor. My dad was a Lieutenant for the Sheriffs Department, and one day called to tell me a new academy was starting.  So I joined the Sacramento Sheriff's academy at 24 years old, and it was the first time in my life that I really felt on purpose. Surprisingly I was academically very successful, even though it was much more intense and challenging than college ever was. I discovered that I wasn't actually stupid, I just hadn't been studying anything that really intrigued me until then. Being a cop gave me some real discipline and thickened my skin. Like in sports, I really thrive with discipline and accountability. Prior to the academy, I was very sensitive and took things way too personally. I was very frustrated by all the injustice I perceived in the world. Going through the academy and being, what I would have called at the time, unfairly hazed, really helped me embrace the idea that life is not fair, and to get over the idea that it's "supposed" to be. And to just let things roll off my shoulder, like water in the shower. Trust me, if you go into that line of work being emotionally disturbed by all the awful and unfair things you'll see, you'll quickly wind up being a good cop who does something really stupid.
I really loved being a Deputy Sheriff for the Sacramento Sheriff's Department. I felt great about helping to make a difference. The job kept my mind actively entertained, and I was still able to play lots of sports like the Police Olympics, Law Enforcement softball tournaments and my greatest love, football. We play a huge tackle football game once a year for charity called "Pigbowl", and it is epic! The whole community comes out to support and it's a ton of fun. These days it's called "Guns & Hoses", because now we whop up on the fire department. The Law Enforcement bond is what I miss most about the job. God knows it's not for the fanfare. Between relating to each other's challenges in the job and playing sports together, we really build a deep-rooted camaraderie with our brothers and sisters in Blue. After ten years of undergrad school, I finally received my B.A., gotta love resilience baby!
At 29, while working patrol, I was nearly killed and permanently disabled in the line of duty. I was drug halfway hanging out of a suspect's car for 115 yards and slammed into a light pole going approx. 70 MPH. I broke my neck, ruptured and herniated several disk in my neck and back, tore ligaments and tendons, obstructed my right vertebral artery, severe nerve damage throughout my body, as well as many other injuries. I was awarded the Bronze Star for Bravery & Purple Heart, however I didn't do anything different then what cops do everyday. I'm honored to receive them more as a reflection of the sacrifices cops make everyday to protect our safety. My younger brother Jimmy came onto the department shortly after my accident and is now a Sergeant for the SWAT team. Fun fact, my dad, my brother and myself all wore the same badge number as Deputies (121). At the time of my accident, I was planning to propose to the love of my life and start a family. It was the final piece to the puzzle and I was about to finally have everything I'd worked so hard for in my life. Unfortunately, this turn of events soon brought an end to all of that.
After a decade of not improving and still suffering from miserable pain, I left western medicine completely to explore holistic healing and significantly began healing my body in a relatively short period of time. This experience was a Spiritual Awakening that inspired me to study holistic healing and also earn a Masters Degree in Spiritual Psychology at the University of Santa Monica. Ironically, this kid who hated school and struggled so much, ended up being the first in his family to complete a Master's Degree. The funny thing is that I absolutely love to learn now and can't get enough.
This spiritual journey/awakening revealed to me that my purpose in life is to stimulate more empathy and compassion in the world. So I began a successful life coaching business supporting my clients with a combination of my Spiritual Psychology approach, as well as energetically clearing blockages and traumas. I co-created a Social Emotional personal growth program for underprivileged middle school children in the Los Angeles area with my dear friend and Executive Director of Girls Athletic Leadership School (GALS), Carrie Wagner. This heartfelt program transforms the world by educating and inspiring our youth to live a more fulfilling life from a place of acceptance, trust and unconditional love. I recently launched my own Podcast, "Conversations with Friends", with my fabulous co-host and great friend, Dr. See Love. Our podcast shares inspirational stories, from Hurt to Happiness.
A few years ago, the universe guided me into acting, which at the time was completely different than what "I" personally wanted to do. In fact, I had no interest in acting and it seemed completely against who I was and what I wanted at the time. However, I surrendered my desire to control my destination and trusted my inner guidance. With my new found personal growth tools and approaches, acting became an incredible vehicle for breaking through my old conditioned self, fears and supported me in learning to not be attached to the outcome. Acting allows me to deepen in my empathy for others at an entirely different level, which also allows me to re-discover my authentic self and gives my inner child permission to come out to play. Which has been wonderful considering I had to grow up so fast. I started out spending 12-15 hours a day working on acting and auditioning 3-5 times a day for anyone who wanted to see me. Keep in mind this was with zero interest in doing acting professionally. I was doing this solely for the purpose of my own spiritual growth.
I was horrible when I started acting. I stumbled and failed every day over and over again until I no longer related to it as failing. I discovered that the success is in "showing up", regardless of the outcome. It's an inside job, not an outside job, just like in life. Acting gave me the opportunity to admit publicly, for the first time, that I was dyslexic and severely struggled with reading and retaining. Prior to this, I was literally terrified to read even one sentence out loud in front of people. Damn, I can remember being teased and so embarrassed, just a month prior to embarking on this acting journey, when I stubbled to read a card from "Cards Against Humanity" out load with friends. In a short period of time, my journey into acting became wildly successful with over 80 productions in my first three years. In a short period of time, I had transformed at an entirely deeper level, shedding more of my old patterns and conditioned self. Thanks to acting, I now know and love my authentic self more than ever before. In football we used to use the term "Hell Week" for this grueling two a day workouts we'd do to start the season. Well, I started my acting career as a "Hell Week" that lasted for two years straight. At which point, I had to come to terms with two new awarenesses. First, that I actually do love acting, something my conditioned self genuinely did not think was true. And secondly, I had to admit that I am an actor, and not just an actor, a professional actor. This spiritual exercise had transformed into a new profession that I absolutely love! I'm proud to say that I am now a significantly better reader as a result of forcing myself to read scripts all day, every day.
I'm excited to share that I recently starred as one of the leads in an episode for "37 Problems" (S2E3- Disturbance of the Peace) on Amazon Prime, which I also co-wrote and co-directed and produced with the shows creator and Star, Lisa Ebersole. I often joke about how playing a cop on TV is much safer because if I mess up now, I get another "take". I could have never dictated this outcome had I allowed my conditioned self to control my destination, nor if I hadn't been willing to embrace the direction I was being guided in. I would describe my incredible journey as a process of surrendering the "Illusion of Control" and trusting the "Divine Unknowing".
Has it been a smooth road?
After my accident, it was incredibly challenging that I was not able to overcome my injuries and pain. I lost my identity, joy in life, and my sense of purpose. I was 29 at the time and had overcome many challenging in my life to finally get to a place of being successful in my career, Real Estate investments, and relationship. I was a huge outdoor and sports enthusiast who was constantly active. Then suddenly everything I had worked so hard for in my life was seemingly gone and I was left with this broken down, worthless, less than half ass version of myself. No longer able to be the "man" I worked so hard to become.
Only a year after my accident and still deep into the mist of my struggles, I spent four long agonizing months in Arizona at my mother's bedside while she fought for her life after the hospital infected her during a routine elective surgery to repair her tricuspid valve. I eventually had to pull the plug on her after a number of failed surgeries and the hospital's inability to first identify and then clear the infection they caused. This was a devastating time of my life, even more than all the suffering I went through with my injuries.
The hard knocks didn't stop here, several years later, I nearly bankrupted myself after opening and operating a ballroom dance studio in Folsom, CA. Things were going great and a multi-million dollar expansion was planned when suddenly my partner, a professional ballroom dancer, unexpectedly left town for the weekend and never returned, leaving me holding the financial hardship without the professional skill set to teach the clients and instructors. To make matters worse, I was still in an incredibly painful physical state. However I managed to keep the doors open for another 4 1/2 years before selling it.
Around the tail end of the Ballroom Studio, the housing market crashed and I lost all my money and most of the houses I had invested in. I had to file bankruptcy. It seemed that no matter how resilient, responsible and creative I tried to be, I could not control my desired outcome. I seemingly kept losing everything over and over again. It was as if the universe was conspiring against me, which I couldn't understand because I was a good guy and I did everything I was "supposed" to do. Little did I know that in the midst of being stripped of everything, again, that I would soon meet my amazing holistic practitioner and be sent on an entirely new path in life, one that I could have never planned or predicted. Until then, I had attributed so much of my worth to things external of myself. This began an incredible journey of breakthrough my conditioned self, old patterns and misbeliefs. Discovering that happiness comes from within. That I am not a victim of my circumstances. That it is not the issue that's the issue, it's how I relate to the issue that's the issue. A journey of healing my mind, body & soul. One of self-empowerment and learning to love myself unconditionally. Wow, the universe works in mysterious ways!
We'd love to hear more about your work and what you are currently focused on. What else should we know?
This is an interesting question because I'm not trying to promote a business or make money. I'm on a journey of surrendering my personal desires and trusting my inner guidance, to be a servant to my higher purpose. More than anything, I just want to shine my "light", tell mine and other's stories to inspire those who are seeking more inner peace and joy. I'm not claiming to have "The Truth" or know "The Way". I only know "my truth" and "a way" that supported me to get through my challenges.
I'm really excited about my new podcast, CONVERSATIONS with FRIENDS. We provide a safe loving place for everyday people like you and me to share stories of overcoming challenges and the blessing that came from them. So often we're looking for the quick fix, which comes from a place of self-judgment and conditional love, i.e. "When I'm better than who I am now, then I'll be good enough". What I've found is that often just feeling heard and knowing you're not alone in your inner struggles, is the healing we need. With this podcast, we take the focus off of fixing our problems and put it on creating a community to feel heard and connected with one another. Our podcast can be found on iTunes, Spotify, Google Podcast, as well as  most other platforms.
I'm an Inspirational Speaker, so I'm always happy to speak at events and be a guest on shows to share my story. I feel guided to create a show where I interview different holistic modalities for healing our mind, body & soul. My vast background from Law Enforcement to Holistic Healing & Spiritual Psychology allows me to be a bridge for mainstream viewers seeking to find healthy options. I would stay away from the marketing BS and ask honest and tough investigative questions in a layman way so that my viewers can get well informed, without some side hustle attached. I just think about how I was struggling for so many years and how I wished I had a trustworthy resource like that available to help me. I would love to find collaborators interested in creating my vision.
I really feel called to create transformational films as well. I've been asked to be a Producer for two epic inspirational real-life stories, unfortunately I can not share which ones yet, however I'm extremely excited about them and the empathy they will stimulate. I'm also in the process of writing a TV series, three seasons, about my personal journey.
How do you think the industry will change over the next decade?
Good question, I don't think of what I do as an industry, other than the Entertainment Industry aspect of my career. I feel like the way sociality is headed right now with social media, political differences, and frustration with so many aspects of the world today is truly a blessing because it is an incredible mirror/reflection of where we are inside with ourselves. With the instant access to the world via internet and TV, I feel like more than ever this is a time for our judgments to be pulled to the surface, with no place to hide from them. Giving us the opportunity to work through our upsets and self righteousness. Moving us more into a place of acceptance, empathy and unconditional love.
It's been my experience that as we grow, often our life lessons circle back around, often trigging old fears and relating to it like we did the past. However, it's important to know that it's a new version of "us" that is able to relate to it in an entirely different way, from a place of higher consciousness. Which is just like the world. In the past, coming more from a place of survival, we may have responded with violence and wars, however I feel like the world as a whole is in a higher consciousness and ready to respond in a more loving way. Does it mean we're going to do it perfect? Probably not. But that is what empathy and unconditional love is all about. As a baby, how many times did we have to fall or stumble before we learned to stand, walk, and then run? It's a journey, not an event. So let's release the expectations and allow more grace and ease on our journey. I see more and more people turning to personal growth/spirituality as a tool to move into a place of deeper inner peace and joy with themselves and the world. The outside world is just a reflection of our inner selves. Whenever I'm upset with something outside of myself, I use it as a spotlight to identify an aspect within me that is still in need of healing. This is a process of empowerment and taking dominion over something we can govern, how we relate to the issue.
As for the Entertainment industry goes, I feel like as our consciousness elevates, the industry we have to shift with us. Moving more into inspirational and heartfelt stories, and further away from violence and dramatics. Just like Walmart carrying Organic foods, they will follow the demand, i.e., money.
I see myself as a host of a TV show sharing inspirational stories and supporting people learning more about spirituality and holistic healing. I also see myself continuing to produce inspirational films, as well as playing a lead role as a no-nonsense yet caring cop with a unique application of spiritual psychology to create change and transformation on the streets.
Contact Info:
Suggest a story: VoyageLA is built on recommendations from the community; it's how we uncover hidden gems, so if you or someone you know deserves recognition please let us know here.