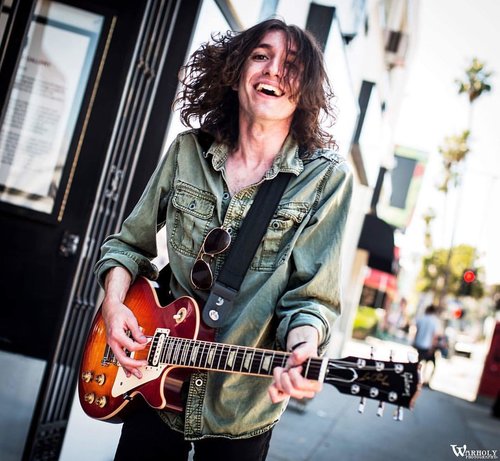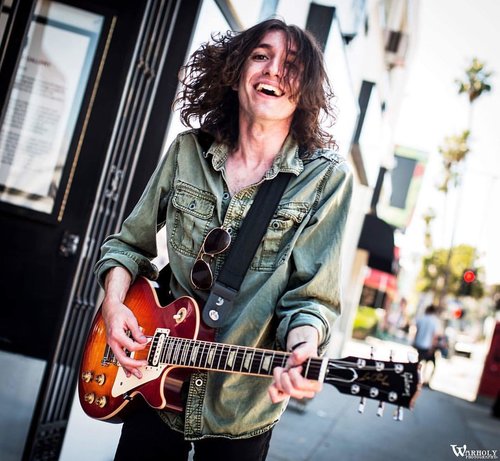 Today we'd like to introduce you to Danny Hechter.
Danny, can you briefly walk us through your story – how you started and how you got to where you are today.
It's the early 2000s. I'm not old enough to know what "libido" means, but I know that Alice Cooper has one, and it's apparently a psycho. I don't have the hottest and newest video game console, but I don't mind because I *do* have the "Wayne's World" soundtrack. My VHS tapes of classic children's movies are gathering dust in an abandoned bin as my television now only displays videos of Def Leppard and KISS concerts. Last year's talent show performance was Ozzy Osbourne's "Crazy Train"; this year will be Judas Priest's "Living After Midnight." I'm an elementary schooler in Minnesota. I have 3/4-sized guitars and big dreams. My life has been saved by rock and roll.
Jump forward to the summer of 2015. I've spent the past decade studying the art of guitar playing and religiously honing my craft. My adolescent years were devoted to experiencing the good, the bad and the ugly of DIY rock groups. My college years were devoted to performing one-man-band electric guitar sets on the University of Wisconsin-Madison's campus. I had backing tracks, red pants and a desire to entertain. While in college, I also consistently wrote music.
I released a solo EP on which I recorded the guitar, bass and drum tracks; I opened for singer-songwriters Ari Herstand (artist/author/actor/blogger) and Nicholas David ("The Voice" finalist) at Madison venues; and I earned an opportunity to fly out to Los Angeles and audition for Hillbilly Herald, an original rock group that had recently toured with my biggest guitar influence, Slash. I also tried out for an intramural basketball team. Wearing skinny jeans and a Stevie Nicks tour shirt, I was last to be drafted. I'd set my sights on the City of Angels due to an infatuation with the Sunset Strip legacies that bands like Guns N' Roses and Mötley Crüe had built. (I was such a nerd; I'd already subscribed to receive Viper Room email blasts before even attending a show there.)
I moved to Los Angeles pretty much immediately after graduating from college. I brought along what fit in my car and left the rest at home. After crashing with friends in North Hollywood and Sherman Oaks, and after a brief stay in Echo Park, I moved into my first apartment in Hollywood. I joined an original glam rock group, SpaceCream, fronted by Savannah Pope. We performed at venues around L.A. and Orange County. It was a wonderful band experience with genuine, talented people with whom I'm friends to this day. It was also a solid excuse to wear a faux-fur jacket and booties.
My world changed when I met guitarist Erik Himel. Erik told me he was creating a jam night on the Sunset Strip called "The Sunset Jam," where he would invite in-demand working musicians and up-and-comers to play together, showcasing all sorts of talent and helping to foster a thriving music community. Since my college major was Strategic Communications, I assisted Erik with the event's press release and website design. At the inaugural Sunset Jam, I performed with drummer Glen Sobel (Alice Cooper) and bassist Paul ILL, a total inspiration to me, who's worked with several iconic artists. I was ecstatic.
I began attending and playing every Sunset Jam. For a short period, I served as the event's unofficial photographer and emcee. These nights were among the happiest times of my life. I felt so welcomed, and so encouraged to be myself, in such a loving community. The band, Todo Mundo, performed at The Sunset Jam one evening. They had a cool World/Reggae/Latin fusion vibe. For their last two songs, the group's leader, Santiago Orozco, extended an invitation for a guitarist to sit in with them. My friend suggested I take Santiago up on his offer, and Santiago welcomed me to the stage. I performed two songs with the group; Santiago taught me the chord progressions on the spot. We exchanged information after the set.
Soon after, I received three show offers with Todo Mundo: all festivals, all outside of Los Angeles. I studied the group's music closely and incessantly. I also began changing up my playing style and my rig to best complement the group and do their music justice. We played Joshua Tree Festival, where I earned a featured photo in The Huffington Post's recap of the event; Lightning in a Bottle, where acts like Chet Faker and Big Gigantic performed; and San Diego's Taco Fest, where Sir Mix-a-Lot headlined. The one-off festivals turned into tour opportunities, and soon enough, I was playing with Todo Mundo in places such as Idaho, Colorado, and Utah.
We also opened for the San Diego Symphony, which was a beautiful event. I eventually stepped away from Todo Mundo to pursue different opportunities; Todo Mundo evolved into Within, another group led by Santiago. During this time, I also joined two cover groups: The Royals, led by Paulie Z, current vocalist of The Sweet, whose former band (ZO2) had its own television show on IFC and toured with KISS and Poison; and The Hi-Fi Academy, led by drummer Zak St. John, whose credits span from Karmin to Stevie Wonder. The cover group positions trained me to memorize hundreds of songs from various genres and eras, especially a live band karaoke residency with Paulie's group.
These positions also exposed me to other live music spots in Southern California (Big Bear Lake, Indio, and so on), and to performance settings aside from clubs (such as private parties and casino gigs). I also began playing Ultimate Jam Night at the Whisky a Go-Go, where I would become a regular guest, and where I would perform "I Think We're Alone Now" with Tiffany herself. I quickly realized how much I loved the fun challenge of being assigned pieces of music to perform and studying those compositions to a tee. How much I loved collaborating with different bands and constantly expanding my horizons. How much I loved playing pop- and funk-influenced material. I became a working musician.
And since following that path, a handful of moments stick out to me as milestones, including:
– Playing Montreal's Théâtre Plaza with pop duo Jacob and Fanny
– Performing a show with Jimmy Paxson, another huge inspiration to me, whom I'd seen in concert years prior playing drums for Stevie Nicks
– Recording for Taylor McCluskey in The Village's Studio D, where albums including Fleetwood Mac's "Tusk" were recorded
– Becoming an official Cleartone (Guitar String) Artist
Last month, I played with eight different groups: rock and pop; original and cover.
It's been a blast performing different types of music in various settings, altering my playing style and rig per band. It's been a fun, crazy journey thus far, and I'm still only a couple of years into it. I'm learning new lessons every day. I'm paying my dues and grateful to do so. I'm thankful to work with artists who inspire me greatly. I'm thankful to have wonderful friends and loved ones in my life.
Has it been a smooth road?
I've definitely encountered struggles along my journey – self-doubts, slow gigging months and moments of perceived idleness, unanticipated expenses, and so on. That's what you sign up for when you choose this path. But, if you're lucky, you'll meet and befriend kind and supportive people who have your back, who will be there for you as you expose your vulnerabilities, and who will motivate you to keep pushing yourself. I'm lucky to have friendships like these. They're invaluable. Seek them out. Prioritize them. Make sure they're reciprocal and that you're giving back, too.
Roadblocks are inevitable, but if you can learn to view them as things that will only make you a stronger, more developed musician and person, then you'll be able to persevere. Nikki Sixx said it best; simply, "Life is beautiful." I'm grateful for this life; the experiences I've had on this journey; the lessons I've learned along the way. I stay determined to continue achieving my goals, and I don't believe the world owes me anything while I do so. Appreciation, not an expectation.
We'd love to hear more about your business.
I approach every music endeavor with a smile on my face. My passion and energy are always made apparent (i.e., I make LOTS of guitar faces). I love collaborating with fellow musicians and helping them bring their musical ideas to life in both live performance and studio settings. I've been trained to efficiently, thoroughly and accurately learn others' material. I'm here to best serve fellow musicians, and to help in creating positive environments.
I hold myself to these rules:
– Arrive early and prepared.
– Show respect.
– Play what the songs require you to play, and don't overplay.
– Communicate clearly, and be honest.
– Have a sense of humor.
I also refrain from alcohol and drugs. I'm proud of that. Though, I do have a chocolate shake vice…
Is our city a good place to do what you do?
There are a lot of great opportunities to grow as a musician and to learn from those who inspire you out here — experiences exclusive to L.A. I wouldn't be able to live the life that I live here if I was located anywhere else. I haven't encountered cutthroat personalities, either. I constantly find myself interacting with respectful and humble people.
If positivity is your thing, if you're comfortable with delayed gratification, if you're open-minded and are willing to pivot on your course now and then — L.A. is an awesome place to pursue your dreams and cultivate your career.
Contact Info:
Getting in touch: VoyageLA is built on recommendations from the community; it's how we uncover hidden gems, so if you know someone who deserves recognition please let us know here.