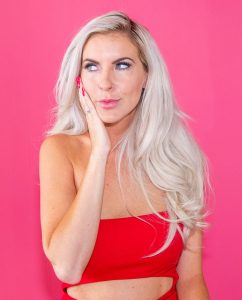 Today we'd like to introduce you to Danielle Prahl.
Danielle, let's start with your story. We'd love to hear how you got started and how the journey has been so far.
My story isn't the most linear – in 2009, I met the man of my dreams. I ended up leaving my hair career and owning my own hair business to building his businesses). In 2015, after one year of marriage he disappeared overnight. I found out (with much research and diligence) that he was a conman and had been sentenced to jail for something he did ten years ago. I went from living well to loosing absolutely everything- and I mean everything overnight. I not only lost the businesses I built with him, but our bank accounts, our apartment, and everything to my name in a 24 hour period.
I started my business after selling my car to pay rent and took a contract job making $15/hr for 5 hours a week. Everyone told me I was insane. I started my business from a laptop in a tiny apartment. Everyone told me I was insane and to just get a "normal job". Something in me told me I could do it if I bet on myself. Everyone said I was "crazy". I said, "Thank you…" And I just kept going. Within a year, I had built a 6 figure business.
This year, I made 6 figures in June alone and have built over 12 millionaires in the entrepreneurial digital space.
My passion is helping people build careers outs of what they want, how they want to work and using strategy and behavioral responses and intuition to build the rest. I help people discover their superpowers, bet on themselves and build businesses based on them. I'm passionate about it because I never want anyone to be in the place I was in. Because I'm successful for my clients- I am successful. My downfalls and setbacks gave me my purpose. I also wrote a bestselling book on my journey called "Divorce, Drinking & Dating". It was a true passion project that I hope reaches people that need to hear it.
Success is never linear. It's what you do with your setbacks that gives you power if you choose to see it that way.
Has it been a smooth road?
The road to where I am now has absolutely not been smooth. Every setback, every failure, every roadblock has given me fuel to make the future.
I've gotten burnt out, had to figure out how to set boundaries, how to operate as a CEO and not an employee.
How to not make my business everything about my life.
I also had a child a few years into my business and became a single mom. She was at home with me while I worked fulltime until she was 18 months old. I remember being so frantic to keep clients happy I was texting them back in the C Section recovery room while my infant was sleeping and realized something had to change.
It wasn't others expectations that I was living up to- it was my projection on myself of what I had to do to keep them.
You HAVE to create boundaries. You have to assert those boundaries. And you have to allow yourself to be supported in your life and your business. Otherwise, no matter how successful you are, you will always wonder why it's not what you thought.
I also learned that making money isn't a bad thing- that's stigma in our society. There is nothing wrong with making money. You are allowed to make however much you want and spend however much you want. However, when you realize money doesn't fulfill you- you become more tangible on why you want it. It becomes on making an impact, on changing people's lives, on whatever that is for you. That's when the money actually starts to flow and it means so much more.
We'd love to hear more about your work and what you are currently focused on. What else should we know?
I call myself an online business expert and launch strategist. My expertise is in hearing your goals, figuring out how to execute it, arranging the tech in automating it- and my catch phrase is "motherf*cking results".
I don't talk a lot upfront, almost all of my business is referrals and word of mouth and it keeps me busier than I can imagine.
I'm known for my calm attitude, my results orientated experience, my ability to change course on a dime and my resilience.
I'm proud to say that I started in this business at the bottom- but that's what makes me the best at what I do (and I can honestly say that- with zero ego). I am a constant student of my industry, I've been in every possible position so I know what it requires. I know what it's like to be a consumer, and I know what it's like to be a business owner.
My brain works in patterns so I recognize them and then I hack them and make sure the end experience reflects the best possible outcome.
I can't describe it but I rely heavily on wisdom that I can't take credit for, brainpower, industry research (constantly) and following my intuition heavily.
I've had 3 million dollar launches this year, 100's of 6 figure launches since I started and always delivered on goals but it's a team effort. I get inside the heads of my clients- I want to know their customers. Their culture, their brand. What makes them tick. Why they want it. How THEY want to speak vs how others want to perceive them. I want them to come into their own and make them shine as their authentic selves and connect with people that need them. It's not just about money to me- it's not one size fits all. I don't have a formula. My formula is YOU. I think that's what ultimately makes me successful.
How do you think the industry will change over the next decade?
It's changes so much in digital marketing. It started with the super stock photo's of people that were in fancy clothes and fancy backdrops.
It still exists but I think it's changed and is changing to where people want to see BEHIND the scenes. They want to see real faces, real people, real experiences. They are so inundated with perfect that authentic shines.
Then, there's also this trend of fake authenticity that's taking over – like look at my stretch marks, I'm not in shape, I don't have makeup on. Look at me.
I think the biggest change right now is people want to see behind the scenes of your ACTUAL life- not manufactured. They want to see you on your best days celebrating how you actually look without filters, they want to see your hard days and the honesty.
They want to hear from real human beings. They want connection.
Maybe in the future, it will swing the other way as it always does, but as a student of this industry, sure, post your perfect photo. Do you know what I love to see? You chilling in your normal clothes sharing how your day was either good or bad, the real life moments. People crave humanity more than ever. BE YOU. The perfect feed and filters is dying- everyone is doing it so it blends in too much. Sorry.
Pricing:
Strategy Call = 997
All inclusive Launch & Strategy = $6,000
Contact Info:
Website: danielleprahl.com
Email: danielle@danielleprahl.com
Instagram: @danielleprahl
Twitter: @danielleprahl
Image Credit:
All images are actually by Linda (LIN MARTY)
Suggest a story: VoyageLA is built on recommendations from the community; it's how we uncover hidden gems, so if you or someone you know deserves recognition please let us know here.