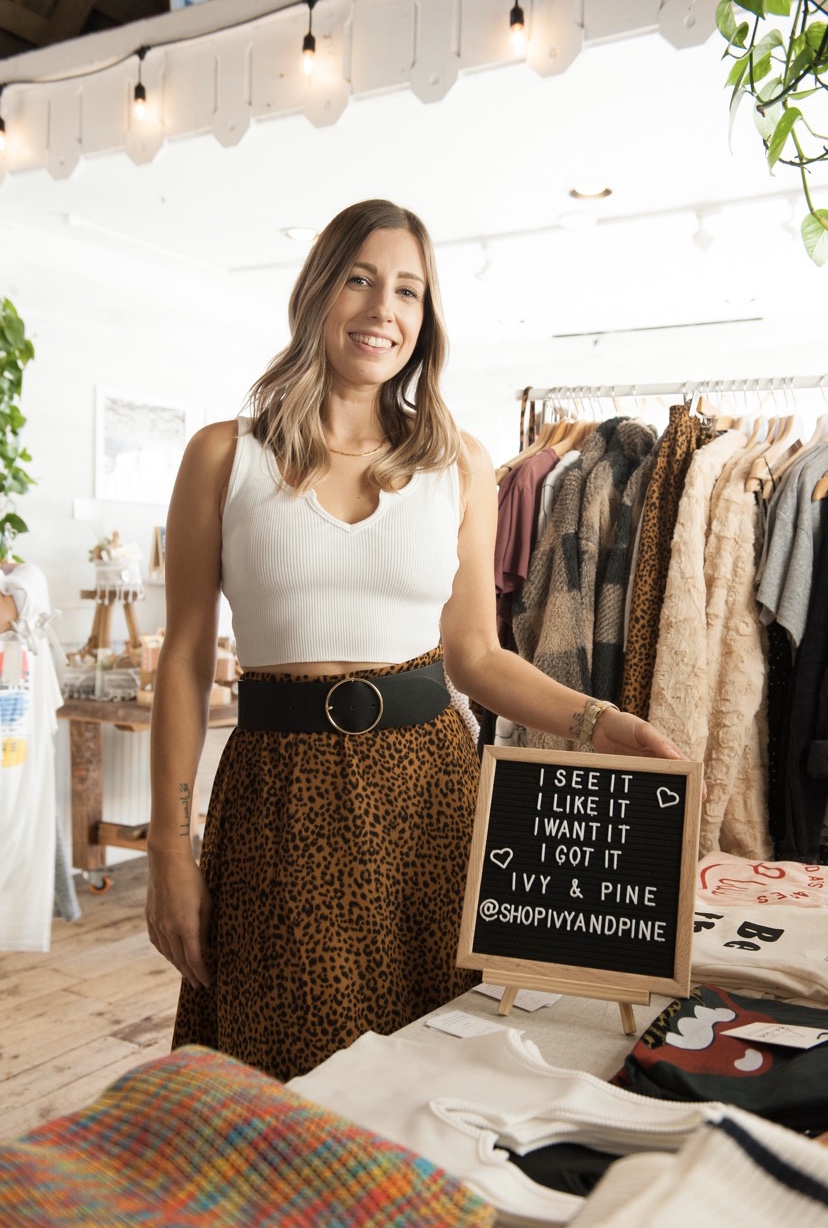 Today we'd like to introduce you to Danielle Beck.
So, before we jump into specific questions about the business, why don't you give us some details about you and your story.
I've always wanted to be in charge of something, to own it, run it, make all the decisions. As a precocious first born, making the rules came naturally to me. Any family gathering would consist of me orchestrating the seating arrangements and providing the entertainment.
All birthday parties required that I styled the guests and coached them on how to perform, pose and act out my choreographed plays and dance moves. My favorite of these activities was dressing up my friends in my mom's clothing and using my dad's video camera to direct commercials (that I of course wrote). I loved playing dress up, I loved raiding my mom's and grandma's closets and pairing looks together. I'd spend hours drawing poorly scaled outfits for myself to wear to prom, traveling the world, having a girl's night out with the Spice Girls…normal kid stuff. What I didn't truly realize at the time was that I had a passion that I could actually make a living from. I thought I needed a "real" job to become a lawyer, a teacher, a doctor; as a result I ended up spending many tireless years trying to figure out what job was "right" for me.
Fast forward to my early twenties when I began working for a small boutique. I had been going to school for Fashion Merchandising and needed a job to continue to put myself through said school. Within a few months at this shop I had that light bulb moment "I want to own my own store". FINALLY! I knew what I really wanted to do! I was going to save money and open a shop, I was going to use my passion for clothing, talent for styling and love of making people happy and combine it into a successful business. Unfortunately, the recession happened, life happened, and things didn't go exactly as planned. I was out of a job as that company struggled to stay afloat; and that began a nearly 12 year-long "what the hell am I going to do with my life" adventure.
Finally, after years of wishing, wanting, hoping… I made a change. I vowed to myself that I would open my shop; I would take that leap of faith and make it happen. If I failed, who cared? I'd try it again and again and again until I found the right recipe that made it work. I knew I was not meant to work for someone else; I knew I was meant to build a place of my own and hopefully inspire others to do the same.
I spent months researching shop names, reading blogs on how to start an online store, asking friends and family for their advice (thank you all so much for listening to me 24/7!), and finally started an Instagram for ivy & pine in the Spring of 2018. I spent the next year planning, saving and preparing (a little procrastinating… imposter syndrome is a VERY real thing). In July 2019, I pressed "publish" on version 1.0 of ivy & pine. I started with about five vendors, ten styles and a hope and a prayer that someone, somewhere, would want to buy from me. My first sale was to my sister, the second to a close friend; I spent a bit too much money on Facebook ads, but I had done it! What started as an actual dream, something I thought would never happen, had finally come to fruition.
My goal when I started ivy & pine was to create an inviting place for people to shop – somewhere people felt comfortable and inviting, and where you'd leave as a new friend. Have you ever felt that emotionally connected to an online store? Me either. So, I started showing at pop-ups and markets in the LA/OC area. Every pop-up is different but my favorite part of each one is getting to meet customers in person and creating that connection that keeps them coming back. Owning an online business is amazing in so many ways but I crave that human connection, I love to see how excited someone gets when they find that perfect outfit for that perfect event. These pop ups are where I make the biggest impression on new customers, they get to meet me, hear my story (the short version) and see everything I have in person.
Now in my seventh month of being open, I am working on yet another site update, still trying to figure out just exactly how SEO works and continuing to educate myself on how to scale my business enough to be able to open a brick and mortar. I've grown my vendor list and now carry some designer brands and am looking to expand into a few more categories this year. I spend every spare minute of my day (in between a full-time job) working on bettering ivy & pine. Not every day is a win, but other days; like the day I was approached about this interview; I feel like I am on top of the world and absolutely nothing can stop me. It's not easy running a business, especially by yourself, but I have the most amazing tribe of family and friends who have supported me through it all.
Overall, has it been relatively smooth? If not, what were some of the struggles along the way?
To be honest, nothing about this has been what I'd call "smooth", but it has been a good kind of challenge. I needed to be pushed outside of my own comfort zone in order to take the leap to making this dream happen. Online boutiques are very saturated, literally anyone can start a website and sell something, so I knew I had a lot of work ahead of me (and still do!) in order to set myself apart from the pack. This is why pop ups and markets mean so much to me, they are incredibly hard work, and once I'm finished with a pop up and unpacking my car and re-organizing my office I am exhausted; but it's the kind of grind, the kind of draining tired that makes you feel so alive and accomplished. One of my biggest struggles has been getting my name and my company's name out into the world. I want to be at the top of Google, have millions of loyal customers and followers and become a success from all of my hard work. Quite grandiose, but it's in my nature. There are a lot of boutiques online and brick and mortar who haven't been around long and are crazy successful – I look at these women-owned businesses and I know that I have a shot. I am still working on figuring out the best practices, best ways to rank higher, best pop ups to share my clothing; it's a work in progress and I don't imagine there is ever a "smooth" road ahead, but I'm open to a slightly less bumpy one.
Ivy & Pine – what should we know? What do you do best? What sets you apart from the competition?
Ivy & Pine is an online women's boutique created for you and your best friend. I specialize in finding the perfect collection of pieces to help make women feel confident, fun and feminine. I work really, really hard to find the right selection of clothing to show on the site. I partner with multiple vendors to find the right looks and fits for my current and future clientele. I model all the clothes, I write all the descriptions, I do my homework on each vendor I bring to the site.
Not everything is a hit, it's harder than it seems to buy clothes for other people! But I am known for finding great pieces that can mix and match with each other and creating a clear aesthetic across all collections. I want each piece to be your favorite piece; each outfit we create to be the one you feel the most badass in, the one you can take on the world wearing.
Currently, I carry 99% clothing and 1% amazing jewelry from one of my most talented friends, Moonchylde Collective. I'm planning to branch into shoes and accessories this year, hoping to become that "one-stop" boutique. My most proud moments have been every day since I pressed publish on my site. Is that cheesy? Yes, yes it is. But I truly am so proud of myself that I actually accomplished that goal. I have a million more on the list when it comes to this company and my life in general, but this one took about 12 years to actually happen, and most of the reason why I didn't do it was because I was too scared. I was terrified to fail and it took a long time to realize that failure is still a success because I actually tried something.
Whether you buy from me online or at an event I want you to feel a connection with me and my company; I know there are a lot of similar boutiques in this world, but what makes mine different is, well, me. I'm no longer afraid of failure or worried that every single piece I pick will be a success. I know I have something different to offer in the way I care about my customers and if you get the chance to meet me in person get ready for a HUGE hug!
What is "success" or "successful" for you?
Knowing guacamole is extra and not caring. Only slightly kidding. I tend to look at success as being "stress-free" about providing for yourself and your family; not worrying about money. In all reality, this is purely relative. Making money can equal success, but it is not the be-all, end-all in what defines success. Right now, ivy & pine is still so new it can't make the world-changing impact that I want it to be able to do, but we are making a difference to those around us, and one day we will make a difference to a larger audience. For me, I want to grow ivy & pine to a company and brand that is known worldwide. I want to be ivy & pine to be successful enough that I can support more non-profits, I want to open a store and be able to promote other up-and-coming woman-owned businesses.
Pricing:
Clothing $20 – $100
Jewelry $30 – $35
Contact Info:

Image Credit:
Margie Petit @dejaphoto
Suggest a story: VoyageLA is built on recommendations from the community; it's how we uncover hidden gems, so if you or someone you know deserves recognition please let us know here.