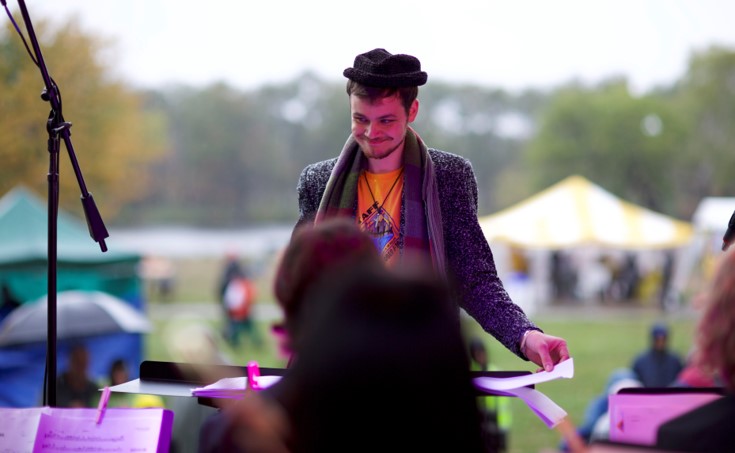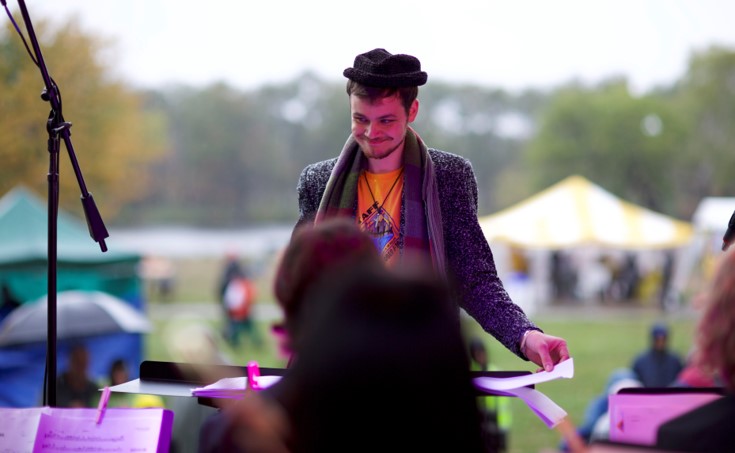 Today we'd like to introduce you to Daniele Truocchio.
Daniele, can you briefly walk us through your story – how you started and how you got to where you are today.
I'm 25 years old and I was born and raised in Pomezia, a City in the province of Rome, Italy. I've moved to Boston, United States in 2014. I started getting involved with music when I was seven years old, playing with my father's old guitar and snicking into my oldest brother's piano lessons. When I was eight, after having harassed for quite some time my brother and his piano teacher my parents decided to let me start taking guitar lessons. Since that moment I've never left music even once. I've kept taking lessons and when I was ten my two brother's an I (one was 12 years old and played piano, and the other five years old and played at first percussions and the drums), decided to create a "family band", named Pipoka, with whom I've played all over Italy at parades, clubs, and church parties. During high school, I've started studying at the Music Conservatory of Latina, in Rome pursuing a Diploma in classical guitar and then classical composition, and separately from that I've also taken singing lessons, as I was one of the singers of the band.
The moment that I consider the most important so far for my musical growth is when during my teenage years I met a Senegalese composer, guitarist and bassist named Peace Diouf, that mentored me for several years, week after week without asking anything in return just like a big brother (to give you a visual example: think at the movie "The Karate Kid", and the relationships between the karate master and the student). He is the one who made me believe that if I worked hard I could have won the Berklee College of Music scholarship. To be honest, the United States were never even on my dreams, I didn't know anything about it, and for me it was just ideologically "too far away" from my musical and financial level. But then, I decided to attend "The Umbria Jazz Festival", which is a very well renowned Jazz festival held in the region of Umbria, Italy where teachers from Berklee College of Music go every year for a two weeks intense master classes program with about 200 students/musicians. At the end of it they pick about ten people that they award with a scholarship to attend their school. In 2013, I was of them, and that moment of course changed my life.
A million details and adventures forward: I now live in Los Angeles, I'm married (with Giorgia which I've met way before all this back in Italy when we were 17) and I'm working hard towards my career as a film composer.
Has it been a smooth road?
It hasn't been as smooth road at all, pursuing music is never going to happen "smoothly" in my opinion. But also, some of the things I'm about to share can definitely be defined as "part of the experience", instead of "struggles".
After I've decided to keep the Berklee scholarship and try to pursue the idea of an American journey my family and I realized that the road ahead was going to be intense. Financially even with the scholarship we couldn't afford the rest of the tuition, the rent and living expenses of Boston, so with the help of family and friends we started thinking about every single possible solution. From there I've attended another audition in Paris that increased my previous scholarship, I've taught guitar lessons and created a crowdfunding campaign and wrote hundreds of emails trying to find a connection in the States that could have helped me with the rent situation. With the help of a friend who spoke perfect English (I didn't speak a word), we decided to email the Boston "Boy Scouts of America" council, as both my family and I are very involved with Boy Scouting in Italy and after several tries our email finally got to the table of the guy who was responsible for all the Boy Scouts of the Boston Area…
Prepare a glass of water for what comes next…
He responded, scheduled a Skype meeting with us, and agreed to host me for a couple of weeks, as his daughter was just starting her "languages degree" in Indiana and her room was empty and available. Guess what language she was going to start with? ITALIAN… These two weeks became almost four years, and that "guy" and his family became part of mine. Thanks to them I've never paid rent or food while in Boston, and they gave me the opportunity to study in one of the best music colleges in the world. The fact that I couldn't pay rent become a true blessing for my life and career. It depends how you see things, of course most of my Berklee colleagues had always money in their pockets, lived in amazing apartments with their friends without the need to commute and partied all the time, so yes I didn't have a standard "college experience", but the good thing is that I didn't want it and I wouldn't change the experience I had with anything.
In terms of the after college road of course there are a thousand challenges, it is just the nature of the music and in my case film industry, and I honestly don't mind it being hard. Probably the biggest obstacle I've encountered so far is that both my wife and I are foreigners, and that makes everything in America harder, because of how hard, slow and frustrating the visa process is. We just got our visa renewal after a one year "journey", probably the price of a couple of vacations, and the stress of five movies. But in the other side, I feel incredibly lucky to have had the chance to start working in the film and television industry right after moving to Los Angeles, so I believe all the "challenges" are worth it at the end.
We'd love to hear more about your work and what you are currently focused on. What else should we know?
I'm a film composer and I try to direct every experience I have towards that.
Since I've moved to Los Angeles I've also had several experiences as an orchestrator, (like for example for the Netflix movie "Extremely Wicked Shockingly Evil and Vile" starring Zac Efron) and I've arranged orchestrated and produced music for shows like: Legacies (CW), Roswell New Mexico (CW), God Friended Me (CBS) and Pretty Little Liars – The Perfectionists (Freeform).
I'm a composer and my goal is to direct every experience I happen to have towards that, and the great thing is that there are a thousands ways to prepare for that.
For example on August 6, I will be conducting a string orchestra in Rome, Italy recording Stephen Edwards' music for the documentary he's also directing named "Syndrome K", (which is about three doctors who invented a fake disease to save hundreds of Jews in Rome during War War II). I've some experience leading big ensembles, but this is the first time I'm actually conducting the orchestra for a film, so besides being of course excited I'm also happy that I'll be able to put this into my "experiences drawer" for when I'll have to record my own music for a film or tv show.
How do you think the industry will change over the next decade?
I believe the film industry is being incredibly stimulated by all the new digital platforms like Netflix, Disney, etc. So I'm sure there will be a constant flow of content between now and the next few years. I'm sure though that some sort of a shift will be happening, as technology keeps evolving. Either people will get sick of the content saturation they are surrounded with, or they'll keep needing more and more. One thing I know is that the way movies and tv shows were perceived has already shifted, hopefully for the better…
Contact Info:
Image Credit:
Image: 8G0A2482, 8G0A2501 and SOAR – photo by Taiga Kunii
Getting in touch: VoyageLA is built on recommendations from the community; it's how we uncover hidden gems, so if you know someone who deserves recognition please let us know here.