Today we'd like to introduce you to Daniel DiCriscio.
Daniel, let's start with your story. We'd love to hear how you got started and how the journey has been so far.
I was born and raised in Wilmington, Delaware and after graduating cosmetology school (top of my class) and college I was then accepted to study acting at the prestigious Lee Strasberg Theatre and Film Institute in New York City and did a stint on "All My Children". I've always been interested in music as a child and studied classical piano, keyboards, and guitar (classical as well.)
I then moved west to Scottsdale, AZ and resided there for two years. I came to LA on my birthday on a weekend getaway from Scottsdale AZ and got discovered on Sunset Plaza by a famous photographer asking me to pose for a men's sexy beefcake calendar in which I did (I have always modeled and still do), and was also hired at Jose Eber Salon in Beverly Hills and asked to start immediately by Jose himself as a stylist. Moving to LA was not in my plans, I was planning on moving to Tokyo, Japan but as you see I am a California boy now!
I started as Jose's assistant for a few months assisting him personally (Cher and her mom were my first clients) and then became a top stylist at his Beverly Hills Salon on Two Rodeo. I also worked with Playboy Magazine and did some of their famous celebrity covers like Faye Resnick of OJ Simpson fame that was seen on The Real Housewives of Beverly Hills. as well as a bevy of Playmates and Hef himself in a Captain Morgan ad shot at The Playboy Mansion I became famous for my historic jaw-dropping makeover I did on Paula Jones during The Clinton Sex Scandal This is what put me on the map and made me internationally known. This is how I got the title "The Messiah of Makeover". I was even crowned a "winner" by The New York Post on their Winners and Losers List they published alongside Bill Clinton, Monica Lewinsky, Al Gore, and Bob Bennett.
From that point on, I have been on numerous TV shows, in magazine, and my client list became even more star-studded. My clientele has included Pamela Anderson, Stevie Nicks, the late Anna Nicole Smith, Kato Kaelin, Marilyn Manson and so many more. I have been seen on many shows from Fox News Channel (critiquing The Oscars to Monica's Moment critiquing Monica Lewinsky's Barbara Walters interview.), Da Ali G Show on HBO (Bruno aka Sacha Baron Cohen), Vh1 Home James and Celebs Gone Green, The Gossip Queens (Logo), the Emmy winning Cristina's Court, TMZ TV, BBC Scotland and Channel 4 UK specials.
I have modeled for a Giorgio Armani campaign commercial directed by David Lynch and recently was a celebrity runway model for Macys Grammy Awards Runway Fashion Show. I have done a lot of modeling thru the years. I even modeled in a recreation of the famous Burt Reynolds nude centerfold on a bearskin rug for Cosmopolitan's 40th year anniversary of that legendary pic.
Musically, I am currently a recording artist with Trax Records with remix singles of my songs "Sin", "X Sex" (video has cameos by John Barrymore and Sally Kirkland) , and "Dance to This" (Carmelo Carone Edits) all available online as well as my prior music with my hit songs "Take Me to the Other Side" (PWL Remix) and "Only Time Will Tell" that were on my debut album "Sin" on Image Records Int'l and still distributed worldwide. Music videos for all my songs are on youtube and other digital online sites. I have opened for Grace Jones at Paramount Studios and have had cast members from The Real Housewives of Orange County as my back up dancers at my concert in Anaheim. Both of these shows can be seen on Youtube, I write all of my material; words & music. I recently have been playing rhythm guitar and doing some vocals for the cult LA band Punk Bunny as we just performed twice at The Whiskey a Go Go and The Viper Room where I was a dancer. Super fun! I have a new single coming out this summer called "Chasing The Fame" which will be available everywhere.
I can be seen in the band Ssion's music video "At Least The Sky Is Blue", that was such an amazing experience.
I have an incredible love for animals and have been involved with protests; Vivisection (UCLA), Pet Food Poisoning (Federal Building) and so much more. I am also a celebrity features writer and contributing editor for Lick Magazine where I interview celebs about their pets for my column "Animal Chat". Celebrities I have interviewed for "Animal Chat" have been Elayne Boosler, John Barrymore, Carole Ita White (Laverne and Shirley), Leslie Jordan (Will and Grace) and more.
I currently have a new award-winning and nominated show on Amazon Prime called "Trendsetting with Daniel DiCriscio" where I take on the internets influence on the people of today and how the times have changed so drastically. My question to them is "Are you following these new insane over the top trends?" Their responses even shocked me! Every episode will deal with a different new subject that has capture the public's attention.
I have even ventured into doing movies appearing in such movies (and upcoming movies) as "Hair", "Vamp Bikers Tres", "Japanese Borscht", and "Party Monster 2" with an impressive list of stellar castmates from Michael Musto, Ron Jeremy, Isabelle & Rosario Dawson, and so many more!
I was so happy to be given an Honoree Hollywood Tastemakers Award from The Taste Awards, that made it all worthwhile and was such a great honor, coming here to LA and not knowing one person to THIS! Wow, I guess dreams do and can come true!
Overall, has it been relatively smooth? If not, what were some of the struggles along the way?
Success is not the final product, to me it's the journey but there have been many good, great, & bad things on my journey. I feel the bad per se makes you stronger and gives you the experience even though it's not what you really want to deal with or happen. The thing is when you hit a "speed bump" in your career you need to get your sights straight, get a hold of that wheel again, and get back on the road. I always say "Imperfection is Perfection" whether career or looks-wise. There is really no reason to give up. The secret to success is to make even the bad things not affect you too much and breeze through with a smile because believe it or not, you still have control of your destiny.
The haters of today can be tough but I find it too exhausting to hate, it's unneeded and bad karma, it's just not in me to be that way. I shine and nothings going to make me not shine. It's my natural innate gift my mother has always instilled in me. We are all here on this earth for a limited amount of time so why be a hater? I am an individual and not a follower. I create the trends and spread shine. Smile people! lighten up! No need to be competitive or jealous. You are YOU! I am ME!
A lot of my career has happened by accident but I was prepared to fall into a lot of these amazing areas. If I wasn't prepared, I wouldn't still be here today.
My motto is "There's always someone better and someone not as good but I'm just me and I do the best I can do with me."
We'd love to hear more about your work and what you are currently focused on. What else should we know?
I am quite the Renaissance man, lol! I am very diverse with many interests. I feel one can get bored or stifled doing the same thing over and over. Actually, I even went back to school and studied law and graduated "Cum Laud" in 2006. What sets me apart from others in my companies whether it be beauty, singing, acting, modeling or whatever else comes my way is my open-mindedness to all things and giving everyone who comes into my world or business the respect, love, and graciousness they deserve and hopefully they will give it back.
I am proud of everything I offer in everything I do and offer because I am real and love people and enjoy creating. Some people judge me by how I look; that I am high maintenance, too pretty or competitive, etc., Please, don't judge a book by its cover, if you open the book and read it you might be pleasantly surprised at what you may find! Also "to live a life in fear is a life half lived"
Believe it or not my hair is my calling card a lot of time for almost all of my business; Stevie Nicks wanted my hair as well droves of others. My hair should have its own social media page and phone number! I really should sell Daniel wigs, lol! FYI And no, I am NOT wearing a wig!
But I must say, I do give Great Hair!
Any shoutouts? Who else deserves credit in this story – who has played a meaningful role?
There are many people who I would like to give credit to in my journey to success. First, of course my mom and dad. It was my mom's idea to send me to Cosmetology school while I was attending college in the daytime. She said I would one day be working on Rodeo Dr, and she was right! Also she would always say music was another innate gift I was given. My mom was my main cheerleader. In her eyes there wasn't anything I couldn't do. She was the one who told me as a child and tie she passed away in 2011 "You are handsome and beautiful all in one, maybe just beautiful beyond handsome. It won't be easy because people won't know where to put you in their categories because you are different and different is good" Luv & miss ya Mom. My dad who was really a great father and was always proud of me. He always showed interest and was always there for me no matter what. My sister who is like my second mother, proud of me and is my second cheerleader to this day and my brother who is proud of me as well and the best brother a guy could have I love you all!
There are many friends and associates who have been in the cheerleading squad but there is just one…who deserves more than all the others..and you know who you are when you read this, luv ya, lol!
I have to thank my agents, manager, publicists and all of my crew.
I have to give credit to Jose Eber for giving me the chance to work with/and for him. He invited me into such an amazing place, his world, and I am thankful.
Marilyn Grabowski and Hugh Hefner for inviting me into the Playboy family. Such a dream come true.
And all of the industry people I have met and worked with whether it be producers, directors, celebrities, etc. for giving me the opportunity to become who I have become.
And a big shoutout to all of my fans! Thank you!
Contact Info: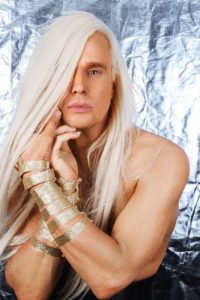 Image Credit:
All photos courtesy of Daniel DiCriscio
Getting in touch: VoyageLA is built on recommendations from the community; it's how we uncover hidden gems, so if you know someone who deserves recognition please let us know here.