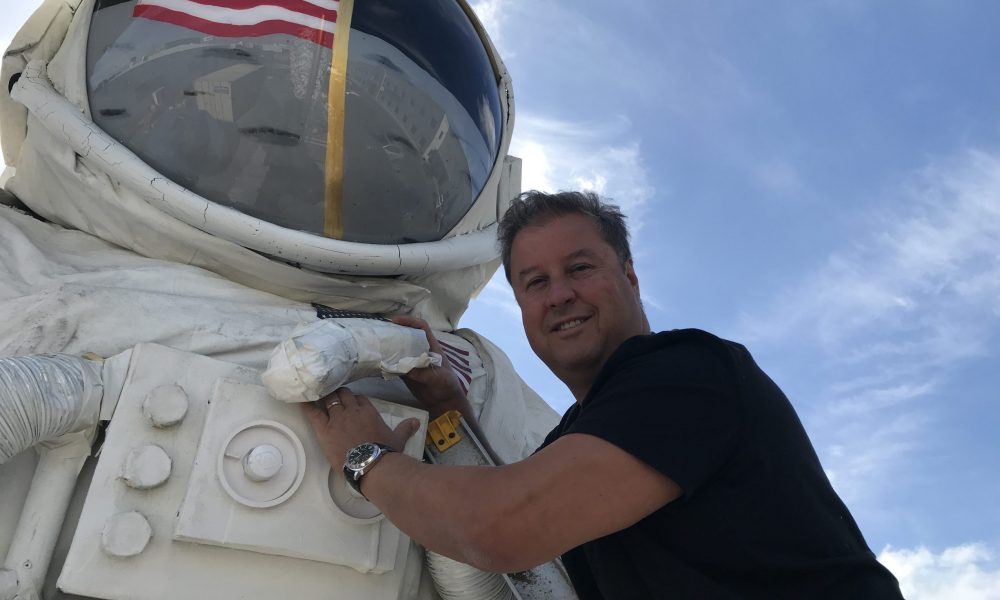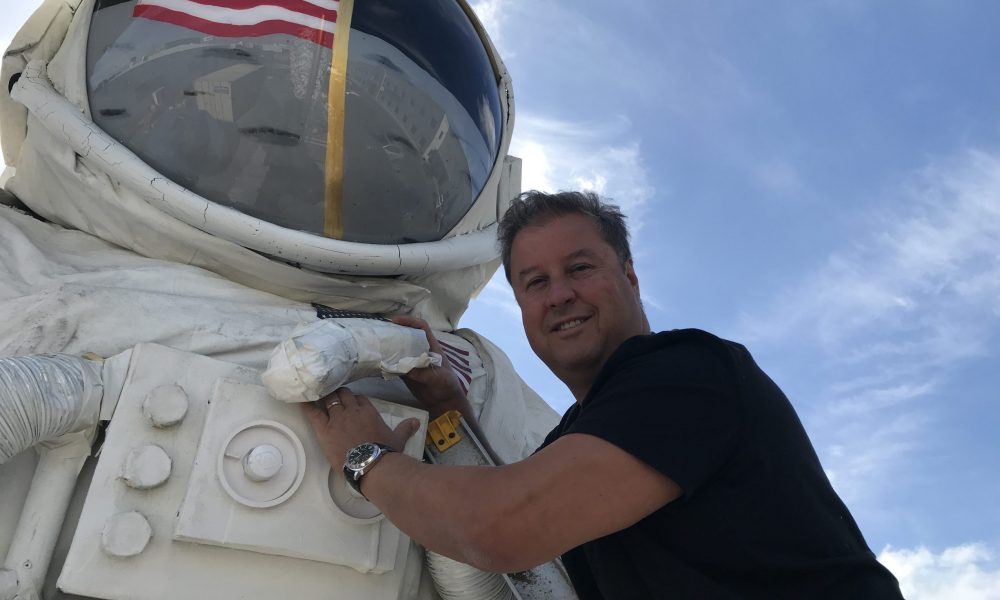 Today we'd like to introduce you to Dan Garr.
Dan, can you briefly walk us through your story – how you started and how you got to where you are today.
I have always been a creative problem solver, and very fast on my feet. After college, I was bored with sales, and drove to Los Angeles to get into special effects. After working on close to 15 feature films, including Titanic, I opened my own company called Hot Buttered Elves (www.hotbutteredelves.com) which is a creative toy inventing company. We started sculpting for Disney by hand, and soon jumped into the digital world with 3D printing and 3D modeling. Probably one of the most fun careers, but it took a lot of risk and hard work to keep the doors open. We expanded to working with Mattel, Hasbro, Spinmaster, and now just about all of them. After 10 years of Special effects and building toys, I felt like I had been through creative bootcamp, and began expanding into new areas.
I soon began teaching at Otis College of Art and Design in the Toy Design program where I wrote the syllabus, and developed students into dynamic Toy Designers using many of my personal creative techniques. One of my favorite classes was just before their finals were due. I put a box of toys, motors, RC devices, electronics and other materials on the center table in the classroom with a note in front of it that said, "Your prototype for Mattel was eaten by a crocodile! You have 3 hours and these parts to assemble a brand new product from illustration to final product, and you will be filmed and graded. Start now!" After the panic, they sorted into groups according to their personal strengths, and created absolute magic. I am always reminded of this class when I work with them in the industry, which is often.
After creating a large number of toys, products, and inventions, I began working with other inventors to support their products to patent.
After getting used to the legal process, I wanted to create something of my own. The first brand I created was called "Wallables". They are 3D bas-relief characters for childrens' walls. I wanted something better than decals, so I sculpted them in great detail, and left the backs flat. Then made them out of polyurethane foam, like Nerf. This line took off, and soon we were creating all of the Disney characters and were selling to Toys R Us and throughout the world.
I learned a lot with Wallables. International manufacturing was exciting, and utilized what I had studied in college at UC Davis with AB in International Relations and a minor in 2 languages. Before oil peaked in 2009, I saw the writing on the wall. Since Polyurethane is an oil derivative product, the costs became too high to continue, so I closed it down.
I had been working on some new inventions, and had some gadgets that I loved to play with. Many of these gadgets were motors, gears, and wind up toys. Since most mass toys have 1 or 2 motors in them, but can perform 6 – 8 different functions, I wanted to make products that required no batteries. Everything is battery driven these days, or plugs into a wall. But what about those cool wind up flashlights, radios, and other things?
This is where I began exploring a company that would be based around products that need no electrical assistance. And then it happened!
I was making a protein shake for my swimming buddies as we were about to swim from Spain to Africa, a long 17 mile ocean swim. I had been training for a year, and Gibraltar was going to be the next pre-bucket challenge on my list. Mixing the protein shakes with honey, carb powder and electrolytes was difficult, especially on a boat. This is where it all clicked together. Since there is really nothing between the shaker bottle and an actual plug in blender, I set my focus on filling this gap with a non-electric blender that would be easy to use, and inexpensive. It took a few months of R&D, but given the 3D printing that I had in house, I was able to print most of the parts I needed to make this work. When I tested it the first time, it worked so well, I knew I had to take this one for a ride. So I separated out this product into its own corporation, came up with the name Revablend, and re-designed it for mass manufacturing.
It took a while to get the patent issued, but 2 months after that, I went to the International Housewares Show in Chicago (2017), and launched it in the "New Inventors" section. After one demonstration, we had a line of very interested buyers at our booth for 4 days straight, including an interview by the local news. By the end of the show, we had international distribution from 4 different countries, and we were building the company. We were also approached by all of the "As Seen On TV" companies with contracts, but I didn't want the product turned into a flash-in-the-pan tv item. We want longevity. The blender is too useful, and there are huge populations that will use Revablend in countries where electricity is a luxury.
We did well in our first year, and were profitable. The best part is actually listening to our consumers. The world is so social these days, you can really get a feel for how they are using it, and follow trends that make a difference in the design. While most of the people love the stainless-steel blades to make smoothies just about anywhere, many wanted to just mix protein powder with water, and stick to their diets. So to address them, I made a turbo propeller version that is designed exactly for this purpose. From now on, there is no need for shaking. This unit will blend protein powder drinks in seconds, and since it is pulled through the propeller, there are no powder balls left.
It is also fun to use … kind of like a toy!
Although I still consider Revablend as just jumping out of the gate, the first year has given us signs of hope that tell me the product will be around for a long time. I have already begun working this IP into different industries, and am currently filing more patents. We are freshening up the line while it is still fresh so that it has staying power.
We have learned that kids love the Revablend. You can't put them in front of a Vitamix with a basket of fruit and cut them loose. But since the blades don't come out of the jar, and they aren't really as sharp as you would expect, this is a fun item for kids to make smoothies, chocolate milk, and ice cream blended shakes with fruit and cookies. The recipes are endless, and there are so many other applications that we are honing in on. One of my favorites is making an omelet. While you can add just about anything, I like to add onions and a whole jalapeño into the jar with 6 eggs. When you take a bit of this, you don't need salsa at all! I also feel that there are numerous military applications as well, so we shall continue to invent and explore. The Reva-lution is here!
Great, so let's dig a little deeper into the story – has it been an easy path overall and if not, what were the challenges you've had to overcome?
When it comes to obstacles, I learned a long time ago that this was where opportunity lives. Opportunity is a little ball of light that hides under obstacles. When you find him, he hits you in the brain with an idea that solves the problem. If you change your thinking to love obstacles, you too can play hide-and-seek with this little solution-filled energy ball. You just have to change your thinking first. Challenges can make people freeze up, and it's hard to let ideas flow when you are tense.
Revablend started out with an overdesign. The obstacle was to cost-reduce the design without changing the function. I started with a nice clear (Tritan) jar with an hourglass shape with the curves of a Coca-Cola bottle. This isn't easy to mold. It also had too much going on. I was trying to design too many things into one design. When the pricing came in, I was set back as it stopped the potential of a huge marketing plan that we had engaged.
So we went back to the computer, and turned it inside out. I was looking for that little ball of light. It was in there somewhere. The answer was merging more of the components into one solid jar instead of having so many moving parts. When we put these parts together in the mold, we found that ball of light. Hit us right in the forehead. The costs went down, fewer molds were necessary, and this is the product as we know it today.
Please tell us about Revablend.
I have 2 corporations. One is Hot Buttered Elves, and the other is Revablend, Inc. The Elves came first … and kind of by accident. This is all due to my sense of humor. I mean, honestly, who wakes up one day and says, "Hey – let's create a company called Hot Buttered Elves and go out and make millions of dollars!" It wasn't that fashionable when I went to college, but I always remember that my aunt, Teri Garr, a very talented actress that you may know of, had a company called "The no-nonsense company", and I always thought that it was so funny and contradictory to corporate America. And it was the exact opposite of what she did as a comedienne which exploited nonsense.
But it told a story, and this is paramount to certain success.
I was called in to a hospital to work on ideas for a re-design of a children's pediatric wing. The theme was animals, almost a zoo-like theme, which to me has been over-done. So I decided to create animals in their actual size, and put them on the walls. I made 4 foot monkeys, a giraffe that stretched over the doors, and 8 foot elephants that were so big, they barely fit on the walls. Instead of painting flat pieces of wood, I layered pieces upon pieces of wood, and carved them down into the bas-relief style that later became known as Wallables.
While calling the hospital to organize meetings, measuring, and construction, I was asked "Who shall I say is calling?" I would answer with, "This is Dan Garr and I am working on …." but rarely finished the sentence. "What company are you with sir?" came next, and I didn't have a company name, which ended with "Hold Please!", and a long silence. After a few weeks of this, I decided to come up with a funny company name, and get through the admin quickly. When I answered "Hot Buttered Elves Incorporated", one day, I heard a laugh, and then something that sounded like the phone bouncing across a table and then to the floor. When she got back on the line she said "Hot Buttered What?" So I said it again, and she laughed so hard, each time I called in afterwards, I was greeted with "Hey it's Hot Buttered Dan!" and I was sent directly to the correct person.
I noticed something here. The name worked. Why walk away from a moment of comedy when it opens doors like magic. So I made a business card with an elf standing on a pat of butter, and gave them out to the admin just to have fun. Well, when the job was complete, the LA Times came in to photograph what we had done, and they quoted "Hot Buttered Elves Creates Pediatric Home Environment" which stuck to this day. I was called by numerous designers which led to fund raising artwork and design in hospitals all around Southern California.
What did I learn here? I learned that I specialize in being creative. When someone asks, "What does Hot Buttered Elves do?", the answer is simple. I say, "We are as creative as the name of the company. We can make anything!" As I merged into the toy industry after these hospital programs, there is nothing easier to brand than an elf making toys. My employees are pretty happy, and we call the bonus the butter! So they get it. The name is catchy, and hard to forget, so we are rather easy to find on line. Plus, the website tells quite a story of the long history of products that we have created. www.hotbutteredelves.com.
Our creativity sets us apart from other companies. I don't really like doing the same thing over and over again. I like to build and best each project moving forward. We brainstorm new lines for companies, and add as much emotion and "Wow" factor into all of our products. When the product can do something that makes you say, "Wow, that is so cool!", then we have hit our mark.
Do you look back particularly fondly on any memories from childhood?
When I was a kid, which always seems like yesterday, I was always sculpting something. I was good with my hands, and had an eye for 3D.
So I was able to sculpt in clay, wood, and even mud. Instead of making snowmen, I sculpted snow wolves that I would carve with branches and tools that I could find. When I created the bald eagle of the American Crest for a 4th grade project, I didn't win because the teacher thought my parents did it. I took apart every toy I loved so I could see how it worked. But one Thanksgiving, I was at my Aunts house, Teri Garr, and she lived next door to Carry Fisher. She and Teri would act out certain scripts to explore their character. One of the characters she was working on at that time was Princess Leia in Star Wars. I had no idea at the time, and could barely sit still. Many years later, we had Thanksgiving with her again, and she was married to Paul Simon. It was a giddy night, but I remember playing the game "Simon" with Paul Simon. This irony didn't make sense to me until a few years later, but I do think back to this moment, and the creative family in which I grew up. When I wonder why I still make toys at age 53 and love it so much, the creative dots start connecting quickly in my mind.
Pricing:
Revablend with the Stainless Steel blades – $19.99
Revablend Blender with the Turbo Propeller – $14.99
Contact Info:
Address: 11307 Hindry Ave., Suite B, Los Angeles, CA 90045
Website: www.hotbutteredelves.com and www.revablend.com
Phone: (310) 416-9999 for Hot Buttered Elves, and (844) 500-REVA for Revablend
Email: dangarr@hotbutteredelves.com, and dgarr@revablend.com
Instagram: Revablend
Facebook: Revablend
Twitter: #Revablend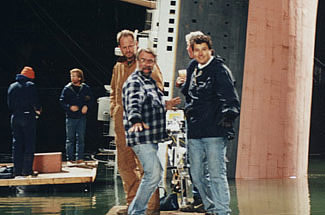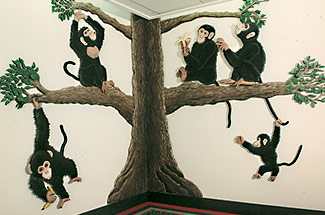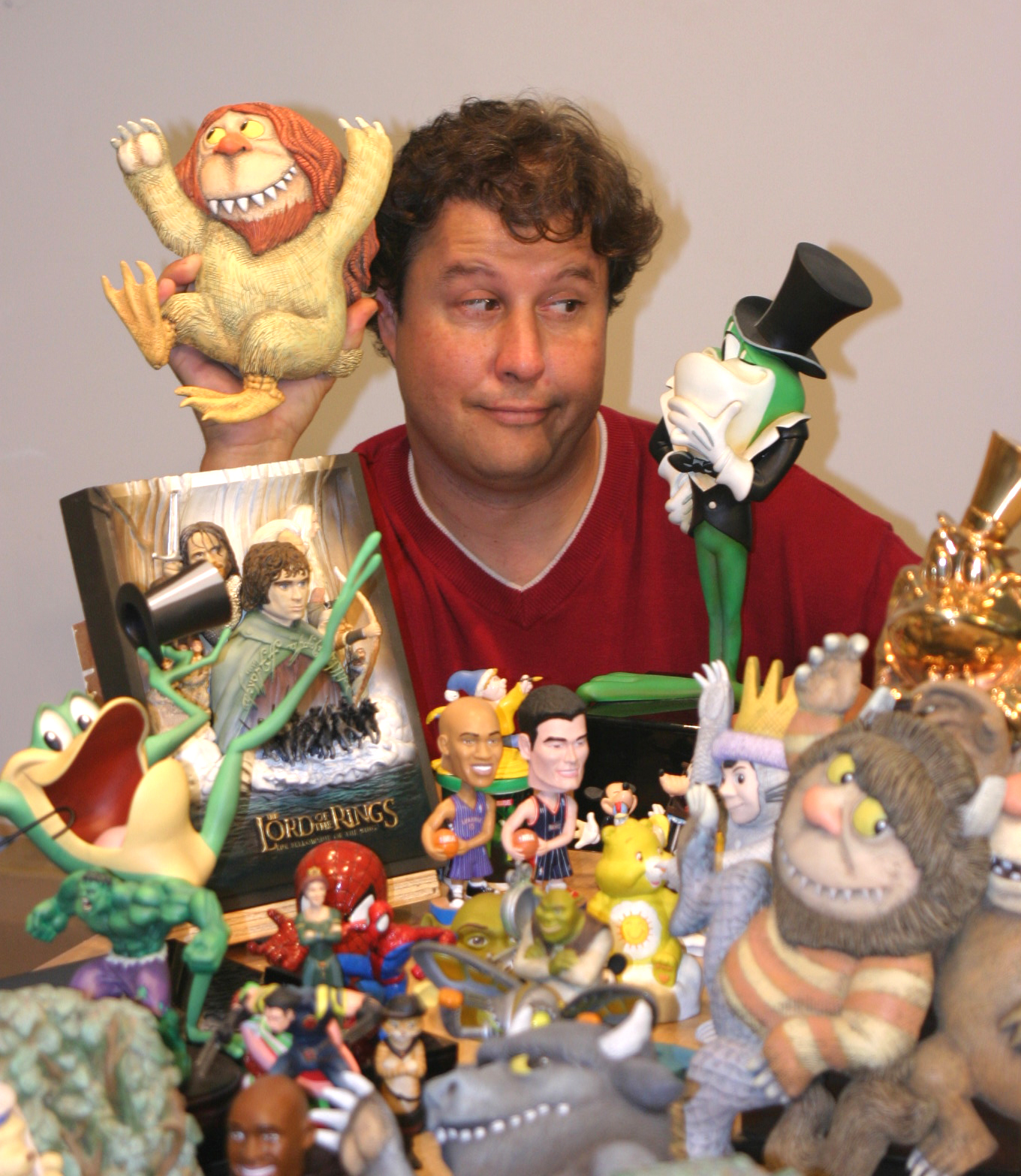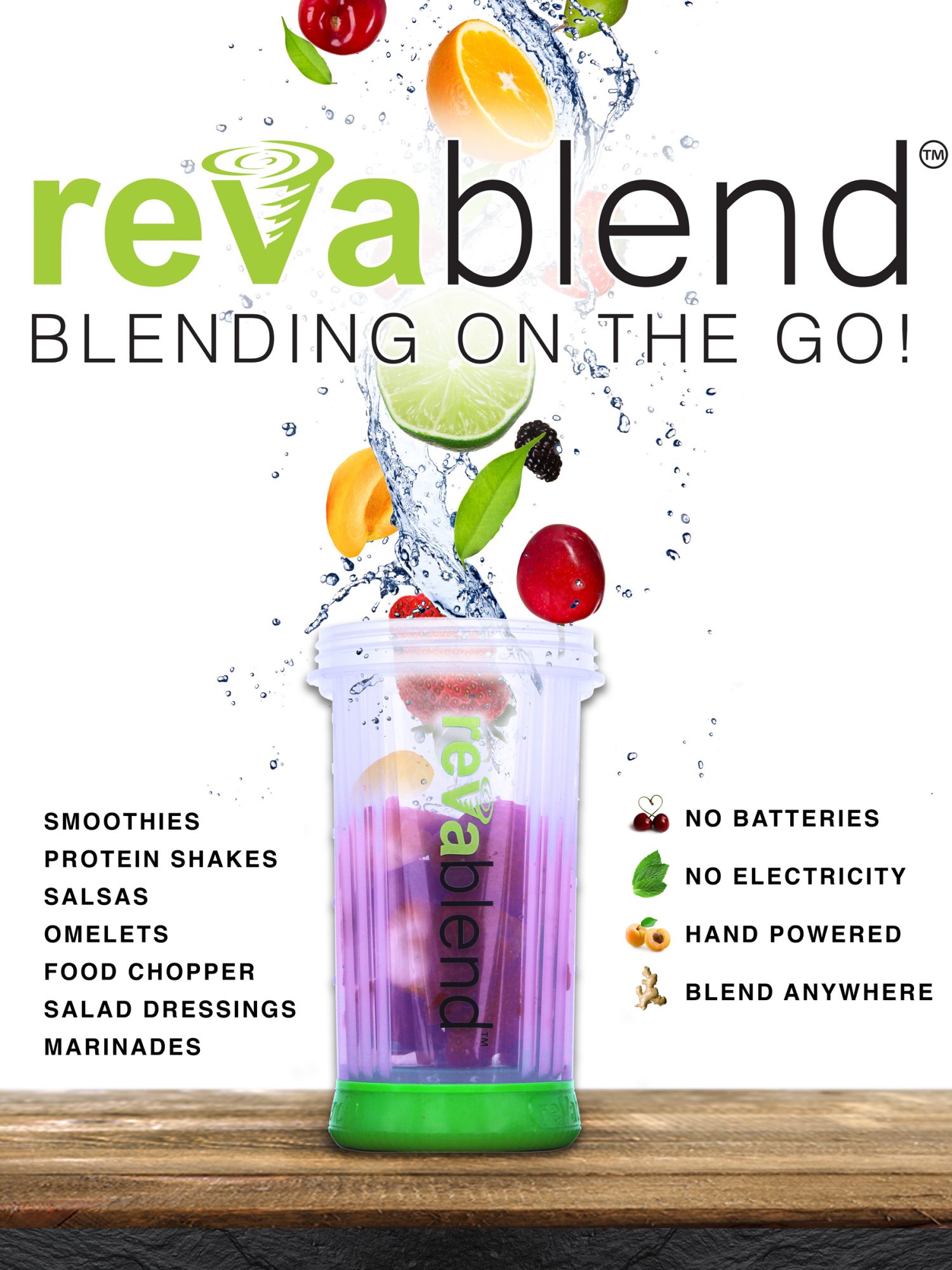 Getting in touch: VoyageLA is built on recommendations from the community; it's how we uncover hidden gems, so if you know someone who deserves recognition please let us know here.