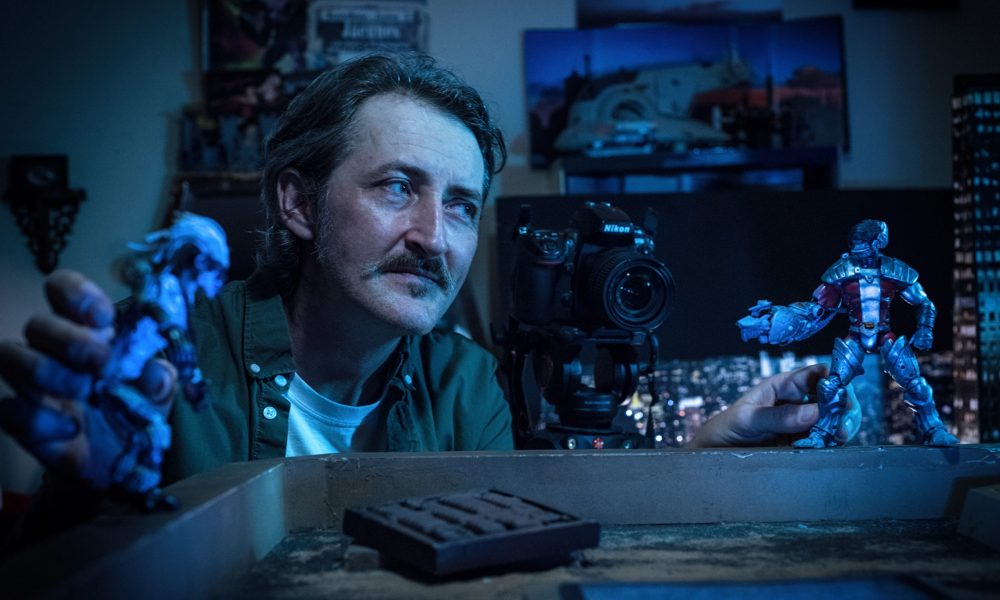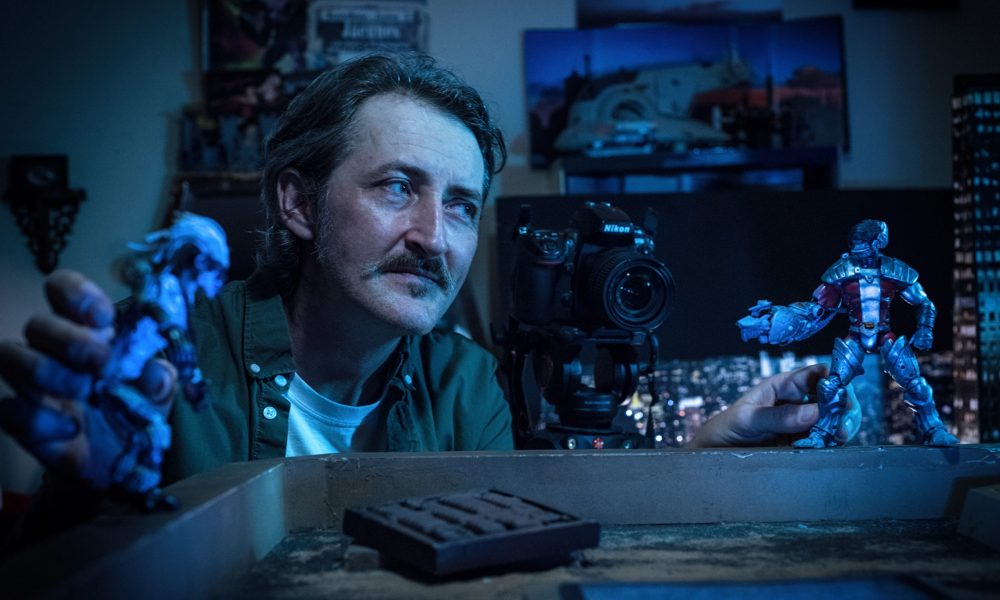 Today we'd like to introduce you to Damon Wellner.
So, before we jump into specific questions about the business, why don't you give us some details about you and your story.
Probot Productions began in the Spring of 1998, in a small, crowded apartment full of musicians and artists in Cambridge, Massachusetts. I was a 25 year old film school dropout, working at a movie theater, playing bass guitar, backing up my more talented friends in their bands. Boston had a thriving indie rock scene that was extremely supportive, and it was a fertile environment for creative experimentation. For the first time since entering adulthood, I felt accepted among a group of fellow misfits, a few of whom shared my love of action figures. Late night, intoxicated toy battles with friends sparked an idea to make a toy movie.
My friend and bandmate, Sebastian Bendix, and I took six months and a $150 budget to shoot a kitschy, 20 minute sci-fi parody mashup called "ALIEN 5", which was shot on VHS, animated with puppetry, and edited in-camera because I had no editing equipment or computer back then. I submitted it to the local community access cable TV station, because pre-internet, there was no other way to share weird videos.
I was hooked. For me, this was the creative outlet I had been looking for my whole life, because anything is possible in a toy universe. Filmmaking with my friends and my action figures, just for the fun of it, was heaven for me. Lots of friends contributed as writers, puppeteers, and voice talent, produced original music, and even theme songs. I challenged myself to achieve effects like lasers and holograms without computers.
An amazing stroke of luck happened in 1999. Someone saw my cable access videos and I was approached to make shorts for the StarWars/Hasbro website, which was my absolute dream job. I recruited a digital artist friend to add cgi effects, and made two shorts for Hasbro, including a three minute version of 'Star Wars: A New Hope', recreating the cinematography and effects of more than a dozen scenes.
In 2000, with newfound confidence, I got married and moved to Los Angeles to pursue my rekindled dreams of becoming a filmmaker, finding work in film/TV production and special effects, while still producing my own toy videos on the side. I got a computer, built a website, and taught myself how to produce digital effects in photoshop. I produced and directed over twenty toy sketches parodying 'Star Wars', 'Aliens', 'Indiana Jones', "90210". I also made a music video for a fictional zombie band, and a "reality" series about Paris Hilton in jail with Nicole Richie and Lindsey Lohan, called "The Cellblock Life".
In 2007, not long after YouTube emerged as a new platform for my videos, we relocated from Highland Park to Hollywood, where I still live and work today.
In 2014 I signed up for a stop-motion character animation class at Stoopid Buddy Stoodios in Burbank, where "Robot Chicken" is produced. This class changed everything for me and I took to it immediately. I felt I had discovered, at age 42, my true purpose in life, and was kicking myself for not trying it decades earlier. Prior to that I had done all my videos with live action puppetry, which became increasingly difficult to orchestrate the more complex my ideas became. I have since switched over to using stop-motion almost exclusively, which has resulted in me streamlining the entire process, and allowing me to produce almost everything I do without needing much help.
I've been practicing this new skill set in stop-motion for the past five years, making tributes to Spider-Man, Batman, etc. and several more Star Wars videos. Now, after twenty-one years, I am finally ready to take Probot Productions to the next level, and produce original work, instead of merely emulating other IPs. I am proud to say I just finished my first stop-motion commercial for a corporate client, and am working on an animated music video.
Has it been a smooth road?
For Probot, the biggest obstacle is always budget or lack thereof. I usually have no actual budget, and not much real equipment to work with, as in proper lights and rigging, so I've had to get creative with all aspects of production, using whatever is available, from lighting with christmas lights, to making sets from color prints at Kinkos, whatever is necessary to achieve the desired effect cheaply, or preferably free.
My second biggest problem is myself. Since I handle most of the tasks myself in production, I often skip a lot of the usual formalities of filmmaking like writing stuff down. I don't plan much, I just think about what I need to do, and then do it. This method has obvious drawbacks that sometimes come back to bite me.
Around 2007, I attempted to produce an original feature length action figure film, but clearly I wasn't ready for such a huge project and fell flat on my face, destroying friendships and my marriage in the process.
Sebastian had come to me with a great concept and script for a supervillain origin story called 'The Simian'. We obtained seed money, and my then-wife, believing in my talents, matched it with her own investment. We developed the project for a few years. We hired sculptors to create custom action figure characters. We spent thousands on sets, and cast voice actors, recording VO sessions with Max Perlich ('Drugstore Cowboy') and Dan Milano ("Greg The Bunny").
Sadly, we only shot a few scenes before the whole thing fell apart for a multitude of reasons, many of which were my own fault. This failure left me feeling broken and depressed for years. However, we are currently resurrecting the project to a small degree, reviving the characters and dusting off the old sets I've held onto for over ten years, and using them to launch the characters in a compressed chapter of the story in the form of a stop-motion music video. Coming soon!
Around that same time, my career took a strange turn. Production work dried up, so I took my video camera into the streets of Hollywood at night and became a paparazzo. This wasn't the type of work I wanted to do, because the only way to succeed was to do unethical and/or illegal things.
However it is an addictive job. It's like hunting meets gambling. There is a lot of stressful, suspenseful waiting, punctuated by bursts of high adrenaline and literal high speed chases. It has the emotional highs and lows of gambling or stock market speculation, because you could retire on one good shot, but it so often slips through your fingers because there are so many factors you can't control.
Paparazzo life is so surreal, there were times I couldn't believe it was reality. I caught a stalker outside Paris Hilton's Malibu beach house and put him in jail, chased Lady Gaga across town with my cat in the passenger seat, and called out Kanye as an arrogant hypocrite on camera to his face. I treated celebrities with the level of respect I felt they deserved, which, to be honest, varied substantially case by case.
I did paparazzi work for ten years up until quite recently. Including 18 months for TMZ. I never quit making toy videos, but didn't have much time for it. Some days, the job was a privilege to have, other days it felt creepy and wrong, depending on the assignment. I hated doorstepping, waiting outside celebrities' homes and following them, so I mostly stuck to LAX, which seemed more like a fair game. Still, the job ate away at my soul. I felt my true talents were being wasted and life was passing me by.
Right now I'm in a transitional period. A last ditch effort to steer my life in the right direction. I reached a point where I could no longer continue down a career path I couldn't be fully proud of. So, with the assistance of friends and family who chipped in, I dedicated this entire month to animation projects and quit all other jobs, and I haven't felt so good mentally since before Trump took office. I'm trying to make a permanent jump to a more creative career path in animation, and hoping my recent original content will provide the reel I need to get more animation work. But even now, it's difficult to turn down a celebrity tip when I still get calls.
So let's switch gears a bit and go into the Probot Productions story. Tell us more about the business.
Probot Productions is essentially a one man miniature effects company, ready for any project where the goal is to mimic Hollywood blockbusters on a micro-scale, with a micro budget. I specialize in miniature practical effects, and emulating the cinematography of classic cinema without the studio price tag. I am known for my parodies and tributes to sci-fi, fantasy films, and television.
Of all my videos, I am proudest of my latest parody, "HOOD: A Star Wars Story", which tells the backstory of one of the fandom's favorite background extras, Willrow Hood, and involves a rancor monster getting loose at a space zoo full of alien creatures. Of all of Probot's accomplishments, I'm proudest of the fan emails I've received from kids who were inspired by my work to make their own toy videos.
What sets me apart is the epic scale of many of my Toy Cinema videos, going all the way back to the start. Our projects have always been ambitious if nothing else. Check my comments sections. I have virtually no haters, which is pretty unheard of online.
How do you think the industry will change over the next decade?
Luckily, stop-motion animation is having a big resurgence with the ever advancing 3D printing technology that allows for such dynamic and nuanced facial animation. Motion control camera rigs make previously unimaginable cinematography possible. I have yet to try those technologies myself, but I think it's safe to say that stop-motion isn't going away any time soon, as it seemed to be twenty five years ago.
When you see what a company like Laika is capable of in terms of fabrication and art direction, you realize we've only scratched the surface of what's possible in stop-motion animation. Unfortunately, stop-motion films still seem to struggle at the box office, so it's hard to say what the future holds for the industry.
I'm optimistic, because Toy Cinema specifically has become rather mainstream. Skeletor sells Hondas now. "Robot Chicken" continues to win Emmys, and Lego movies and video games are huge sellers. This means that the next generation of filmmakers is already cutting their teeth, learning to tell stories at a younger age, at home, with their toy collections and phone cameras. The next Quentin Tarantino is making Lego movies today.
Contact Info:

Image Credit:
Mark Berry – photo credit for the main photo, and the photo of me breaking up a paparazzi fight
Damon Wellner
Suggest a story: VoyageLA is built on recommendations from the community; it's how we uncover hidden gems, so if you or someone you know deserves recognition please let us know here.