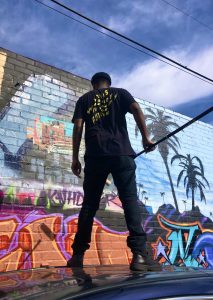 Today we'd like to introduce you to Dakarai Akil.
Dakarai, can you briefly walk us through your story – how you started and how you got to where you are today.
I'm originally from Cleveland, OH. I've been living in LA for about two years now but LA has been my second home for years. Before living here I lived in Pittsburgh, PA for a while working as a creative director for an independent record label. I've been a designer of sorts for years. Working with Photoshop and Illustrator for close over 15 years I would design album covers, logos and clothing.
I started a brand midway through my senior year of high school called Lame Brotherhood right at the start of the rise of social media marketing. I saw success pretty fast just by selling t-shirts and hoodies out of my house telling people over Facebook when I was making new drops. Fast forward to that fall, I started school at the Art Institute of Pittsburgh where I studied Fashion & Retail MGMT. In art school I did a lot of exploring and collaborating with other artists. Teaching myself how to direct photoshoots and storyboard my ideas to bring them to life with. During my time in Pittsburgh, I learned how to network which got me in rooms with great people that pushed me further like Wiz Khalifa and the late great Mac Miller. After spending only 2.5 years in school I dropped out and moved back to Cleveland to work closer with LB and see where I could take the brand. There were a lot of ups & downs, pitfalls and small victories I went through in that time that led me to shelve the brand and start focusing on being more of an artist. I took my fashion sense and design skills and put that focus on collage art. Collage became my new therapy. I would make several collages a day from old magazines and photo books. I started doing gallery shows around the city making a name for myself with my crew of friends who were also doing collage art or painting. Along with collage art, I began painting as well. Mostly by association with my group of friends. We shared an awesome high ceiling studio downtown where we did everything imaginable. Any idea we had we would make it happen in there. Painting portraits and adding my collage twist to it turned into painting murals around the city then eventually in other cities around the country.
During this time, I came up with an idea to catalog all of the collage work I had done over the last two years into my first art book. I came up with an idea to pair my collages with poets and local writer's poetic responses to my work handwritten on notebook paper. The title of my first self published book was titled 'GODBODY'. GODBODY was carried in a couple local book stores and a record store and ended up selling out completely in three months. After a while, I got an offer to work as a creative director for a friends independent record label in Pittsburgh. Thinking that was the next big step in my career, I uprooted everything I had been building over the past seven years since I first left Pittsburgh to then go back and start again. Working with the label was a dream come true for about six months until the label started to decline financially. I ended up losing my apartment and had to live in my car, at the recording studio then eventually sleeping on a couch in my friend's art gallery across town. That year in Pittsburgh was one of the darkest parts of my life. During that time, I took a job as an art teacher for sophomores in high school. That job gave me the experience of teaching art which later translated into me teaching collage workshops in the gallery I was sleeping at. Things were rough but I was making the best of it for as long as I could. My original plan was to stay in Pittsburgh for two years then move to LA in the summer of 2019. Things were going so poorly in Pittsburgh that I decided to pack my things up after one last art show and drive across country to live in LA. That ended up being one of the best decisions I had ever made. I didn't look back once I left PA.
When I got to LA, I would drive for Lyft and Doordash full-time but ended up snagging an opportunity to have a small art studio space in Chinatown on one of my visits to LA before I officially moved to the city. I would post up at the studio and make collages all day and get my name out in the city via social media. I would participate in local group shows and meet people that way. I stumbled upon a cool book store called Sideshow Books on La Cienaga that had a really awesome selection of material for me to work with. I quickly made friends with the owner who happens to be from Cleveland as well. He ended up inviting me to host collage workshops at the book store. At this time, I was in the studio heavy working on my second self published art book We Live In Purgatory | Change My Mind. The concept behind WLIPCMM was to catalog the work I had made over the past couple of years since GODBODY and pair these works with conversations I've had with friends about my theory that we live in a reality similar to Purgatory or heaven and hell at the same time. These conversations were held over modern modes of communication like email, Instagram DMs, Facebook comments and private messages, text messages and even Tinder messages. All while grinding, putting together this book, I was sleeping in my car outside my studio or in North Hollywood. My day's consisted of Lyft or Doordash until I got too tired then head to the studio to work on collages. It sounds crazy but those were fun times.
In the fall of 2018, I attended an international artist residency program in Kathmandu, Nepal with an organization called Micro Galleries. The pick 50 artists from around the world and invite us all to a location to learn about climate change and put together an arts festival for the city we work in. I was able to get my feet wet with wheat pasting my collage for the first time in Patan, Nepal where those pieces still stand to this day. They also gave me the opportunity to teach a collage workshop to children in the slums which was one of the best days of my life. Being able to be on the other side of the globe sharing my craft with kids felt like I had completed my life. There was nothing else I felt I needed to do at that point. Working in Kathmandu was one hell of an experience. Fast forward to now I'm living in Westchester but working in Skid Row as an Arts Program Assistant for a community art space called Studio 526. A free art studio for the people of Skid Row where we provide the artists with free art supplies, a safe space to create and refreshments. My journey has taught me a lot of humility and patience. From struggling in Pittsburgh to turning my struggle into something worthwhile in LA and even stretching out to Nepal. Without these tough lessons, I wouldn't be the artist I am today.
We're always bombarded by how great it is to pursue your passion, etc – but we've spoken with enough people to know that it's not always easy. Overall, would you say things have been easy for you?
I'm willing to bet no career artist could ever say it's been a smooth road. If they can then this may not be the field for them. One of my biggest struggles was uprooting my successful career as an artist in Cleveland to move to Pittsburgh and be a creative director for a label thinking that was the right move to make but later finding out it was not. Though it had its positives it was certainly one of the toughest things I've had to deal with. I feel like I was losing everything that I had worked so hard for. But the upside of it was that the struggle I was facing was just preparing me for my next step. Had I not struggled my ass off in Pittsburgh I don't think I would have had the balls to survive in LA. Had I come straight to LA from the success I was seeing in Cleveland I would have gotten a really harsh reality check that may very well have sent my ass right back to Cleveland. But I got to see hat it was like to be at absolute rock bottom first before getting here. Now struggling here feels like a walk in the park almost.
So, as you know, we're impressed with Thisbrandusa – tell our readers more, for example what you're most proud of and what sets you apart from others.
In the midst of all the madness with my first brand LB to then working as a full-time artist, I created a brand called Thisbrandusa (This Brand Was Made In The Future). What I do is I take that phrase and apply it to as many different usable products as I can. I repurpose furniture, design clothing and stationary items with the phrase This ____ Was Made In The Future and replace the word Brand with whatever the item is. I have chairs I repurposed, or pencils, mini basketball hoops. I even did a set of boy shorts for girls that said This Ass Was Made In The Future. It's just a fun way to be unlimited with my creativity. That was always my plan with my previous company but people wanted me to stay in this box of just doing t-shirts and hoodies.
What I'm most proud of as a company is that this is really just a way to further showcase my collage art. It all ties together. The designs consist of works that you'd see me put up in the streets or online. It's a platform beyond canvas or a frame. Similar to how KAWS did Original Fake back in the late 2000s.
So, what's next? Any big plans?
What I'm looking forward to is going further with street art and self-publishing art books. I've found a whole new passion with publishing. I've created zines in between the time I'm building a new body of work for my next book in two years. The process of designing books and zines is really fun. I'm looking forward to further exploring possibilities with that.
The next big thing is the next Micro Galleries residency trip to The Philippines this fall. Any world travel for art is a big step forward for me.
Pricing:
We Live In Purgatory | Change My Mind – $60
Currency Exchange zine – $25
FUCKYALLMAGAZINE – $20
Contact Info:
Website: www.dakaraiart.com
Email: info@dakaraiart.com
Instagram: @dk1994, @thisbrandusa, @fuckyallmag, @collageniteLA
Image Credit:
@iironic, @lorde.farqu and @eayikes
Suggest a story: VoyageLA is built on recommendations from the community; it's how we uncover hidden gems, so if you or someone you know deserves recognition please let us know here.