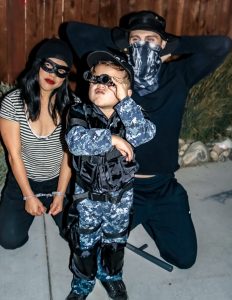 Today we'd like to introduce you to Curtis McGann.
Curtis, please share your story with us. How did you get to where you are today?
I grew up in South Bend, IN around the corner from my high school and down the street from Notre Dame. During high school, I played and absolutely loved playing rugby. My plan was always to join the Army when I was 17, do boot camp in between junior and senior year, reserves through senior year and most likely deploy as soon as I graduated high school.
Well, God had different plans. My dad, who was raised as an Air Force brat, helped me weigh the benefits of going to do the ROTC program and coming out as an officer instead of enlisting. So I decided to go to college. But since I was going to go to college… I was making sure to get out of that cold midwest weather. When it's -20 degrees outside, and you have to start your car 45 minutes before you leave so it isn't frozen; where do you think most people dream of being? That's right, paradise.
So I moved to Hawaii. I swore into the Army as a cadet in the Army ROTC program. While in Hawaii I met this incredible young woman who just took me by storm. It was as if God opened up the clouds, put a light on her and said "This one son. I picked her for you." At this same time, I realized that even though I loved Hawaii, I really didn't love being broke and barely eating but once a week… too proud to ask my parents for money (kind of silly in hindsight).
I also made myself a promise that I wouldn't move back
to Indiana
. But more than anything else, I really just wanted to be with my girlfriend, who was now living in Seattle (her hometown). I was 19, I had no fear, no money and no idea what I was going to do, but I had a heart full of love. That being said, I packed up my bags and got on a plane to Seattle.
My girlfriend and I got engaged that same year but waited until we were both finished with school to get married. We bought a house, got a dog… well a big dog, got married and made babies… well, baby. I will now be referring to her as my wife since we kind of breezed over the engagement phase. My wife had gone to school for dental hygiene and was working as a dental hygienist and loving it. Not only did she love it, but she was incredible at it, and all of her patients absolutely loved her.
After giving birth to our son, my wife was no longer able to work as a hygienist and started also getting into film and commercial work. Myself, on the other hand, was a bit lost. My whole life I had wanted to be in the military and knew that's exactly what I was going to do. So, when that plan changed, it threw me off… hard. I thought about all of the things I thought I would enjoy. I thought about acting because I did drama in high school and made short films with friends and loved it.
But I never believed that acting was a viable career option, it was more of a distant what if. After a variety of different careers, I was working a full-time sales job that I didn't have any passion for. I was working 40 hours a week at the sales job and around 20 hours a week acting. This whole time my wife and I were praying that I would be able to follow my dream and act full time without having to have another side job. 
There came a point where I was turning down acting work because I had to work my sales job.
My wife, Kelsi, told me; "babe, God is giving you exactly what you are asking for. You just have to take that leap of faith. Take the step and trust God." So, I left my job and entered into acting full time. After we took that leap, my wife and I worked full time as actors for almost two years in Seattle, shooting between 2-4 commercials a week each. I've always been drawn to California, and now our work was starting to pull us there as well.
So, we started praying about it and asking for guidance. More and more things started lining up for us to go, and we realized that it was time. That God was calling us down to California. We packed up our house, found renters and started praying for the place we wanted. God gave us exactly what we were looking for. What all three of us wanted, my wife, my son and myself. A couple of days after moving in, we checked our mailbox, and to our surprise, there was a flyer for a church. A church that two years later, we still call home.
Our journey to this point has been crazy and full of faith. God has blessed each step we take when we have Him at our center. Since moving to Los Angeles, God has blessed our family with multiple great projects. I have a couple of films on Amazon Prime, a Co-Star role in a TV Series, a Lifetime on Ion Christmas movie, as well as two national commercials with my beautiful family (wife and son).
Kelsi and I have started creating our own films. We currently have a feature horror film that we wrote and starred in together. That film is currently in the distribution phase and should be out soon. On top of creating films, we shot and put together a pilot travel show that we are looking to team up with a great production company. We are thankful to be on the journey and the path that God has put us on — looking forward to what He has in store next. Be blessed.
We're always bombarded by how great it is to pursue your passion, etc. – but we've spoken with enough people to know that it's not always easy. Overall, would you say things have been easy for you?
The road has not been smooth, but honestly looking back I can't say that there was anything insurmountable. Pretty much it all comes down to, once I took my eyes off God… I started sinking.
First moving to Los Angeles was hard because my wife was in Seattle every month shooting for REI, which was great but I was down in LA trying to navigate new waters.
Luckily I had my best friend, who I grew up with back in South Bend. He had moved out to LA a few years before I had and was able to really help ease that transition.
In that time we lost our focus on God and started trying to focus too much on our careers. Funny enough every time we did that, work would somehow not come in as much. Funny how that works.
That's why all through every road may not be smooth, God gave us some shocks to deal with those potholes along the way. We just need to keep our faith up.
We'd love to hear more about what you do.
I am an actor. I specialize in bringing to life different parts of myself to bring characters to life. I am most proud that I am able to pursue this dream, this journey with my family by my side. I also think that is what sets me apart from others. I don't just have the support of my family behind me cheering for me. They are running right alongside me, and we are carrying each other.
Has luck played a meaningful role in your life and business?
I don't really think there is good luck and bad luck. I think it's perception and what you attract. If you are a positive person and you are always looking at the positive sides, you don't see things as bad luck. For example; say your car dies. Mechanic says it's not worth the money to fix it and you should get a new car. Is that good luck or bad luck?
Perception to me says, good luck. Because my car died, now I have to get a new car. The mindset of "get to" opposed to "have to" is what has helped my life and career. I get to go to work. I get to work out. If I say I have to, then right away I already feel like it's a chore. Good luck is a mindset. Attract it.
Contact Info:
 Image Credit:
Gerrad Wilson- M.E.G.A. Media, Douglas Herring, Brian Love Photography, The Matthew Smith
Getting in touch: VoyageLA is built on recommendations from the community; it's how we uncover hidden gems, so if you know someone who deserves recognition please let us know here.