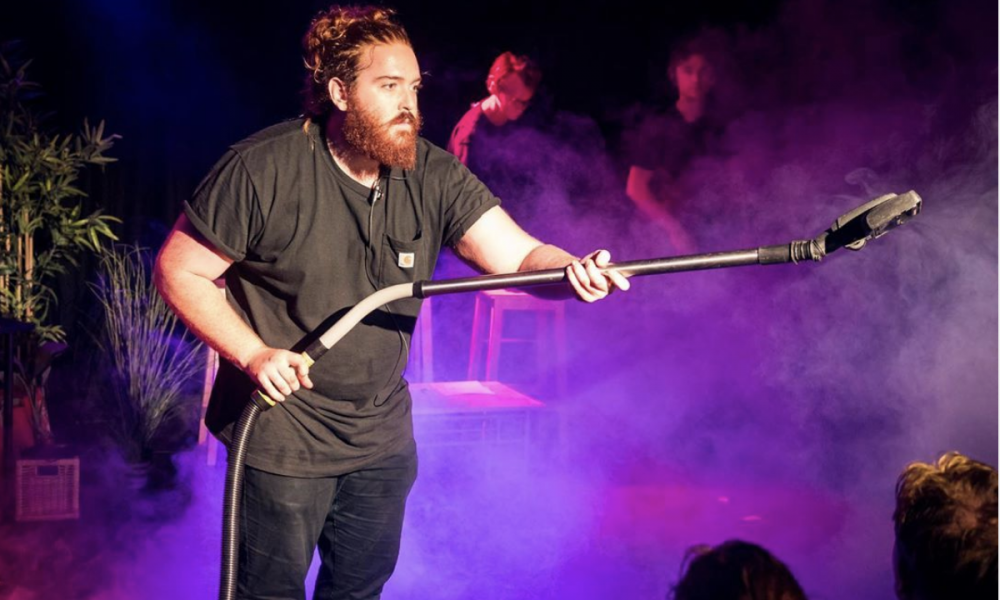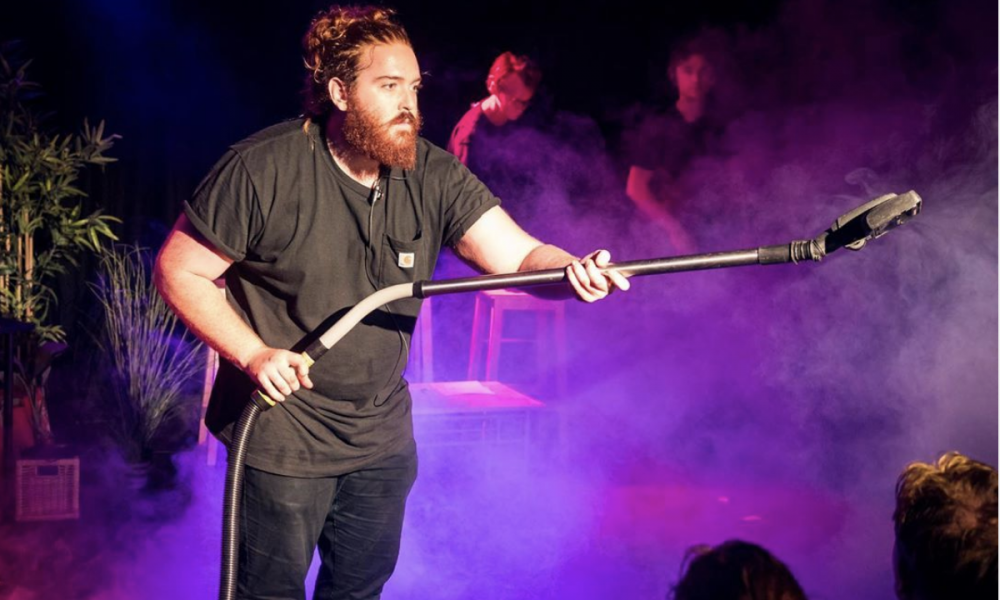 Today we'd like to introduce you to Cory Peter Lane.
Cory Peter, please share your story with us. How did you get to where you are today?
I'm originally from San Diego. My family has always been funny. It feels like when we got home from school or work, we all had a tight five ready that we had been rehearsing in our heads all day. Telling jokes and stories was how we related to each other. Both my moms are funny, my sister is funny, we would often get looks from other restaurant goers as we gasped for air in response to some quip about the menu.
I started doing improv there when I was 15 and then joined a professional theater called Finest City Improv when I was 16. I used to be escorted in by an adult to do my shows and then back out immediately when we wrapped because the theater served alcohol and I was a minor. When I turned 18, I moved to Westwood to go to UCLA. The theater program was pretty overwhelming at first, in high school I had only done two musicals and I'm pretty sure I had never really read an entire play. I now had access to all of these different forms, but one thing that I felt was missing was comedy and improv. But, that's where the UCLA community came in to fill in the gaps.
I started doing stand-up, improv in various clubs and eventually formed a group that I've now been working with for five years. Business Casual is made up of myself, Hunter Saling; an actor from my program and Jeremy Elder; a playwright that was in my year as well. Together, we started doing improv shows, which ended up taking us to San Francisco, San Diego and to New York City for the Del Close Marathon Improv Festival. One summer at that festival, I saw a musical improv show from the group Baby Wants Candy. They blew me away. Turns out, they were offering an internship the next summer in Edinburgh, Scotland at the Fringe Festival. I didn't know what a lot of those words meant, but I figured I had to be there. I applied, was accepted and soon enough, I was living in Scotland for the summer passing out flyers at the biggest arts festival in the world.
While I was there, I was exposed to so many international sketch groups, clowning acts and circus shows, my mind was spinning. It was one of those moments of clarity where you're like "this, this is where I want to be." I came back to America with a new perspective on comedy performance. In response, Business Casual started branching out into the Alt-Comedy scene in LA and we started developing weird bits and sketches that would eventually evolve into full shows. I signed up for a clowning course the following summer at the school where all my favorite Fringe performers had studied, École Philippe Gaulier in Etampes, France. Just outside of Paris. It was the hardest class I've ever taken. It was the first time a teacher in a theater class had ever just flat out told me, "What you did just now was very bad." Albeit more colorfully and in an old man's French accent.
Ever since taking that class, I've felt more attuned to my audience and less afraid of failure on stage, more adept at taking risks. The summer that I went to clown school, I had a bit part in a Fringe show that won best ensemble. With the help of angel boy Zach Zucker, our producer, we were able to bring Business Casual to Edinburgh for the 2019 Fringe the following summer.
We were fresh out of UCLA and absolutely terrified. We had our first preview in a really cool theater/pub to an audience of 8. We convinced an Australian woman from our Hostel to come to the show and she left early. But we managed to cobble together our debut, self-titled show and present it to audiences of drunk Scots. And it worked! We bombed a lot, but also sometimes didn't and we were endorsed by the British Comedy Guide and the Scotsman, a huge deal for a trio of 22 years old idiots from America.
When the lockdown began, we were in the middle of our developmental run for the 2020 Fringe. This year, we were to bring a Cowboy show, creatively entitled "Cowboys." COVID stopped that dead in its tracks. We had a US tour that was canceled, preview shows in London, Dublin and Berlin that disappeared and our Sophomore run at the Edinburgh Fringe gone. We've been adapting to the new landscape over the past 5 or 6 months. Doing live streams, writing scripts to shoot when this all blows over and more recently knitting together what we could from our live cowboy show into a digital monstrosity that we shot on green screens in our first masked, social distanced shoot. It's been hard to adapt, but it is nice to have a group of collaborators I can hang onto in these times. Best friends that are always down to collaborate on ideas entertain and build upon the good ones and politely shoot down the terrible ones.
Great, so let's dig a little deeper into the story – has it been an easy path overall and if not, what were the challenges you've had to overcome?
I lost my mom in November of 2019. She had been sick for most of my teenage years, she got a liver transplant when I was a Freshman in college. The transplant extended her life and gave her an energy that I don't think I'd seen since I was in middle school, but eventually that was diminished by a different, unexpected illness.
My mom didn't really want me to worry about how fast she was going downhill and didn't reveal to me how dire the situation was until after I graduated in June of 2019. I already had about two and a half months of travel booked that summer and was ready to cancel it all because we really didn't know how much time we had left. My mom refused. She insisted that I go anyway and promised, as moms do, that she would be fine until I got back.
I'm used to not obeying the wishes of my mom, in fact I got really good at it in high school. But, my mom took the time to explain that in her illness, she had always lived vicariously through me. Even in the most basic things. For instance, my mom loved rollercoasters, but I had absolutely terrified of them. I ended up conquering that fear right as her medical complications made them impossible. I started going on bigger and scarier coasters to impress her until she conceded that I was insane.
So, when she said to go anyway, it was for her just as much as it was for me. She kept her promise. I came home from the Fringe and my mom was still with us. I was able to spend her last few months with her, talking about my childhood, talking about what she had learned in life, talking about my future. I don't think I really could have ever grasped that I was about to lose her, but looking back, I think she knew.
My mother did all the right things you could ask for. She tied all the loose ends, said all the right things. My mom had been in and out of the hospital since I was 13, her mortality was a daily question, but nearly ten years of that could never prepare me for actually losing her. Grief has been hour to hour, day to day. I am finally at a place in the grieving process that the thought of my mom, the passing memory or a glance at a photo brings me joy, not pain. I'm reminded of her kindness and her strength. Her resilience in the face of ongoing illness. In the 22 short years we shared, she gave me a lifetime of love, hope and courage.
My mom never wanted to be a burden, knowing that her illness and her passing were one of my biggest struggles would pain her. However, I know for certain that I am a better and more compassionate person because of my mom's life and death. I think that outweighs any struggle tenfold.
Business Casual – what should we know? What do you guys do best? What sets you apart from the competition?
Business Casual has grown from an improv trio, doing improv 15 minutes at a time, to a Clown/Sketch/Improv/You-Name-It performance group that produces full length, hour-long shows. Our debut fringe show, "Business Casual," which we developed at the Lyric Hyperion and the Improv Space, was full of sound effects, music cues, partial nudity, mime competitions, free cans of beer, empty cans of beer and Lil' John's hit song "Yeah." I think what sets us apart is our high energy and our willingness to play with each other and the audience. We have a lot of fun breaking the rules we've created for ourselves. We keep each other, and by proxy the audience, guessing have so, so much fun in the process.
We've also bridged into video content, recently releasing a pilot we shot a while back as well as developing sketches with Probably a Cult. We created a digital pilot out of some bits from our Cowboy Show (RIP) that are soon to be released.
We can't wait til we can get back on stage but are making do in the meantime!
What moment in your career do you look back most fondly on?
Our success at the 2019 Fringe is probably the proudest moment of my career so far. From inception to completion, I still marvel at the fact we pulled it off. We could not have done it without the help of Zach Zucker and the Stamptown Crew. With their help, a couple of nobodies (at least to the Scottish) ((Okay, also to the rest of the world)) were able to sell out almost every weekend. We got a 4 star review from the Scotsman on our 3rd night of a 22-show run, putting us on the newspaper's "Best Comedy Shows to See this Fringe." That, plus some hardcore flyering, kept a steady stream of people in our audience. To look back and think that in 2017 I was sat in the audience hoping to one day have my own show, and then only two years later make it a reality is hard to wrap my head around sometimes. I am so proud of that moment and so hopeful for the ones that lie ahead.
Contact Info:
Instagram: @businesscasualcomedy and @captain_sad_beard
Twitter: @capt_sad_beard
Image Credit:
Jamie Hughes, Dylan Woodley
Suggest a story: VoyageLA is built on recommendations from the community; it's how we uncover hidden gems, so if you or someone you know deserves recognition please let us know here.