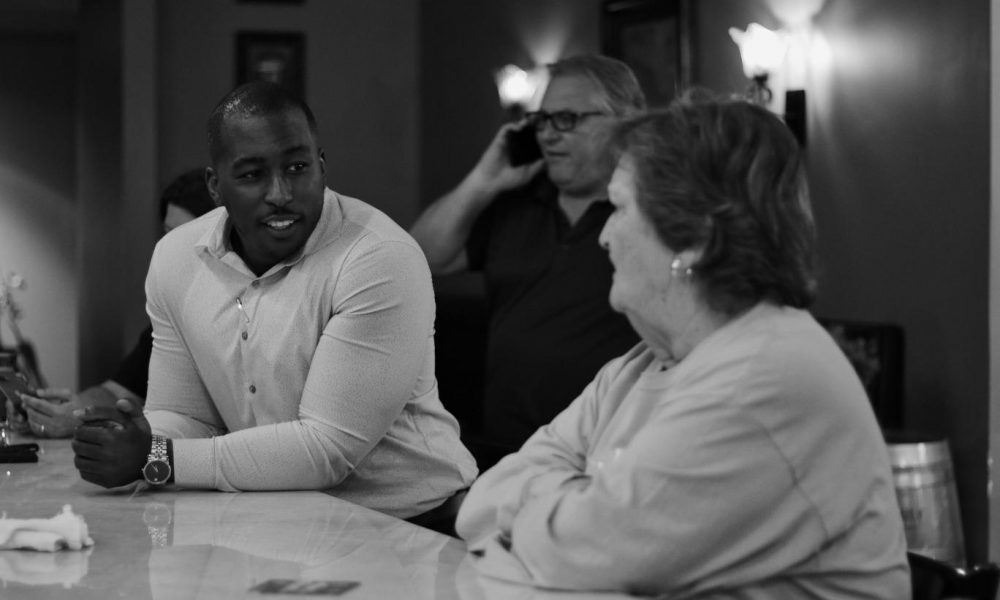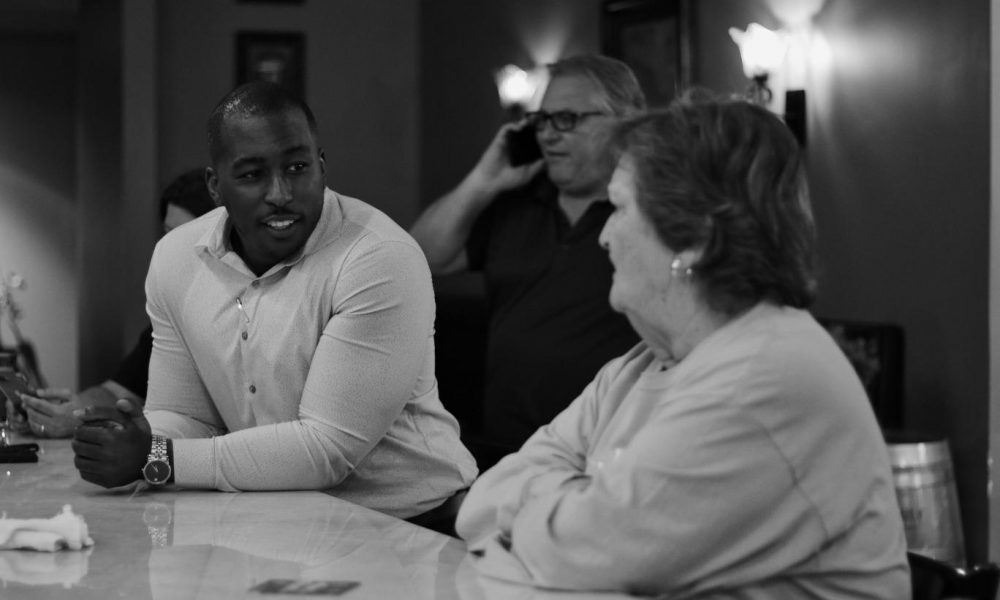 Today we'd like to introduce you to Zee McKnight.
Zee, let's start with your story. We'd love to hear how you got started and how the journey has been so far.
I'm originally from Los Angeles, California. I was raised by both parents. The bond was tight. It was my mother, father and older brother. My mother had me at the age of 16 and my father had two children by the time he was 17. With all the responsibilities of fatherhood, my father ended up dropping out of high school. The affects of being young parents quickly took its toll. However, my mother was resilient and decided to work and going to medical school. My father's philosophy on work ethic was exactly the same, he worked non stop to assure that our family was taken care of. My father eventually enrolled my brother and I in sports at the age of seven. It taught us work ethic, discipline, and teamwork. Things that would help shape and mold our futures. Despite being young parents and having to grind through school and work both of my parents ended up completing school. My mother finished medical school and my father was accepted into law school. It was bittersweet, only because I watched my parents struggle throughout their journey. Through it all, it inspired me to see them remain consistent in their aspirations and push through the adversity to overcome every obstacle thrown their way. Fast forward, my mother is now a Doctor and my father is an attorney. I can honestly say that any success that I have can be attributed to sacrifices my parents made for me a a child. It has led me to be even more motivated as a father. I now know exactly what needs to be done in order for my two beautiful daughters to follow down a similar path of success.
As long as I can remember, work was something I loved. As a sophomore in high school, I landed my first job at a fast food chain. It wasn't amazing pay, but it taught me a lot about how to deal with people. More specifically, how to do deal with the challenges of being in the service industry. At 17, I graduated high school and held three jobs. One was in fast food, the other two were in sales. I found great pleasure in putting a helping others regardless of the capacity, big or small. I also had no problem talking to people, to help them resolve issues and or complaints. At 18, I decided to dive into real estate as a telemarketer. I eventually worked my way up to a loan officer. Can you believe that? An 18 year old loan officer. I was the youngest loan officer in the history of the company. I moved on from there to work various sales jobs for the next year, however I took an extreme interest in Law Enforcement. I was impressed with the way Police Officers carried themselves, but more importantly the selflessness and bravery they had to exhibit for complete strangers. So I started to look into law enforcement, however realized I was too young, being 18 at the time. So instead, I looked into security, I figured that was an industry that I can get into where I can help people, make them feel comfortable and interact with law enforcement. It was a great profession, but there was still missing. During my short three months in the industry, the ability to provide solutions to people's problems made it extremely appealing as a profession. So at 19, I attempted to start a pooper scooper company, which failed within 90 days and was a little discouraging. Almost immediately after my initial business venture crashed, it clicked, "why don't I start a security company?"
With no educational background, mentors, or guidance on how to start a company I remember going into staples and grabbing the generic applications and telling all my friends look I have security company. I had no clients, no office, I had nothing other than applications. I had left the job that supported me and because I had saved up enough for roughly two months to pay my expenses. I went knocking business to business, with no luck. I had brought stickers that had my company logo and put them on the side of my personal car in an effort to gain exposure. I was literally one week away from my savings running out when I obtained my first potential client. They needed armed security seven days a week, 12.5 hours a day, I was super excited up until they requested copies of my insurances and invoices. I had no clue on how to obtain or do any of these things. After doing some research I found a broker. Shortly after that, I taught myself quick books. I worked the site myself for six months and handled every aspect of the business alone until I could afford a part-time employee. One aspect was missing, payroll. I needed to learn payroll and processing. At the time, I emailed out flyers to management companies with the cheapest rates possible for service and one actually called me. Here I was 19 and now had two properties. I then went on to get a 300 sq ft office where I worked out of and eventually hired a part-time office person to help me. I would put in proposal after proposal and constantly get denied, however, I did not let that stop me. I was just excited to be in business and have two employees. Eventually, we started to obtain clients via word of mouth.
In 2013, I was involved in a work-related incident, where I almost lost my life. An individual struck me with his vehicle and proceeded to drive away with me hanging on the hood for my life. Because of this, I discharge my firearm at the subject. The care, compassion and thorough investigation of law enforcement personnel helped me get through the process; from riding to the hospital and everything after.
A month later, I got a call from an employee stating that my brother had not show up for his shift. I had attempted to call him with no luck. My brother's mother had called me asking if I had spoke to him and I said no, but I'm sure he is OK. I then heard her say, "Zuriah who are these people in suits walking up to me, please don't tell me!" Those people were detectives that had just told my brother's mother that he was murdered earlier in the day. I broke down and felt helpless. This really was the ultimate test of faith and self restraint for our family. I had a few days to grieve before the level of service my company was offering started to take a toll due to my absence.
A month after the most traumatic experience of my life, I was blessed with a beautiful daughter.
During the course of growing this business, I was also dabbling in other ventures which were not that successful. So I came up with concept that would be most beneficial to the clientele that I was servicing. But in order to pull this off, it would cause for me to have to rebrand and change the name of the company that I put so much sweat and tears into over six years. In 2015, I rebranded to a more suitable name for the services we would offer. Which is when the name "Corporate Alliance Strategies". We offered private security, maintenance, street sweeping, and janitorial services. Here I was entering into a world that I had no experience in, however, I knew that we would be able to be beneficial to our clients and allow for a more seem less process for them. I found myself learning how to trim trees, cleaning toilets and learning how to operate a sweeper. It was an amazing experience but it took my focus off of my original passion, private security…so I eventually decided to sell that portion of the company.
In 2018, I enrolled myself into the Riverside County Sheriffs academy modular program. After months of training I graduated the Sheriffs academy in 2019.I was fortunate to have been elected Class President and was recognized as the number 1 overall recruit in my class, number one in top firearms, and top overall physical fitness. Throughout my journey, I have always wanted to help people and allow for them to feel safe. Whether it was our company protecting the individuals or their assets. I have always felt my purpose in life was bigger than me. I realized when I experienced my incidents that I always had a choice. That's why I went through the academy. I wanted to increase my knowledge/training and become a reserve police officer with a department.
Today our company has over 130 security guards throughout Southern California. We service clients such as Stater Bros, Lexani wheels, Wheel Pros, Ralphs, Starbucks and many more.
We're always bombarded by how great it is to pursue your passion, etc – but we've spoken with enough people to know that it's not always easy. Overall, would you say things have been easy for you?
It has not been a smooth road for me in business. I lost my grandmother in 2010, my grandfather in 2011 and then my brother in 2013. I have had to deal with federal entities due to my lack of knowledge within my first three years in business. I have dealt with key personnel resigning effective immediately and having to find the solutions and take on the task myself. I have missed quality time with family, that I will not be able to get back. There have been challenges such as declining contracts because we could not staff if fast enough. I have had to sit inside civil courtrooms for people that have done harm to my employees, however file a lawsuit. I have had potential clients tell them being I was so young that they didn't trust I could handle the workload. I have seen potential clients throw my marketing material away right as I walked out the door. There have been challenges in the past of not knowing if you're going to make payroll because we took on a new client. We have had clients that have not pay us and I have had to sacrifice months of personal pay just to cover certain expenses in the business. Everyday is a challenge, we deal with 130 personalities within our organization and 85 clients. Learning how to deal with each situation one at a time took me years to figure out.
So, as you know, we're impressed with Corporate Alliance Strategies – tell our readers more, for example what you're most proud of as a company and what sets you apart from others.
We are a private security company, we provide armed/unarmed services, patrol services and executive protection to clients. We are mostly known for our vehicle patrol services, work with various communities, commercial properties, and ability to provide safety of all guest, tenants/vendors. I am most proud of our team, the ones that have stuck with us through the ups and downs. Who have stayed committed to this company and believed in our vision. What sets us apart is our core values. Integrity, image and leadership, how we treat not only the clients paying us for services, but how we treat the people that work for us is what sets us apart. We believe in transparency and have an open door policy for all of our staff. They are not just a number, they are individuals. Individuals who agreed to a business partnership for a common goal.
So, what's next? Any big plans?
We are actually planning on opening a branch up in Northern California and getting more involved with city and government contracts. We have actually created our board of supervisors and we will be finalizing for 20/20 which are made of all Chiefs of Police. Which is exciting for us to be able to have individuals with some much knowledge and wisdom contribute to our organization.
Contact Info:
Suggest a story: VoyageLA is built on recommendations from the community; it's how we uncover hidden gems, so if you or someone you know deserves recognition please let us know here.