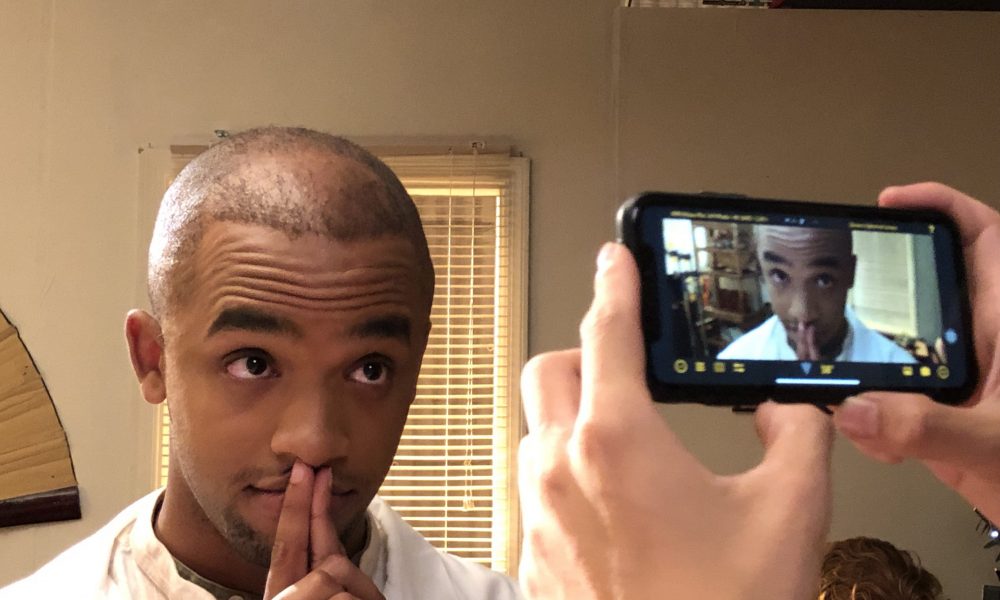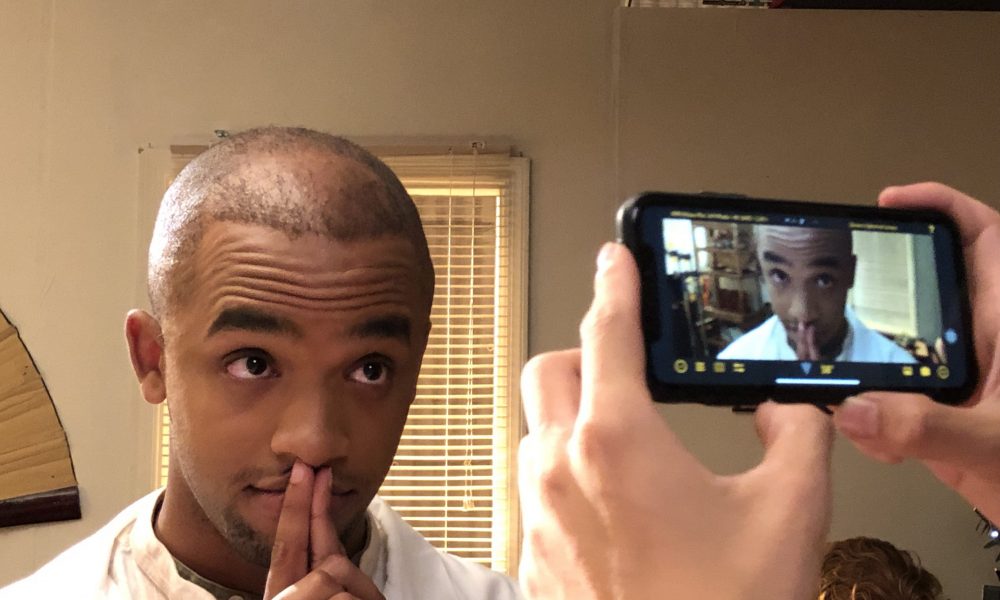 Today we'd like to introduce you to Corey Timmons.
Corey, before we jump into specific questions about your work, why don't you give us some details about you and your story.
Where to begin?
Well, I'm Midwestern born and raised- Kansas City, Missouri, to be exact. I was raised by my grandmother because my mother (a.k.a. my best friend) was bettering herself through education to become the best version of herself she can be, and my father was off… being incarcerated. I didn't have any siblings growing up (though I would later find out I have like eight half-sisters) so I spent a lot of my time by myself… and I am so incredibly grateful for that, admittedly.
As far back as I can remember, I was always an incredibly imaginative child, and me just expressing that imagination as a kid (like they usually do) would always tend to throw me into the spotlight- which, as an adult, I find so amusing considering I'm very much an introvert, haha.
Then again, I'm also a very weird Aquarius, so maybe it all balances out.
I have so many various memories as both a child and an "adult" of my rampant imagination at play. I remember rallying the schoolyard when I was in elementary school and (somehow) convincing everyone to play "Tomb Raider," with me. I was Lara, even though I didn't want to be (I did) and I made sure to take turns with people so they could be the lead. (I didn't).
I would draw (badly) comics, write stories and poetry, and even lyrics to sing (badly… really, really badly) to my mother. She saw that imaginative, artistic side of me and decided to get me piano lessons to help cultivate it. I didn't do well with lessons, and I think it's mainly because I don't like routines, but I still play the piano, though. I can't really read a lick of sheet music. I tried, and did… passably- enough to try to teach myself an Evanescence song, "Give Unto Me." I did pretty well until I got to the piano solo, got frustrated, threw the sheet music against the wall and then started creating my own melodies.
I remember cutting out the characters in my Disney Picture Books when I was a kid to make my own stories with them. My grandmother got really mad at me and then refused to buy me any more books after that. I guess apparently I was supposed to, like, "read" them, or something. I played with toys to create my own scenes and stories, and, I'm proud to admit that as an adult I still sometimes do. When I play video games, as I did when I was younger, I would always create in my head a completely different story contrary to what was scripted in the game.
That same imagination, however, would also… frequently… get me into trouble. Especially as an adult. Shockingly, bosses and managers don't appreciate it when you're at work daydreaming because, "You're supposed to be answering the phone, Corey, not counting the tiles or staring at the ceiling or talking to yourself." There was a job I had at one point that fired me because I started answering the phones (badly) in various accents… They said it was something about "me not taking the job seriously," but I think it was really because I do a really bad cockney.
Of all the memories I have, the one that really sticks out to me is one of my only memories of middle school. (I block the rest out because middle was, as I'm sure it was for everyone else, god awful). I was in the audience during the talent show, and I saw these kids performing some skit from a play. All I remember was thinking, "Wow! That looks… like so much fun!" I think that was the start of me wanting to channel that creative focus into being an actor.
I got a bit more shy though, as I got older, though, and it was hard to try and continue to express any sort of creativity because I was told that I needed to focus on "real" skill sets to make a livable career. I still tried out for plays though- I would never get any, but I think the theater teacher took pity on me and gave me a small part to placate me. Opening Night was a blast- nothing beats the adrenaline rush of the curtain going up and seeing the crowd and the lights, but it wasn't an easy process to get there.
I'm not sure what happened growing up that contributed to my shyness, but I remember the theater teacher trying, gently, to coax me out of it with a few group exercises. I was hot and flustered, and while I got where he wanted me to be in the moment, once the night was over I waited until everyone was out of the auditorium and cried my little eyes out because I felt like I wasn't good enough to do the thing I think I really, really wanted to do for a career.
After high school, I was loosely planning on going to Mizzou (University of Missouri), but then I failed my last year of math in High School and went to community college. When I was in college, my friend Chelsea talked me into skipping a class so we could hang out at some coffee shop. Then I skipped the next class by myself just for shiggles. Then the next day I kinda just stayed home. Then, the day after that I dropped out of school (sorry mom!) but I justify it because I figured what I really wanted to do with my life wouldn't necessarily depend on (though it is benefited by) a proper college education. All of that pretty much culminated to me realizing I needed to be an Actor.
Still, it would be about a dozen years and a few quarter-life crises' more before I would actually realize that I can't do everything I need to do for myself and for the people who would benefit from my success if I ended up staying in Kansas City, MO. I knew pretty quickly that I would need to move to Los Angeles, CA.
I remember when I was a child, maybe 10 or 11, and I was looking through this movie poster picture book of the third Harry Potter film, 'The Prisoner of Azkaban,' and perhaps it was because I was so immeasurably imaginative growing up that those movies really stuck with me. Yet, I remember looking through those BTS photos and movie stills just thinking to myself that Mr. Radcliffe is doing something that I think I would really like to do.
Granted, I didn't know all of the facets of his choice of career, but I just knew that he got to 'play' in this fascinating, imaginative game of pretend- for like, three movies (at the time).
And I didn't.
I was trying to figure out why he got to do something and I didn't. A selfish line of thinking, perhaps, but I'm glad I thought it. His parents couldn't have been any better than mine- they both wanted what was best for their children. His upbringing couldn't've been any better than mine. He as a person couldn't be any better than me. If he could do it, I could do it, because he's not any better than I am.
And it's true: Nobody is better than anybody else. I'm not better than Meryl Streep, but at the same time, she isn't any better than me. We are all on an even playing field, regardless of our levels of success.
I told myself the day I moved to Los Angeles (January of 2017), and I often solidify it in my mind, "The Industry is NOT so small that it can't accommodate anyone who wants to be involved and at the level that want to be involved in at."
Now, I'm in Los Angeles, doing precisely what I set out to do. It's been only a few short years since I've moved and I've been able to take charge of what I wanted and teach myself how to cultivate my imagination again to create wonderful things- like the web series I co-created and wrote called, 'Working Title!', the pilot of which has been filmed and will be pitched for distribution!
Meryl is a boss, but totally get what you mean.  Glad to see the progress you've made since moving to LA. What were the challenges you've had to overcome?
It hasn't necessarily been a smooth road- I've had to grow and learn and change in some ways to make sure who I am and my mental state is conducive for success. Most of the challenges I've had though haven't necessarily been related to 'Working Title!' or the journey as a working actor.
When I first told my mother that I needed to move, which, side note- I didn't really tell her. I made the decision one day, then called her and made a loose comment like, "Who knows? Maybe one day I'll move to Los Angeles" to see how she'd respond. Not well.
But– once I actually told my mother I needed to move, she was very worried about me, appropriately so since I'm her only child. She wanted to be certain that before I left, I had enough money in my savings account, a place to stay, and a job lined up, and I did my best to put her worries at ease…
…While at the same time never really mentioning to her that I left Kansas City with $100 to my name, a non-existent savings account, no place to stay or a job lined up. All highly, highly irresponsible and not well planned. But- it was the right time to go and I knew in my gut I couldn't delay. It was just something I'd have to figure out upon arrival.
And I did.
We'd love to hear more about your work.
The current television pilot that is entering the pitch phase soon is called 'Working Title!' and the 1st pilot of it is currently available on YouTube as Working Title! Pilot Episode
(Shameless Plug)
Working Title! is a comedic series about three friends on their very slow journey towards adulthood, all while offering each other very terrible advise on the best way to grow up. The story centers around Julia, an eager, naive, and quirky adult child who strives to break into the entertainment industry to make a name for herself as a writer.
While I did write the pilot, it was co-created by myself and Victor Lodevico, who is a children's nurse and twice published author-illustrator, and it was directed and co-produced by the very talented Neil Watson of Film Dreams, Inc.
Suffice to say, I'm very much looking forward to this finding it's way on a streaming service near you!
Is there a characteristic or quality that you feel is essential to success?
There are three people I would like to shout-out as an answer to this question.
Prior to relocating to Los Angeles, I was very closely involved with a team of Entrepreneurs and Independent Business Owners in a business group entitled, "Leadership Team Development," or LTD for short. Of the members of that business, there's one, in particular, I would like to edify, and that's David Park.
Keep in mind, my choice of career and David's choice of business career are two entirely different entities, but the language of success is universal, and David and his brother Dylan took the time to teach me this. It was under his direct mentorship that I learned it was okay to have a dream and to cultivate it. It was under his mentorship that I learned it was very possible to live a successful life financially and personally in a way that differs from what is traditionally taught at school (e.g. go to school, get a job, work work work and die). It was under his guidance that I learned success has a very distinct blueprint; a Slight Edge, if you will.
You have a goal, and you work a little bit on that goal every single day. Your effects you may not immediately see, but they are at work and they compound and before you know it your dreams go from your mind to your hands– because you've worked for it. It was under his guidance that I learned that I'm good enough to win- I learned from him and his business so many different things that allowed me to be successful in every area of my life that I wanted to find success in.
There's another individual that I've garnered a particular quality from, and it's a little boy named Kyle Norman.
Kyle is 13 years old and suffers from a rare mitochondrial disease that makes it difficult for him to speak or move on his own. He's currently unable to walk, he currently cannot speak, and as of now he still needs to utilize a ventilator to breathe through the night. He is also the face of the SuperCaptainBraveMan children's book series, which strives to teach children and adults alike about various handicaps while at the same time bridging the gap in such a way that it teaches that those who may have been born with certain handicaps really aren't any different than you and me.
Kyle can't speak, but in the short time I've known him since arriving in California, he has taught me what it means to persevere, to be brave, and how to really leave a lasting legacy. He put things into perspective for me in a way that reminds me of my life, or my ailments, or my success, are not just for me and me alone.
I don't believe anyone ever really achieves success by themselves. David, Dylan, and Kyle are evident of that. They have given me qualities that will forever be important to my current and future success, and habits that will always enforce them:
1) Believe In Yourself
2) Be Persistent
3) Take risks- even if they scare you. Success will NEVER be inside of your comfort zone.
4) Find someone who is successful in the field you want to be in and learn from them
5) Never stop learning and give credit where credit is due.
Contact Info:
Suggest a story: VoyageLA is built on recommendations from the community; it's how we uncover hidden gems, so if you or someone you know deserves recognition please let us know here.