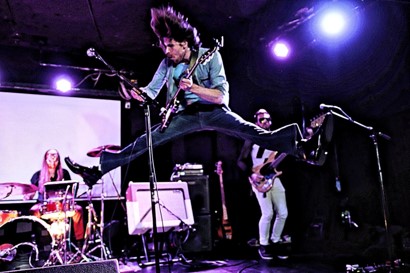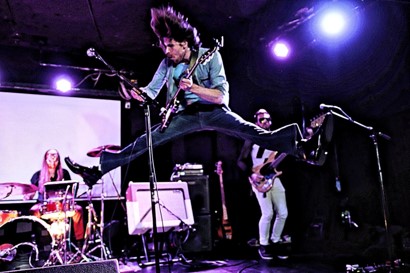 Today we'd like to introduce you to Cooper Bombadil, Javier Olmedo, Brandon Valerino, Mike Gattshall.
Cooper, Javier, Brandon, and Mike, can you briefly walk us through your story – how you started and how you got to where you are today.
Cooper: The band started a handful of years ago when I wrote a concept album. It was a sci-fi, pop-rock album about 2012 and the end of the world that everyone was obsessing about. That's the material that we started on, and originally our stage presence was more theatrical to reflect that concept. As we wrote newer material, we moved away from the theatrical aspect. It's no less bombastic, though.
The sci-fi element translated into a more psychedelic, electronic feel. We spent several years playing the circuit, bouncing from venue to venue, area to area. It took us several years to find our home base, but one night we played a show that just popped. The best part was that it was in a grocery store. It was the Grand View Market in Mar Vista. Ever since then the Westside has been our main side. We treat it well, and it treats us well.
Brandon: About two years ago in May 2017, my friend from other projects had called me up… it was Javier. It had been a while since we'd chatted, so I knew something was up. He told me their bass player had injured his hand, and they needed a sub for their upcoming shows and asked me if I would be interested. Immediately I was intrigued because I had seen Westerner a couple of times by then and was fascinated by them. So I quickly said "yes." I did my homework and studied the songs in depth before arriving at the first rehearsal.
After the first rehearsal, which ended up more of an audition, they asked me if I'd want to play the show with them and once again I said "yes." I played a few shows with them, and when I thought it was time to part ways their bass player's hand still wasn't healed, so they asked me if I'd want to play bass for them while their old bass player would play synth. Yet again, I found myself immediately saying "yes." That configuration didn't last long, however, the old bass player became busy with his other project "The Beatjackers" (who by the way are a super cool, funky band) and he decided to officially leave the group. It was all on good terms, no egos were hurt.
At that moment, I became the official bass player for the band. The shows just kept coming in. It seemed like we were playing 2-3 times per weekend, sometimes twice in one day. At first I thought it was madness, but honestly, I loved it. This is what I want my career to be, so I didn't mind that my weekends were filled with this band's music.
In January 2019, I had a bad fall at work one day and sprained my hand. I was unable to hold anything, let alone play a bass. I was terrified. We had a big show coming up at the Hotel Cafe in Hollywood, and I didn't want us to have to cancel. So I thought, "what if I tried playing synth bass for the show?" So I went out and bought a synthesizer and began programming in sounds for each song. The show went over well, and the guys in the band actually liked having synth bass as part of the sound.
Currently, I am playing both electric bass and synth bass for all Westerner shows, sometimes switching between sounds in a song. And that's where I am today. I'd like to point out something funny and ironic: I joined the band ultimately because their old bass player hurt his hand and then tried to switch to a synth bass. And fast forward a year and a half and I had done the same thing; hurt my hand and switched to synth. The only difference is I use both, now that my hand is healed.
Cooper: Over the years, we've been very fortunate to pick up some vital assistance and friendships. Our manager, John Kimble, is not a typical manager, but he has found his own way to guide us and use his own assets to make things happen. Lulu Flippin is our personal stylist and costumer. She deserves an award for how she elevated our stage presence. Brittany Melendez is our tour manager/social media maven/wunderkind, and she's practically a fifth member of the band in the way she takes care of all the daily interactions for us.
Brandon: John has been continually hooking us up with different people and trying to further our career. He gives us advice on how to better our live shows and how to create a bigger impact on stage. Brittany is my best friend who I dragged from NY to come to live out here in California with me. She attends every show we have. She's always there screaming for us, pumping up the crowd, selling t-shirts and other merch, passing around the email sign-up sheet, sending email blasts before the shows, making Facebook and Instagram posts. She does a lot for us!
Great, so let's dig a little deeper into the story – has it been an easy path overall and if not, what were the challenges you've had to overcome?
Cooper: For our first shows we only had two players. We would play to a backing track that had the bass and drums parts. That first six months was pretty awkward.
Javier: Learning to be a full-fledged performer has certainly been one challenge in this group. I was used to the "cool indie rock" posturing that is easy to get away with in this town. Having to engage the audience, feeling confident onstage, being present at all times during the performance — all of these elements are things I've really had to put into practice with Westerner.
Brandon: It's not been the smoothest road. I mean sure, we have played many great shows, met amazing people and played with other fantastic bands, but it's not all glamorous. We have had many disagreements about decisions we've made, musically and professionally. And there's been times where we weren't sure what was happening with the direction of the band. But one thing has kept us going: friendship. I respect the other members of the band so much, and they respect me.
We all want the same end goal here: record music, play live shows around the world and help people with the music we make (while making a decent living ourselves off it). But the respect for each other is crucial because when you have four people so invested in something, that means they care a lot. They give a f*ck. And sometimes that can lead to tense conversations but at the end of the day, we are great friends, and we've become a bit of a family. It's definitely our lifeboat while sailing in rough waters, and if we keep that in mind, always we can get through anything.
Westerner – what should we know? What do you guys do best? What sets you apart from the competition?
Cooper: We're an electronic, psychedelic, pop rock band. It's a ballsy, cocktail mix of psychedelia, disco, and trip-hop. What's great about it is that it's party music, but it's unusual and confident.
It'll get you moving, but it'll also hypnotize and mesmerize you. It's fun because it feels like we were the ones who weren't invited to the party, but we are the ones who are making the party happen.
What moment in your career do you look back most fondly on?
Cooper: There've been several. We played the Beverly Hills Hilton last December for an awards show. We got a residency at Good Times at Davey Wayne's in Hollywood. Not a lot of original bands can claim that.
Usually, that kind of thing goes to cover bands. And we are about to go into the studio to record our first professional singles. I feel the same amount of happiness and pride every time we play a great show.
Contact Info:
Image Credit:
Alyson Camus, Briand Guzman, Bode Helm, Sergio Solorzano
Getting in touch: VoyageLA is built on recommendations from the community; it's how we uncover hidden gems, so if you know someone who deserves recognition please let us know here.