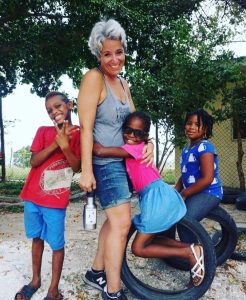 Today we'd like to introduce you to Connie Clotworthy.
Connie, let's start with your story. We'd love to hear how you got started and how the journey has been so far.
I am a sober 20-year drug and alcohol addict. All my life I was trying to fill this hole I felt inside with anything I could get my hands on. By 15, it was drugs and alcohol. I took a path of mass destruction. Arrested numerous times. I got deep into the scene of the underground. I became a bartender young and worked nights in the business. I wasn't seeing much daylight in those days.
At 27, I decided I needed a change and moved to LA. Cross country trip into the sunshine and ocean. I was about to start fresh. That was my first lesson in… wherever you go, there you are. Right back to everything I was doing in Detroit, now doing in LA. What my last year of drinking and drugging looked like is this… DUI's, totaled cars, lost jobs, sent to 9 days in the burn unit ICU for lighting myself on fire and failed relationships. I was completely defeated. I was dying, and I couldn't stop my behaviors.
And then, something happened. I was taught meditation. I was terrible at it and was sure I was doing it wrong from the very start, but I was desperate and thought if I just faked it long enough, someone or something would help me. What ended up happening after about a month is I found my spiritual connection. I found my center. I found my wholeness. I was no longer empty inside.
When that happened, the chains came off, and I became free. A freedom I never knew existed. With freedom comes power. My last two years have been dedicated to really digging deep into my meditation practice and teaching others. If this could save a completely hopeless drug addict alcoholic, who else could it save? I have led in numerous after-school programs, events for teens and youths; also, I have done many one on one meditations with adults and many facilities in recovery.
I have met with the Chief of Police at LAPD and hope to be bringing meditation into their everyday routine. I want to share this with the world. I have assembled a powerful team to embark on this journey with me, and together we are creating Worthy Beyond Purpose. Our mission is to transform the world one mindful kid at a time. We have created a program called The Zone, and we teach mindfulness and meditation to kids. As of now, we are in the Boys and Girls Club, Santa Monica YMCA, A Place Called Home, Leonardo Da Vinci Charter, and numerous one-day events for children and teens.
We also do yoga for kids at Yoga Nest. We volunteer at a summer camp in Jamaica called Treasure Beach Summer Camp, where we go for two weeks and teach the Parrish about mindful living. It is incredible that this is the life I get to live today. This journey has been transformative and so fulfilling. This is the answer, and this is the future. The way the kids receive mindfulness teachings is unbelievable, Now when they see me, they come running up and say, can we meditate today? And to watch them tune in and connect to their breath… there is nothing quite like it.
To be able to teach our youth how to find their wholeness and their power without reaching for any outside substance will transform the world. We don't want to arm our teachers; we want to arm our kids with the tools they need to find their center and their truth. Sitting and connecting so that we understand who we are. This isn's the next fad or quick fix; this is a lifestyle that will save our world.
Watch our video on YouTube and follow our journey. Worthy Beyond Purpose. My name is Connie Clotworthy, and I am the possibility of transformation, peace, and power.
We're always bombarded by how great it is to pursue your passion, etc. – but we've spoken with enough people to know that it's not always easy. Overall, would you say things have been easy for you?
It has not been a smooth road. Many people are very resistant to meditation and mindfulness. They don't see the immediate change, so they get frustrated and quit. Its a journey and I'm dedicated to walking people through it, breath by breath. I really look forward to working with law enforcement someday, when we can break through that barrier. This is an organization that I feel is very important to reach. Can you imagine… LAPD on mandatory daily meditation. Our whole LA world would transform.
It's been a challenge to get into after-school programs and into schools in general. There is no funding for such programs in a lot of places. We are strictly working on a volunteer basis at the moment because we believe in the work we do and we know it will pay off. I work a job in a restaurant and on my days off; I volunteer my time to teaching mindfulness. My other leaders do the same.
There is no "day off" right now, but when you're doing what you love and what you know you're meant to do, it's all good. We would love to find some kind of funding or payment options so we could make this our life journey. We are dedicated, and we will not quit. This is the future of our world and we will continue to make an impact.
We'd love to hear more about your business.
The overarching goal of Worthy Beyond Purpose is to bring mindfulness practices to the lives of as many young people as possible. Globally, we want to provide online visualizations, meditations, curriculum, newsletters, blog posts, and interactive forums via WorthyBeyondPurpopse.com.
Locally, we facilitate classes, workshops, events and collaborations dedicated to creating mindfulness programs. We are most known for our passion and commitment to transforming and impacting the world through meditations and mindfulness.
We are most proud of the work we get to do in Treasure Beach, Jamaica. This was our second year invited back and we got to spend two full weeks teaching our program to the kids. We engaged in meditation, yoga, QiGong, visualizations, vision boarding, breath work, mindful listening and eating along with gratitude, self-love and awareness practices.
Watching the transformation of the kids in just two weeks is beyond words. Watching them use these practices on each other and really grasp ahold of what it's all about… there is nothing quite like it. We are looking forward to a long future with this camp and these kids. For more info on this, please visit www.TreasureBeachYouthGroup.com
What sets us apart from others?
While planning for our company, we did extensive research to see what we could readily find available for people to use that was geared towards children and mindfulness.
Although we found a lot of information corroborating how beneficial it is, we found very little info that parents and schools could easily access and put to use in their own lives. We feel we are filling a gap that is especially important in today's world where our modern technology is in some ways creating an emotional disconnect in our young people.
We know that a holistic approach is what is best for emotional development, and our goal is to go beyond the niche market and make mindfulness and meditation regular practice in educational settings.
What were you like growing up?
As a child, I was very shy. Always hiding behind my mom. I never really quite felt like I belonged and definitely felt different than other kids. Everyone had it together, and I was lost.
In drugs and alcohol, I found courage and confidence. I was able to let my guard down and relax. From then on, I was the life of the party and very outgoing.
That was my solution to everything… until it stopped working.
Contact Info: