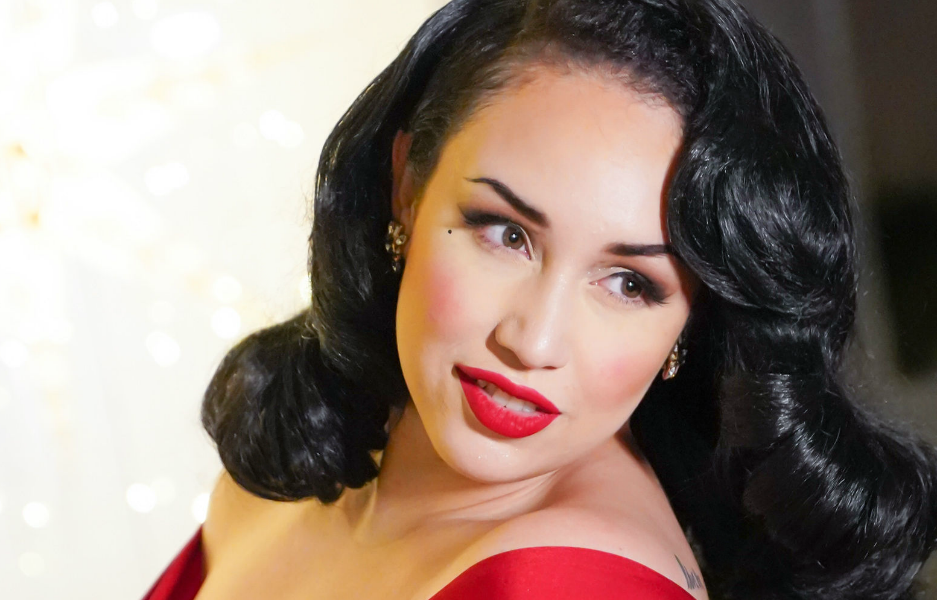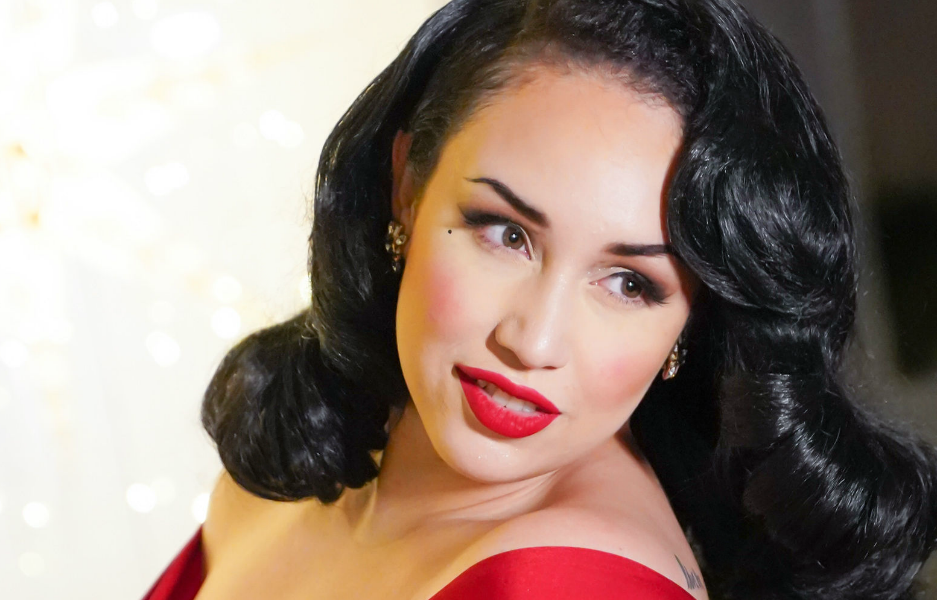 Today we'd like to introduce you to Coco Lamarr.
Coco, can you briefly walk us through your story – how you started and how you got to where you are today.
Growing up I'd always had an affinity for vintage aesthetics and I was fascinated by 40's/50's pinups and movie starlets. I discovered Bettie Page, Tempest Storm, and Dita Von Teese when I was in my teens and that's when I knew I wanted to do burlesque, but as an adult I had a lot of reservations about my body that kept me from venturing into strip teasing. I didn't delve into performing professionally until about three years ago when I relocated to Orange County from Sacramento for a change of pace. I moved and found myself really missing the performing arts. My boyfriend at the time was the one who encouraged me to start singing again and I decided to incorporate my passion for 1940's glamour and pageantry into my 'brand' so to speak.
25 Degrees Bar & Restaurant in Huntington Beach gave me my very first gig. I'd go there for an Old Fashioned after a long day of selling swimwear to tourists. When the staff overheard that I sang, they asked me to come in once a week—my jazz nights became so popular that I was given a second weeknight to do my thing, then I quit my retail job, and I've been with them ever since. The current state of the pandemic has slowed business somewhat, but some incredible doors have been opened to me so far. I've entertained on yachts and sang at NBA parties and I've been a part of some truly fantastic revues like Beauty of Burlesque, Fortune's Follies, and The Darling Clementines.
Some of my favorite travels thus far have been to Minneapolis—I've been twice now for Elektra Cute's 'Pink & White Ball' and I was lucky enough to get to perform in Kitten 'n Lou's "Basket Case" and Melanated Menagerie at LUSH while I was there. I'm honored to say that currently I have residencies and recurring spots in a number of amazing shows including Moxie Gold's 'MUSE Burlesque' at The Copper Door in Santa Ana, Donna Hood's 'TEASE! If You Please' at Exchange LA, and Tosca Rivola's 'TARANTINA' an all-female Quentin Tarantino-inspired cabaret at Club Bahia in Echo Park. (That is, when a pandemic isn't sweeping across the world.)
Has it been a smooth road?
I wouldn't say it's been the smoothest road. For me, my biggest obstacle starting out was getting past my insecurities about my voice. I sang in high school choir, but I was put in the men's section because I had such a deep sound. I'm a belter naturally, but they used to hide me in the wings during spring musical and I'd sing into multiple mics to accompany the men's section, and several girls made fun of me for that. Our choir teacher was more keen on using me as filler so he never really taught me the technical stuff like keys or reading music. The bullying played a big part in why I didn't perform for years, but I don't hear those voices in the back of my mind telling me my voice isn't pretty or classical enough anymore. I know my worth now, but I'm sad that I let the opinions of others keep me from following my dreams for so long.
Admittedly, I did feel a little bit of resistance by the scene in my area at first. When I started out, a couple of troupes turned me down for auditions because they weren't accepting variety performers or didn't consider what I do 'burlesque' and I remember feeling really discouraged about it. I think a lot of people still have this preconceived idea of what burlesque should and shouldn't be, but thankfully there's a lot of performers fighting to shatter those expectations in order to make the industry more inclusive for all regardless of gender, body type, skin color, or specialty. Back in the early days, American burlesque started as an off-shoot of Vaudeville that encompassed an entire array of performances filled with chorus girls, drag, acrobats, comedy, and song. The striptease itself didn't come along until a little later, but it took the stages by storm, and obviously made a very long-lasting impression.
I think it's safe to say that when most audiences today see or hear the word "burlesque" they think "striptease" and since I wasn't dancing or I was only removing one article of clothing; I may have confused some people in the beginning. One time after I performed one of my signature numbers, someone said, "If you're gonna do burlesque, then you need to move around more! Take something off, girl!" And while I know that they were probably trying to be encouraging, at the time it felt a little like a slap in the face. So I feel really grateful to all of the wonderful producers that get what I'm going for and have made space for me on their stages. Now when someone implies that what I do isn't really burlesque, I like to remind them that Gypsy Rose Lee was famous for taking off just one glove—and if it's good enough for Gypsy then it's good enough for me.
We'd love to hear more about your work and what you are currently focused on. What else should we know?
I'm a burlesque performer, lounge singer, and pinup model based in Southern California. When I was younger, I was signed as a plus-size model with a few commercial agencies, but these days I shoot more vintage and contemporary pinup with a focus on lingerie. As for music, I cover everything from swing to neo soul and pop, but my specialty is jazz standards from the 1930's-1960's. I get compared to Amy Winehouse a lot who is definitely a huge musical influence of mine, but I love to incorporate the glamorous aesthetic of 40's pinups and starlets into my act, and I usually take inspiration from classic MGM movie-musicals for burlesque-focused performances. Before the quarantine hit I was on my way to perform in Vegas for the first time, I was also planning a trip to London for some live dates and I was rehearsing with a new band, but most of that had to be cancelled or postponed due to the pandemic and we were forced to hit pause on band practice momentarily.
London is still very much on my mind, but right now I'm focusing my energy into developing more conceptualized musical numbers for when the venues here can open back up. I really want to incorporate more dance/movement and lavish costumes into my burlesque. I'm also excited to be in the very early stages of some projects planned for 2021 and I really cannot wait to (safely) be able to get back to rehearsing with my band. For the longest time my lounge act consisted of just me and my little speaker at bars and restaurants, but it can get a little monotonous being out there by yourself. I've been told I have a particularly commanding stage presence but I can't tell you how many times a booker has said, "I've never seen anybody that can make an entire restaurant shut up and listen," so while I feel like I can usually hold my own pretty well, nothing compares to having an amazing band to play off and I could not have asked for a better group of musicians to back me.
Let's touch on your thoughts about our city – what do you like the most and least?
I live in Orange County, but I love spending time in Los Angeles because there's so much to do and see and take in, especially if you have a passion for vintage architecture and fashion. We don't have a ton of jazzy spots in the OC either, so I like the variety. Being a night owl in particular, I feel right at home tucked away in a red velvet booth in some dimly lit drinkery with an Old Fashioned in hand. Ever since I can remember, I've been drawn to that Film Noir femme fatale trope in old movies. So I think what I love most is that I can get dressed up in a wiggle dress and a red lip and live out a little slice of that childhood fantasy even in modern day LA. There's something to be said about the climate we're living in right now though (not just in LA) and the issues surrounding police brutality, censorship, and civil rights that are eerily parallel to that of Old Hollywood, and I'd hoped we would have progressed more as a nation by now. I love vintage aesthetics but I could do without the vintage values.
Contact Info:
Image Credit:
Jason Kamimura, Jason Sinn, Dayna Qazi, Brandon Gullion, and Marion Mae
Suggest a story: VoyageLA is built on recommendations from the community; it's how we uncover hidden gems, so if you or someone you know deserves recognition please let us know here.