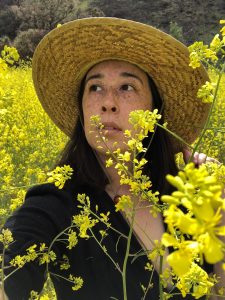 Today we'd like to introduce you to Chrystene Newman.
Hi Chrystene, can you start by introducing yourself? We'd love to learn more about how you got to where you are today?
I'm your friendly neighborhood Eco Enthusiast, Imperfect Environmentalist, and Sustainability Educator. I use social media to nurture a growing community, educate the importance of environmental stewardship, demonstrate how I practice personal sustainability, show my career as a restoration biologist, and share what inspires me to be an (imperfect) environmentalist. I'm also known to showcase my love for houseplants, thrifted outfits, and iced matcha lattes.
I think I was an environmentalist before I even knew the word for it. I've had an intense love for nature since childhood, and you would likely find me climbing trees, turning over rocks to see what microcosm lived underneath or adding to the collection of leaves in my pocket. Even at that young age, I recognized that humans are part of the natural cycles that dictated the rhythms of life here on Earth. However, it wasn't until 2017, my junior year of college, that I finally realized "Oh I'm an environmentalist!". Since then, I've worked to learn more about environmentalism, nature conservation, sustainability, and climate solutions. We have a responsibility to be good stewards of the planet and take care of our home. As much as possible, I want to be a force for positive and impactful change. It takes all of us working together to fight for an equitable and sustainable future. You might feel like your actions are just 'a drop in a bucket', but imagine the impact that millions upon millions of drops can have!
"Individually, we are one drop. Together we are an ocean." – Ryunosuke Satoro
I'm sure you wouldn't say it's been obstacle free, but so far would you say the journey have been a fairly smooth road?
While learning about the importance of sustainability, I've done my best to make conscious decisions and adapt eco-friendly habits. I buy food in bulk when I can, choose loose apples over the bagged option, refuse plastic straws, buy clothes and furniture secondhand, and bring my reusable water bottle with me everywhere. There is great power behind individual actions. Living a sustainable lifestyle has helped me to create the type of world I want to live in and advocate for. Small conscious changes are better than none at all, and every choice adds up.
Unfortunately it can be challenging to make sustainable choices when governments, companies, and corporations are not prioritizing the wellbeing of people and the planet. Years of intentionally misleading marketing has shifted the conversation from corporate environmental responsibility to individual responsibility. If we're all pointing fingers at each other or scrutinizing every decision we make, we're not using that energy to hold corporations accountable. The top 20 global polluters are responsible for a third of worldwide carbon emissions. It's frustrating to see that large entities with the power to majorly impact the climate are not taking the climate crisis seriously.
We need to shatter the way that we perceive environmentalists. You don't need to be a biologist, sustainability expert, plastic free zero waster, organic vegan hippy, or homestead enthusiast to be an environmentalist (although kudos if that's your pursuit!). An environmentalist is simply anyone who advocates for the protection of the environment. I used to feel a lot of guilt and shame if I felt like I wasn't "doing enough" or if I wasn't "perfect". The pandemic has actually helped me to embrace Imperfect Environmentalism, and it's a practice I encourage for everyone. Instead of being weighed down by shame, I want to empower my community to practice sustainability in ways that work for them. We need everyone to do what they can if we're going to tackle this global issue.
"We don't need a handful of people doing zero waste perfectly. We need millions of people doing it imperfectly." – Anne-Marie Bonneau (@zerowastechef)
Appreciate you sharing that. What else should we know about what you do?
I use my social media platform, mostly Instagram, to educate my community on things I'm passionate about. I'm a full-time biologist, and I'm incredibly thankful for a career that helps connect me to the outdoors and beautiful wild spaces. I've always had a love for plants, and I've especially become an advocate for native plant species in recent years. Plants are the foundation of any ecosystem, and unfortunately over 60% of the world's habitat has been degraded or lost. Growing native plants, whether in home gardens or business landscaping, is important now more than ever. Native plants provide habitat for animals, serve as food for pollinators, are best adapted for their region, create the foundation of their ecosystem, keep you in tune with the changing seasons, improve biodiversity, and are gosh darn beautiful!
Advocating for the protection of native plants, animals, and ecosystems is nothing new. Indigenous people have long been putting in the work, and we all need to be better allies to Indigenous people and communities. Even though I was born and raised in California, I fully recognize that I am a guest here. I currently live in unceded Tongva land, a nation that stretches from the Los Angeles Basin to the Southern Channel Islands. Part of advocating for a sustainable and equitable future is recognizing that Indigenous people are the best caretakers of the land. We are now witnessing the devastating effects of taking away access to cultural lands from Indigenous people, from intense wildfires to drought to habitat loss to the extinction of species. Instagram has been a great first step in my education, and I'm grateful for the information and insight I've learned from Indigenous online communicators. Let's listen to, uplift, and implement the words of Indigenous voices.
To my fellow eco enthusiasts, I encourage you all to explore your local wild spaces, get to know the native flora and fauna, and grow native plants at home! Growing natives is a great way to reconnect to our local wilderness, build a connection to the greater outdoors, support local wildlife, encourage biodiversity, and help to beautify your space. I've been growing narrow leaf milkweed, which is a native milkweed species here in Southern California. Milkweed is the only host plant that monarch butterflies will lay their eggs on, and they need all the help they can get. It's been an absolute joy to watch the lifecycle of these incredible pollinators growing on plants just outside my apartment. I highly recommend growing plants that help out your local insects, pollinators, and wildlife.
Before we let you go, we've got to ask if you have any advice for those who are just starting out?
Starting out can be scary and daunting, but it doesn't have to be! I highly recommend that everyone listen to the podcast, 'How To Save A Planet' with Alex Blumberg and Dr. Ayana Elizabeth Johnson. Specifically the episode, "Is Your Carbon Footprint BS?". In that episode, Ayana talks about drawing out a Climate Action Venn Diagram to find how we as individuals can make the most impact. In the three overlapping circles, ask yourself:
1. What are you good at?
2. What is the work that needs doing?
3. What brings you joy?
Where those three circles intersect is where you, as an individual, can make the biggest impact. We all get to choose what we want to focus on to be most useful in addressing the climate crisis. We need everyone to bring their unique interests, special talents, and personal perspectives to the conversation.
Contact Info:
Suggest a Story:
 VoyageLA is built on recommendations from the community; it's how we uncover hidden gems, so if you or someone you know deserves recognition please let us know 
here.