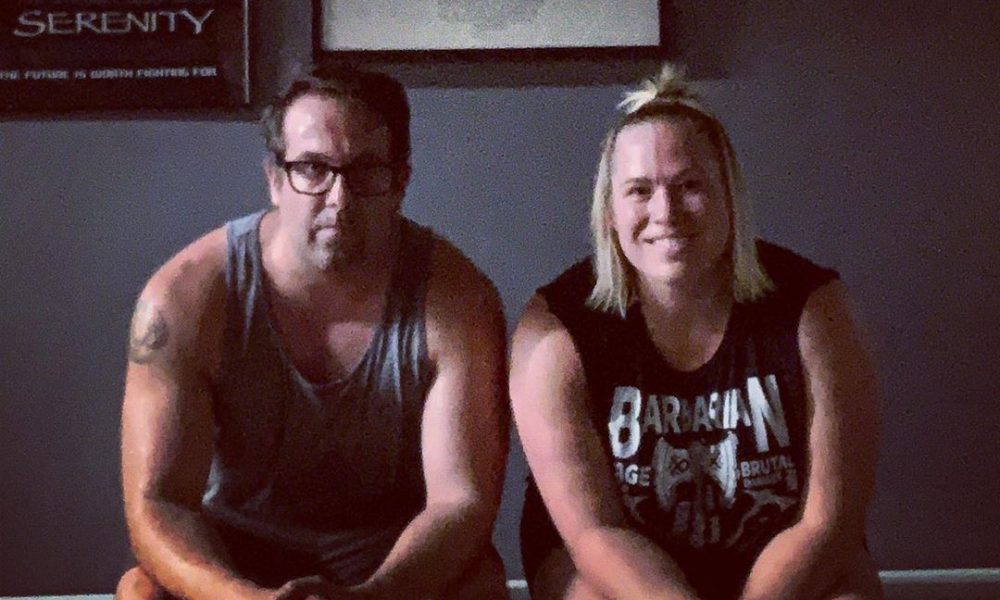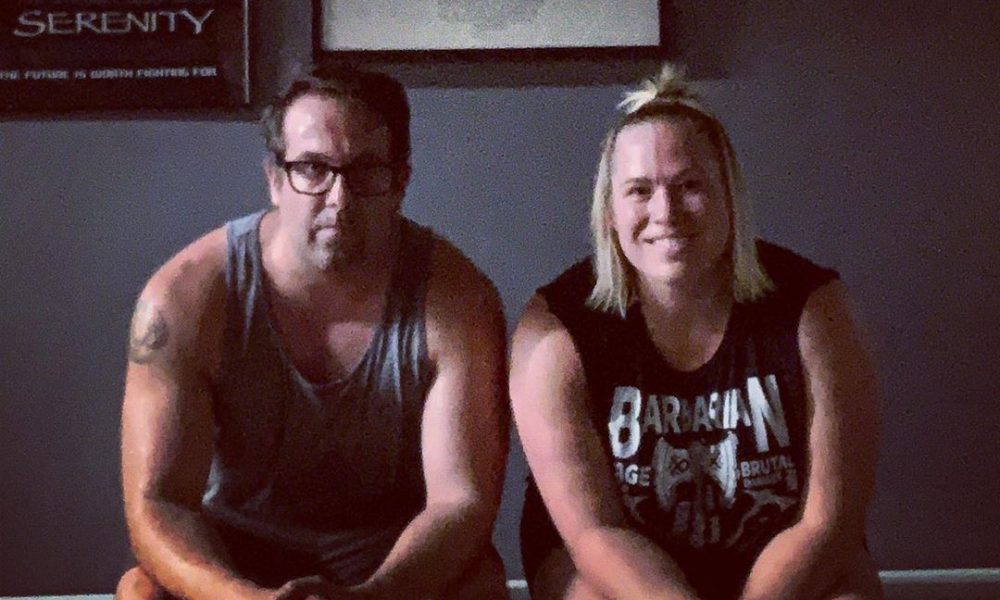 Today we'd like to introduce you to Christy Black and David Nett.
Christy and David, before we jump into specific questions about the business, why don't you give us some details about you and your story.
We (Christy & David) helped create and were both partners in an experimental gym for nerds called Nerdstrong from 2013-2017, when the partnership separated. We came from very different fitness backgrounds: Christy had been a competitive gymnast in high school, and coached gymnastics in college. David had been a basement-dwelling D&D player his whole life, and did not begin to experiment with fitness until his 40's. But we connected through our shared love of nerd-dom. Along with our partners, we found purpose and joy in learning how to make fitness fun and rewarding for our underserved community.
After the NSG partnership dissolved in 2017, we missed that service to our community. We began making plans for a new gym, taking our learnings from what worked, and what didn't work, in the NSG experiment. As we planned Hero's Journey Fitness in 2018 and 2019, we pivoted to a model we call Compassionate Coaching, where the emphasis is on meeting each member of the gym where they are in their fitness journey, removing shame and competition from training, and providing 1:1 style support and guidance in group class situations. We firmly believe that our diversity is what makes us strong, and that fitness belongs to everyone, including nerds and geeks and everyone who feels left behind by the traditional fitness industry.
We trained our coaching staff on those methods in the spring of 2019, and launched Hero's Journey Fitness in Burbank July of 2019, rapidly growing membership. By November 2019, HJF was thriving, with a solid membership of nerds and a modest staff of wonderful coaches, on-track to be fully in the black within two to three months.
Outside circumstances forced a surprise location change in the winter of 2019. After some build-out, HJF re-launched in March 2020 in a new location (still Burbank). Unfortunately, LA County's Pandemic Response shut the gym down again less than two weeks later. The response was absolutely the right thing to do, though it definitely threw a wrench in the re-growth of HJF.
Two weeks after the closure, we launched HJF Online, a pay-what-you-can fitness community, hosted on Patreon. It was always the plan to add an online component to HJF, though the original plan called for it after the 1-year anniversary. Plans, as every small business owner knows, have to be malleable. The online service does not fully replace the physical gym, for lots of obvious reasons, but provides health and fitness support for a large group of HJF's physical gym members, as well as a continent of additional nerds seeking a fitness community.
Eventually, Hero's Journey Fitness will open its physical doors again to provide coach-led classes and health & fitness to all manner of folks. In the meantime, we do what we can for each other online.
We're always bombarded by how great it is to pursue your passion, etc – but we've spoken with enough people to know that it's not always easy. Overall, would you say things have been easy for you?
It's been a very rocky path, honestly. Every small business has troubles – finding a location, building a brand, financing losses in the first few years. In that respect, we're no different than most other new small businesses. We're a very young business. Though we opened in the summer of 2019, and were building wonderful momentum, we had to close again at the end of November when we lost our location. That was a painful learning experience for us, and a huge blow to our growth and our capital, setting us back months.
Fortunately, we've built a very close relationship with our members, and we kept in close contact with them as we found a new location and built it out to our needs. Though we were out of commission for over three months, when we re-opened, 65% of our membership returned within ten days.
Closing again for the Pandemic response ten days later was… not ideal for the business, though it was absolutely the right thing to keep our community safe, and we're grateful for it. In many ways, we're lucky to be such a young business – our overhead is still quite small, and we both still have our day jobs, so we're pretty well positioned to ride out this kind of revenue drought. Our new landlord has been wonderfully understanding and flexible in working through this with us. It's painful, no mistake, but, for now, not devastating.
We're also fortunate that half of our employees have day-jobs and do fitness training on the side – the small loss of income from their furlough doesn't fundamentally damage them. Thanks to the PPP program, we've been able to borrow funds to pay the other coaches for a couple of months. Since they make their living coaching at our gym and through private training, they're hit harder than us in real terms, so we're doing what we can to support them.
Ultimately, we're fortunate in that we came into HJF having built a gym once previously, so our business plans were conservative and based upon real-life experience, rather than hypothesis. That helped us prepare in a very effective way to weather the surprise ups and downs of this first year. There's no way to plan for losing your location five months into this adventure, of course, or for being shut-down by a pandemic once you've found a new location. But since we built room for unknown set-backs into our plan, we've been better prepared to handle this.
Please tell us about the business.
We operate on the fundamental belief that every person deserves access to thoughtful, individual guidance toward a long and healthy life, free of the shame and competition that fuels so much of the fitness industry. To that end, we've built a gym that focuses on community, mental and physical strength and resilience, self-care, and kindness. We call it Compassionate Coaching, and we've built it specially to serve our geek community. Coaching through a compassionate lens enables us to assist each person in approaching every workout in a way that is right for their journey, free of competition.
While we were in the planning stages of our business, we kept coming back to a quote by Dr. Crystal Jones, "There's a huge difference between 'all are welcome' and 'this was created with you in mind.'"
Every workout at HJF is written for a diverse group, with adaptations built-in to meet each nerd where they are, and opportunities for further adaptation offered for everyone. All of our coaches are trained in Compassionate Coaching, which helps them identify what each member needs to find comfort and confidence to grow on their personal journey. This gives people permission to tailor each workout specific to their needs, skill, and goals, but also allows us to work out together as a group.
Traditional gyms can be intimidating for those of us that are new to fitness, or growing up were told that fitness belonged to other people. By bringing together people that have a love of nerd culture in common, it can make that first step a bit easier. Plus, it's fun to pretend you're the Armorer from "The Mandalorian" while striking a mace on a giant tire, or Okoye from "Black Panther" as you pull-press a barbell.
So, what's next? Any big plans?
Our physical location is currently closed due to COVID-19, so we've been focusing on creating community online. What we're really looking forward to, of course, is re-opening our gym. Right now, we're working on processes to re-vamp some of the mechanics of how a studio gym like ours works, in order to keep our members and our coaches safe. Once it is safe for us to open our physical location, we'll be back to growing our business, and spreading the word that group training can be kind, compassionate, and collaborative, and that fitness belongs to everyone.
Pricing:
$100/month – Basic Membership: Basic Members may attend up to eight (8) classes of any kind per month as part of their membership. Membership is month-to-month, with no cancellation fees.
$125/month – Epic Membership: Epic Members may attend an unlimited number classes of any kind each month as part of their membership. Membership is month-to-month, with no cancellation fees.
$175/month – Ultimate Membership: Ultimate Members may attend an unlimited number classes of any kind each month as part of their membership. Additionally, Ultimate Members receive one (1) 1-on-1 private training session with a Coach each month, and a private locker in our locker room. Membership is month-to-month, with no cancellation fees.
Contact Info:
Image Credit:
Fantasy Fight Club Image – used by permission – Amy King
Suggest a story: VoyageLA is built on recommendations from the community; it's how we uncover hidden gems, so if you or someone you know deserves recognition please let us know here.