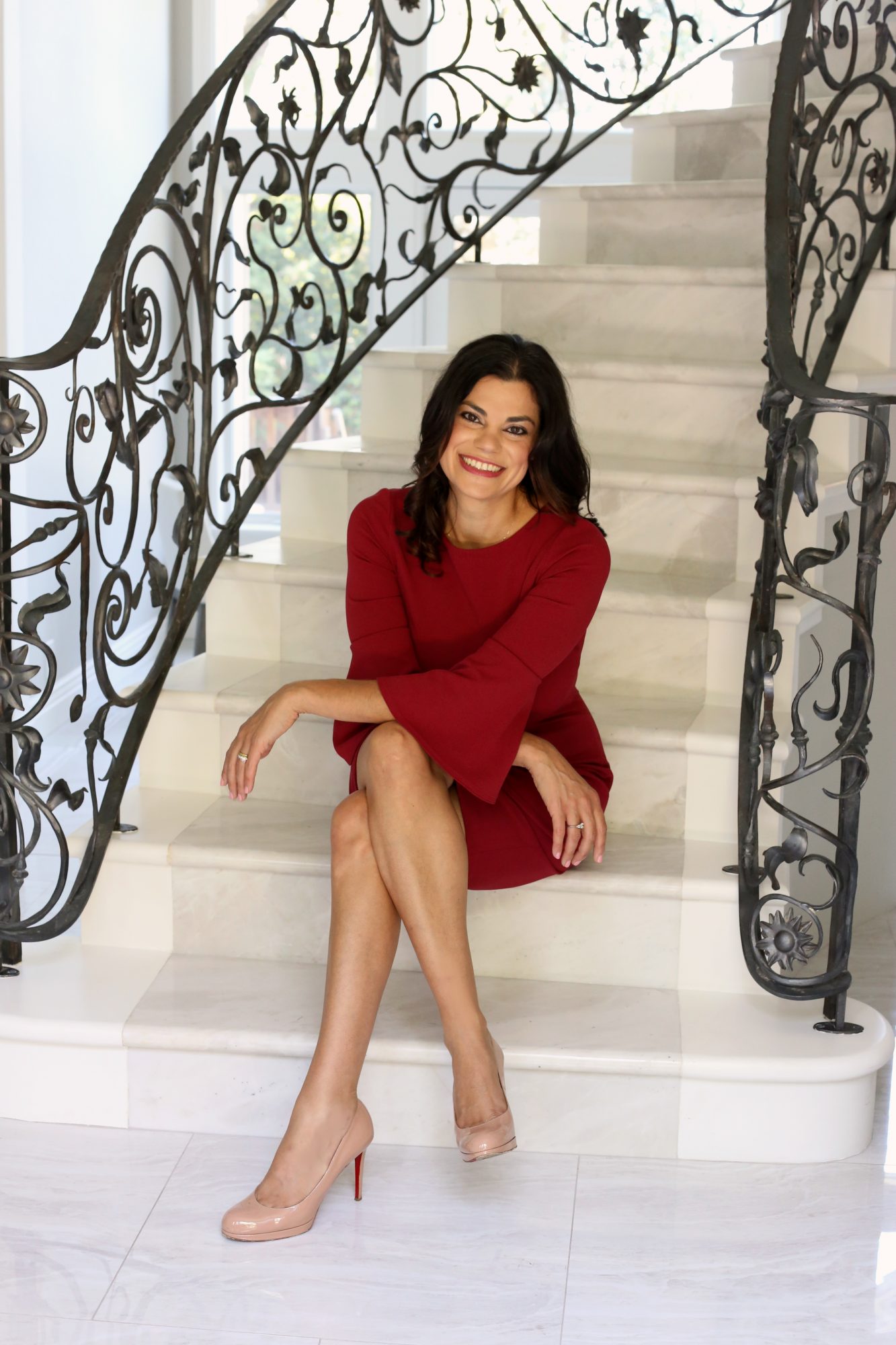 Today we'd like to introduce you to Christine Soussa, Enterprise Sales  at Equinix, President of AIWA-SF and Angel Investor.
Christine, can you briefly walk us through your story – how you started and how you got to where you are today.
I have always loved the diversity and energy of Los Angeles where I was born and raised. In 2007 I moved to the Bay Area. From an early age, I was exposed to various cultures, and became enamored with diversity. I come from a multi-cultural family, my mother is Greek-Armenian, and my father is Portuguese & Lebanese. This gave me perspective that we are globally connected, and everything is within reach. The trick is, to always do the best you can while having the courage to bet on yourself and believe in the beauty of your potential.
I bring this International perspective and mindset to all aspects of my life. It is the foundation by which I am a committed professional, passionate philanthropist/community leader and dedicated Mother and Wife. I feel like we all have a responsibility towards each other, and I seek to make meaningful connection that establish rapport. Currently, I am an Enterprise Account Executive at Equinix, President of the Bay Area Affiliate of the Armenian International Women's Association (AIWA-SF) and angel investor in start-ups.
As an Enterprise Account Executive at worldwide technology company, Equinix, I help global companies define and execute their digital edge and cloud strategy, thereby enabling a more connected world. As the "backbone" of the internet, Equinix assets include over 200 data centers worldwide that ensure interconnectivity, allowing businesses to give their customers a seamless experience. This means, you literally have the globe at your fingertips. For example, think about streaming your favorite show with minimal to no delay regardless of where you are and what device you are using.
AIWA-SF, is an organization dedicate to empower, inspire and connect Armenians worldwide. As President, I lead various initiatives focused on education, entrepreneurship and advocacy for the advancement of women. Most recently, we were strong advocates for the creation of Domestic Violence law in Armenia, which passed in December 2017 (73 votes for, 12 against and 6 abstentions). Simultaneously, we give hope to families of domestic violence, so they have faith in a safe and brighter future. This includes supporting two safe houses in Armenia while providing emotional / mental healing, professional skills training, education and relocation. We also invest in startups through seed funding, educational scholarships, professional internships, mentorships and English lessons to elementary and high school students in the villages.

Great, so let's dig a little deeper into the story – has it been an easy path overall and if not, what were the challenges you've had to overcome?
No way! Nothing is ever smooth, things always ebb and flow; it is part of living in a dynamic world. I think the question is, "what are you willing to struggle through?" It's usually a matter of perception. The mind is strong. Be aware of the story you tell yourself and reach out to the people who will put you in check if you start to spiral down an unproductive narrative.
Having a positive mindset is critical. Things will be hard, but honor your abilities and do your best. Embrace feedback. Unfortunately, feedback has a bad reputation, learn to love it and use it as a tool to better yourself. We live in a loud world and sometimes things appear to be harder and more severe than they actually are. I enjoy deconstructing the complex to unravel the core, thereby discovering a path forward.
There will always be challenges and setbacks; what matters is how you respond (vs. react) to whatever the challenge of the moment is. There is always a solution and something to learn. Sometimes challenges are big, sometimes they are small. As a new bride I had to relocate to Northern California and found myself in the Bay Area—the heart of the Silicon Valley. I had no technology experience, no community, no friends and no job. It was very difficult but ultimately, it became a chance to establish myself and build a strong community. I transitioned into Technology Sales and established a trustworthy interconnected network which includes the church community, colleagues and treasured friends. We now have strong roots; it took time, it wasn't always easy, but it was worth it.
As an Enterprise Executive at Equinix, and President AIWA-SF – what should we know? What sets you apart from the competition?
I'm very keen on empathy and taking-action. An early example of this is when I was in college at Pepperdine University.
At that time, 10% of the student body represented international students from all over the world. I noticed that while there were a lot of clubs and groups, there wasn't anything specifically for International students. Thus, I started "P.I.C" the Pepperdine International Club which created a "home away from home". We had amazing events including multi-cultural dinners and established lifelong friendships. There may still be proof of P.I.C in the dining hall on campus; we proudly hung flags from all countries represented in our club.
All too often, we overthink things, convincing ourselves that now isn't the time, or we shouldn't do something. I encourage everyone to lean into curiosity and take-action on any idea you have.
How do you do the work/life integration?
I'm super-thoughtful with how I use my time: be selective with your time, your friends and what you expose your kids to. Operationally, I color code everything on my calendar (red: urgent/escalate/problems, pink: "self-care" including 10-minute walk, nails, yoga, 5 minutes of gratitude, etc.
I'm very blessed to have an incredible community of unconditional family, kindred friends, and a team of mentors that provide sound counsel and guidance.
I am an all-in kind of person. I believe that all things are integrated, and balance is nonsense. So, if something is worth doing, then you owe it to yourself and others to be fully committed and present. When our daughter was struggling with homework, I often reminded her that "practice makes progress" not "practice makes perfect" (like balance, perfection is skewed). We got creative on how to help her. Spontaneously, we created an entire "Fairy Program" complete with a homework fairy named "Jasper" and 10 game-levels to show progress. It worked wonders for her motivation, development and love for learning. Plus, it was lots of fun for all of us!
What is "success" or "successful" for you?
Success is a really fluid and subjective word. It is all about the metric you use to define "success" and how you choose to manage disappointment. For example, there was a time where I was putting together a multi-million-dollar deal. The stakes were high and project deliverables were delayed. Rather than focus on the negatives, as a team we made the decision to remain positive and celebrate each milestone. We changed the metric so that small wins mattered, and we recorded all challenges as learnings, thereby created a guideline for the future. Ultimately, the small wins add up to the big wins. Making this deliberate choice helped us feel successful and part of a winning team rather than part of a difficult tangle.
Another part of being successful is communicating honestly. Our instincts are to delay the difficult – it's hard to proactively have the crucial conversation. I've learned over time that it's better to be proactive and honest. Having your own subjective expectations can be dangerous, because if your expectations aren't met then you may be disappointed for no reason. Success is a journey developed overtime, embrace it and define it for yourself, and your family.
About Christine: 
Christine Soussa is a consistent top performing sales leader, responsible for enabling growth through vision and creativity. 
Currently, Ms Soussa works at Equinix, where she helps large enterprises define and execute their global digital-edge and cloud strategy. She has held sales & strategy positions at Symantec, VeriSign and The Walt Disney Company. 
During her career she has been honored with multiple sales and leadership awards. She serves an adviser to Entrepreneurs and Executives. 
Ms Soussa received her Bachelors degree in Political Science with an emphasis in International Relations and English with an emphasis in Writing and Rhetoric, from Pepperdine University.  Christine enjoys spending time with her husband and their two daughters and their extended family. She loves to travel, cook and practice yoga.
Contact Info:

Image Credit:
Simple Little Details
Getting in touch: VoyageLA is built on recommendations from the community; it's how we uncover hidden gems, so if you know someone who deserves recognition please let us know here.