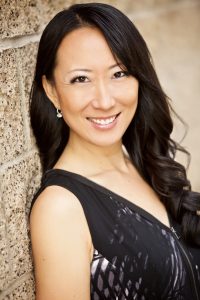 Today we'd like to introduce you to Christine Lee.
Hi Christine, thanks for sharing your story with us. To start, maybe you can tell our readers some of your backstory.
I grew up in Culver City and fell in love with storytelling while attending Beverly Hills High School. My initial passion was acting, but my mom said I could pursue that career over her dead body. My mom immigrated from Korea during the 1970s  and wanted me to fulfill the American dream by becoming a doctor, an engineer or a lawyer, to which I said over my dead body.
One day, I passed by our high school's TV station, and found our compromise. I'd become a Broadcast Journalist. Fortunately, my mom was on board with this backup plan, and I got an early start on KBEV, which aired throughout Beverly Hills. I hosted a medical talk show called "Let's Talk" and anchored, executive-produced and reported on the "Norman Newsservice," the longest-running high school news show in the world.
At UCLA, I continued to grow as a journalist at UCLAtv. We didn't have a journalism major at the time, so I put in an extra 20-25 hours a week on my own learning how to film, edit and make reporter packages. I also continued to anchor the news and executive produced the entertainment part of our TV program. During my junior year, I got accepted into our Film and TV major and concentrated in Documentary. I interned everywhere I could (ABC, KCET, CBS/KCAL, etc.) and was determined to make this my future career.
I also joined the Asian American Journalists Association while I was a freshman in college and ultimately got my first reporting job after attending a convention for the organization in Hawaii right after graduation.
I worked in Fort Myers as a Video Journalist at The News-Press, a newspaper company in Southwest Florida, helping to lead the wave of creating video reports on newspapers' websites. This job got my foot in the door at  Gannett, which at the time owned 90+ newspapers including USA Today and 25+ TV stations including the NBC-affiliate in Phoenix, Arizona. I worked hard to introduce myself to a couple of managers at that station and got hired at the Northern Arizona bureau in Flagstaff They eventually brought me down to Phoenix and also gave me the opportunity to be the only Reporter to cover the Vancouver Winter Olympics. MyNews Director believed in my storytelling abilities and even helped me to pursue a story that was close to my heart about North Korean Refugees living in Arizona, which got an Emmy nomination.
From Phoenix, I moved to Dallas-Fort Worth to continue my pursuit of working in larger TV markets. Phoenix was ranked 12 nationally and Dallas was ranked 5. The NBC station there initially had me covering two cities- Irving and Grand Prairie, and I ultimately worked regular weekend shifts as well canvassing the entire North Texas region.
While TV Reporting has been my dream since I was in high school, somewhere along my journey I realized how lonely this career path was. My job had to be my first priority. I'd often have to cancel dates or ditch my friends because breaking news came up. Sometimes I'd be gone for weeks at a time, working long hours and staying in tiny hotels in small towns. A lot of my friends were getting married as well, and my family also started pressuring me to settle down. I finally met someone but found myself in an unhealthy relationship. Long story short, I became a Domestic Violence and Sexual Assault Survivor I was badly beaten by someone I loved and trusted. That incident ultimately led me to reprioritize my life.
At the core, I've always been a storyteller, and I realized that without that I was completely unfulfilled. After some time healing from my physical and emotional wounds, I met a wonderful guy at my church and got married. He encouraged me to continue chasing my storytelling dreams, so I started Kimbop TV LLC. a DV Survivor, I felt convicted to take that negative chapter of my life and transform it into to something positive. I'm fortunate to have partnered with brands, nonprofits and small businesses that believed in me as a storyteller. I create TV Reporter-style videos that focus on telling authentic and heart-based personal stories. I also share my Survivor story and help others to tell theirs. And I enjoy working as a Travel Journalist as well, exploring destinations and allowing prospective travelers (or those who simply can't travel) to experience new places. The minute I stopped setting a limit for myself, the possibilities were endless.
Then came COVID-19. I was in Prague when  travel ban cut my trip early.  I returned home to Torrance  wondering what will happen next I started working at my hometown TV station called Torrance CitiCABLE as an Anchor, Producer and Writer for a show called "COVID-19 TODAY." I began working part-time, balancing some work opportunities that still came in at Kimbop TV. Then I got an opportunity to join the city full-time, and I couldn't resist. The pandemic made me realize how important it was for me to work alongside a team. Getting to tell stories for my hometown was also fulfilling in different ways. So lately I've been focusing most of my time working for the city and taking client work for Kimbop TV as time allows.
Looking back, I never thought I would be where I am today. Life threw me some curve balls, but in the end, it led me to exactly where I'm meant to be. I never thought about the importance of stability when I was younger, but now I feel grateful to have a stable job that allows me to stay creative. And I'm thankful to my husband for encouraging me to start Kimbop TV and maintain it so that regardless of where my primary place of employment may be, I can always have an outlet to truly own my craft.
Alright, so let's dig a little deeper into the story – has it been an easy path overall and if not, what were the challenges you've had to overcome?
My journey has definitely not been a smooth one. The biggest obstacle was that a personal emergency sidelined me for a few years. Domestic Violence and Sexual Assault are topics I covered in the news, not something I ever thought I'd become a Victim/Survivor of. Many years have passed, but I'm still recovering from my emotional and mental scars. I also deal with regular headaches due to the multiple contusions I suffered when my abuser assaulted me. And I constantly struggle with self-worth issues.
I think being Korean-American was also a challenge while trying to get jobs as a TV Reporter. I began my local TV news career in 2006. I remember racist kids mocking me and saying 'ching chong' when I had to cover a Black Friday story at Best Buy in Fort Myers. I also remember an older Caucasian man stopping in the middle of the road while he was driving in Grand Prairi and shouting curse words at me because I didn't understand his mock Vietnamese. My News Director in Phoenix sat me down when I first arrived at that TV station to warn me about how people there were different and could be less tolerant than from those in L.A.I thought being treated unfairly in this way was normal because I've been bullied and mocked since first grade, but I've learned during my journey of working across the U.S. that it's really not ok.
Thanks for sharing that. So, maybe next you can tell us a bit more about your work?
I'm a former TV Reporter using the skills I've gained over the years to help others tell their stories. I film, write, edit and anchor/host/report stories, mostly in video format. My specialty is in telling personal stories that get to the heart of a business or of an individual. My goal as a Storyteller is to help the audience develop an authentic bond with the main subject. I love sharing people's vulnerabilities, stripping away their facades and having the person truly be seen in the most authentic light. I'm most proud of the fact that during a short period of time, I can put my interviewees at ease and gain their trust so they can begin to tell their stories naturally in an uninhibited way. I think what sets me apart  is my background as both a Journalist and a DV Survivor I've developed a lot more empathy for others, and I find myself gravitating towards purpose-driven work. For example, I use my storytelling skills in conjunction with my survivor status to help train new detectives specializing in Human Trafficking. I also help fellow victims and survivors, to own their stories and feel comfortable and confident when sharing about their experiences. Accepting both of my statuses as a DV Survivor and a Storyteller makes me care more as a person, and it drives me to want to tell more stories that matter.
What's next?
My plans for the future are to continue growing at the city's TV station  and keep partnering  on fulfilling projects that take me out of Torrance. I'm still passionate about traveling, and I want to take on new challenges that allow me to explore and learn about new destinations. I also want to keep working with nonprofits too – speaking at more events and making more videos to raise awareness of Domestic Violence and Sexual Assault, especially in Asian communities. And I look forward to partnering with more companies to tell their stories. Meeting new people bring me so much joy, and telling their stories truly makes me feel as if I'm living my purpose.
Contact Info:
Website: www.KimbopTV.com
Instagram: @KimbopTV
Facebook: @KimbopTV
Youtube: @KimbopTV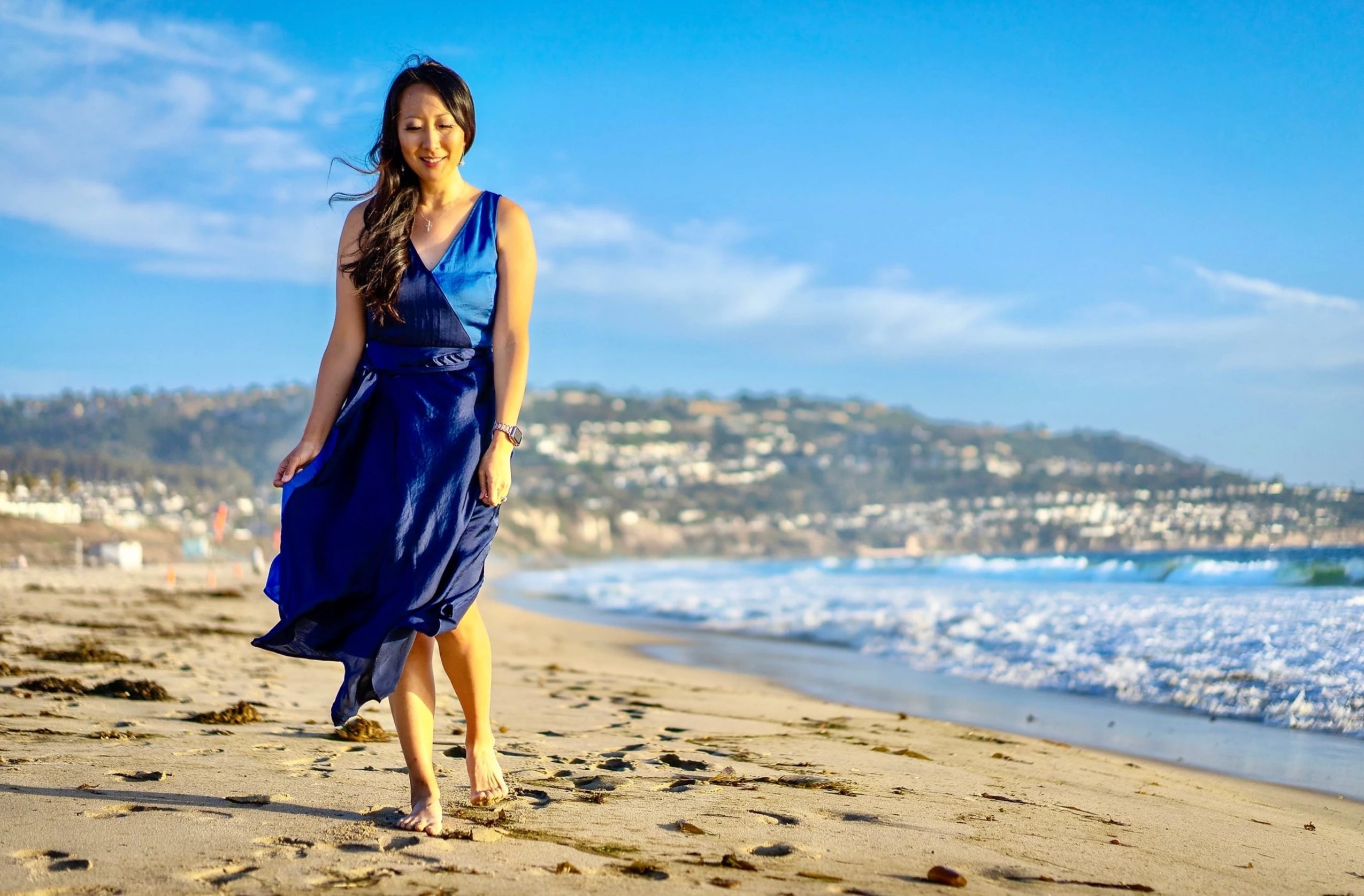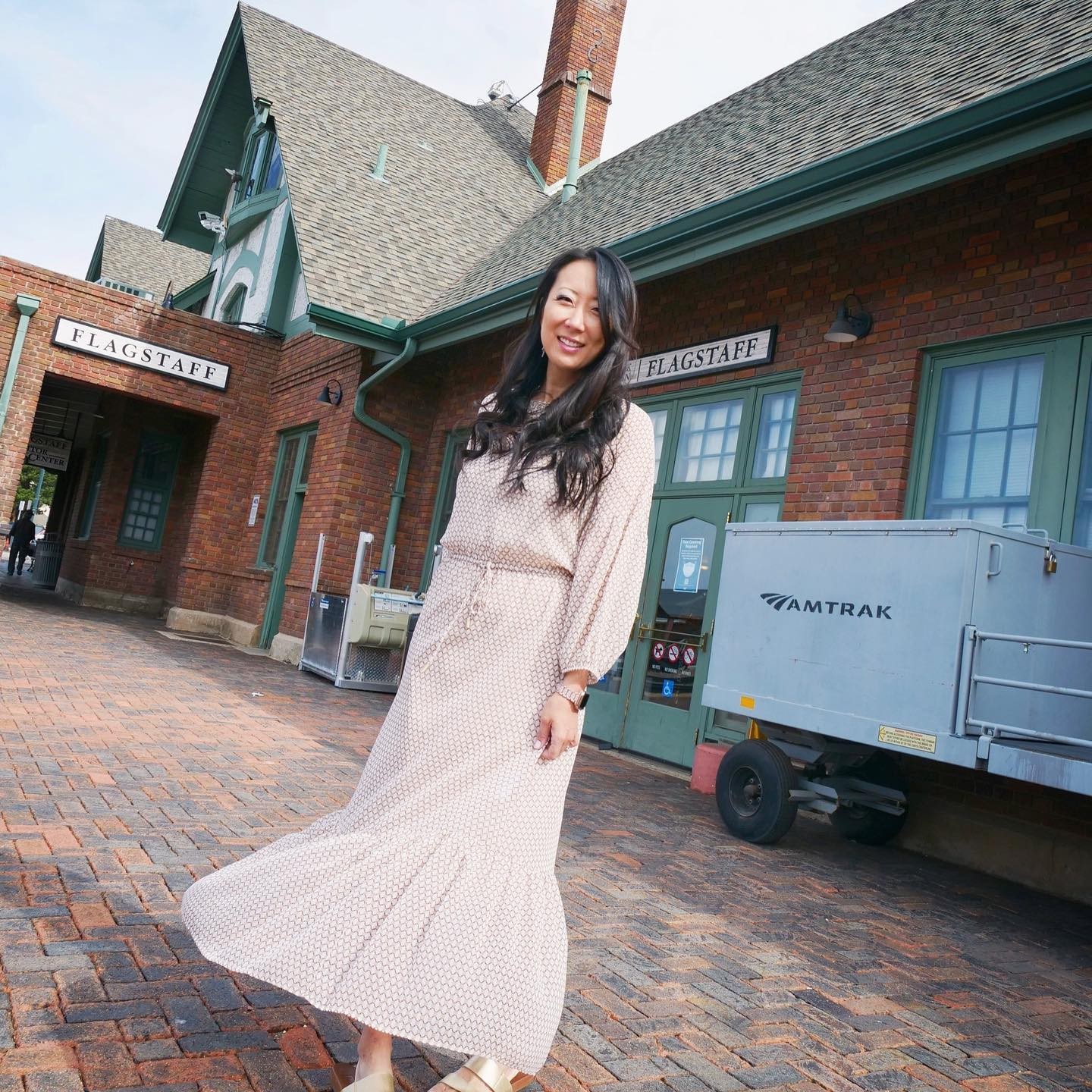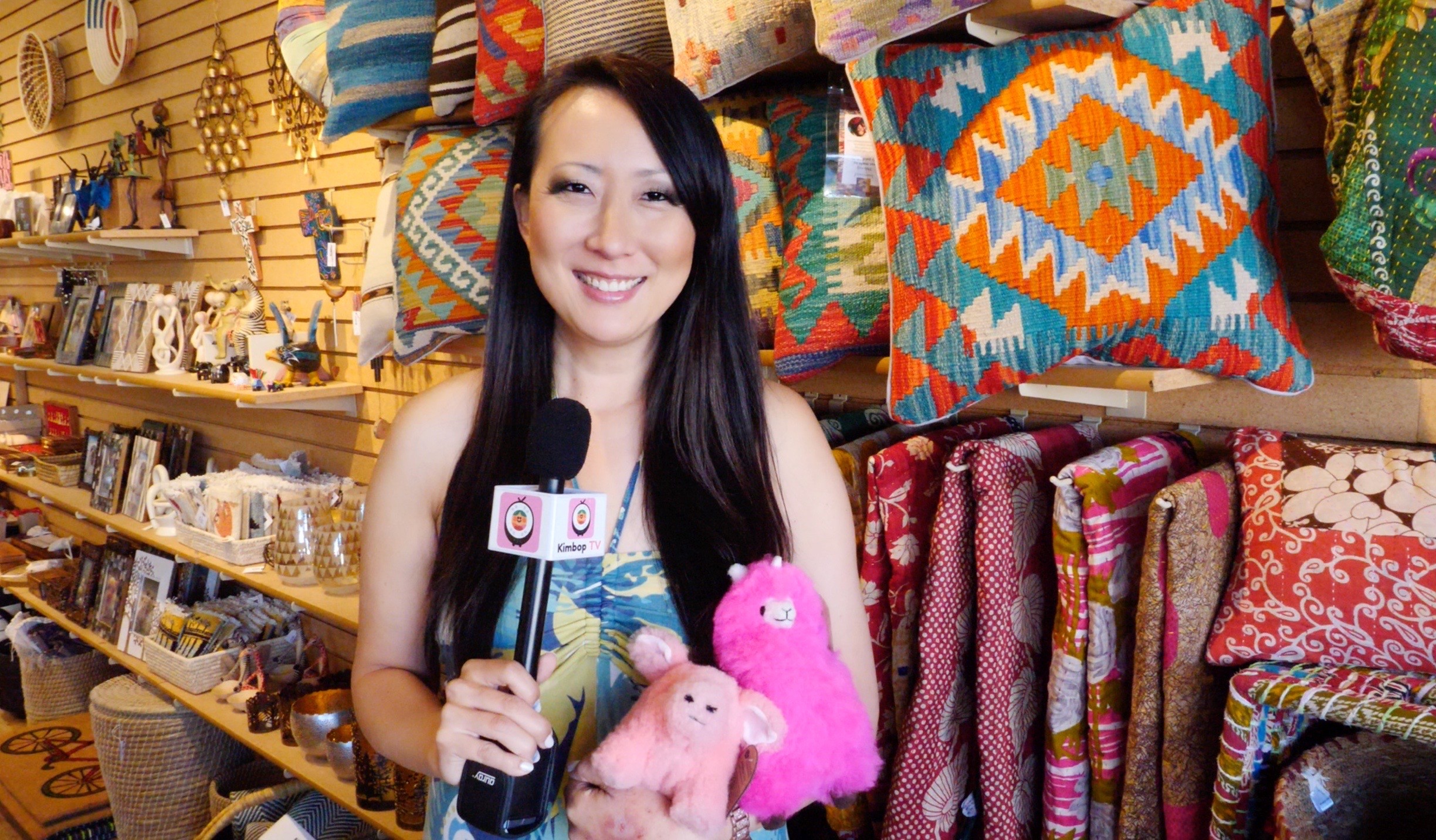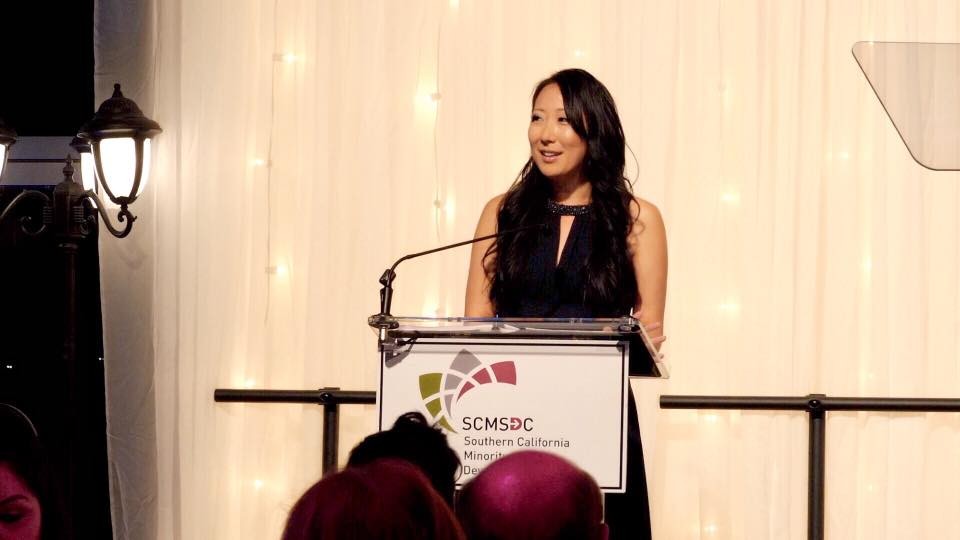 Image Credits
JBC Images for main picture – "Christine Lee Headshot 3" Harry Tom for blue dress on beach – "Christine Lee"
Suggest a Story:
 VoyageLA is built on recommendations from the community; it's how we uncover hidden gems, so if you or someone you know deserves recognition please let us know 
here.