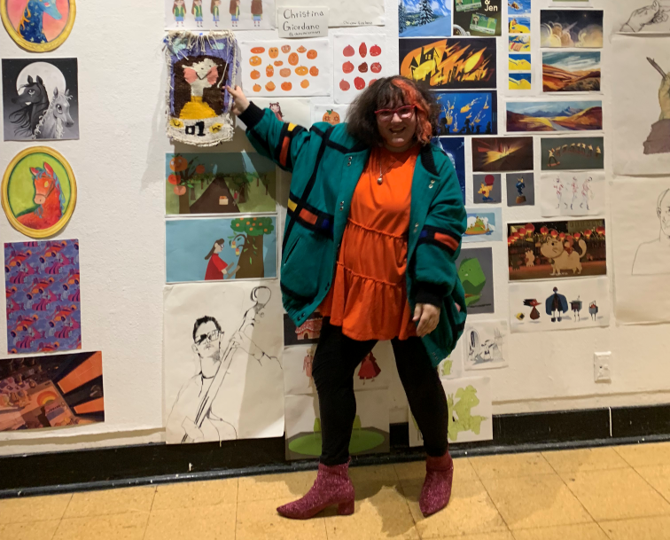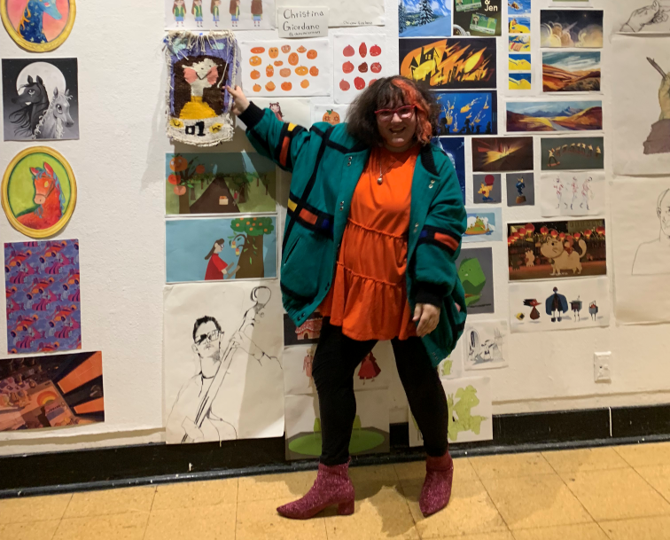 Today we'd like to introduce you to Christina Giordano.
Christina, let's start with your story. We'd love to hear how you got started and how the journey has been so far.
I was raised in Marlborough, MA, it's a nice suburban city. I'm a triplet to a sister and brother. My parents are huge Disney fans so I grew up loving everything Disney, from vintage memorabilia to the movies. Pinochio has a special place in my family's heart especially the song "When you Wish Upon a Star". Ever since I was a child, I was encouraged to follow my dreams. I always knew I was going to do something in the arts. I just didn't know what until I had to do a project about the future when I was in 7th grade. We had to research what college we would want to attend and what we would like to major in. This is how I learned that animation was a career and what CalArts was. Ever since then, my goal was to create films and get into CalArts. Being on the east coast and going to a public high school, no one really knew what art school was or how to animate. Thankfully I had an amazing art teacher, Mrs. Oliver, who we called Olive. She encouraged me to draw outside of the box and never discouraged me about how I drew. The way I drew back then to the way I draw now is very different. Sometimes I would show up to class with some scary weird drawings and she always pushed me to keep going. She taught me all of the foundations of art but also how to experiment with different mediums. If it wasn't for Olive I don't think I would be the artist and filmmaker I am today.
During the middle of junior year of high school, I was looking at the CalArts webpage and with some deep digging I found that there was this program called California State Summer School for the Arts (CSSSA) for high schoolers. I applied and I got in for the animation department. I was shocked because only 20 people outside of California got into CSSSA and luckily I was one of them. I went to CSSSA not knowing how to animate or draw life. I was taught different ways to animate and exposed to a lot of experimental animated films. I came out of CSSSA eager to create films specifically stop motion films. During my senior year of high school, I created a DIY stop motion film in the corner of my room. The film was about bullying and when your heart gets broken and all your emotions leave your soul. It was a weird film but I learned a lot from it. I taught myself how to create a wire armature, miniature clothing, how to create a DIY set, and how to edit. Moving forward into my senior year, I applied to art colleges. I applied to CalArts for Experimental Animation and Animation to MICA, MassArt, SCAD, SMFA. I got into all the colleges except for CalArts, which devastated me. I ended up going to Maryland Institute College of the Arts (MICA) and staying there for two years. MICA is in Baltimore, MD. I learned a lot at MICA, not only about how to make stop motion films but I also took classes in Ceramics and Fibers. I was taught how to think creatively and abstractly. I learned how to experiment with different mediums to enhance my storytelling and filmmaking. During my time at MICA, I kept applying to CalArts and kept getting rejected.
At this point, I've been rejected from CalArts 3 times. It was my dream I wasn't going to give up so I decided to leave MICA and move to California and apply to CalArts again this time for Character Animation. I met a great group of friends who were also applying to CalArts and we would just draw all day long. We had these days called triathlon days on Mondays and Wednesdays. We would draw at the LA Zoo from 10am till 1pm then head over to Art Center and take advantage of their open life drawing classes from 1pm to 6pm then head over to Center Stage Gallery and life draw more from 7pm till 10pm. It was very rewarding to see my artistic growth through these months. I applied to CalArts and got my letter in March and I finally got accepted to my dream school. Hard Work truly pays off and from applying to CalArts so many times I realized rejection sucks but it's a part of life and you have to keep pushing through to get where you want in life. I'm currently a BFA2 at CalArts studying Character Animation which is still a pretty exciting title to say.
Great, so let's dig a little deeper into the story – has it been an easy path overall and if not, what were the challenges you've had to overcome?
I've definitely had to jump through a few hurdles in my life. When I was twelve in 6th grade my mom suddenly passed away. It was very unexpected we went from a nice normal happy family to overnight my dad becoming a single parent raising triplets. It was a crazy time in my life. I felt like I had to grow up fast because of my mom's passing. I'm thankful for my grandparents who helped raise me and my 6th grade teachers who helped me and my siblings during that time. Especially Mrs. Lane, Mrs. Green, and Mrs. Nichols. They brought my siblings and I out to the mall for the day and helped us when days at school were a little harder. They really cared about us during a very difficult time in our lives. Her passing has definitely influenced my art and it's been 11 years since she has passed but it's still very hard to talk about. I was also pretty badly bullied when I was kid that has left an impact on my life and how I open up to people. My grandpa we called him Bampy sadly passed away this past summer. He was a dentist in the army and then owned a dentist shop in Connecticut with my grandma as his assistant. He always would tell me stories about his childhood and it was always so fascinating sometimes funny because he did a lot of dumb things like look directly into the solar eclipse. I hope to create a film about him one day from all the stories I secretly recorded. He influenced me when I was younger to tell stories because he never stopped telling me about his. Getting rejected so many times from CalArts was also pretty rough. I got really good knowing when CalArts was going to send out acceptance letters and rejection letters. When I was a freshman at MICA, I got my 2nd rejection letter from CalArts. The moment I opened the link to see the letter my computer glitched and started playing "Bad Day" by Daniel Powter. I wish I was making that up but it really happened! I ended up on my dorm room floor just really sad listening to the song on repeat. During my sophomore year at MICA, I was applying to CalArts for a third time. I was pretty sad during that time I was very unmotivated. I was at a place where I didn't want to be and I got very depressed where I ended up failing two classes fall semester. After I got my third rejection letter that's when I knew I had to leave MICA and move cross country to California. My mom always told me to follow my dreams and I'll always live by that. All these life experiences have made me grow as a person and I wouldn't be where I am without them.
We'd love to hear more about your work and what you are currently focused on. What else should we know?
I'm still learning and growing as an artist and filmmaker. I like to create films about my life experiences in a way where I hope others can relate. My first year film at CalArts I created around my mom and I. It's called "Four Seasons" where it explores the relationship between a mother and daughter. The setting is in Massachusetts where I grew up because it's what I'm familiar with. Every time the house and trees turn it's a new season exploring what my mother and I would do in each season. When I was a kid, I was very into creating fairy houses and my mother loved gardening and plants. During the fall, we would create fairy houses in the garden. One time she surprised me and brought me to a fairy house festival in New Hampshire. In a way this film is very personal to me but I hope that this film could shine a light to childhood parent death. It's more common than people think it is and nobody really talks about and I wish we did. My first week film at CalArts is also personal.
Our theme was a jar so I made a poem around feeling stuck in a jar. "Stuck" is a film about feeling trapped inside your emotions and the fear of the future and past fails. What sets me apart from others is I love experimenting and I like creating films about life experiences. Back at MICA, I created a 12-inch clay cylinder for my ceramic class. I decided to bring my animation skills to ceramics and carved an animation loop on the cylinder. So when you spin it you can see a little animation. My BFA1 film "Four Seasons' ' the backgrounds are all done traditionally using charcoal. I would line the backgrounds with charcoal then set it aside and then create textures traditionally that would fill in the blank areas of the background. My BFA2 film that sadly has been postponed due to my school shutting down because of the coronavirus will have stop motion backgrounds. I like mixing and combining different techniques of animation together. I really want to experiment with fibers like weaving and animation in the future.
What moment in your career do you look back most fondly on?
Proudest moment I've experienced so far was getting accepted into CalArts. I worked really hard to get into the school the last time I applied. I would draw 12 hours sometimes more a day because I was very determined to get into my dream school. It was the hardest but most fulfilling year of my life. I really discovered myself as an artist during that time and I learned to just accept the process. Sometimes we have bad days sometimes my drawings come out looking really bad. From that experience, I learned that if I can't draw for a couple of days it just means I'm leveling up as an artist. It's like when artists go through an art block: it's temporary, but after that we will be 100 percent better artists than a couple of days ago.
Contact Info:
Suggest a story: VoyageLA is built on recommendations from the community; it's how we uncover hidden gems, so if you or someone you know deserves recognition please let us know here.