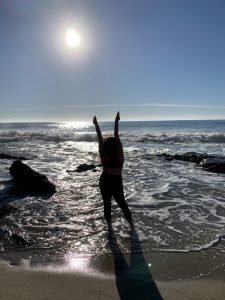 Today we'd like to introduce you to Christina C.
Thanks for sharing your story with us Christina. So, let's start at the beginning and we can move on from there.
Have you ever sat and wondered about your existence? Why you are here in this world? Ever wondered what your purpose is? I used to ask myself those very same questions all of the time, and it didn't get me anywhere but into a deep dark hole of depression. Growing up, I had plenty of friends but was more of the person who wanted to be alone, then I would cry to my parents that I was bored and lonely. As a kid, I would sit alone and get lost in my thoughts thinking of everything that was wrong in my life. As time went on, life only got more difficult and darker for me.
Like many people in this world I have experienced trauma in my life, and have been in some pretty tough situations, but who hasn't right? As I sit and think about what I have been through in my life, I have never been one to consider myself a victim. I survived sexual assault, I was verbally and mentally abused by ex-boyfriends, I have a progressive eye disease that causes blindness in my left eye, my mother had a stroke and I lost my grandmother whom I was really close to, all in the span of a decade, and still managed to be a single mother to an amazingly beautiful daughter. I have always used these very things as the biggest motivators in my life, but it wasn't always so easy to keep pushing. I experienced mental illness with depression, anger, and lots of frustration with life. There were moments I often would think of making the pain stop but never knew it was internal and I didn't realize I had the control to stop the pain.
We as humans experience a lot of things in life that cause us a great deal of stress, unhappiness, and frustration and find ourselves so busy trying to make a living that we tend to forget to actually LIVE. Stress causes all sorts of damage to the mind and body which has been medically proven time and time again. This is why I feel that my stress has been the major cause of my eye not healing properly, and causing the partial blindness in my eye. Modern medicine has not been able to help me and I've had two unsuccessful corneal transplants within two years which is supposed to have a 97% success rate, of course, I fall into the 3% that my body won't accept the transplanted cornea. Doctors are asking me to take an array of medications with a long list of side effects that cause even more damage to the body, but am told to not look at the "black label" and see it as something to help me recover my vision. If anything I feel I am a victim of modern medicine. Not only are the medications we're prescribed doing damage to our body with their side effects, but they're extremely overpriced. The same with healthcare, but we make sacrifices to live, we pay whatever it takes to be healthy.
The main thing that has gotten me through all of this and contributes to me living a better life has been love, happiness, meditation, creativity, and cannabis. I've been smoking cannabis since the age of 15, but I can't lie and say I knew how to use the plant correctly. I was using it to get as high as I possibly could, some moments were fun and others not so much. When I got pregnant at 18, I immediately stopped smoking as I didn't want to smoke while pregnant and at that time, cannabis was still illegal and there wasn't a lot of information or studies about all of the benefits cannabis provided. It was always considered the gateway drug, so I stopped smoking to focus on raising my daughter. Cannabis has never once made me want to try crack in an effort to chase an even bigger high. Around the time my daughter turned 12, which was about five years ago, I started to experience a lot more stress, more so than usual. I was traveling hours and hours from the Inland Empire to Culver City and back home to make a living and provide a happy home for my daughter. I was leaving my house at 6 am to get to work at 9:30 am, leave at 6 pm, get home around 9 pm. I did this daily for three years, 10 hours a day consumed by work. I had no life.
On top of that, raising a teen and making sure she stayed out of trouble, raising her correctly all while trying to keep her happy, but as I am sure you would understand the way I was going about things wasn't helping her. I started to become so consumed with work that life became nonexistent for her and me, always chasing that dollar but the money was never enough. I would buy her things she didn't need to make up for the time I wasn't there. As any young unsupervised hormonal teen would do she started rebelling as time went on. I was the provider, the nurturer, the educator, the dad, the mom, all while trying to find balance in life, cannabis became a small balance in mine.
Cannabis was always around my life ever since I was young. My mom was a liberal, educated woman who would consume cannabis from time to time to help her feel good. She always taught me that cannabis is a plant that shouldn't be illegal. She has always been a brilliant woman, strong, fierce and powerful in my world. So because of her, I have never been scared to stand up for what I believe in. I always believed that cannabis was magical, but wasn't quite sure how magical it really was until recently.
In 2016 my daughter experienced her first death of a friend, she started to rebel even more than ever. Not having anybody to be there for her, to help her understand why it even happened. I felt like I failed her at that point. Shortly after my mom, who my daughter was very close to including me, had a stroke, and all our lives changed drastically. I was still going to work from IE to Culver City, and then visit my mom at the hospital. Seeing one of the strongest women in your life be so vulnerable was one of the most difficult things you can experience. The stresses of life and work started to take a toll on me and my family. My vision got worse and worse and I was forced to have my first cornea transplant because my condition became extremely severe. Less than two weeks later I returned to work, but my body quickly rejected the transplant. I started smoking cannabis a lot more often after this happened and It helped me to reduce the inflammation in my eyes while taking steroid drops to help the rejection. The stress didn't stop though. I still wasn't finding peace or balance in any of it. I just kept going and going and going, without taking any breaks.
2017 was another tough year for me, my grandmother became very ill and passed away, I was very close to her, she was a second mother to me. She's the one who taught my mother how to be a mom. She's the one who taught me how to love unconditionally and wisely. She was the rock to our family. I was alone with her when she passed and when she crossed over I felt as though she sacrificed herself in order to not feel pain after she passed, life for me changed completely. Spirituality became more of an importance to me. I believe in a higher power, but it wasn't quite religion I believed in, it was much more than just deities and guilt. My family always believed in religion we just never went to church. I felt that religion was beyond what the bible said, I felt it was something more meaningful and spiritual.
After my grandmother passed away I became so numb to life, drained for not taking the time to heal from all of the stress I was dealing with. I kept piling it on with more stress and more pain. So much that I couldn't take it anymore. I started to meditate so I could slow down a little, I was always the type of person who would say " I don't know how to meditate", "I don't have the time to meditate" Little did I know that meditation was many different things. Mediation can be sitting alone listening to music with no distractions, It can be reading, painting, dancing, cooking. Mediation can be anything that helps you slow down your mind to help alleviate the stresses of life.
As time progressed mediation became one of my everyday routines, I changed the way I spoke, my words became more positive, instead of saying "life is tough" I would say" life is great". I tried to see the positive in every negative, I wasn't letting my eye condition get to me anymore. Now I tell people "at least I have one good eye" when others would say, "I am so sorry you are going through that". I noticed that nature helped me to de-stress so I started going to the park with my dogs, I read a book, smoked cannabis and enjoyed mother nature. I would go to the beach and dig my feet in the sand and relaxed while listening to the waves crash. I was learning to find Me through nature therapy, meditation, and cannabis.
Creativity started flowing and helping me understand who I was by expressing myself. As I transitioned into a more positive and calmer person I noticed that my family started to change as well. They began following my example by trying to stay positive. Our family has been trying to "wake up" and things have been changing for us, in a positive way. I realized that although life can be challenging for a lot of us I started to see my obstacles as lessons rather than pain and suffering. Everything I have gone through in my life has helped me be the person that I am today. I am thankful of love, spirituality, creativity, and cannabis for helping me learn the lessons I needed to go through to create and build our event company, Lifted Gypsies.
My goal is to help others achieve the same happiness that I found by incorporating similar methods that helped me by adding cannabis to the things I love doing, it helped my mind to expand creatively and spiritually. I feel I have found my balance in life and death which for me is what life is about. Cannabis to me is a magical plant that helps so many people with their medical issues and can help people manage their mental awareness of who they are.
One of the many problems we're having is cannabis is being compared to alcohol and other drugs, cannabis is a plant that has many capabilities and with legalization, there is a lack of proper education and studies which are finally being brought to the masses. We just need more people to be educated on the benefits of this magical plant. Lifted Gypsies is helping by educating people on the proper uses of cannabis and to understand the gifts that this magical plant can provide to life.
Lifted Gypsies is a group that helps others achieve happiness and balance by using methods we have found to be helpful to our self-acceptance and balance. We have several quality partnerships in the cannabis, art, and alternative medicine industry with a similar vision to help spread the word and love. We are all survivors of traumatic life experiences and disease, we are all warriors. In so many ways we feel that cannabis has helped save our life. To me, life isn't about money, life is about living and loving, living should be fun and affordable to everybody.
Lifted Gypsies will create a space for people who searching for healthy and safe options that will improve their health, and who want a better way of living in a stressful world that isn't going to cost us our life to achieve.
Lifted Gypsies, was created with love, pain, and filled with life.
Lifted Gypsies is a new way to survive. A new way to live life and be happy.
We're always bombarded by how great it is to pursue your passion, etc – but we've spoken with enough people to know that it's not always easy. Overall, would you say things have been easy for you?
Life is not a smooth road for most of us. We all have our ups and downs. Its how you come out of those tough moments is what really matters. I have struggled to be the best I can be with all obstacles I have made in my life. I started to realize that only I am capable of making my life better. Sure we can ask others for help but ultimately it is up to us and only us to succeed. A favorite motto of mine is "Live as if you will die tomorrow, Dream as if you will live forever. " live one day at a time and strive for a better life for my family. To me a better life means less stress. More laughter. More love. And more togetherness. If I can succeed at that then I am succeeding at life.
Please tell us about Lifted Gypsies.
Lifted Gypsies a safe space for people to come together to find peace of mind in an every day crazy world. We specialize in multiple areas. We teach yoga/ soundbath meditations for individuals/ and companies, We introduce cannabis in all forms to help you understand the many benefits it can have in the healing process of you. We also create events that are centered around creativity and healing. We team up with nonprofits to donate to help give back to the community. Lifted Gypsies is a community that cares about the well being of other people. We feel the more people are happy and feeling good the better the world can be. We want to be part of the solution not the problem.
Has luck played a meaningful role in your life and business?
There is no good and bad luck in my mind. To me its all about lessons. Life is a lesson. Did it make you feel good or did it make you bad? If it made you feel good you do the research to make that feeling better next time. and When it feels bad you look at the lesson in why it was bad and try to prevent the bad feeling from hurting you or stopping you from achieving the outcome you want.
Contact Info:
Email: liftedgypsy14@gmail.com
Instagram: @liftedgypsies
Image Credit:
Photo credit to my daughter @amayaxroman, She aspires to be a well known photographer
Getting in touch: VoyageLA is built on recommendations from the community; it's how we uncover hidden gems, so if you know someone who deserves recognition please let us know here.