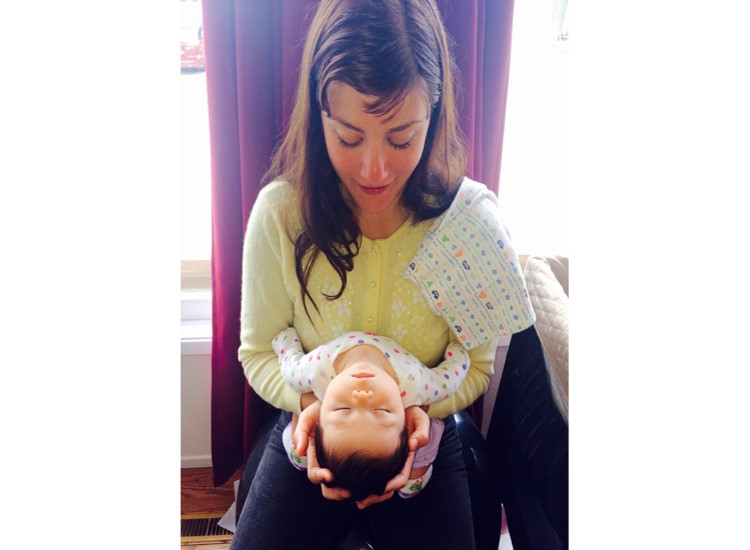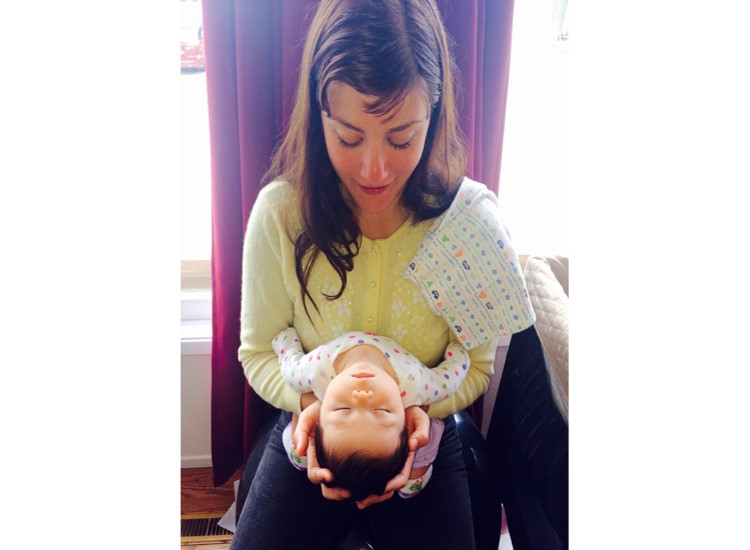 Today we'd like to introduce you to Christian Toscano.
Christian, can you briefly walk us through your story – how you started and how you got to where you are today.
I became interested in pregnancy and childbirth in my early 20's when my friends started to have babies. As a young woman my foremost understanding of birth was that of fear and lacked understanding of this as a natural process, one that most are capable of. Media's depiction of birth is a dramatization, however I had no real life connection to it to know otherwise. I was culturally conditioned to fear childbirth and was taught to believe it was an emergency waiting to happen. I questioned this because human's ability to survive as a species depended on our ability to reproduce. We are after all, just mammals. In 2010 I took a doula training course to be a labor and support person. I thought it would be an excellent education, even if I didn't pursue it as a life path. At the time I had just began studying herbal medicine and other healing modalities. The doula training opened my eyes beyond what I could have ever imagined. It taught me that not only could childbirth be manageable and sometimes even orgasmic (yes some women can achieve orgasm at the time of birth- look it up!) but viewed as a sacred rite of passage filled with initiations of strength and triumph which would feed the women into transitioning into a strong, capable mother.
Shortly after this, I began volunteering with low income women and homeless teens and was horrified to see how people of color are profiled in the medical system. If you were young and black, you were not given the same opportunities to make decisions for yourself and your baby. Women of color are three times more likely to die in childbirth in America today than a non-women of color.  I attended hundreds of hospital births and it wasn't until I was enrolled in midwifery school that I attended my first home birth.  Even though I had yet to see a physiologic birth unfold, without intervention, I knew in my heart that women are born to be able to birth babies and that the hospital system did not support physiologic birth or empowerment of women. I attended a three-year midwifery school and did my clinical rotations with several home birth practices in Boston, San Francisco and a birth center in New Hampshire. I also had the honor and privilege to work with a very experienced home birth midwife in rural Pennsylvania who served the Amish community. It was with the Amish that I learned that when people approach childbirth as an extension of life, birth could be without fear. Women are set up to fail in the conventional hospital system, a system that lacks an understanding and support of undisturbed physiologic birth. 8 years after the first birth I ever attended, I moved to Los Angeles and proudly opened my home birth midwifery practice.
We're always bombarded by how great it is to pursue your passion, etc – but we've spoken with enough people to know that it's not always easy. Overall, would you say things have been easy for you?
The challenges were relentless as a student midwife. I worked for free for three years, juggled private herbal medicine clients, freelance work and doula clients while being on call 24/7 for midwifery clients.
My personal life suffered and my relationships were tested. I moved to across the country and to several different locations to get a varied spectrum of midwifery experience, as the laws vary greatly from state to state. In America there are 33 states where midwifery is regulated and licensed. This means that in 17 states midwifery is still illegal or lacks licensure due to antiquated laws that were placed over 100 years ago as a device to dominate the birth industry and further suppress women. During my training, I worked with marginalized and privileged communities, in rural and urban areas. I attended home births in licensed, a-legal and illegal states which at times left me legally vulnerable. I worked with Amish communities where I learned the depth and importance of faith and relationship to hard work through a connection to the land. I attended births by oil lamps on farms and in high rises in cities. No one prepared me for the things that I would see and I didn't have a support network or resources to process the intense emotions and circumstances I came into contact with. No matter if you are in the hospital or home, when you work with life you will see death. I supported women through miscarriages, abortions, preterm babies, cesarean births, and emergency transports to the hospital. I also saw fathers catch their own babies, babies be born in pools in their living rooms at sunrise, siblings and teenagers witness their newest member be born and couples strength and commitment to supporting each other. I saw a women's strength be challenged and victorious feats accomplished. I saw mothers be born through so much strength and hope. I witnessed myself be born as a midwife through the most challenging of circumstances. I learned the importance of faith in women through the birth process.
We'd love to hear more about your business.
I am a home birth midwife in Highland Park in North East Los Angeles. Midwives are clinically trained to manage all aspects of pregnancy, birth and post partum. We are the only developed nation in the world that doesn't utilize midwifery care as the primary care for low risk women and we have some of the worst neonatal and maternal health outcomes in the world. All other developed nations that utilize midwifery care have better birth outcomes. Midwifery care is so special and unique as it puts the client in the center of their own care and gives them evidenced based information for them to make decisions for them and their baby. It begins with the foundation that healthy bodies grow healthy babies and that babies come out!
I offer full spectrum midwifery care, which includes support through preconception, miscarriage, abortion, prenatal, birth, post-partum care through 6 weeks of baby's life, holistic gynecological care and herbal medicine. I am passionate about education and demonstrating empowerment in clinical spaces which teaches folks how to navigate and advocate for themselves in their healthcare beyond reproduction. All prenatal and post partum appointments are client centered and allow for a full hour to discuss any and all concerns so people are well informed and ready for childbirth and beyond.
I am proud of our personalized gynecological exams which provide undivided attention for a full hour with no wait time. Together, we review your history, discuss any issues or concerns and review your diet and supplements. All lab work is drawn and equipment is provided in our office so there is no need to go to another lab or location, unless a follow-up is required. Our GYN exams are gentle, respectful of survivors of abuse, and focused towards self-empowerment. I offer in combination with a routine PAP smear, full STI testing and pelvimetry.
Pelvimetry is the art of measuring the internal structures of the pelvis. Every person has a uniquely different pelvis shape, which generally fall into one of the four classic pelvic shapes. One's internal dimensions are not indicative of the outside shape of the pelvis. Thus, the old expression "child bearing hips" is not an accurate way of accessing if a baby can pass through a pelvis. Pelvimetry allows understanding of which shape pelvis one has, what the internal dimensions are, and how much ample space there is to birth a baby. It is with greater understanding of our own physiology that we can move through the rite of passage of birth with more confidence and less fear. It is empowering for a women to understand her unique anatomy which allows for more understanding of which positions to birth in might be most appropriate for her specific pelvis.
Not all midwives are trained in herbal medicine, so my background as a clinical herbalist sets me apart from other midwives. I grow and wildcraft all of the medicines offered and extract them appropriately for maximum potency. All the plant medicines are prepared sustainably and ethically in small batches. I offer herbal medicine specific throughout the entire reproductive years through pregnancy and up to menopause. I also offer herbal medicine support for transgender folks. I am an excellent clinician and utilize the least interventive method before progressing to allopathic or pharmaceutical medicine when needed. I believe the body knows how to heal itself and responds well with supportive therapies of diet and herbs most of the time. The balance is in knowing when other medicines and therapies are necessary and appropriate and I refer out to them when needed.
I also offer monitrice care for those who choose or need to birth in the hospital. A monitrice is a person who acts in all the ways a doula functions during labor and birth, however I bring my experience of midwifery training in the field of maternal-child health. I offer fetal monitoring during labor at home and can perform internal exams during labor, neonatal resuscitation and breastfeeding and postpartum care. As a monitrice, I generally stay with clients at home, functioning as their doula as well as medically assisting with the labor and communicating with the primary health care provider, who could be a midwife or physician. I help to decide when it would be appropriate to go into the hospital close to delivery, There, I continue to offer labor support through positions to help bring your baby down in the easiest way throughout the labor. After the birth the monitrice provides postpartum follow-up care, assessing breastfeeding and newborn concerns, and referring to lactation consultants and pediatricians when appropriate.
I am committed to serving people of all races, genders, ethnicities, and economic backgrounds. I operate a body positive, sex positive, queer, transgender and gender-nonconforming affirming practice. ​
What were you like growing up?
I was a feral child. I spent most of my time barefoot in streams and running around in the woods. I always had curiosity in the natural world and would often retreat to it. I enjoyed playing in the garden the most. I lived to play, laugh and create things. I was always interested in human and animal dynamics. Not much has changed….
Pricing:
Midwifery care & home birth: Insurance accepted *low income discount offered
Herbal medicine consultation: initial $125 for 90 minutes, $75 followup for 60 minutes
Pap smear package with pelvimetry; Insurance accepted
Placenta encapsulation & keepsake print $325
Contact Info:
Address: Highland Holistic
5812 N Figueroa St.,
Los Angeles, CA 90042
by appointment only
Website: www.fertilemoonmidwifery.com
Phone: 650.491.4061
Email: fertilemoonmidwifery@gmail.com
Instagram: Fertile Moon Midwifery
Getting in touch: VoyageLA is built on recommendations from the community; it's how we uncover hidden gems, so if you know someone who deserves recognition please let us know here.