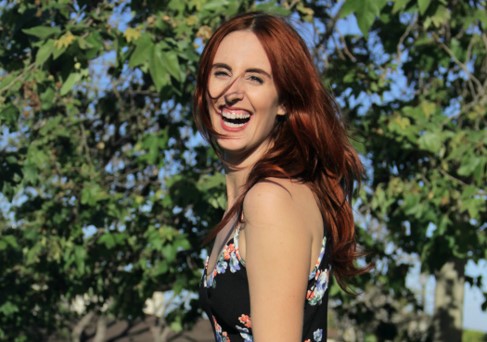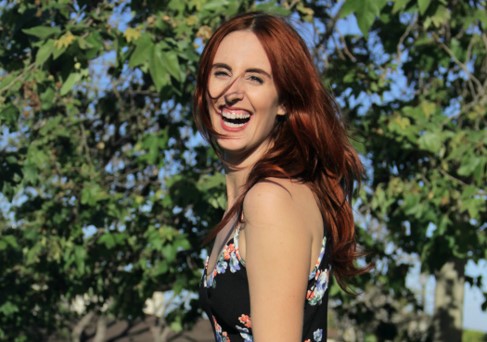 Today we'd like to introduce you to Christa Nannos.
Christa, please share your story with us. How did you get to where you are today?
Well, I've always loved making people laugh. As a little girl, I put on talent shows for my friends and family and ate up every second in the spotlight. I was acting before I knew what "acting" was. The first time I remember making people laugh on stage was when I played Baby Bear in "Goldilocks." I was six years old, very chunky, and everyone lost it when I shouted: "Someone has broken my chair, HMPH." Besides being a natural comedian, I'm also a trained opera singer.
I started studying classical music when I was 12 years old and focused on opera in high school and college. I graduated from Denison University with a BA in Theatre and a minor in Vocal Performance. Right after I graduated Denison, I road tripped out to beautiful, LA! Funny story, my horse accidentally broke my foot the night before I left, and I had to road trip all the way from Philadelphia to LA on crutches. I convinced my parents I was okay to drive because I had broken my LEFT foot, not my right. So, off I went. I was twenty-two years old and had no idea what Hollywood was going to bring.
My first job in LA was being a Party Princess for kids birthday parties. I had long, dirty blonde hair at the time, and was the most "Barbie-like" I would ever be. (I had dyed my hair studying abroad in Ireland and London after my first major heartbreak. All girls do this, right?). I made balloon animals, did face painting, put on (pretty terrible) magic shows for celebrities, got hit on by far too many grandpa's as The Little Mermaid and had panic attacks inside the Minnie Mouse head.
I loved this job, but it was A LOT OF WORK. I wasn't exactly cut out for the princess life, and I quickly moved on and fell in love with improv. Improvisation and sketch comedy has been my foundation over the past seven years. I interned and graduated from both iO West and Second City Hollywood and performed on Second City's Main Stage for years. I met some of my best friends in these improv classes! The improv community in LA is small and comprised of amazing, collaborative people. I joined an all-female comedian basketball league, and played shooting guard on the "LA Nail Clippers." Yes, I played against Aubrey Plaza.
I'm also part of the all-female sketch group "Walk of Shame." The greatest lesson I learned at Second City was to not limit myself as "just an actor." That's when I started writing and producing my own content. Why are you waiting around for auditions when you could be making something yourself? I truly believe that in today's day and age, to be successful in this business you have to be able to wear many different "hats."
Last year, after being frustrated by the lack of auditions, I decided to create my own musical comedy web series, and thus "Super Single" was born! I am the writer, producer, casting director, show-runner, and star of "Super Single." We just wrapped up Season 1, you can watch all eight episodes on YouTube, and I single-handedly organized a red carpet premiere were over 100 people came and raved about my show. I don't always like to toot my own horn, but I'm damn proud of what I've accomplished this past year!
Has it been a smooth road?
It's been a rollercoaster, to say the least! I've had so many ups and downs over these past seven years. Trying to get my "foot in the door" has been a huge challenge. Finding the right representation, figuring out my "brand," and comparing myself to others are just a few of the things I've struggled with. But over time, I've learned that everyone is on their own journey, and we're really all in this together. This industry is about connections, so be kind to the people you work with and help each other out as much as you can.
That PA you met on a student film set just might become a famous director in a few years who casts you in his/her movie. I've also struggled recently with a lot of health issues. For the past 11 months, I was fighting Candida and SIBO (small intestinal bacteria overgrowth). I was nauseous almost every day and had severe bloating and stomach pains. Living with invisible, chronic pain is debilitating. No one understands why you're so sick, and how you can feel great one day and terrible the next.
Unfortunately, I've known this feeling all too well because I developed food allergies ten years ago, and felt similar symptoms. What made matters worse this time around, is that I was filming "Super Single" the whole time. I was creating call sheets, writing and rewriting scripts, buying props, scouting locations, and being an emotionally present actor on set. It was really hard. There were days I would just cry into my pillow, because everything career-wise, health-wise, and dating wise seemed to be against me. Yet, I powered on.
With some strong anti-nausea medicine and a whole lot of determination, I got through each day on set. I've posted a lot about my health issues on my social media platforms and am completely humbled by how many people have reached out to me for advice. Chronic illness is REAL. If you suffer from "invisible health issues" you are not alone. It's my hope that by sharing my story, others will feel safe to share theirs.
We'd love to hear more about your business.
I created the musical comedy web series "Super Single." This show follows a young woman, Brit Ashburn, navigating her way through modern dating. The thing is, she's just too good at being alone. Brit doesn't need a man to make her happy, but when her two best friends get engaged on the same night, she feels pressure to try and "find somebody" as well. So she signs up for online dating… needless to say, dating in LA is terrible, and Brit encounters all sorts of strange men.
Based on my REAL dating stories, think "Crazy Ex-Girlfriend" meets "Fleabag." "Super Single" isn't just another dating show or musical comedy about needing love to feel validated. My character, Brit, really has her shit together. I didn't want to write another damsel in distress narrative, but rather a story of an empowered woman making the choice to try online dating. I wrote an original song for each episode… everything from a love song about wine, to an armpit fat anthem, to a sexy, tango number about trying not to fart.
The greatest feedback I've gotten about "Super Single" is how relatable my show is! The songs are hilarious, and I love that the dates really resonate with people. Another key feature that makes "Super Single" stand out from the rest is that I have Brit break the fourth wall and talk directly to the audience. The audience gets an insider's perspective on Brit's thoughts, and I think, therefore, is really rooting for her all the more. I'm really proud that I was able to write, film, and release all of Season 1 within one year!
No one gave me blueprints on "how to make a web series," so I really just threw myself into this project and figured it out as I went. I gathered up my cast and crew and dealt with any issue that arose head on. Even when one of my leads booked a television show within one week of filming, I was able to rewrite the script and still film with all my other cast and crew I had locked down.
I had to stay on my toes, and let go of any attachments to certain scripts or feelings of how I wanted things to go. Life happens, conflicts arise, but if you keep trekking forward, everything will work out in the end. I'm also incredibly grateful for my friends and family who supported me on this journey. What I've learned from being a show-runner, is that it truly takes a village of people to create a TV show. And, at the end of the day, work with people who want to work with you. A happy set is a successful set.
My partner in crime, Nicole Bell, was the DP and editor of "Super Single" and was the backbone of this show. She's one of my best friends, and I wouldn't have made it over every hurdle without her help and support along the way. I'm so grateful for all of my cast and crew, especially my other leads: Catherine Lidstone, Chris Aquilino, and Clayton Snyder. They're all well-known, working actors who took time out of their busy schedules to jump head first with me into this show.
These are the types of connections I've been talking about. I found my tribe. Have you found yours? I hope my story will inspire you to create your own content as well. Even when everything seems against you, just start creating! Take things one day at a time, surround yourself with other artists and collaborate. You can do anything you put your mind to!
Is our city a good place to do what you do?
Los Angeles is a whole lot of crazy and a whole lot of creatives! Simply moving to LA won't make your dreams come true. PEOPLE make dreams come true. More specifically, YOU make your dreams come true by working hard and surrounding yourself with other collaborative, supportive artists. Remember, this isn't a race, it's a marathon, and success doesn't come overnight.
Contact Info:
Image Credit:
Nicole Bell, Jason London, Ella Schaefer.
Getting in touch: VoyageLA is built on recommendations from the community; it's how we uncover hidden gems, so if you know someone who deserves recognition please let us know here.