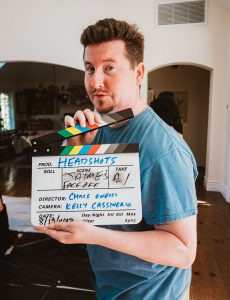 Today we'd like to introduce you to Chris O'Neill.
Chris, can you briefly walk us through your story – how you started and how you got to where you are today.
I'm a British filmmaker, writer, actor, comedian and novelist based in LA. I started in England, writing and performing stage plays at Leeds Grammar School in Yorkshire. After auditioning against two thousand other young actors, I got a place in the National Youth Theatre of Great Britain, which only took in about fifty new performers a year at the time.
The NYT has had some incredible talent through the doors from Daniel Day Lewis to Daniel Craig, Idris Elba, Rosamund Pike and a ton of performers who went on to illustrious careers. The NYT kindly let me write and direct half of our end of term showcase we had to perform for all the posh dignitaries in London.
After school (we don't say "graduating high school" in England, you either pass your exams or you don't) I studied Film at the University of East Anglia in Norwich (UEA), with a year at San Francisco State University (SFSU), where I did Film and Theatre studies. At UEA, I was President of the Drama Society and staged as many original shows as possible. This was a great training ground in terms of being able to understand material, how to direct and communicate with actors, and a great platform to perform. At SFSU, I was surprised to see there weren't many- if any- original shows being put on by the students in the Theatre Arts department, which seemed like a wasted opportunity. I went in and did two original shows that I wrote and directed and in which I co-starred and, when I returned to visit the next year, students were mounting their own shows all over the place, which was great to see.
After graduating from university, I focussed on writing as it seemed my look as an actor wasn't the look of the day. I sent out script loglines (basically a quick overview of the plot in two lines or less) via email to as many production companies as I could find and thus began the long road of rejection. You have to be ready for that because there will be lots of it and so while companies are busy telling you to bugger off, you keep writing and getting better at what you do. Until someone says, "hey, I like this". That finally happened and I went back to LA for two weeks to do some script meetings with cash I'd saved up from doing extras gigs and a day job.
I arrived in LA and crashed on my friend's couch, scheduled to stay for two weeks. I ended up staying about three months (until my tourist visa ran out). During this time, I set up as many meetings as I could and kept writing and coming up with ideas and refining those loglines. During this three month trip, my friends went to a film festival where they had a short playing and I met a few producers. I used some fast talking British charm on them and got them to read my work but nothing came of it. Returning to England, I hadn't sold a script, got an agent or made any career advances- but I had made some contacts and shown myself I wasn't afraid of diving in and trying to get things done.
I wrote new scripts while back in England at the day job and one of these hit a nerve with one of the production companies I'd made contact with. This script was called AFFECTION, a raw and intense drama about three office workers in the North of England whose lives fatefully intertwine over a month. Next thing I knew, I had been hired by a production company in LA, given a three script deal and handed a work visa. So, I quit the day job, moved to LA and wrote scripts for a year and a half and had a blast, while trying to come up with a script I could direct myself.
Eventually, the deal ended, I went back to England, back at the day job, which was a bit soul crushing and felt like I'd taken twenty steps backwards. At this point, most sane people would have given up and become a dentist. I used all this frustration as fuel to write ABSOLUTE DEBAUCHERY, a neon noir crime comedy about two small time criminals who go on the run through LA's bizarre criminal underworld. I returned to LA to make it the following year using my day job savings and soon after found myself working at a boiler room sales gig in Koreatown for the next eighteen months. The post-production costs were too high for me to afford, so the film sat unfinished on a hard drive for a while.
Meantime, I kept writing, got my SAG card, did stand up at The Comedy Store, studied improv at The Second City and made more short films. I wrote a comedy pilot script called STUDIO CITY, about two mismatched roommates whose apartment is a portal to another world that lets in zombies, Vikings, Ninjas and Satan. It was rejected by Comedy Central for being "too surreal" so I decided to shoot it myself and make it a webseries. This was a brilliant experience where I got to deal with some incredibly talented make up and FX people. There's an incredible amount of talent in LA, people looking for an opportunity. Be nice and respectful, feed them, pay for their materials if they're FX/Make Up people and they'll perform miracles for you!
When editing and postproduction software became affordable, I put ABSOLUTE DEBAUCHERY back together, coming home at 7pm from my day job, having a quick dinner then editing til about 4am every night. For a year. I learned more in that process than four years in film school.
ABSOLUTE DEBAUCHERY became an Official Selection of the Hollywood Reel Independent Film Festival in 2017. It screened at the Laemmle in Beverly Hills and what an amazing feeling it was to see the film now playing on the big screen. At the same time, that little script AFFECTION got into the finals of the very prestigious Nicholl Fellowship, which is a big screenwriting competitions run by the Academy. This gave me a fresh coat of confidence with which to go out and make my next project- the female-driven horror thriller HEADSHOTS.
HEADSHOTS is about a young British actress who moves to LA to be a star- only to cross paths with a serial killer in her acting class. The idea came from seeing how many people just drift in and out of LA, never knowing what becomes of them, and how many stories I had heard about actresses being put into vulnerable and potentially life-threatening situations in the business. It's shocking how many actors throw caution to the wind in the hopes of an audition or some cheap headshots.
I put the cast together via self-tape auditions on LA Casting. Then met with them to see if we got on well. Someone you get along with on a set- especially an independent film where it's your money- is incredibly important. My advice is when in doubt, there is no doubt. If you don't get along, don't bring them along. While we were shooting, the whole "#metoo" movement began, which made HEADSHOTS suddenly very prescient.
HEADSHOTS was an Official Selection of six film festivals, won four Best Film awards and a Best Screenplay award. It played at festivals in LA, San Francisco and Las Vegas and is now on Amazon. We got some lovely reviews ("real and raw…fresh and exciting" was a nice one). It's a female-driven horror thriller with something to say about how the industry treats people- and women in particular- wrapped up in an LA set horror thriller with a layer of dark comedy.
At the same time, HEADSHOTS was doing the rounds in the film festivals, my new scripts were being recognized in various screenwriting competitions. Last year, I had half a dozen new spec scripts from horror and action comedy to TV comedy pilots place in the Finals or actually Win prestigious competitions including Scriptapalooza, Screencraft, ISA Fellowship, Filmmatic InRoads Fellowship, Creative Screenwriting, Emerging Screenwriters and various others.
Through all this, I had noticed how many actors have reels that don't best showcase their talent. So I set up a new part of Chape Works that offers actors reel services at an affordable price.
Where I am today: working on a new TV pilot – a heartfelt comedy about life in Los Angeles from a British chap's point of view- developing a couple of horror feature film projects (female leads!), doing stand up and creating short form comedy videos. I'd love to do something with Blumhouse, should the opportunity arise.
At the end of March, I'm doing a play in North Hollywood called "CONSTELLATIONS", which premiered in London's West End a few years ago. It's about the different variations on how life could go- it certainly could have gone differently for me but it's been an interesting ride and it's not over yet.
We're always bombarded by how great it is to pursue your passion, etc – but we've spoken with enough people to know that it's not always easy. Overall, would you say things have been easy for you?
"Challenging" is definitely the word. There was the enormous hurdle of getting to LA, which I managed to do through tenacity and writing a good script called AFFECTION (I say "good" only BECAUSE it got me hired by a big production company, got me my work visa and gave me my first experience in Hollywood). I had to move back to England a couple of times- broken financially but determined spiritually to get back and accomplish more. Which I did, through sheer willpower, refusing to give up. Being reset to zero tests your mettle and your sanity. Had I not had the validation of my work being recognized by some top industry talent early on, I might have decided in my twenties to do something else in life. Quite what, I have no idea because telling stories and performing is the only thing that has ever driven me.
Seeing ABSOLUTE DEBAUCHERY, my first film as writer-director, sit in pieces on a hard drive for years while the software got better and the prices got cheaper, was a very trying time. I spent those years working minimum wage jobs that paid very little and took a lot in terms of time and mental tax, but I battled through by coming home every night to write new work or do comedy. Persistence and perseverance. It made me a better writer and performer. And gives you plenty of material for stand up.
One of the biggest challenges was when I fell seriously ill and was in recovery for the best part of a year after a surgical operation. Determined not to stay on my arse but to focus and get back on my feet (literally), I wrote the novel for THE SKETCHER'S MARK, put the webseries of STUDIO CITY together and wrote and directed a musical comedy for the Hollywood Fringe Festival- "SCARFACE: THE MUSICAL" following the Royal Shakespeare Company adapting the Al Pacino crime epic into a British stage show.
At one point, I had to sell my film equipment, which set me back in terms of being able to make videos and shorts. But after working the day jobs long enough, I was able to buy better equipment, which I used to shoot HEADSHOTS- and I was able to pay the rent and eat for a couple of months, which is always helpful.
The most difficult set back of all was my father's passing last year. A few weeks after HEADSHOTS was finished, my Dad had a heart attack and I went back to England. We got him home and spent a very happy New Year's with him. Two weeks after I returned to LA, he passed away. He was one of my biggest supporters and, sadly, he missed the accolades for HEADSHOTS and my scripts, which all came after he was gone. There was a choice to slip into a funk and let the negativity take over. And finally quit. But I chose to push forward and keep creating. To stop now would be the more insane choice.
Please tell us about Chape Works.
Chape Works is the home for my creative work as well as where we do actors reels. With a lot of years of editing experience and seeing tons of actors' reels, I help actors put together the very best showcase of their work. What sets Chape Works apart from a lot of reel editing services is caring about the end product. We do things like fixing the sound and improving the picture if the footage requires it rather than just slapping a bunch of clips together and charging a fortune. We genuinely care. And appreciate referrals!
Has luck played a meaningful role in your life and business?
The best luck I've ever had was meeting my wife, Rochelle. We spent years going to the same bars, restaurants, areas and stores across LA, sometimes being in the same place at the same time but our paths never crossed. Then I spotted her outside a karaoke bar as my friends and I were driving past one night. Had I not looked left that exact moment, I would have missed her again. Something compelled me to meet her, so I made my friend stop the car and I ran through traffic to get over to her ("luckily" not being run over in the process). It was as if at that moment the bad luck and fate that had conspired to keep us apart was on a coffee break, allowing us to find each other. We haven't looked back since and are rarely apart. She is an amazing force of happiness and positivity – she makes every day brighter and it's been my greatest fortune to have met her. Quite what she sees in me, I still have no idea!
Pricing:
HEADSHOTS movie – Amazon Prime $5.99 Rent/$9.99 Buy
chapeworks.com Actor Reels 2mins and under- $199
chapeworks.com Actor Reels over 2 mins- $249
Contact Info:
Image Credit:
Thomas Ohrstrom, Isabella Egizi, Rochelle Carino
Suggest a story: VoyageLA is built on recommendations from the community; it's how we uncover hidden gems, so if you or someone you know deserves recognition please let us know here.