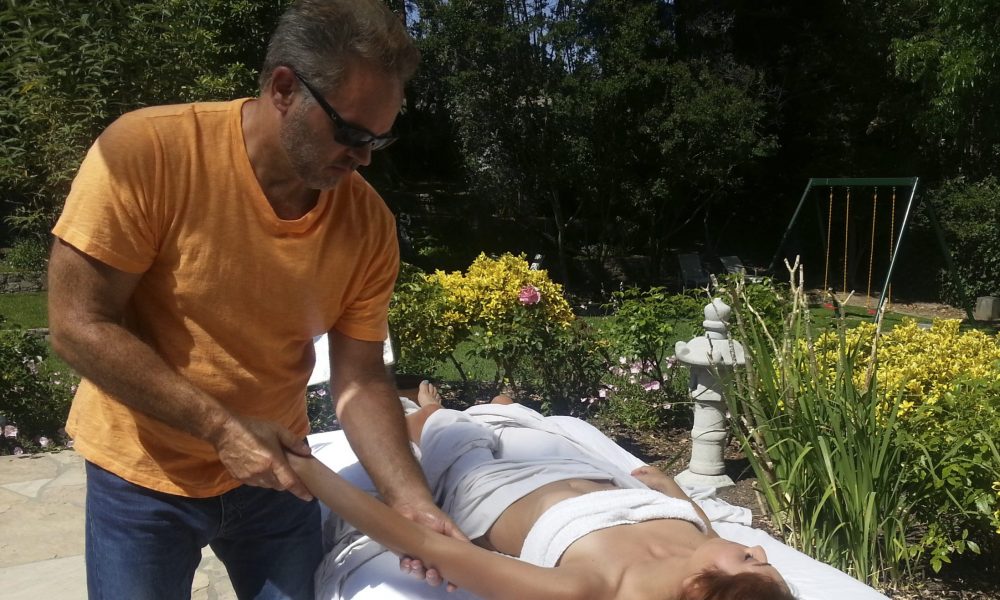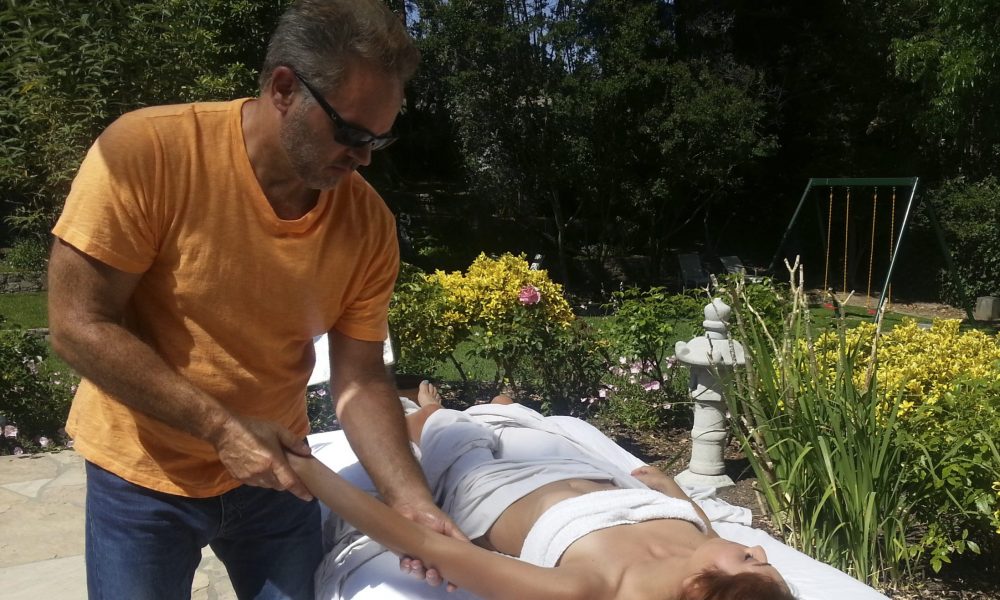 Today we'd like to introduce you to Chris Kinkade.
Chris, please share your story with us. How did you get to where you are today?
I started working professionally as a massage therapist in Hollywood in the late 1980's before I had ever taken a single class or studied with anyone. It just "happened." I have always had a unique ability to do healing work and an innate sensitivity to energy and things I had no way of truly understanding at the time. Up until the moment I chose to do it professionally I never took a dime for it because I thought somehow taking money for what was obviously a "gift" bestowed upon me by whatever loving force does such things would corrupt it. A good friend woke me up to the possibility of doing it for a living by saying to me, "Listen, you take money for jobs you don't love why not let people pay you for what you were truly born to do?" Once I heard those words I never looked back.
From that point on, I have never had a shortage of clients. I have never advertised, I never sought people to work on, they just showed up right on cue. It was all by referral and word of mouth and it was kind of wonderful and 30 years later it still is, I began by working on some of the biggest films sets in Hollywood working on the cast, crew and production personnel. It was an amazing time for me personally. I was at the right place at the right time and it was exciting and fun. I had found my true path and it's not like it was planned it just happened effortlessly. My client base and reputation grew steadily from there on and many of those same clients are still on my table regularly to this day. Since then I have been fortunate to have been taught and inspired by some really great teachers who came into my life and I am humbled and grateful for their guidance. I do integrated body work sessions that include an ever-evolving skill set.
I have done tens of thousands of sessions on people from all walks of life including every religion, every ethnicity, every gender, old, young, fit, sick, injured, you name it. I have also had the pleasure to teach internationally. I approach body work like an intuitive art form.
Each person brings something totally unique to the table. The more I work on people the more colorful the palette I have to draw from in terms of what I can do to facilitate the ultimate transformational healing experience. I learn from them, I learn from life, the world is teaching us on many levels every day. I am someone who truly loves what I do and feel like the luckiest guy in the world to be able make my life's work that of assisting people in making their life a little easier for them. At the core of it is a love for people in general and a belief that each person is a healer in and of themselves and I am someone with an innate ability to connect them to that and to facilitate that awareness within them.
We're always bombarded by how great it is to pursue your passion, etc – but we've spoken with enough people to know that it's not always easy. Overall, would you say things have been easy for you?
I think for me, the biggest challenge early on was in "trusting" that this wonderful experience was not a "fleeting" moment in time that would disappear like a mirage and leave me pondering what the heck I was going to do with my life. It took me about 5 years before I really settled into the fact that this was no illusion but my actual destiny and that I could let go of any anxiety about it and trust that it would always be there. Consciousness creates form and I had to calibrate my consciousness to accept the wonderful reality that this was truly my path. This is the way of personal and spiritual growth for everyone and it's deeply personal and sacred. Every person has a date with creating their own reality and ability to accept that reality and manifest it to whatever degree they desire in their life. It's a constant forge on many dimensions and everyone has a unique journey unfolding for them and it's not always easy but the important things seldom are.
We'd love to hear more about your business.
I have worked exclusively in private practice all these years. I cater to people who seek transformational body work. My sessions are generally 2 hours long and I am very "client centered" in my approach. I have studied many forms of healing and I use aspects of many modalities including things I have discovered on my own to create a personalized experience for my clients. I am proud of the fact that I have stayed true to my intuition about my work and no matter what is going on in my life at the time I am always present, focused and professional. This is a female dominated profession so to have had the success I have had as a male representing my profession at the highest level and with unimpeachable integrity is something I am truly proud of. I think one of the things that sets me apart is the fact that for 30 years I have done nothing but this thousands and thousands of times. When one has the luxury of concentrated and committed focus on whatever craft or art form they pursue they develop a level of mastery that is a gift that only time can give them. There are levels of mastery that reveal themselves in this scenario that are exciting and with every wall that comes down you get a sense of new found "magic" in your skills and an anticipation of wonder of what will be revealed next. I also play the harp (I have 3 of them including an electric harp) and have done so in hospitals, yoga centers and hospice. This is an adjunct form of healing that is very rewarding and also a part of who I am. I am well regarded for my musical healing playlists I create for my massage sessions as I use music as a healing modality in and of itself.
What were you like growing up?
I spent my childhood crisscrossing America with my family. It was an exciting time to be a kid growing up in this country, such an explosion of art, music and movies. I was fortunate enough to be exposed to so many things on a cultural level because my parents were wonderful and made sure we saw live music, live theater, sporting events, etc. I am so grateful for that. I was a kid who loved sports and dreamed of playing football or becoming a boxer like my Grandfather was. I also loved music and theater and was in rock bands and on stage a lot of the time in plays. I loved those experiences. I had some difficulty focusing in school because I process information in a "unique" way (I say that to avoid labeling myself and besides they had no real terms for kids like me in those days.) I never even knew becoming a massage therapist was an option. It's not like I took my SAT scores and my high school guidance counselor took me aside and said "Chris, I have looked over your SAT scores and you are most likely going to become the quintessential Hollywood Massage Therapist who will work every day in beautiful places, with lovely music and you will be working on great people and making them feel wonderful and whole." If I had known that was even going to be an option I would have run to school every day excited for what I was going to learn!
Contact Info: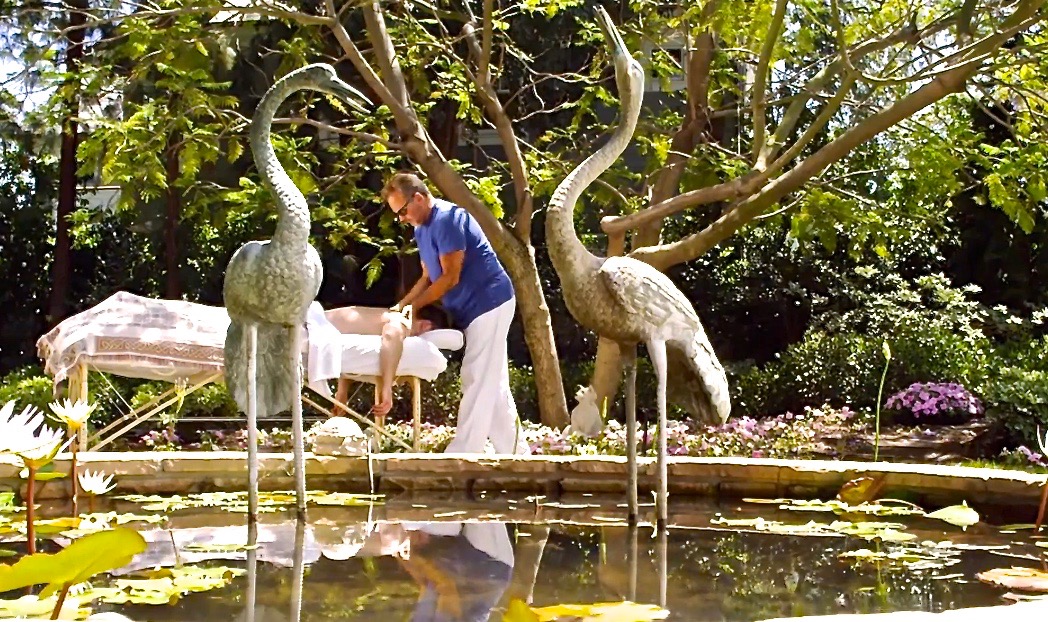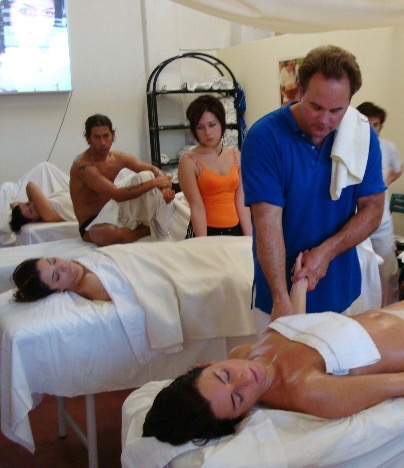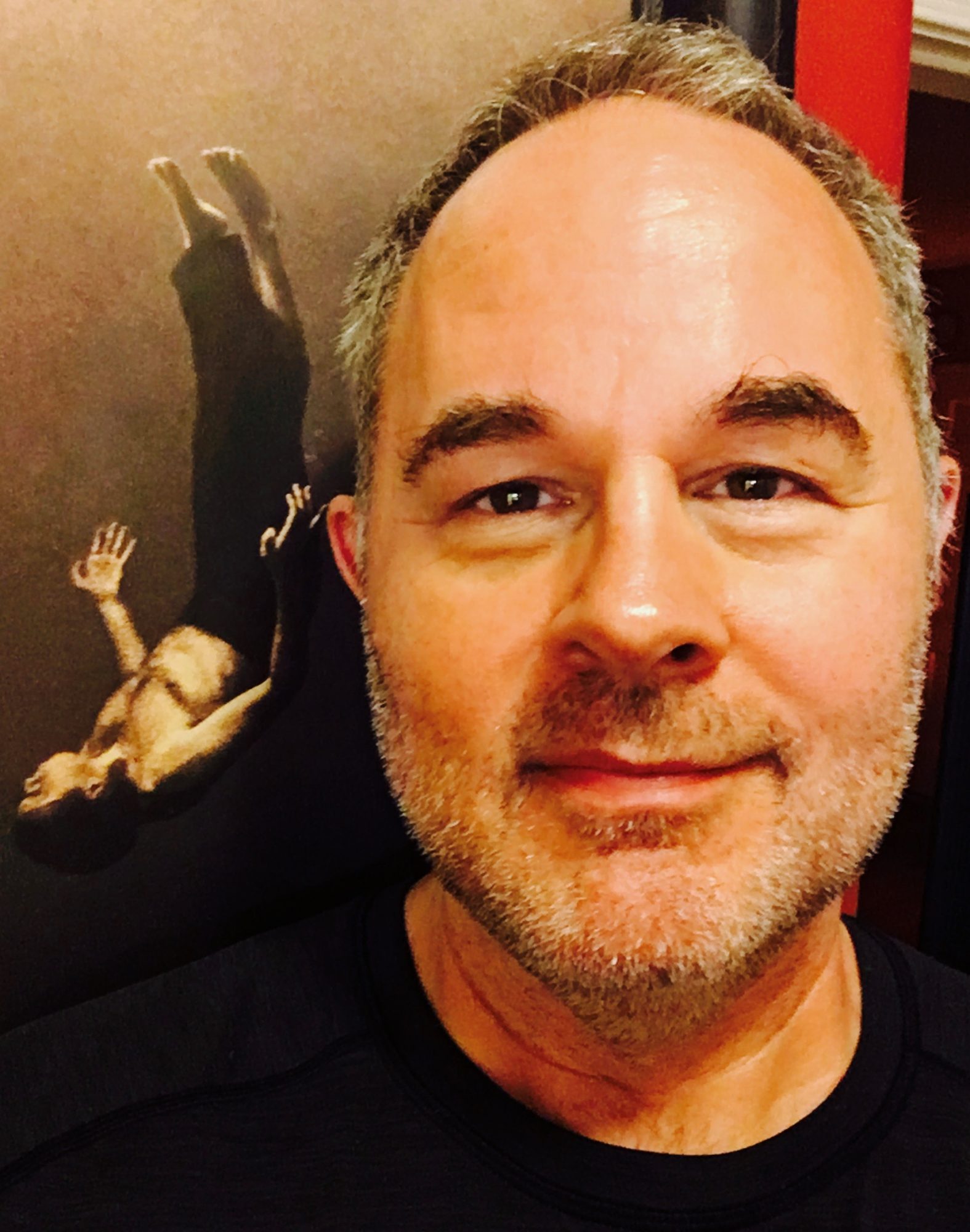 Getting in touch: VoyageLA is built on recommendations from the community; it's how we uncover hidden gems, so if you know someone who deserves recognition please let us know here.