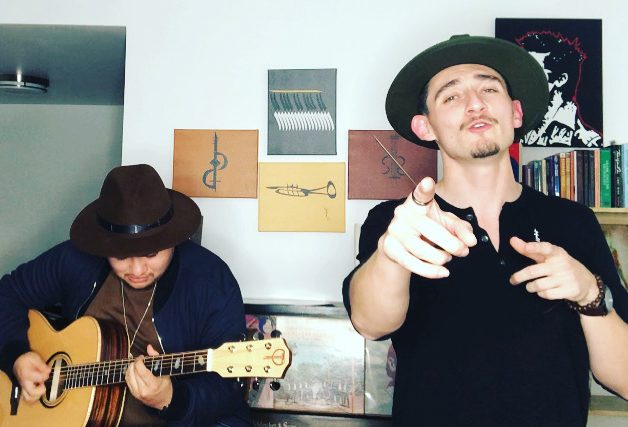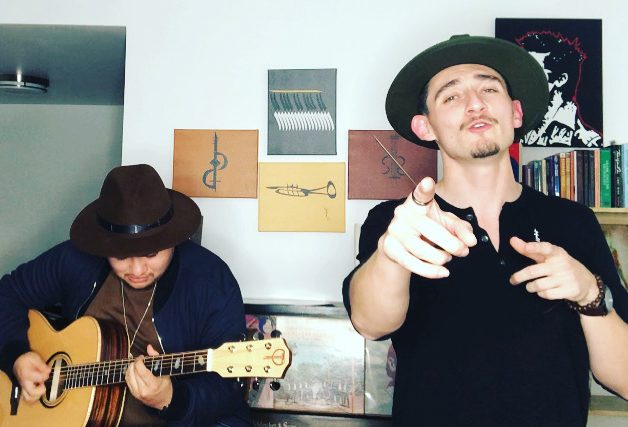 Today we'd like to introduce you to Chris Burr.
Thanks for sharing your story with us Chris. So, let's start at the beginning and we can move on from there.
My story begins in my hometown of Nogales, AZ. At the age of four, my father decided to leave the picture and leave my mother and I while we were living in the UK. With the help of friends, she was able to get some advice as to what the best decision was for us and from there she decided to pack everything up and move to Nogales, AZ where our family was. Turns out that decision brought me to a town that would start my musical upbringing. Since a child music has been an incredibly influential part of my life. While I am the first member in my family to be a musician, I was always around it. Whether it was through school bands or hearing music from my great grandmother's radio I was constantly exposed to different sounds that existed in my border-town environment.
As years went on, I started to notice how identity was a huge part of where I grew up: two sides constantly collided. It was a constant push and pull of being too Mexican for the US and too American for Mexico. I don't feel like it was ever really a negative effect on me but it was definitely present and it continued to present itself as I got into music. While my family was listening to Pedro Infante, Javier Solis, maná and los tigres del norte, at school friends start to introduce me to the sounds of Kanye West, Eminem, Maroon 5, and Frank Sinatra. Then I started playing music in elementary and middle school and I got introduced to jazz and the sounds of Glenn Miller, Charles Mingus, and Dizzy Gilespie. It was a whole new world of sound that my ears weren't used to and I felt so cool being able to play the tunes of these new sounds. Then in high school, I started to play a genre that would spark the flame of my eventual move to LA.
I decided to join the mariachi class in high school because I needed an art credit and I thought it would be cool to learn to play guitar but it turned out that that class would change the trajectory of my life in music forever. As soon as we started learning songs, we would rehearse some of the tunes that my great grandmother would listen to on the radio and would sing. It gave me a sense of nostalgia and I got hooked. I felt proud that I could bring to life the music that I would hear as a young child with the help of my fellow classmates. I spent all four years in high school with mariachi being one of my main priorities. I would go home and learn new songs and my family would ask me to play them at parties and events and I even got to perform at some stages at different mariachi conferences. It was because of these conferences and because of mariachi music that I set a goal for myself to one day move to LA and play with a big name mariachi group.
As time went on, I continued with mariachi and joined a semi-professional group in Tucson, Arizona called Mariachi Sol Azteca that was under the direction of Angel Guzman. There was the first time I began to make money off of music. Every weekend we would have paid gigs or performances and it felt so fulfilling to make money off of what I loved. It was definitely my main source of income during my college years.
However, on several occasions, I stopped playing for months at a time because I decided to travel abroad on three different occasions. Traveling and learning different languages and cultures is another passion of mine so during college, I decided to live for some time in Italy, France, Senegal, and Jordan. During this time, I devoted myself to immerse myself in the culture of each respective country. While my travels did make me stop playing for a couple of months every year, I never stopped being around music. I actually look at those years now and have noticed how that time introduced me to new artists and sounds that have molded my musical taste and style. In fact, music was one of the ways that helped me learn a language better. In Italy I would take songs of Domenico Modugno and memorize and translate the lyrics to understand the meanings of each song, in France I listened to Ben l'Oncle Soul and Hocus Pocus, and in Jordan I listened to Mashrou' Leila, Hanine, and Fairouz. All these artists were my language tutors.
Upon graduating college, I got a job as an international college recruiter and my travels continued. I would travel once a month to almost every corner of the globe. One month I would be in the Middle East brushing up on my Arabic, another I would be in Brazil trying to remember my Portuguese, and others I would be in Mongolia where I couldn't even pronounce a simple hello. Throughout this time, one of the hardest things was not being consistent with the mariachi group. I would play two weekends and then I was gone for 2. I would play 1 weekend and I was gone for 3. While my travels were great and I met some incredible people and colleagues, I always missed playing while I was gone but I am grateful that I always had a place to gig with my group anytime I came back home.
After about a couple of months, my job decided to cease the majority of travel leaving me confined to an office cubicle for the remainder of my time there. I honestly couldn't take it. We had a lot of downtime so I started reading motivational books and it started sparking some trajectory into where I would be going in conjunction with an unforgettable performance that I would have with the mariachi group I was with.
In August of 2017, we got the opportunity to attend the Guadalajara Mariachi Conference and during our time there we were selected as the group to open for the Mariachi Gala concert at El Teatro Degollado, which is one of the most prestigious theatres in Mexico. That night was one of the most powerful performances we had ever done as a group and even for my self as an individual. I woke up and I realized I wanted to pursue music full on. I wanted to move to Los Angeles and pursue the goal I had set in high school.
Upon arriving back to Arizona, I started to search for random jobs that could help me get to LA and help me get on my feet while I was there. Luckily, I found a job as a recruiter with the same university but I would just relocate and live in Los Angeles. Literally within the span of 2 or 3 weeks, I accepted the job and put my things in my two door 2002 mustang and I hit the road to LA.
After three months of being in LA, I got offered a full-time spot with Mariachi Garibaldi de Jaime Cuellar and achieved my goal of making money off of music with a big name group. Being in the group also bridged the opportunity for me to write two instructional mariachi books that are now used in schools in Arizona, Las Vegas and Texas. As I started to see that I was making money with my music career and how my college job was taking time away from focusing on music, I let go of the college recruiter job and went full-time with music.
I forced myself to live off of my creativity and music and it has inspired me to do things I never would have imagined. While I still do mariachi on the weekends to make some money, my goals have shifted to pursue a career as a soloist with a tremendous amount of help from my roommate/friend/brother Angel Duran. Since last year I have been writing original songs as well as covering and adapting different tracks of my favorite artists and songs. These new tracks that I have been working on have completely moved away from mariachi in an effort to experiment and find my own unique sound. In addition, I've started to design the cover art to a lot of my music by using my knowledge of Arabic letters and creating images and designs from them. I started printing the designs on shirts for myself and as people started seeing them I started printing more to sell and have now gone into trying to launch that into an apparel/merchandise business.
The fact that my mother decided to move to Nogales from the UK is what eventually allowed me to start Mariachi music. It was because of mariachi music that brought me to LA and while I am venturing into other avenues now with my music it will always be the foundation and from where my career started, where my career is, and where it will go.
Has it been a smooth road?
By no means has it been a smooth road. Before coming to LA and fully dedicating myself to music I lived a pretty comfortable life. I had the job my family always dreamed of having and they always dreamed that I would have. I was the first in my family to attend and graduate a 4-year university. I had received a full-ride scholarship and could've had that full ride up to a PhD. But I let it all go from one day to the next. I knew it would disappoint my family and on top of that worry them constantly because I lost the stability of a steady flow of income.
The first couple of months after leaving my job the challenge was worrying about disappointing my family and trying to make them understand that the decision I made was the best one for me. After that, I started to feel what it was like to not live knowing that you had a paycheck coming in every two weeks. My savings started to deplete and I had to pay rent and other bills so I started diversifying where I would work. I began to teach music, I started working as a background actor, went to auditions for some small acting roles and started taking as many mariachi gigs as I could get a hold of.
For weeks my schedule consisted of several background jobs throughout the week where I would be there from 6am to 9pm out in Santa Clarita then drive back home to LA, go to sleep, and then the next day go to another background gig hoping I would get out early, and if I did I would drive from whatever my location was to mariachi practice. But that's LA. It never stops, and if you do, you fall behind.
Eventually, I got my friend to move out to LA as well and we had always said we would move out here and get a place together. But first we needed to save money and work to get enough for a down payment. It was the middle of summer in 2019 and we were sharing a small bedroom in a five bed two bath house where we could barely fit my bed, a futon, all our instruments, belongings and then the two of us as well. On once occasion we had a friend visit us and for a couple of days it was 3 of us in that room. I would be lying if I said it wasn't hard. It was hot and we had very little space. On top of that we would start getting rejected left and right from apartments because we didn't have pay stubs nor a solid proof of income given that most of the money we make from our gigs are paid in cash, so it took us a little longer than usual to be able to find a landlord that would trust our word that we could fork up the money for rent every month.
While sharing that room definitely tested us, if I had to I would do it all over again. Sharing that room pushed us and drove up our work ethic and creativity. We as humans are incredible creatures of persistence and endurance. When put in a situation of pressure we either thrive or retreat. For us, we had no choice but to thrive.
I still face struggles and obstacles today and I don't think they will ever end. I am sure that is the case for most musicians in LA. I feel that artists in general are some of the craziest (in a good way) and strongest people around because of the constant rejection that we face and situations that we run in to, yet we still keep going.
I've had numerous rejections, I've been in sketchy situations, at times I questioned my sanity, and I have had to make a lot of sacrifices. But it's all a part of the process and the game. It is by overcoming those obstacles that one grows and expands their creativity to move further with their craft. Like Thomas Carlyle once said, "No pressure, no diamonds".
We'd love to hear more about your work and what you are currently focused on. What else should we know?
It's interesting that my musical background has always been mariachi but now that is only a part of what I do. Most of the music that I write/cover now are more soulful tunes in English and more old school Latin jazz type songs in Spanish. There are still hints of mariachi rhythms and sounds in my music but I have been enjoying exploring different avenues to identify my own unique sound.
I feel that what sets my music aside from other artists is the cultural aspect of where I get my inspiration and music from. Aside from covering songs I enjoy making adaptations of different records. I'll take a song from another country that I really like and translate it into English or Spanish. Sometimes the meaning will remain the same and others it just takes a different route. I never hold myself back and I just let the ideas flow and just let the words take their course. Additionally, I really like mixing different languages in one song while incorporating vocal tones that I have learned from mariachi and meshing them with the styles of different genres. For example, in March, my roommate and I are releasing an adaptation to a very famous song where I sing it in 3 different languages and for each language I tried to keep the original vocal style while still blending hints of my own sound. It was such a blast to experiment like that with the song that I plan to do the same with other adaptations and even with my own original songs.
Outside of the musical sphere I have dived into the world of art/design and apparel. By no means were these things ever a part of my plan but sometimes that is just what happens when you force yourself to live off of your creativity. I began creating designs on my phone to use as cover art for my music and then I just started creating designs for fun that had no relation to my music. Some I even printed on T-shirts for myself and as people started to notice them, I began to sell and decided why not try and launch it as an apparel business to house my merchandise.
Other successes outside of music that I am proud of include writing two educational mariachi books that have now been introduced into schools in California, Texas, Arizona, and Nevada, I started a podcast with my roommate where we share some of our advice in the music world based on our experiences, and I have also landed a speaking role in a short film.
Through the ups and downs, LA has been great to me and I know there is more in store. This is just the start.
Is our city a good place to do what you do?
I strongly feel that if you want to pursue a career in music and/or the arts Los Angeles is one of the best if not the best place to do it. I am sure New York/Nashville/Atlanta also have some great outlook for artists but as an artist that is living and experiencing it in Los Angeles, this city is where to do it. There are so many opportunities at your doorstep you just have to stay consistent and work hard and you'll start to see them show up. They start small but they start adding up. Just the fact that you can get several background jobs and be in the same scene with incredibly successful actors or get hired to perform for some of the highest income earners in LA is amazing. You're around that successful energy. You never know who is watching and you can literally be one connection away from your career to take off.
On top of that, you have a network of people who have been here learning the ropes or who are learning the ropes with you. LA is a beast of a city but the majority of people I have met are willing to help or are on the same boat as me and are willing to work together to keep moving forward.
If you want to pursue a career in the arts and want to move to LA, I would just advise to save up some money and make sure you know some people that you can stay with and that you can just hang out with and where they can introduce you to other people as well. It's a relatively easy city to network in if you just try and there are endless amounts of opportunities to make money. While they may not be exactly what you want to do, you are just going to have to get creative in the meantime that you reach the types of opportunities you want to get. It takes time and in a city that seems to rule the pace of the clock, it's very hard to be patient but it's an important tool to have.
Contact Info:

Image Credit:
Adolfo Estrada IG: @eldolfee
Suggest a story: VoyageLA is built on recommendations from the community; it's how we uncover hidden gems, so if you or someone you know deserves recognition please let us know here.