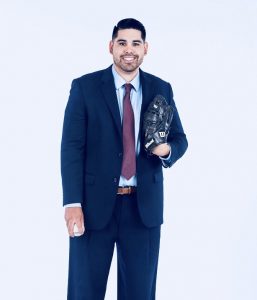 Today we'd like to introduce you to Chris Arzola.
So, before we jump into specific questions, why don't you give us some details about you and your story.
In 2017, I earned my Masters Degree from Concordia University in Irvine and knew my passion was to help athletes in an educational setting. The problem was I didn't have "experience" directly in that field as my past positions dealt more in the sales industry of sports.
But I always knew that I wanted to use my Master's Degree in an educational setting to help students athletes and my main goal was to become an athlete director. After a year in sales, I wasn't satisfied with everything I have accomplished and knew I could do more with my degree and overall my life.
So in the beginning of 2019, I became an admissions advisor for a local college here in Orange County. It opened my eyes to what I been missing since this was my first time helping in an educational setting. It wasn't easy but I begin to understand the role and as my understanding of the role became easier, I was then able to use my passion for helping really shine in this role. I felt so much joy by helping the students I was beginning to help. But as quickly as that joy came it quickly left. The whole admissions department took a 360 with people getting fired, leaving, it was certainly a tough time being new to the industry and just now starting to understand the role. My new admissions director came in and things shifted completely it became about money and budgets not about the students anymore. This was hard for me to take since my passion is to help student-athletes and that's what I planned on doing.
A few months past and things weren't working out for me any longer at this place. One day I saw a post on Indeed about a nonprofit organization called EmpowerLV hiring for a director of baseball for a team called Empower Orange County Suns. This was perfect as I played college baseball at a high level and currently coached at Corona Del Mar High School in Newport Beach. After a long conversation with the Founders of EmpowerLV, Dr. Sandra Gray and Pat Gray they actually decided to offer me the role of President and Baseball Director for the Orange County Suns. I was extremely humbled, blessed, and honored they believed in me to help expand their organization.
EmpowerLV is a nonprofit organization that offers Mental Health, Educational Programs, and Competitive Sports. I immediately excepted the role and ran off with it. My passion to help student-athletes and to be able to bring programs such as Mental Health and Educational Programs I was all in. I began building this new organization in Orange County from the ground up. Posting jobs all over social media, indeed, everywhere you could think. Applications flowed in with a great amount of interest and wondered about this new organization but I wanted to make sure I was bringing people in that fit the vision of EmpowerLV and I did. I was able to bring in some wonderful individuals that all shared the same passion to help youth athletes.
As things began to go, my passion to help began to grow and so I had conversations with the Founders to expand into the Central Valley of California, which is where I grew up in a city called Tulare, California. They agreed and I was now able to grow teams in the area I grew up in and give back to my community I once grew up in, I knew there was a great need for programs like this in the Central Valley so I'm extremely excited I will be able to help kids back in my hometown. After much talk with the Founders of EmpowerLV they decided to move me to Regional Director of California. So now, the role I will be doing is creating new youth sports organizations throughout California under the umbrella of EmpowerLV. These organizations will offer mental health, educational programs and competitive sports. I will be hiring, training, and Empowering all Presidents for all California Organizations. Last but not least, I will be creating partnerships throughout California for all California Organizations.
Overall, has it been relatively smooth? If not, what were some of the struggles along the way?
It wasn't a smooth road for me, I have fought adversity after adversity to be where I am today. From growing up in a tough area to going to new places and having to figure it out on my own. Making mistakes, learning from them. But honestly, I wouldn't want life any other way, that's what has made me into the person I am today. I am able to relate to people because I can share the challenges I have overcame and I do that because I feel you can always learn from someone. So maybe someone around you has gone through something that you're going through now and could give you some advice. I also believe that sharing my challenges also shows people that other people go through things as well and I could give advice to people as well. Things haven't been smooth but it's about the process not the product. I'm just enjoying the ride.
Please tell us about EmpowerLV.
Overview: Empower is a nonprofit that was granted 501(c)(3) status in June 2014. Empower was designed with the goal to improve the wellbeing of our community through family empowerment. Specifically, research tells us that physical activity is associated with improved academic achievement, mental and behavioral health. As such, our organization seeks to increase access to community programs by taking a holistic, community approach in empowering families through youth and family programs that contribute to emotional, physical, and mental health.
Our Mission: EMPOWER our community using a holistic approach through youth and family services that enhance emotional, physical, and mental health as well as academic performance.
THE FOLLOWING ARE THE THREE CORE COMPONENTS OF OUR PROGRAM
Empower Mental Health: Provides services and training tailored to the client and the family's needs, values, culture and strengths. We understand that all families are unique and in order to provide effective services and training, we accommodate those needs. At Empower, we understand that mental and emotional health is important part of our daily lives and when it is negatively impacted affects facets of life such as academics and physical health.
Empower Tutoring: This is based on the importance of education and that understanding that each child learns in a unique way. Despite the need for tutoring, many families do not have access to these services because of financial, linguistic, and other barriers. We offer individualized and accessible programs designed to meet the academic needs of the youth and families. Based on our assessments and insights, we will develop a custom learning plan to meet the child's educational goals.
Empower Sports: We offer a high-quality youth sports program designed to promote healthy social development, leadership, physical fitness, and positive interpersonal relationships. The youth will learn the value of teamwork through organized and competitive sports and are able to implement a variety of skills needed to be successful throughout life. We also empower college ready youth through college exposure and preparation as they develop needed skills though our circuit camps and tournaments. Each athlete participates in monthly camps in addition to year-round tournament circuits that will showcase top athletes from 6 different states on the West Coast of the United States, including Arizona, California, Nevada, Oregon, Utah, and Washington. Moreover, Empower LV will have an annual six weeks summer league program that will consist of local league play, ending the season with an Olympic style tournament hosted in Las Vegas, Nevada.
If you had to go back in time and start over, would you have done anything differently?
If I had to start over, I wouldn't do anything different. All the adversity and challenges I have faced has brought me here. Now I'm in a position to give back to communities in California and help student-athletes that might not have access to a lot of things. I couldn't ask for more, I feel blessed, grateful, humbled by this opportunity and where I am today.
Contact Info:
Website: www.empowerlv.org
Phone: (725) 222-1104
Email: info@empowerlv.org
Instagram: empower.lv
Suggest a story: VoyageLA is built on recommendations from the community; it's how we uncover hidden gems, so if you or someone you know deserves recognition please let us know here.