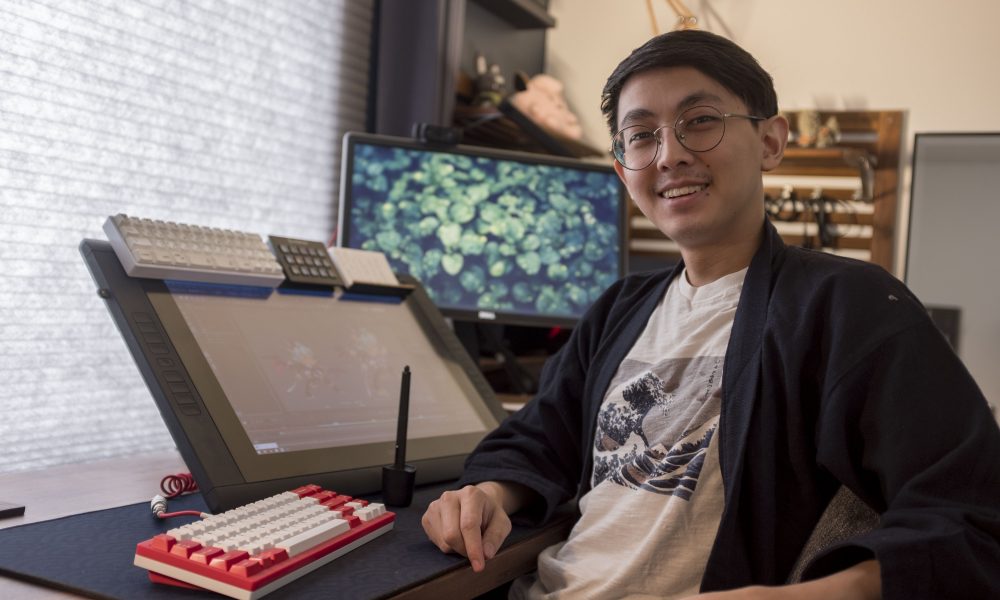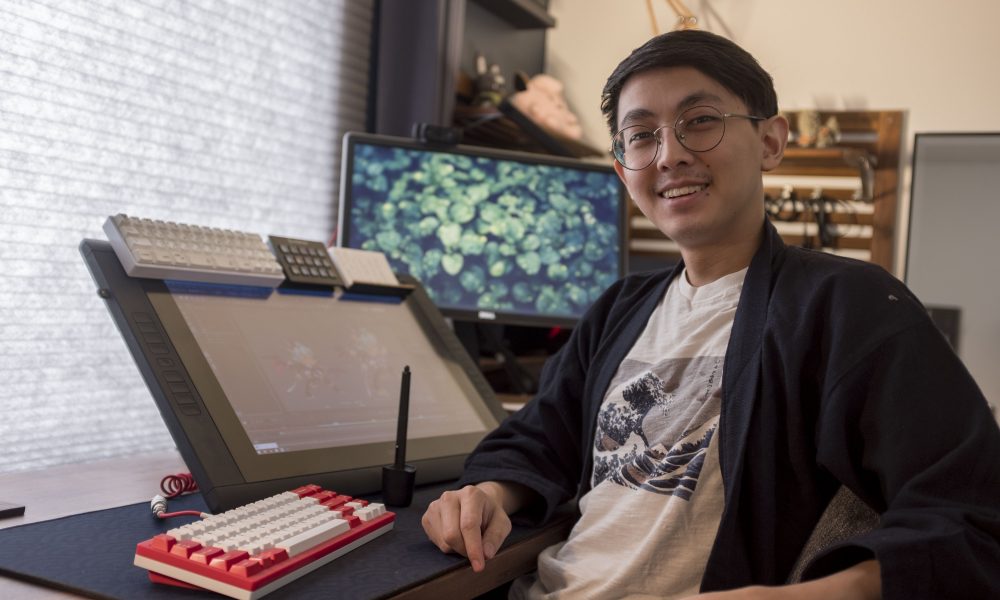 Today we'd like to introduce you to Chonlawat Thammawan.
Chonlawat, can you briefly walk us through your story – how you started and how you got to where you are today.
I was born and grew up in Bangkok, Thailand. I have been drawing and doing art-related hobbies a lot in my spare time for as long as I can remember, not because somebody told me to, but I just did it because I enjoy those hobbies. My parents both graduated from the best pharmaceutical in Thailand and just like any Asian parents, they really expect their kids to be in the best school and best career field especially in the medical field.
Despite all the praise I got from my childhood drawing, I have never considered doing art for living, this was almost 20 years ago and there was no school or industries available in Thailand at that moment. I was threatened by the idea of a poor starving artist so I never thought that doing art for living is an available option.
I had to study really hard and do extra classes outside of school to get to be in the best classroom at my high school. I was doing pretty good, I got a good grade, I was very good at math, but I was terrible at chemistry and biology, so I am probably not going to be able to go to pharmaceutical school like my parents. Despite having to maintain my good grade and a lot of extra studying, I never stop doing what I love, which is drawing.
I may have shown my parents enough enthusiasm to the point that they agreed to look into the possibility of studying abroad. From that point on, I threw away all my math and science books and focused on my English skill. After enough research, my parents decided to risk it all and let me and my brother fly to the United States to pursue my dream of working in the animation industry. The last thing I remember my parent told me before the flight was to "Remember why we are here in United States"
I spent one year in college adjusting to the culture and improving my English skill. It was definitely quite a shock but It was a lot of fun, I remember hesitating to buy a bottle of water because 1.5$ was too expensive for us, I remember having to drop my oil painting class because I could not afford the art supplies, everything is super expensive here since we weren't adjusted to the currency yet so we have to spend as little money as possible if we plan to apply to university and graduate. I took half English class and half art class while I was at GreenRiver community college in Auburn, Washington. I did pretty well in many art classes, so I gathered my portfolio and asked a few art teachers to help me with a recommendation letter.
I managed to be accepted at Digipen institute of technology in Redmond Washington and got enrolled in their art degree. Digipen is known for the game design degree, but they also offer engineering and art degree, it's a small private school inside a small three-floor building, I was the only one Thai student in my entire art degree cohort, it can feel a little lonely, but that allowed me to improve my English skill more. The greatest thing about Digipen was how they combined all their students from different departments together to work in a game team or film team.
One big obstacle that every international student has to overcome is to find a job right after our graduation. The problem is that with our visa, we have roughly about a three months time limit to get a job, or we must go home. It was definitely one of the most stressful years of my life since we have to work really hard to graduate and still didn't get a chance to rest afterward.
I landed my first contract artist job at Nintendo software technology, a small studio near Redmond Microsoft campus. I got to work directly on a few famous Nintendo IPs and I met many great people there. But the international student struggle didn't end here. It was very fun working at Nintendo, but I haven't forgotten about my dream of being an animator and I want to get the best out of my student visa. In order for me to stay in United States longer than a year after graduation, I must find a full-time position, so I kept applying for more opportunities while I was at Nintendo. I was turned down by over 20 studios, mostly because of the visa issues. Right at the very last month of my visa expiration, I managed to land an animator position at a VR company in DTLA called Magnopus.
Los Angeles has always been quite intimidating to me, I have been in Redmond, Washington. For five years, having to start over from scratch in a big city is definitely very scary, I have zero contact, and the funny part is, I didn't even know what this new job is going to be about. I accepted the offer out of desperation and the studio is very mysterious about their project, all I know is, it is going to be a Virtual reality related project. But surprise! as soon as I start working, I found out that the project I was going to be working on is "CoCoVR" the virtual reality experience based on Disney Pixar animated film "CoCo" It was like a dream come true to get to work on such big IP and working closely with people from Pixar. Not to mention that this project was also nominated for Emmy award. Magnopus is also a very diverse and collaborative place to work at, I get to work on many cutting edge technology projects, the most recent project I worked on was for Oculus quest, I get to see Mark Zuckerberg himself played the experience, and that was very exciting for everybody who worked on the project.
Moving to Los Angeles was definitely the most exciting part of my life. I am quite an introvert, so I thought I was not going to enjoy being in such an extrovert city, but I was wrong. LA has so much activity to offer to everybody even for an introvert like me. As a digital artist who has to spend a lot of time staring at the monitor, it is always great to be able to go out and get inspired by nature, good food or to meet many talented artists in the area.
I am very lucky to have a very supportive parent and to have an opportunity to study abroad, I always have to remind myself about the reason I am here in United States, which is to learn as much as possible and make my dream come true, without their word of wisdom, I wouldn't be able to succeed and do what I love for living now. Despite moving here by coincidence, Los Angeles is the heart of my dream industry, and it inspired me to make better art and be more creative, I am excited to see what the future holds!
Has it been a smooth road?
It was definitely was not a smooth road, I have always felt that my journey was always on edge and I could fail at any point.
The culture difference and language barrier.
The very competitive art industry.
Being far away from family.
and the biggest obstacle that is the work visa.
I have managed to overcome most of it by this point but it was definitely not easy. being an artist in high school and college already make me felt like an outcast, I am not like any of my friend in the room that know what degree they want to be in. Putting the culture difference on top, then its doubled
It was until I moved to the private school, where I get to meet a like-minded people fighting for the same goal, that is when I realize this is where I belong.
Art industry is also super competitive and it can be very hard to get a job right out of school, international students also have the time limit and the visa issue. I see it as a tickling time bomb that you know it is going to explode, so you can never be at eased and settled. I am currently holding a work visa now so I get to relax for a couple more years. I have way too many story about an opportunity window being shut down by the visa issue. And I am sure it is the same for every international student.
But thanks to the technology, despite being all by myself in United States, I have never feel lonely, I can always contact my parent and friend and get their emotional support along my journey, they are very proud of what I have achieved so far but that won't stop me from going further.
We'd love to hear more about your work and what you are currently focused on. What else should we know?
I am currently a tech animator at a virtual reality company Magnopus. I started as an animator and moved to tech animator role recently.
It was actually pretty hard for them to give me the title that matches what I do, since I like to do many different things, from drawing to painting to modeling to rigging to animation. I find all of the steps to be very fun and I am willing to fill whatever role the project needs. But My main field would be animation and rigging.
What I like the most about Magnopus is how the company always try to explore the new cutting edge technology and they always try to do something different. I am most proud of being on CocoVR project back when the company size was less than hundred people. When the team size is small, you get to do a lot of different stuff and try different thing, I am also a fan of Pixar animation, and the story about family always got me crying, to get to work on such a big IP and watch the film when it was just a storyboard was probably the most exciting thing I did back in 2018.
I have always been known to be the "swiss army knive" for being very flexible in my role and able to fill many roles in the team at once, which is probably what set me apart from others and many projects will try to request me to be on the team, so I ended up being on multiple projects at once.
Many art students usually have specific fields that they wanted to focus on and they tend to close the opportunity to learn those other fields they did not enjoy early in school. I flew from a different country so everything was such an eye-opening opportunity for me, so I have never stop myself for trying to learn something new. I actually take more class and graduate with more than the required credits, just because I did not want to miss chance to take those class in school. I believe school is the best place for you to learn new things since you will have classmates who are learning together with you and we will learn from each other's mistakes under teacher guidance.
I also believe that different art fields will support each other, artists that can sculpt well will understand depth better in their drawing, artists that can animate well will understand flow and dynamic of the static drawing better. I get a chance to be part of the hiring process for technical artist role at Magnopus, and I always value the basic artistic skill of the candidate, despite how technical the role will be.
Is our city a good place to do what you do?
I think LA is definitely a great place for a company like Magnopus since we have to work collaboratively with many film studios, like Disney. And Los Angeles is the heart of the Hollywood and the Motion picture industry itself.
As for myself who works as a tech animator, living closer to the pool of opportunity is always a great thing
Contact Info:

Image Credit:
Photographer: Carolina Rizzotto
Suggest a story: VoyageLA is built on recommendations from the community; it's how we uncover hidden gems, so if you or someone you know deserves recognition please let us know here.