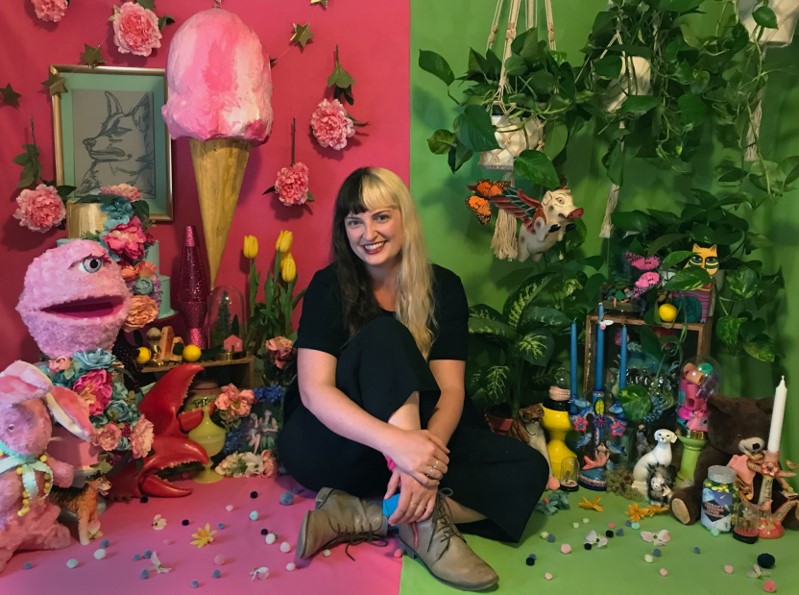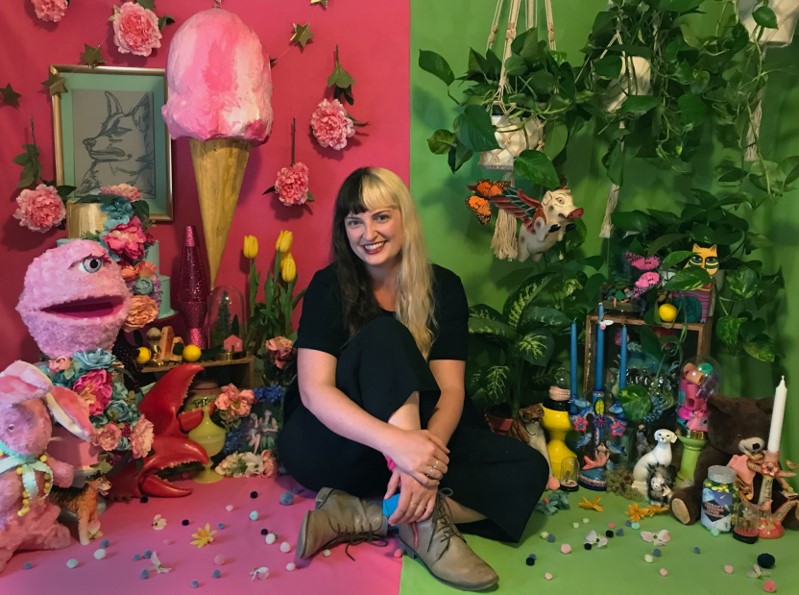 Today we'd like to introduce you to Chloe Badner.
Chloe, let's start with your story. We'd love to hear how you got started and how the journey has been so far.
I've always had my hand in one creative endeavor or another. For a while, I ran a semi-successful ceramics business called Good Body Pots where I made butt pottery—a niche that was well accepted in LA. I injured myself and was told by a very dramatic doctor that I would "never throw pottery again." I had to find a different creative outlet, so I jumped on board to design Caron Clancey's film Therapy Through Lucid Dreaming, and the rest is history, so they say. The film was such a creative endeavor and something the whole crew believed in—it was an amazing set to cut my teeth on.
I wanted to be an artist my whole life, but I just didn't have the guts to take the leap. Some people have their parents telling them not to pursue art, that it's not practical. I had the opposite—my very supportive mother was always telling me I was an artist, but I was just too afraid. I decided that getting a Master's in French was less risky, and I pursued that wholeheartedly for years. At some point in my mid-twenties, I saw all my friends following their dreams and stumbling towards success and I just got fed up with the limitations I'd put on my life. I was a high school French teacher, and I was looking at my future thinking, "I guess this is it."
I left a career I'd been building for almost a decade to pursue production design full time. I was really bashful about telling people—I thought they might think I was irresponsible—but everyone responded with "duh, we've been waiting for you to become a professional artist." I have never for one moment regretted taking the leap.
Leaping into film was easier than becoming, say, a professional painter, because the greatest thing about film is that it's truly collaborative. My job as the designer is to bring a director's vision to life, and my work is nothing without the DP, who can't do her job without a great lighting crew. It's a spectacular thing to witness. I'm really lucky to have had amazing directors like Caron Clancey, Jessica Guerra, Greg Stees, and Ryan Martin hand me totally wild ideas and give me creative license to make something beautiful and weird. When Jessica came to me with Lobster Tits, the premise was basically "a woman wakes up with lobsters on her tits in the style of John Waters." I've never been more excited to make something in my life, and it's still my favorite film I've designed.
Has it been a smooth road?
I consider myself pretty lucky, but trading industries was extremely difficult. When I first started I was working eight hours a day at my teaching job, running a small ceramics studio in the evenings, and doing freelance production design, costumes, and prop fabrication on the weekends. I would work all night prepping for an upcoming shoot, take phone calls and send emails on my lunch break, and take personal days so I could be on set.
Building my reel up from nothing was a big challenge. I didn't have any film school samples or connections, so people had to take me at my word when I said I could do something. There was an immense amount of rejection, but I've come to believe I'm in the right field because the rejection never stopped me. I wanted to design so badly that I found the courage to put myself out there again and again.
Of course, when you're first starting out, there's no money. The first music video I ever designed I did at an extremely low rate, just because I wanted the experience. The budget was so low we couldn't afford a truck, so I built flats I could transport in my car out of PVC pipe and fabric. Ultimately, I love all the creative challenges I faced at the beginning of my career when I was consistently making something out of nothing. That mindset comes in handy even on well-budgeted sets.
We'd love to hear more about your work.
I do anything and everything Art Department from basic set dec, to prop fabrication, to full construction builds. I'm mostly known for production design and art direction that's quirky, crafty, or odd in some way. A director recently told me I'm his first call when there are bodily fluids in a script. I've gotten to make several puppets who are out in the world living their little puppet lives, which brings me great joy.
I think I'm most proud of how industrious I can be. One time on set, I had a director decide he wanted the character to use matches instead of a lighter, so I whittled a fake matchstick out of a paintbrush I had in my kit. Hundreds of those in-the-moment fixes for unforeseen issues have built me into a very well-prepared designer.
A lot of designers have to outsource, and while there's nothing wrong with that, I think what sets me apart is that I'm a one-stop-shop. My skill set is extremely varied. In any given week I might be making a tiny paper town, doing a vinyl installation for a psychic, fabricating a warthog costume, or building a freestanding door in a field. I've been told successful people choose a niche and commit to it, but I absolutely refuse!
Is our city a good place to do what you do?
LA is definitely the best place to pursue a career in art department. We have holiday stores that are open year round, and it almost never rains! But I'd say the best thing LA has to offer to someone who's just starting out is an immense number of production opportunities. In LA, everyone you meet is writing a script or developing a teleplay. Offer to make their vision a reality. Do it on a shoestring budget. Find a student film that needs your eye. Get creative. There are literally thousands of people at any given time who are desperate for your skill! I hope my story will inspire others to hustle their way toward their dreams. Make art, take pictures of it, put them online, and be kind to everyone you meet—bigwig or not!
Contact Info:
Image Credit:
Lobster Tits
Production Design and Costume Design by Chloe Badner
Directed by Jessica Guerra
Cinematography by Andy Rydzewski
Therapy Through Lucid Dreaming
Production Design by Chloe Badner
Directed by Caron Clancey
Cinematography by Jaime Ballesteros
Elves are Elves
Production Design and Costume Design by Chloe Badner
Directed by Ryan Martin
Cinematography by Cooper James
Don't Text Me
Production Design and Puppet by Chloe Badner
Directed by Heather Fink
Cinematography by Luc Delamare
Mujje
Production Design by Chloe Badner
Directed by Justine Raczkiewicz
Cinematography by Halyna Hutchins
Ultramechotron Team Go!
Costume Design by Chloe Badner
Directed by Sammi Cohen
Cinematography by Garrett O'Brien
The Chainsmokers' Kills You Slowly
Art Direction by Chloe Badner
Production Design by Brian Mayfield
Directed by Lucas Taggart and Jordan Wozniak
Cinematography by David Keninger
Weezer's High as a Kite
Art Direction by Chloe Badner
Production Design by Brian Mayfield
Directed by Nathan Presley
Cinematography by Patrick Jones
Getting in touch: VoyageLA is built on recommendations from the community; it's how we uncover hidden gems, so if you know someone who deserves recognition please let us know here.