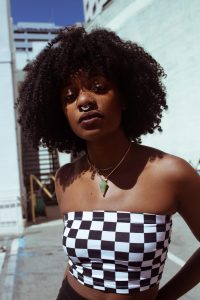 Today we'd like to introduce you to Chasity Londyn.
Thanks for sharing your story with us Chasity. So, let's start at the beginning and we can move on from there.
I'm an Artist in every way ( I just so happen to be a Rapper ) & Curator from Pasadena, CA. I started becoming a music head initially when I turned three. My mom has this story of the day I was born and the day she was able to take me home, I was humming a melodic tune and everyone was mesmerized and in shock that me being just a newborn I was singing instead of crying. I was raised around old school classic hip hop, r&b, funk, soul, classical, pop, rock the blues any genre you could think of my mom had it blasting or on television.
The TV in the living room, when it was on (most of the I use to lose myself in books) but when the TV was on it was either on the history or science channel, gospel, music video's or soul train and I would be infatuated by all of it. I started writing poetry at the age of 3. My birthday was always later than my other peers so I started kindergarten at three going on four. The principal debated i was too young but my mother being a Capricorn did not leave that campus until i was enrolled in schoo lol so was always the youngest in my class. I continued writing and coming up with all kinds of creative stories in my mind from the age of three up until a young adult. I won a handful of creative writing awards and scholarships under the City of Los Angeles and a Honor's at entrance scholarship which i blew on a camera and an electric guitar.I went to this amazing all black Charter School of the Arts in 10th grade that has inspired me so much through out my adult life as well. I started cheerleading in between first and second grade up until high school and played basketball and volleyball in between time but neither resonated. I was more into reading and writing and I eventually got into a track. I excelled in track and field but started to fall off due to film and music becoming my main priority.
I started recording myself freestyling to popular songs I vibed with on youtube and I met this producer named Jay Traxx at the time and he really believed in me heavy and he invested in my career out of just pure love and admiration and I started pulling up to Hawthrone to record with him and I started sharing my music on SoundCloud and soon after that I started performing at undergrounds shows in and around L.A. very frequently and I had two singles I was pushing heavily that were popular in my scene "My first Joint" & " Vibin on the Low" I was featured in paper magazine as one of six L.An artist inspiring the youth.
I curated my first solo indie music festival in East LA on September 27, 2014, at my homies hostel. I cleared out the entire hostel and organized a 16 hour music festival in the middle of Boyle heights from 2 pm -6 am when I tell you the line to get in was ridiculous and almost down the block hours before I pulled up I showed up late because I had a show the night before and was extremely tired but this was the beginning of Moonvibez. Moonvibez Music Fest is a legendary indie music festival i started out of a hostel.
The real LA heads who have been around and in the scene know and have experienced how beautiful the vibes are for themselves. My friends that are actually married now have met at Moonvibez there have been some really trippy and magical stories tied to the experience of moon vibes. I was already making music during that time of course and all of my friends were artist and musician's as well and I was well known in the indie scene so i literally told like two of my friends randomly that I was going to throw a music festival like in a few weeks because I felt like it and they thought I was joking because I'm a goofball most of the time.
So the next day I called up around like 50 of my close homies and told them ( didn't ask lol ) That they were going to play at my festival and I got set times ready in like less than two hours and told everyone the location would be sent out in less than 48 hours and to spread the word then I called up my homie who owned the hostel and fed him the vision and the idea ironically his hostel was called the moon pad. I asked him and he was completely down with it so that's how I started curating shows in L.A. and I continued throwing Moonvibez years after that. I moved it to a penthouse off the beach in Venice.
Soon after that, I was already very seasoned as a curator and an indie rapper. I then met my ex who also curated shows so we came together and moved into a house in Pomona and started throwing huge house parties that were like $25 at the door with very popular artist performing in our home and we shut down one of golden voices show's in Pomona at the flyaway not purposely we were throwing an after-party to their actual show and everyone ended up just coming straight to our home thinking that was the actual show it was so bad they cancelled their show and put up our address on the door of the flyaway.
Hoodchella was inspired through that and it started getting so popular like about to be as big as Coachella the underground version i guess you can say but it started getting so big Coachella started threatening us and they sent us a 100,000 lawsuit before that they offered us a few thousand to change our name and we denied it but we eventually had to change the name of the festival and me and my ex broke up after being together for around four years and went our separate ways so I continued curating my own show's and I let him take over the name change and continue doing his own thing no love lost.
I eventually ventured out and started curating a pop-up festival in new york by the name of Black Art Matter's The Pop-Up and it has sparked just as much attention and praise as Moonvibez. As of recent i've been extremely focused on my music and i've been receiving so much recognition from people everywhere including important people in the industry and outside of the industry. I'm releasing my first project titled "Dazed and Confused" 10/10 ( October 10th, 2019 ) and I've been posting snippets of my tracklist on Instagram and I've been receiving so much support virally. I really feel like this album release is going to be life-changing for me and I'm excited for what the future holds as far as my music, my artistry and my vision being recognized on a universal level. I am forever thankful and blessed to be able to share my gifts with the world.
Overall, has it been relatively smooth? If not, what were some of the struggles along the way?
It hasn't always been a smooth road for me. Some of the obstacles in my life included abusive toxic relationships I would get caught up in and tragic death's in my family including substance abuse watching some of my loved ones lose themselves through use of drugs and alcohol has been very tough for me but it's made me into the individual I am today. I can look back at the old me and smile because I've grown beyond words, people from that time in my past wouldn't even be able to tap into where I'm at now. There would be no resonating on any level beyond my growth. Looking back i can't even see myself being involved in anything toxic that I know in my heart is not serving me in anyway. I'm fully tuned in to the rhythm of my own frequency, anything outside of me I don't have space for anymore. I'm so magical, alway's have been, and I alway's will be and i don't have time for anyone trying to dilute my light
( my gift's.)
We'd love to hear more about your work.
I am an artist ( rapper ), curator. I'm known for my music and curating indie music festivals and art pop up's and just for being me. I have a natural gift of bringing people together with my personality, my music, and my shows. I was never the type to feed into negative opinion's I always stood higher than that. I spent no time asking myself who I was but rather deciding who I wanted to be and taking action on that but don't get me wrong I've been low before.
I just decided to focus on where I want to go and who exactly is it that I want to be speaking as my future self and my desired strengths instead of my weaknesses and through that I discovered what negative traits were holding me back and I realized that I am most powerful and most at peace without those things so that really made me become even more confident in my art so now when you listen to my new music you can feel me on a completely new level of self-assurance. I use to not want to take blame for my own actions even if it was small when i hold myself accountable for my own actions i'm able to really see myself and love myself in a different light and that is expressed in my art.
What is "success" or "successful" for you?
Success to me is defined by succeeding in something that comes from your heart space not doing something to prove to everyone else that you can do it, being able to feed people your truth in a way that touches them like it touches you when you create it that's true success, to actually be happy in your endeavors and be happy for other people as well without dragging them down to pick yourself up.
When you're passionate about what you love to do, you just have to be brave, put yourself out there and show up for yourself. I just want to impact others and leave them feeling closer to themselves at the end of the day that's my definition of success.
Contact Info:

Image Credit:
Photograhers: @maiwennraoult @jah_huey @a_kid_named_trav
Suggest a story: VoyageLA is built on recommendations from the community; it's how we uncover hidden gems, so if you or someone you know deserves recognition please let us know here.