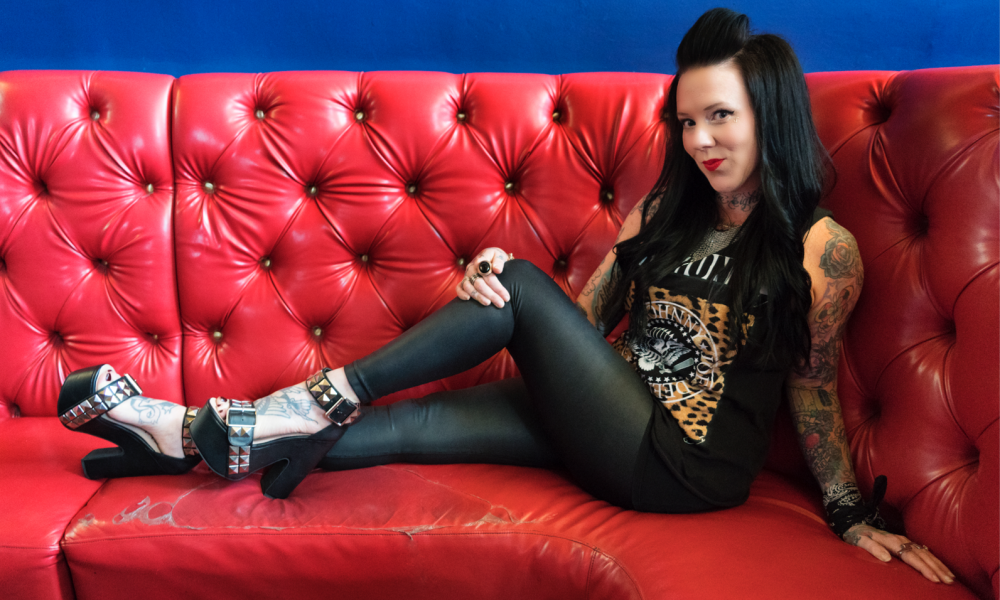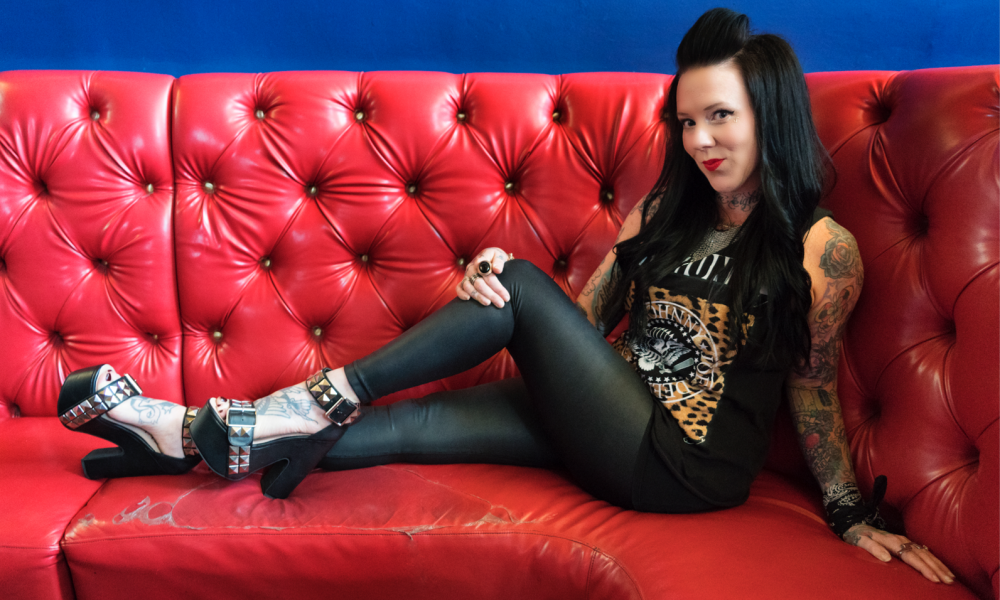 Today we'd like to introduce you to Char Tedrick.
Thanks for sharing your story with us Char. So, let's start at the beginning and we can move on from there.
I've spent my entire life with the hopes and dreams of starting my own fashion brand. Growing up in a small town, I was an eight years old drawing clothes and making client lists — having no idea what the future would hold for me, but knowing undoubtedly that this was an innate part of who I was. I moved to Long Beach at 17 years old and was a part of the scene and community there for more than ten years. In this time, I got my BA in fashion design from California State University Long Beach, began my career in fashion working initially for a rock n' roll clothing company and all the while never took my eye off the prize of eventually starting my own business. Over the decade of my 20s, I made several short term relocations as I explored my individuality and worked towards furthering my career. Through the course of my career in the fashion industry, I tried on a lot of hats to see what resonated with me most.
At some point, I've worked in nearly every category of fashion — Apparel, footwear, accessories, printables, swimwear, lingerie, licensed product, private label, graphic design, product development, alternative culture, high end contemporary, and the list goes on. I loved all design and especially loved the element of working in the development of product and in the production phase of manufacturing. I loved working with factories, communicating with them, getting to know them, developing relationships and problem-solving together — but I also loved the entire process of design: Thinking of an idea out of thin air, illustrating it, explaining it, and seeing it come to life, on the racks of major retailers and on people walking down the street. My adventures in my career truly showed me that I loved EVERY aspect of this business and wasn't going to ever be satisfied or inspired focusing on only one.
I kept adding to my tool kit with each job I took in a new category. Whether it was working in New York designing graphic tops for the legendary Betsey Johnson, or designing every category you can think of in the South Bay for Hello Kitty,… working for a totally green startup in San Francisco, or creating an apparel brand from scratch for the niche Long Beach lifestyle brand Moxi Rollerskates. In one chapter of my career, I dabbled in freelancing and building a small clientele in the Long Beach area, serving as the liaison and "make it happen" girl for companies and clubs interested in starting their own merch or apparel line. I curated and executed a huge community fashion + art show in Long Beach in 2010 called You Can't Handle the Youth, showcasing the Moxi Apparel line I had designed, as well as a streetwear collection I had designed and produced in hopes of attracting investor attention. Throughout all of these experiences, starting my own brand was always a plan I was working towards. With each of these experiences along the way, I was noting contacts, networking, collecting resources, dreaming and scheming of how I would make this happen one day.
In 2015, I relocated to the Bay Area to "see about a boy". To make the relocation happen, I scoured the small and extremely competitive Bay Area fashion industry looking for a job fit. I ended up getting a hot tip that the alternative e-commerce store Dolls Kill was located in San Francisco, so I reached out and pitched my background and experience, selling them on the fact that I could come in and start an in-house design department for them from the ground up. They obliged, I made the move and took on the role of Director of Design and Product Development.
The next two years were a whirlwind of emotions — The role was 1,000 pounds of weight on my back but I followed through and single-handedly started a department — bringing factory resources and process to the table, putting all timelines and workflow in place, designing, developing and producing hundreds of products for the company as a one-woman show. The experience was challenging to say the least, but an amazing opportunity to test my own skillset and ability to do it all. I was able to see the alternative lifestyle market respond to my ideas — I was able to see my ideas launch, sell, reorder, sell, repeat — on a regular basis. The experience allowed me the resources to basically do a trial run on what it would be like to run a brand myself. I didn't have to have the money on my own: they had it. I was in charge of 99% of the decisions in regards to design, and I got to see that I had the right answers and knew what I was doing. The massive size of the platform and audience Dolls Kill had gave me a true test of the alternative market — It showed me that the market is even bigger than I ever dreamed, and the potential to be profitable in this niche market is truly there. My time in the Director role at Dolls Kill provided me invaluable lessons not only in my art and craft, but ultimately gave me the confidence to take the leap and start my own business — a dream and plan that had been percolating inside me for more than 20 years.
In 2016, with the love and support of my husband, I took the totally scary, risky and unsecured step of walking away from that lucrative and highly coveted role at Dolls Kill and pursuing my own company. It was time — I couldn't deny it, and it was one of those moments in life where you know you have to leap or the opportunity will pass. If you don't act on this brave emotion you have at that moment, you might not be so brave tomorrow. So I did it — and it was definitely a scary free fall of a decision — but the best I've ever made.
My company Charla Tedrick Footwear became a registered LLC in July of 2016. I launched my online store www.CharlaTedrick.com in February 2017, and over the past three years have released five full footwear collections completely on my own with no outside investors or financial partnerships. I've sold direct to consumer through my website, as well as wholesale to alternative specialty retail stores in 6 countries. I've run my business completely on my own, doing nearly every step of the process in every category of the business. What I haven't known how to do, I've learned. What I haven't been able to afford, I've been creative to bootstrap and make work. Small businesses like mine are in a uniquely challenging crack in the world of entrepreneurs — Your business is profiting and there is a demand for your product, but you don't quite make enough money to qualify for any financial assistance. You can't grow (because growth takes a lot of money), so getting to that next level of revenue to acquire capital is a slow and very challenging journey.
While there have been plenty of roadblocks in my experience since having my company, I have been able to jump hurdles, build tunnels, find backroads and sometimes strong-arm my way moving forward — because that's what you have to do when you're a small business, and that's what you have to do when you're a one-woman show. While the idea of throwing in the towel has sounded appealing more than a few times, it's 3 1/2 years later and I'm still here. The hard work is finally starting to pay off with major brand growth — In 2020 alone, I will bring in 4 collections, each exponentially larger than my past collections — and I'm thrilled to see what the future holds for me and my brand. I didn't come this far to only come this far. — I truly believe and trust this is just the beginning.
Great, so let's dig a little deeper into the story – has it been an easy path overall and if not, what were the challenges you've had to overcome?
The biggest struggle I've had in my business has definitely been financial. Manufacturing is extremely expensive. Shoes in particular are extremely expensive to make, and then extremely expensive to ship. In manufacturing, it doesn't matter if you have Urban Outfitters knocking on your door wanting to place a $100,000 order. That's wonderful: But now you need to front the money to produce that $100,000 order. Growth is very difficult without capital, regardless of demand. It's challenged me to be ultra creative in hanging in there, sitting next to competitors with way more resources than me, and being a total renaissance woman to make this thing fly. It's finally to the point in my business where the ultra tight financial belt is starting to loosen and growth is more and more possible. But this gig is definitely not for the faint of heart.
I see other people in my social world pursuing this avenue of starting a brand or small product-based business and struggling. I see the fire when they begin, the hope and the drive as they first launch, and the inevitable ghosting through the end of their first year as the initial shine of the project and product has worn off and they're left having to make the call of continuing to push or giving up. I completely get it. I completely understand. I've been in those shoes and I've felt that way. I've just kept pushing and can tell you that if you muscle through and tell yourself that failing or quitting is not an option here, it can get easier. I believe this today but may be singing a different tune next week. But that sentence in itself is owning a brand.
Please tell us about Charla Tedrick Footwear.
I'm owner/designer of Charla Tedrick Footwear — an alternative specialty footwear brand catering to women (and men) who live a rock n' roll lifestyle (or want to escape into that world through walking in my shoes — literally). I produce multiple footwear collections throughout the year, mainly focusing on platforms and chunky boots, expanding out in 2020 to offer flats, sneakers, and sandal styles. Every style I produce and sell is dripping with rock n' roll influence. I design shoes that I want to wear — that represent my lifestyles and my tastes as a musician, tattooed woman, fashion-lover and rock n' roller. There's lots of iconic punk and rock reference in my work including leopard prints, tartan plaids, stripes, stud hardware, heavy chain and metal embellishments. My shoes are not only to be worn but to be adored– They're called "specialty footwear" for a reason — They're collectible items, looking as rad on a display shelf in your room as they are on your feet. They're statement products — They're designed to be talked about, to be seen and to be limited edition.
My brand lives in the alternative market space — sitting next to competing companies of much bigger size and scale, some with long iconic histories. I'm honoured to sit on the shelf next to some of these major footwear brands and believe my product stands on its own for its extremely high quality at a reasonable price point. My brand is recognizable aesthetically, by the platform silhouettes, tasteful use of punk prints/details and kitschy novelty concepts.
I'm proud of my company in all sorts of ways — I'm proud that I've continued standing through 3 1/2 years as a self-funded one-woman brand. I'm proud that I've been able to sell my shoes to customers all over the globe. I'm proud that I've been able to prove to myself that I am talented enough, smart enough and driven enough to make this company happen — And I'm most proud to still be here, moving forward and growing substantially in the 2020 year.
Do you look back particularly fondly on any memories from childhood?
I have lots of memories of drawing and designing clothes at the coffee table at home when I was young. I also grew up a dancer and loved going through all the costume catalogs when it was time to choose costumes for our annual recitals.
Let's touch on your thoughts about our city – what do you like the most and least?
My heart will always be rooted in Long Beach. Long Beach is where I truly found myself. Growing up in a very small town in Central California, I was definitely inhibited creatively by the lack of choices and lack of variety in culture. Once I moved to Long Beach at 17 years old, I found myself through the art and culture of the city. I was able to unlock the vault of who I had been inside all along. I immersed myself in the music, art and tattoo culture of Long Beach and Southern California and it heavily shaped who I've become as an adult, as a woman and as a designer. I spent more than ten years in Long Beach and will always hold it highly in my collection of life experiences. While I've since moved to the Bay Area, my family and I have made an annual trip priority to stay close to the city that's been so influential in my life.
Pricing:
Contact Info:
Image Credit:
Lindsey McGuire // Lindsey Lu Photography; Jpeg01
Suggest a story: VoyageLA is built on recommendations from the community; it's how we uncover hidden gems, so if you or someone you know deserves recognition please let us know here.