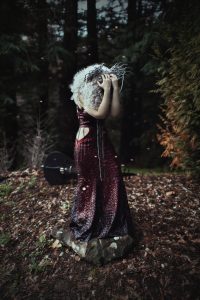 Today we'd like to introduce you to Cellista.
Cellista, please share your story with us. How did you get to where you are today?
I'm a post-classical cellist, composer, and multimedian going by the moniker Cellista. I have a strong penchant for performing music in unconventional spaces and devoted to collaborating with artists across media. This has led me to create performances that incorporate elements of classical music, improvisation, and visual art, and theater to tell the stories of my home and the communities I am a part of.
I am really lucky to have a life as full of music and art as it is. I think my life has been shaped, in a large part, due to the public school system I was a part of in Longmont, CO where I am originally from and my loving family. My mother was a city manager and my father a professor of philosophy specializing in Heidegger at the University of Denver. I'm the weird result of their love! They always supported me in anything I was passionate about and when I entered my school orchestra program, it was with their encouragement.
I remember the Spring before I entered middle school in Longmont a string quartet came to my school to do an outreach concert. I was in the classroom, sitting on the floor next to the cellist. While they performed a movement from a late Beethoven string quartet I could feel the vibrations of the cello especially and fell in love with the low timbre. Also, the cellist was possibly the coolest cellist I have ever encountered in my life. He must have been 6'4" with an afro and an eye patch. I was captivated. Sometimes I think I have been living my professional life just trying to attain the level of cool that cellist had. When I entered middle school I signed up for orchestra and picked the cello as my instrument. I knew it was going to be my life partner, even at 11.
I attended college for music and political science in Denver but about six units away from my senior recital, I dropped out. I felt burned out. I just did not want to play. It was such a strange feeling. Like a separation. A painful, uncertain break-up. About that same time in Denver, I met my partner, and now husband, a French national at the tail end of his J-1 visa. I ended up moving with him to France for a few years. The whole time, I didn't touch my cello. It was a sad decorative object in my apartment in Antibes, France that gave me sorrowful looks. Those looks eventually led to me immigrating Stateside.
In 2010, when I moved to CA, I found my creative voice after that very long hiatus from playing my cello. When I landed here, I decided to resume performing after my four or five years off. California provided the perfect platform for me to re-learn my instrument. On a whim I applied to graduate school for my MM, and to my surprise I was accepted with a scholarship.
Unfortunately, I just couldn't keep up. I was struggling and unhappy. I was playing constantly. But I kept getting professional, working gigs that were interfering with my classical studies. I was also finding myself wanting to create these sort of tableaux that incorporated music with other disciplines but felt as thought that went against my training. Nothing made sense and I felt isolated. I shifted my MM to one in musicology. There I felt more whole but my heart was still unhappy, unfulfilled. Again, I dropped out of music school.
An opportunity presented itself, and I began collaborating with artists across disciplines. This lead to the beginning of my career directing and performing in multimedia productions I call "stage poems" a term coined by the artist (and my idol) Jean Cocteau. I produced a series of events in the Bay that were interdisciplinary and combined classical ensembles (including ballet and other classical performing arts) with traditional rock bands. It was staged in the round but with the audience in the middle surrounded by the performers. Usually these events happened in places termed "blighted" and were offered for free to the public. I simply wanted to show the commonalities between all performers and create a more relevant, accessible, and inclusive bridge to the classical performing arts. Something radical that could shape the future of the classical arts.
Following that, I conceptualized and created an exhibition with the visual artist Barron Storey (illustrator of Neil Gaiman's 'Sandman:Endless Nights') made in response to the French composer Olivier Messiaen's "Quartet for the End of Time." The piece, germinated in a Nazi POW camp in 1941, demonstrated to me, the way in which music can hold up a mirror to society and provide equalizing forces that allow communities to examine themselves. I found my voice within that installation. A validation of my vision and what I think is my role as a musician within a community.
Since then I have done multiple stage poems. I've I had a lot more space to be myself (since allowing myself the space) and I've been able to break down some barriers that my former, exclusively classical life bound me to. I also began getting involved in the noise music scene. Something, I'm very sure my classical colleagues would raise eyebrows at.
Now I'm the typical working musician, typically on the road during various gigs. Mine tends to be pretty over-the-top in addition to the normal wedding and social gigs. I've played inside a giant plastic bubble for a video game company's holiday party. I've performed with the circus for festivals, on giant pedestals in ballgowns, in corsets for a livescored catwalk event. I've been incredibly lucky to have worked with some great artists including Tanya Donelly, The Coup, The Dear Hunter, and Troyboi, and Pam the Funkstress. I've done sidelining gigs for Will & Grace and Better Things on FX.
I split a lot of my time between LA and San Jose. Cello is my day job and what enables me to produce my passion projects. I feel very proud of that.
More recently I've simply been on the move and barely calling anywhere home as I tour my latest multimedia noise opera & book "Transfigurations." I'm also a board member for the Recording Academy (Grammys) and now attend the Berklee College of Music for my master's in business. I also love to perform at noise shows in Los Angeles, especially at Coaxial Arts! It's a scene that has embraced me and presents me with lots of compositional opportunities!
We're always bombarded by how great it is to pursue your passion, etc – but we've spoken with enough people to know that it's not always easy. Overall, would you say things have been easy for you?
I have a friend that describes herself as a "recovering classical musician," and I've always identified with that.
I think the biggest obstacle I have encountered in doing music full time is simply myself. The training I had as a child taught me, in so many ways, that I should doubt myself. The culture of classical music can be so cutthroat and difficult to navigate and feel whole in. It trained me to doubt my decisions and to regard mistakes as negative when in fact, they're a part of my identity and shape my growth.
My fear of "failing" prevented me from being prepared for success. Often opportunities arose that might have been hugely helpful to my career, but because of my own self-esteem, I was either unable to see them as opportunities or unable to accept them because I didn't have the right things in place. I was also hesitant to take risks which are an inherent part of not only creating art but doing business.
I was essentially silencing myself for no good reason because of what I thought I perceived as insurmountable roadblocks. I worried about how I'd be seen by others. I worried about making mistakes. I worried and worried.
Although this is still my tendency, I now have learned how to push that critical innervoice away. I've started regarding those fears and apprehensions as selfish because they have to do with my own ego and not about doing the work of the craft itself. Something which should go beyond myself if it's to have any integrity.
We'd love to hear more about your work and what you are currently focused on. What else should we know?
My day job is playing the cello although most of my working hours are in the evening. I perform for a range of clients. From weddings to tech companies, to recording/live session work for bands and more recently I've been receiving composition commissions. I do a lot of contracting for events, putting together ensembles for various events, and also a lot of community organizing.
In tangent, I also run a performing arts company called "Juxtapositions" which focuses on interdisciplinary performances and collaborations while providing mentorship, advocacy, and economic opportunities to the emerging artists which I hire. I work with them to help them set up their own small businesses (the nitty gritty stuff) and help them figure out a plan to become self-sustaining artists in an area that can be tremendously hard to live, work, and create in.
So, what's next? Any big plans?
After I finish my Masters in Business at Berklee in the Fall I plan to pivot my business from performance to consulting. I would like to augment what I am already doing with emerging artists and make it a larger part of my life. I will always create stage poems, I just hope to finance them through consulting primarily rather than freelance cello-ing.
I also am looking at doctoral programs that will aid me in my multimedia endeavors. I am very captivated by CalArts and hope to land there.
In the immediate future, I am currently touring my latest project "Transfigurations." It's multimedia project that consists of a book, an album, dance, theater, and a full-length film. Each component is fundamental to the whole. Each segment contains the work of a precious collaborator, which was created under a common unifying vision. For instance, the film that accompanies the live performance of Transfigurations was created by my longtime collaborator Jennifer Gigantino, who worked from the treatment I wrote, and some of the imagery I supplied and suggested, to create her own film that contains her own fingerprint. That film uses my music and concept as a blueprint but exists as Jenn's creation. Her work enhances my own. The choreography within the live performance and film was created by another set of longtime dance collaborators: Lilith Ransom, Mojo DeVille, and Lauren Baines. Again, following the same method as the film, they came up with their own story to tell while creating under the common vision I supplied. It is as much their work as mine. The book I wrote with my father also tells the same tale of collaborative work.
I believe in creating separately under a common vision. I rarely met with any of my collaborators until they had finished their work on the project. If the vision is strong enough there is no need to dictate anything to collaborators.
All these elements (book, album, dance, film) can live in their own world, just like individuals within a community; however when placed at a meeting point, a whole new environment can emerge that allows the community of audience and performer to regard each other in a new light.
Highways Performance Space in Santa Monica will present "Transfigurations" on March 27th, 2020 and on October 24th, 2020 I will bring the piece to London at the October Gallery.
The ticket link for March 27th, 2020 at 8:30pm is here:
https://highwaysperformance.org/event/cellista-transfigurations/
Pricing:
Solo cello for any event generally starts at $350.00
Contact Info:

Image Credit:
Yellow Bubbles Photography/Temira Decay
Suggest a story: VoyageLA is built on recommendations from the community; it's how we uncover hidden gems, so if you or someone you know deserves recognition please let us know here.